Here's another wealth in a snap product by Glynn Kosky called High Ticket Hijack. It claims 100% done-for-you affiliate commissions in just 1/10th of the time. But does this really help you make money fast or is it just a mere scam?
Glynn says with High Ticket Hijack, he effortlessly made over $1,000. He also describes it as a "brand new secret underground traffic software".
In this review, we're going to uncover High Ticket Hijack for what it really is and lay down the truth behind the claims Glynn makes. 
You'll learn:
What High Ticket Hijack really is
How much it costs
How it works
The pros and cons
If it's a scam
If this ends up being a totally rubbish product, I'll also tell you about a better make money online opportunity you should try instead. 
Stick around for some jaw-dropping revelation!
High Ticket Hijack Review At A Glance
About: High Ticket Hijack is a funnel-based income system utilizing bonus pages to supposedly scale commissions.
Price: The front-end costs $29.97 and the upsells total to $372. You also have to spend at least $300 per month on solo ads, Instagram ads, and YouTube ads.
Pros: They give you a month to get a full refund.
Cons: The method used is only good in theory and the traffic sources promoted are very costly for something not guaranteeing any income.
Verdict: Making money with High Ticket Hijack is highly unlikely because the traffic methods are ineffective.

What Is High Ticket Hijack?
High Ticket Hijack poses to be a "cutting-edge software" that can help you build an email list and generate $1000s in commissions from scratch. It's created by Glynn Kosky and Rod Beck back in September 2019. Glynn also dubs it as an "automated commission cash cow" that generates income without lifting a finger.
The sales page says it's easy to scale because you'll get step-by-step training with the fully automated software. It also says you won't need a list, to pay for traffic, or have any previous experience to see results in less than a day even.
Glynn even calls it the "fastest and easiest way to bank 4-figure commissions" using a unique method without competition. Just basically everything you want to hear in a sales system.
The problem is:
It doesn't work as promised. It says there's no need for a list or paid traffic, but the members' area reveals otherwise.
Promoted By Other Serial Product Creators
Glynn Kosky himself launches products each month without fail. Most of it overly hyped but ultimately under-delivers. Some of those I've written about are:
It's bad enough this product is from someone who makes a living peddling low-quality products for a living. What makes it worst is that he's supported by Brendan Mace and Jason Fulton.
If you're not familiar with these two, they're basically serial launchers of low-quality, misleading, and underdelivering products so there's really no credibility in them.
Some of Brendan's hogwash products are:
Jason on the other hand authored:
Brendan and Jason vouching for High Ticket Hijack don't do the product any good. Knowing they promote it clearly shows this product is the same kind as theirs.
How Much Does High Ticket Hijack Cost?
The sales page only mentions a Pro version priced at $29.97. However, you're also "encouraged" to spend a total of $372 for 6 upsells to supposedly bring out the highest income potential of this system. The cost doesn't end there because you also have to spend at least $300/month on ads and $600/year on an autoresponder.
Here is a list of the upsells and how much each of the costs.
Upsell 1: High Ticket Hijack Unlimited ($47)
Upsell 2: High Ticket Hijack Done-For-You ($67)
Upsell 3: High Ticket Hijack Traffic ($67)
Upsell 4: High Ticket Hijack ($47)
Upsell 5: High Ticket Hijack Bonus Builder ($47)
Upsell 6: High Ticket Hijack License ($97)
Essentially the upsell gets you more of what they already offer in the main software. Unless you make money from those, buying the upsells are pointless.
High Ticket Hijack's Refund Policy
If you think the 30-day refund policy can save your money in case it doesn't work, don't bank on it. Instead of giving you your money back, you'll be bombarded with tons of other offers. You'll end up exhausted and annoyed leading you to give up on your refund request.
Unless you have money to burn, keep your wallet tucked in your pocket.
High Ticket Hijack's Members' Area
Immediately when you land on High Ticket Hijack's dashboard, you'll see an introduction video to the training provided. The training has 8 videos, barely 15 minutes long each. The videos merely teach the technical stuff or basically what you need to click to set things up.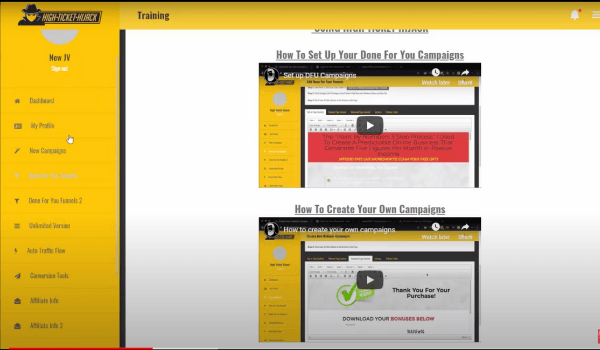 There's no training on what affiliate marketing really is, how you can utilize email marketing for the leads/emails you capture, and what traffic is really all about.
This short video of ours give you a better overview on traffic:
If you really want to learn everything about the nooks and crannies on affiliate marketing and traffic, Wealthy Affiliate will teach you what High Ticket Hijack can't.
Essentially, High Ticket Hijack's sales strategy is putting a bonus page (lead magnets) between the capture page or sales page and the download page. Somewhat similar to The Secret Page, only this one has a discount page instead of a bonus page.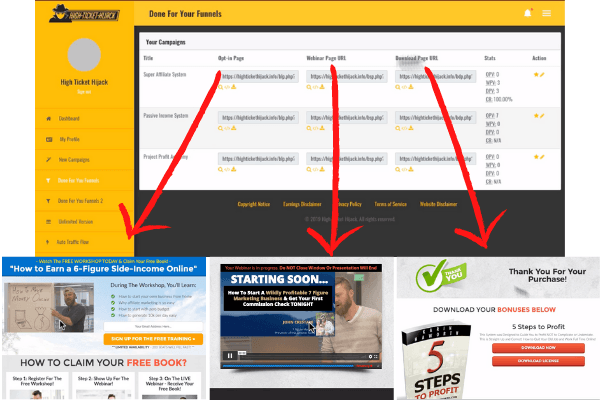 This supposedly entices people to buy the main affiliate product from you instead of buying it from others.
The kicker is:
The bonus page offers a freebie (in the form of eBooks) if watch the webinars.
There's no real value to the "freebies" because the webinar merely adds fluff to promoting their products and their friends' products.
Plus, number of the eBooks are either outdated, from a none credible author, or rubbish PLRs you get for free somewhere else.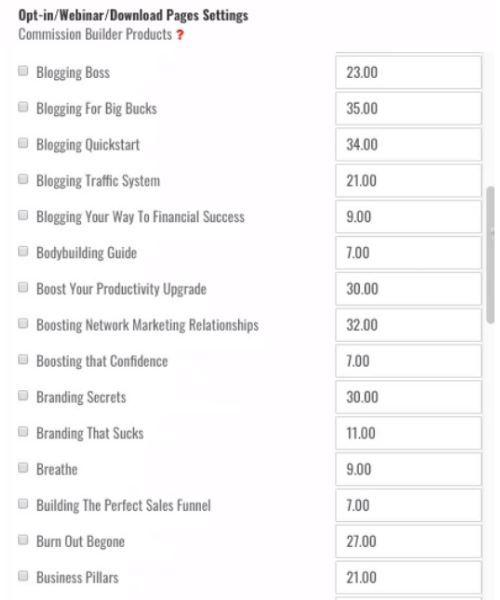 Let's just say a number of people will be unsuspecting enough to provide their email to supposedly get the freebie. What will you do with the list of emails you capture?
You're not taught about email marketing, so you really don't know how to make it work.
You'll end up pitching your product with every email you send which is NOT the right way to go.
For email subscribers to take you seriously, you have to build a relationship by sharing something of value so they can build their trust in you. Of course, you won't know this because High Ticket Hijack will never teach you.
Unless you do email marketing properly, your email will be buried in the spam folder until eternity never to see the light of day ever.
And since you'll have an email list, you'll have to get an autoresponder service which means $600 every year.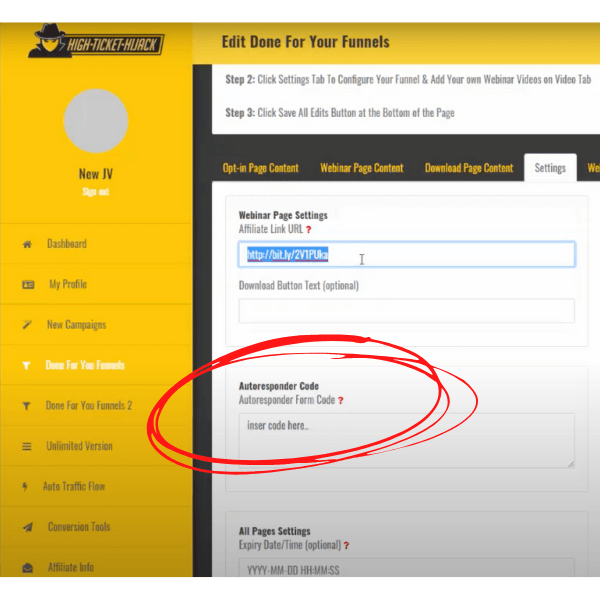 The bottom line, the emails you capture will be useless.
Now supposedly you still went ahead and gave this a shot. You build a funnel, put your affiliate link on it, and so forth. How do you generate traffic for your campaign?
High Ticket Hijack teaches you the same traffic methods as Profit Sniper X and MagickFunnels:
Solo Ads
Instagram Ads
YouTube Ads
These paid ads can be costly, you have to spend at least $100 for each one of them every month.
The worst part is:
Paid ads involve a lot of trial and error, especially for beginners. Unless you get the right campaigns to the right audience, you'll be flushing money down the drain. In this case, the cost can reach $1000s!
If you think of promoting it to your following on social media, you have to have a humungous following, unless you have it, only a handful of people will notice your pitch.
Now if they try to give it a shot and find out its rubbish, you can risk losing ties and credibility.
The problem doesn't end there. Because the funnels you make are hosted by High Ticket Hijack, you'll have no control, risking shutdown anytime.
Bye-bye goes your investment.
Cons of High Traffic Hijack
The sales page is full of misleading claims. It says you won't need an email list and paid ads, but you actually do.
The owner doesn't have a clean reputation.
There's too much added cost that doesn't even guarantee anything.
The freebies are useless.
There's no training on affiliate marketing and email marketing
The traffic methods only work if you have a fat wallet.
The disclaimer disproves income claims made.
The worst part is, Glynn forgot to edit the disclaimer. It mentions Traffictakeover.net instead of High Ticket Hijack clearly showing this system is an old junked product with a fresh lick of paint.

Is High Ticket Hijack A Scam?
No, High Ticket Hijack is not a scam. By buying it, you get funnel-creating software as well as a bonus page creator. However, the built-in bonus products it has lack value putting an end to its high-ticket income claims.
The income claims are so misleading, even the disclaimer attests to it. If you want to build a sustainable online business, this is not the way to go.
Final Thoughts On High Ticket Hijack
Nothing is high-ticket here and you can't hijack anything to your benefit. Quick fixes like High Ticket Hijack won't get you anywhere.
Even the training provided has little use. Once this shuts down, which will inevitably happen, you won't be able to use what you learn anywhere.
Whereas if you learn about the real deal of affiliate marketing is Wealthy Affiliate, you'll learn long-lasting lessons you can take with you whatever business model you prefer.
Plus, Wealthy Affiliate gives the REAL step-by-step training from scratch. You'll be taught not just how to build but also to sustain your business.
You even freely get the help of other successful marketers!
You don't have to take my word for it, you can take the 1st 10 lessons for free to see how it goes for you.
To get started, you can head on to this in-depth Wealthy Affiliate review to get to know this awesome opportunity better.
What's Your Take?
Were you surprised High Ticket Hijack turned out to be a mere rehash? Were you disappointed with how the method really works? Share your thoughts, the comment section is ready for your say.
Simon Crowe is on a mission to help as many people as possible kiss their bosses goodbye.
Take the free Commission Academy course to discover how to smash your online income goals and make your dream business a reality.