Welcome and thanks for stopping by my 3 Step Method review.
Can you imagine not having to sit in rush hour traffic, not having to answer to a boss and having enough money to design the lifestyle you want?
Now that's the life!
3 Step Method claims to have the way to make it happen. They make it sound so easy… almost too easy. It has to be a scam, right?
Here's the deal:
I've reviewed hundreds of so-called make money training programs and less than 1% actually do what they say they're going to do.
99% of them are either shameless scams or just low-quality eBooks that are not much use to anyone except the person selling them for a profit.
Check out the legit programs here.
Which category will 3 Step Method fall under?
I'm going to show you exactly what 3 Step Method is, how it works and whether you should go ahead and hand over your credit card details or give this one a pass…
This review isn't sponsored and I'm not associated with 3 Step Method in any way.
I'm just an honest guy on the outside looking in, doing my best to make sure people find truthful and unbiased information about ways to make money online when they need it.
Enough said. Let's dive in.
3 Step Method Review At A Glance
About: 3 Step Method is a single page 1,500-word document which supposedly comprises a full course.
Price: $37.
Pros: Offers a 60-day money back guarantee.
Cons: Hires Fiverr actors to make testimonials.
Verdict: 3 Step Method is an outright scam. Nothing in this crappy training is automated and the single page document won't help you make even a penny.  

What Is 3 Step Method?
The Kooky Claims
Land on the 3 Step Method website and you're told nothing about what 3 Step Method is or how it works, only that you have to enter your email.
I did that and was redirected to a second page with a 5-minute video you can watch below to find out more without giving your email address away:
If this sales video is to be believed then 3 Step Method is a simple, yet proven way to quickly and easily create automatic income streams online that pay you like clockwork. They give ordinary people like you and me a real shot at achieving financial freedom.
We're told this is something you can do regardless of your age, ability or background and there's no selling, recruitment, gambling or cryptocurrencies.
Apparently there's a whole team of people who drew on their years of experience to create 3 Step Method.
They claim to have taken earning online back to the basics. No jargon, no complicated instructions and no complex software – they've boiled everything you need know to start making money online down into 3 simple steps anyone can follow.
They tell us many members have gone on to make 6-figures a year as a direct result of following their easy-to-follow system. They even go as far as saying if you don't have the time or inclination to complete the 3 steps then the team will even do it for you, so your success is pretty much guaranteed.
Unfortunately though, what 3 Step Method claims to be and what it actually is, are two different things entirely, as I saw once I got inside the training area…
The Lame And Disappointing Reality
The entire training consists of a single page 1,500-word document which skims over these 3 steps:
Step 1: Choose
This section gives you some general tips and ideas on how to pick your affiliate marketing niche based on your hobbies and interests.
I don't want to get into trouble for showing too much, but here's the entirety of Step 1:
Step 2: Create
With your niche chosen, the next step is to start creating content. This could be by starting a blog, YouTube channel or a social media account.
Step 3: Cash
The training tells you to sign up to affiliate programs like ClickBank or Rakuten and add your affiliate links to your content in the hopes of generating sales.
The method they're showing you here is a true and valid business model called affiliate marketing, with an emphasis on making money with ClickBank.
I wouldn't mind so much if this page was packed with useful lessons, over-the-shoulder videos and detailed tutorials, but that's just not the case. All you're getting here is very generic and vague information.
Most people reading this are going to feel disappointed. I mean sure, it gives you a brief overview of the basic concepts of affiliate marketing but there's nothing here you can't find elsewhere for free.
Another thing is that choosing a topic, setting up a blog and sprinkling it with affiliate links is the easy part. Stats show 380 websites are created every minute!
Website builders like Wix and WordPress have made creating websites incredibly easy, even if you have no technical knowledge.
What 95% of people struggle with is actually getting readers. The real issue is how to attract a daily stream of visitors and you can turn into buyers. There's a lot of stiff competition out there and knowing how to stand out from the crowd is going to be vital to your affiliate marketing success.
There a few ways you can get eyeballs on your content, including getting your website ranked in Google. This is how I get 100,000's pageviews each month and yet 3 Step Method doesn't even mention it.
The sales video makes it sound like you're getting some amazing, profit-spitting system with 3 Step Method but as you've just seen, the reality doesn't live up to the hype. All you're getting is 1,500 words of very vague information about affiliate marketing.
You can check out my Free Affiliate Marketing Guide For Beginners here and call me biased, but I think you'll find more useful and practical steps in this than what you're paying for with 3 Step Method.
Can You Make Money With 3 Step Method?
They promise you an automatic income stream that pays you like clockwork, but can you really make money by following these 3 steps?
You're going to have to put in the work, choose a good niche and most importantly, you're going to have to figure out effective ways of driving traffic to your website on your own.
Building a successful affiliate marketing business is a pretty long, hard road and there's nothing quick or automatic about it.
Trust me, I've been there and done it, many times over!
Programs like 3 Step Method, Partner With Anthony, 12 Minute Affiliate and RU Affiliates like to sell you on the idea becoming an online entrepreneur is easy because I guess it serves their interests, but it does very little to help you get to where you want to be.
To become a successful affiliate marketer you're going to need to learn how to:
Build a WordPress website
Choose a low-competition niche
Find low-hanging keywords
Create high-quality content that answers questions people are asking
Run effective email marketing campaigns
Pick the right affiliate products/services to promote
You don't have to know everything on day one (I've been doing this for 5 years and I'm still developing, growing and learning new stuff all the time) but you do want to at least get a decent grasp of the basics before you get started.
Whether you're looking to become your own boss, quit your horrible day job, create an extra side income or to become financially free, it's important to understand it's a process that takes time.
You'll have good days and bad days but stick with it and it'll be worth it in the end.
More Helpful 3 Step Method Reviews
What I Like About 3 Step Method
1. The 60-Day Money-Back Guarantee
I think the best thing about this program is it comes with a full 60-day money-back guarantee, so you've got 60 days to get your money back if it doesn't meet your expectations (which is highly likely in my view.)
Payment processing is done through Clickbank so it's pretty easy to request a refund.
2. Affiliate Marketing Is Legit When Done Right
I love affiliate marketing. It's changed my life. Which is why I always recommend it as by far the best way for beginners to start making money online.
Why?
There's not much investment required upfront (domains, web hosting and training cost me less than $495/year) but you can start for free if you're on a budget
As you're making money selling other people's products, there's no need to buy, ship or store anything yourself
You don't need to deal with payments or customer care issues
There are over 600 million affiliate products you can promote
Unlike a high street store, your website is open for businessgenerating sales 24/7
Affiliate marketers are set to make a whopping $5 billion in 2020 (and it's growing year-on-year!)
Without question, there's a heck of a lot of money to be made with affiliate marketing. It's just that most people trying to get into it are hit with low-quality programs like 3 Step Method that offers very little value and won't get you very far.
You'll be better off with a solid step-by-step training course like Wealthy Affiliate that'll equip you with what you need to know to get up and running.
What I Don't Like So Much…
1. Hired Actor Paid To Pose As 3 Step Method Owner
The first huge red flag I encountered with 3 Step Method is the fact we have no idea who the real product owner is. This isn't an oversight by this product creator, but an intentional decision to hide his true identity.
Remember that guy making all those big promises in the sales video?
Yeah, he's a Fiverr actor getting paid to read from a script: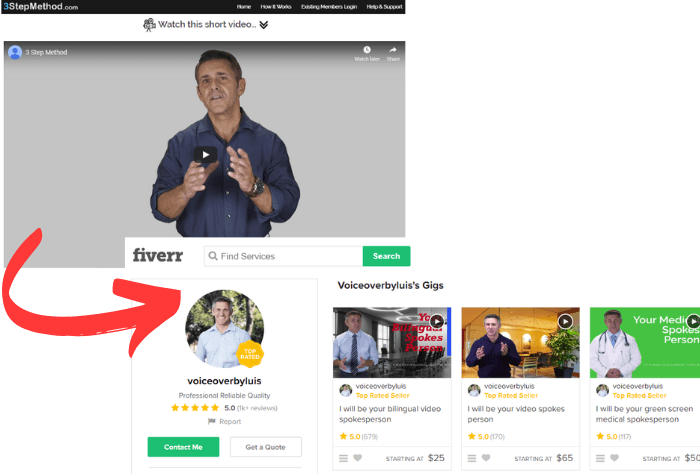 So you can go ahead and ignore anything you heard on the sales page because if the real owner can't even put his own face and name to his product then why on earth should you believe anything he has to say?
2. I'm Afraid The Testimonials Aren't Real Either…
Two more actors were used for the member testimonials. You may remember these people telling how their lives have changed since they joined the program:
Neither of these guys has ever signed up to 3 Step Method and yet they're giving it the big thumbs up and telling you this is the program that'll make you an internet millionaire.
But again, take a look on Fiverr.com and you'll find these guys offering to make fake review videos for a fee: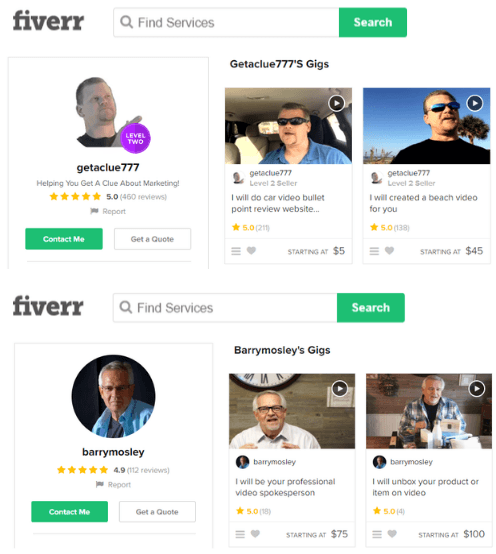 Is 3 Step Method A Scam Or Legit?
You've heard the hyped-up claims, you've seen the deception on the sales page and just how crappy the poor excuse for training really is.
3 Step Method is a scam because it simply doesn't do what it promises it will do:

There is nothing automated about this whatsoever
Nobody following this 1,500 guide will ever make a single penny
It's an all round crappy product you shouldn't waste your time and money on
It's a solid thumbs down for you Mr Anonymous 3 Step Method Creator.
A Better 3 Step Method Alternative
If you're looking to learn the affiliate marketing ropes then Wealthy Affiliate is a much better option. They've been the leading online business training platform since 2005 and with over 2 million members, they are the real deal.
I know this because I've been a member of their community for the last 5 years and they are the ones who finally taught me everything I needed to know about running a profitable online business.
The best part? You can take Wealthy Affiliate for a free test drive and see it for yourself.
Talk To Me
What do you think about 3 Step Method now you've seen what's on the inside? I'd love to hear your thoughts about this program or this site in general.
Have any questions about getting started with affiliate marketing? Scroll down and drop me a comment and I'll be happy to help in any way I can!