Welcome to the definitive Commission Academy review for 2023.
I spent 15+ hours going through Commission Academy's course so if you want to know:
What Commission Academy is about
Who's behind it (I've actually met the guy)
Exactly what's covered in the training
What the biggest pros and cons are
Whether you can really make money following the methods taught
If the whole thing is a big fat scam or 100% legit
Then you've come to the right place.
(Already taken the Commission Academy course? Leave us your review!)
Let's dive right in.
Commission Academy Review At A Glance

I've signed up for and reviewed dozens of affiliate marketing courses over the years, ranging in price from free all the way up to $3,600.
Some courses like Click Wealth System, 12 Minute Affiliate and Bulletproof Profits are just plain awful and will do nothing to help anyone make any money online whatsoever.
Then there are those legit and high-quality courses that give you a real path to financial freedom like Wealthy Affiliate and Invincible Marketer.
I'm very happy to say Commission Academy falls into the latter category and you'll do well to learn from Dale and apply the methods and strategies as they're laid out.
Commission Academy is the ONLY affiliate marketing training course I've seen that is 100% free. This isn't some, "We say it's free until we bill you automatically after a 7-day trial", it's completely legitimate.
You can keep your free membership for as long as you'd like – no strings attached. There's no payment information required and just your email will get you access to a MASSIVE amount of expert training which I'll detail in the full review below.
Tap here and join Commission Academy and you'll be glad you did! 🙂
Who Is Dale?
Dale is the Commission Academy creator and trainer and he's based in the UK. He was an electrician until he replaced his income online and quit his day job thanks to affiliate marketing, and now he's made it his mission to help as many people as possible do the same.
Here's Dale's bio from LivingMoreWorkingLess.com:
Here's an interview with Dale where he shares how he went from electrician to online entrepreneur that's well worth a watch:
I met Dale in 2020 at the Wealthy Affiliate Super Affiliate Conference in Vegas so I can tell you, yes he really does exist and his success story holds true: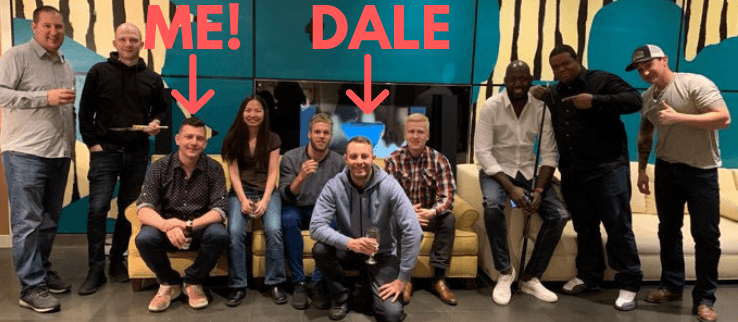 We had a blast and have kept in regular contact since. He's a genuine, smart guy with a lot of experience in the online business world and he's definitely someone you can learn a lot from.
What Is Commission Academy?
Commission Academy is a 100% free step-by-step crash course created by Dale, a successful super affiliate, that promises to "guide you through the entire process of launching your very own thriving online business."
Here's the official Commission Academy promo video:
Create your free account here for instant access and you'll learn the simple yet powerful strategy for making money online through affiliate marketing.
How Does Commission Academy Work?
Once you've signed up for your free Commission Academy account, log in and click on the blue Fast-Start Training button in the top menu and you'll see the training area, which looks a little something like this: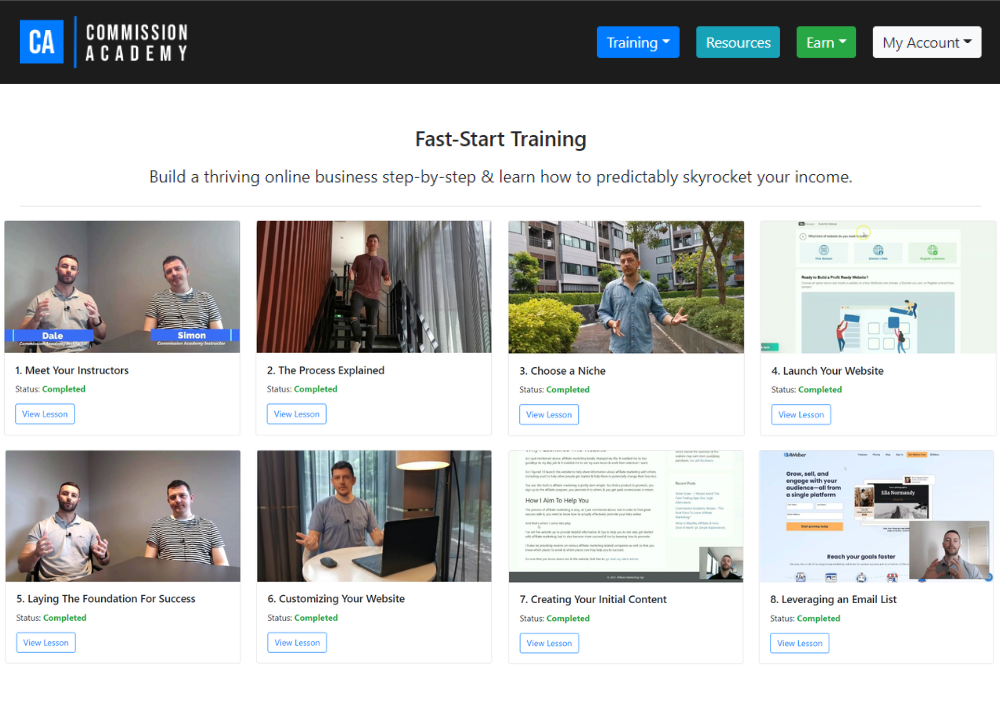 Commission Academy's Fast-Start training is divided into 3 core modules with 16 video lessons in total which essentially layout this 3-step process for earning commissions online:
Step 1. Create Content
Commission Academy insist you need a website to make money online. Don't worry though, because you'll learn the beginner-friendly way to build a professional website and create useful, high-value content based on any passion, hobby or interest you have.
Step 2. Attract Visitors
Dale will then walk you through how to get your website ranked in the search engines to have your website seen by 1000s of potential customers each day.
Step 3. Earn Revenue
Once you've done that, the next stage is about finding the right affiliate programs with relevant products or services you can promote to your audience to make money through affiliate marketing and start earning daily commissions.
It's a simple 3-step system that works.
I know it works because this is the exact strategy I've been following since I quit my call centre job 5 years ago and I've earned $100,000s since then.
What's Covered In The Commission Academy Training?
Commission Academy's Fast-Start training course contains 16 video and text lessons split into 3 modules.
Here's how the course is laid out:
Module 1: Set Up
Lesson 1: Welcome Video
Simon and Dale introduce themselves and give an overview of what's to come.
Lesson 2: Choose A Niche
Introduction to affiliate marketing and the true earning potential. Affiliate marketing website examples and niche ideas.
Lesson 3: Launch Your Website
A step-by-step video on how to register a domain, set up hosting, choose a WordPress theme and create your niche website.
Module 2: Start-Up
Lesson 1: Laying The Foundation For Success
A quick recap of Module 1 and intro to Module 2.
Lesson 2: Customizing Your Website
An over-the-should walkthrough of how to navigate WordPress, customize your site and add a logo.
Lesson 3: Creating Your Initial Content
Dale shows you how to find and edit posts and pages and how to hit publish on your first piece of content.
Lesson 4: Leveraging An Email List
Email marketing overview and how to start building an email list to earn repeat commissions.
Lesson 5: Preparing To Make Money
A recap of what you've accomplished so far and what's to come in Module 3.
Module 3: Make Money
Lesson 1: Finding Profitable Keywords
What keyword research is, how it works and how to use the Jaaxy keyword tool.
Lesson 2: Creating Content That Ranks
Creating clickable headlines, structuring and formatting posts and writing high-quality content.
Lesson 3: Integrating Affiliate Links
How to find affiliate programs and add affiliate links to your content so you can start making money with your website.
Lesson 4: Leveraging Product Reviews
How writing product reviews is one of the best ways to succeed with affiliate marketing.
Lesson 5: Creating Income On Demand
A deep dive into email marketing and why it's key to your success. Getting started with autoresponders and sending emails out to your list.
Lesson 6: Scaling With Videos
How you can get started with YouTube to get more traffic and commissions.
Lesson 7: Outsourcing Content Production
How to hire writers to scale up and the best places to outsource.
Lesson 8: Congratulations And Next Steps
A look back at everything you've achieved so far and next steps.
Can You Make Money With Commission Academy?
Yes, you absolutely can make money with Commission Academy. What they teach is a tried and tested method of making money online that is real and sustainable in the long term.
Follow and apply the lessons, take full advantage of the recommended resources, pick a topic you genuinely love to talk about and I promise the money will follow.
This isn't an overnight thing but stick with it, put in the time and you'll start to see those first few commissions trickle in, and become more consistent until eventually, that affiliate marketing business of yours will generate more money than your monthly paycheck.
How Much Does Commission Academy Cost?
Commission Academy gives you free step-by-step training. It costs you nothing to join and you get full and unlimited access for life.
I know there are a lot of training courses out there promoting themselves as free (including Wealthy Affiliate and My Online Startup), but Commission Academy really is 100% free.
No catch
No premium levels
No hidden upgrades
Just free video training to help jump-start your online business empire.
Who Is Commission Academy For?
Commission Academy is primarily aimed at affiliate marketing newbies or those who failed with affiliate marketing in the past.
Here's how Dale puts it on the Commission Academy homepage:

I'd recommend taking the course if you're brand new to affiliate marketing AND…
You're willing to take action
You can devote at least an hour a day to building your business
You don't expect to get rich from this thing overnight
If this sounds like you then click here to get started.
Who Commission Academy Is NOT For
If you're looking for overnight success at the click of a mouse then this is not for you.
Dale makes it abundantly clear from the outset that it usually takes Commission Academy students several months of effort to start earning $1000 or more in commissions.
Less than 2 minutes into the first training video, Dale says:
"Before we do go ahead and get started, there is one thing I want to make clear, which is the fact that this does take work. So if you're expecting to push a button and get rich then, I'm sorry, this is not the system for you.

However, if you are prepared to put in the work and you're willing to follow these videos right through then at the end of the training you'll be set up with everything you need to begin making money online and they'll be no limit on the amount you can earn."
Commission Academy Pros
I believe Commission Academy is the #1 legit crash course for affiliate marketing beginners for these 5 reasons:
1. Dale Walks The Talk
What Dale's going to teach you comes from his many years of experience as an internet marketer and super affiliate. This is the exact same process he's followed over many years to create several highly successful affiliate marketing websites.
It's a process that's been proven to work time and time again. Apply the lessons and it will work for you too.
2. The Training Is Super Simple But Highly Effective
If you like the Commission Academy blog and YouTube channel then you're going to love the step-by-step course.
Commission Academy is quickly becoming famous for its practical and actionable training that equips students with the knowledge and skills they need to succeed.
Dale does a brilliant job at laying out everything you need to know to build and grow a thriving online business in a clear and easy-to-understand way, covering:
How to choose a niche
How to create a website
How to research keywords
How to structure content and the best types of content to create
How to outsource content creation
How to find the right affiliate products to promote
How to build an email list
How to get started with YouTube
How to maximise conversions and increase commissions
Notice the recurring theme?
Every step of the way, Dale doesn't just tell you WHAT you should do but gives you step-by-step, over-the-shoulder videos that show you HOW to get it done.
2. Commission Academy Is A Hype-Free Zone
If you've seen the sales video then you already know Commission Academy is very understated. You won't see fake Clickbank earnings plastered all over the screen and there's not a Ferrari or private jet insight.
Unlike scammers like Anthony Morrison, Jamie Lewis and Jason Fulton who come out with the latest "top-secret hack" or "revolutionary profit machine" every other week, Commission Academy is more about providing people with high-quality training than cheap gimmicks.
All that to say, it's clear that rather than fill his own pockets, Dale's main aim is to help you fill yours.
3. Video + Text Lessons
Whether you prefer learning by reading or watching, Commission Academy's got you covered with lessons available in both text and video formats.
4. You Get A Tailored Track To Run On
Once you have the basics in place, Commission Academy offers you a few different options to scale up and take your business to the next level.
Whether that's through more advanced affiliate marketing training to acquire more skills, discovering ways to outsource and scale up our income or going the paid ads route.
Whichever direction you want to take, Commission Academy is specifically designed to meet your needs.
5. Commission Academy Students Get Results
Though Commission Academy was launched as recently as November 2020, a significant number of students appear to be getting good results by following the training.
It's still early days but I've gone through the entire training myself and I feel I know Dale well enough to believe that the success rate of Commission Academy will be equal to or higher than any other affiliate marketing training program out there.
Commission Academy Cons
1. Starting A Business Is Going To Take Investment
Though Dale is offering all this phenomenal training completely free of charge, you'll still need to invest in a website domain and hosting.
We're talking less than $50 a month. Dale says he tries to keep these costs to a minimum:
"We only ever recommend resources that are either required, or that will truly help the learner to launch & scale their business. The success of our platform is based on the fact that we put helping members first, earning revenue second."
Is Commission Academy A Scam or Legit?
Commission Academy is certainly not a scam, but rather a legit, high-quality crash course from a successful super affiliate with a solid track record and the approach Dale teaches seems to work well for his students.
The best part?
You don't have to pay a penny to get access.
Should You Join Commission Academy?
There are many other affiliate marketing courses out there, but Commission Academy is the best free affiliate marketing crash course I've come across so far.
If you're a beginner struggling to understand how the whole online business thing works then Commission Academy is a legit and solid place to start.
The only thing I'd say before you jump in and get started is don't skip any of the lessons and be sure to complete every action step before moving on to the next as each lesson builds on the last.
More Commission Academy Reviews
There aren't any Commission Academy reviews on Reddit or Trustpilot, but I did manage to find a handful of Commission Academy reviews on YouTube:
Your Commission Academy Reviews
Are you a Commission Academy member or have been in the past?
Share your review. Good or bad, we'd love to hear what you have to say!
Got any questions?
Start your free Commission Academy training here and I'll see you on the inside! 🙂
Simon Crowe is on a mission to help as many people as possible kiss their bosses goodbye.
Take the free Commission Academy course to discover how to smash your online income goals and make your dream business a reality.