This is the Warrior Plus review where I answer all your questions and tell you everything you need to know about this affiliate network. I'll also give you access to the best free affiliate marketing crash course to learn the real skills you need to earn a full-time passive income.
"flexoffers"
So you are ready to make money online, huh?
There's no end to Warrior Plus products promising easy overnight success and $500 a day affiliate commissions at the click of a button. You can see the dollar signs.
Warrior Plus has been around for donkey's years. They launched in 2006 and are one of the oldest affiliate marketing networks out there specialising solely in selling digital products in the online business space.
But there's a problem.
You've heard some positive things about Warrior Plus.
But you've also heard a lot of negative reviews with people calling Warrior Plus a scam.
What's really going on with this platform, how does it work and is it safe to use and legit?
That's what this SUPER in-depth review is all about.
A candid look at Warrior Plus, warts and all.
Let's begin.
Warrior Plus Review At A Glance
About: Warrior Plus is an online marketplace for buying and selling affiliate marketing courses and software.
Price: Warrior Plus is free to join but product prices vary.
Pros: Product creators can get more exposure and find affiliates.
Cons: 99% of products are absolute junk and it's not so easy to get a refund.
Verdict: Don't buy or promote anything sold through WarriorPlus. It's a safe haven for get-rich-quick scammers and their neverending product launches and upsells.

Whether you're looking to buy a Warrior Plus product to learn how to make money online or promote Warrior Plus products to make money online, it's probably not a good idea.
Go ahead and promote Warrior Plus' low-quality products and you'll lose all credibility and trash your reputation online.
What Is Warrior Plus?
Founded in 2006 by Mike Lantz, Warrior Plus is an online marketplace for buying and selling affiliate marketing products like eBooks, online courses, done-for-you funnels and internet marketing software.
There are dozens of new "revolutionary", "brand new" and "guaranteed" money making systems added to the platform each day.
Unfortunately, there's no quality control and 99% of them do not live up to the hype…
Most of them are total scams like:
Online scammers create and promote these Warrior Plus scams by making promises of fast and easy cash that are too good to be true to take advantage of those looking for a legitimate online income.
In fact, I've reviewed dozens of Warrior Plus products, but have yet to come across a single one I can honestly recommend.
Making money online isn't complicated…
This video will show you exactly how to get started. Tap to watch now »
How Does Warrior Plus Work?
Warrior Plus works similarly to JVZoo and Clickbank in that it's a platform that facilitates the buying and selling of digital products.
Warrior Plus is used by:
Vendors who want to create and sell products
Affiliates who can promote vendors' products for up to 75% commissions
Customers who buy products to try learn more about affiliate marketing
Warrior Plus vendors can create products and list them in their marketplace so thousands of affiliates can see them. Warrior Plus deal with all the payments, customer support and affiliate payouts.
Warrior Plus affiliates can join for free and find a constant supply of "make money online" type products to promote to their audience knowing the products have a lot of upsells in the back end so they'll make a lot of money.
Warrior Plus customers can buy products and pay via PayPal or Stripe.
What Kind Of Products Are Sold On Warrior Plus?
WarriorPlus says they are a digital product platform for buying and selling products to help you start or grow an online business.
They say they sell products such as:
An eBook that reveals a new traffic source for getting more traffic
A course that teaches how to make money typing online
Automated software that promises to streamline your affiliate marketing business
Software that easily creates YouTube thumbnails
Done-for-you funnels and marketing systems
In reality, you're much more likely to find:
"Get-rich-quick" schemes
"Push button" systems
"Top secret" and "hidden" loopholes and methods
"Guaranteed" overnight profit-generating software
Look at WarriorPlus' top sellers list and you've got products like Easy Retired Millionaire, 3 Step Method and Perpetual Income 365 hitting the top spots, all promising potential buyers quick and easy profits for zero effort.
Whether you're looking to launch a full-time business from home or build a lucrative side income, run from anything promising crazy cash in a short time like it's the plague because it's a sufe-fire sign it's about taking money FROM you instead of getting money TO you.
The key before buying anything on WarriorPlus is doing your research, not falling for the hype and using your brain, no matter how tempting a product may seem!
Is Warrior Plus Safe And Legit?
Warrior Plus is a legit online marketplace in the sense it's been facilitating transactions between customers and product creators since 2006, but is Warrior Plus safe? Not really.
I have yet to find a product sold on the platform that's NOT a scam (meaning it doesn't actually do what it says it will do!)
Before you buy any Warrior Plus product be sure you know and trust the vendor or the affiliate promoting it to you, otherwise I'd recommend giving it a wide berth.
Is Warrior Plus A Scam?
Warrior Plus is a legit online marketplace for digital marketing products but it does allow scammers to scam countless victims online due to a lack of quality control.
To be fair, not everything sold on Warrior Plus is an out-and-out scam, most Or as GigHustlers puts it,
The ones that provide some value, but fall far short of their promise. Or, they give you something up front, only to pull you further into their money-sucking funnel.
In the make-money-online industry, a common tactic is selling products that only give you one piece to the puzzle. Sometimes it's because that's the only piece the seller knows, and other times it's because they're leaving a trail of crumbs that just leads to more spending.
How do they get away with this legally?
They say in the terms and conditions saying:
"It is important to understand we are only a middleman between the buyers and sellers. As such, we assume no responsibility for the content of any product or how a buyer uses it.

We have no liability for what may transpire between the product seller and buyer, and in fact we explicitly require you to hold us harmless in the event of problems."
I'm sorry, but this isn't good enough.
Warrior Plus needs to do a better job at screening the products sold through their platform. Claiming ignorance or avoiding responsibility just isn't going to cut it for the hundreds of thousands out there who have fallen for the false and deceptive marketing practices of their vendors.
Can You Get A Refund With Warrior Plus?
Yes you can get a refund with Warrior Plus, but they don't make it easy and vendors will give you the runaround.
Don't worry though as I've got you covered. Here's the simple 3 step process you can follow to ensure you get your money back every time.
Step 1: Request A Refund From The Vendor
Get in touch with the vendor with the support email you received at your time of purchase.
If you've bought a Warrior Plus product that wasn't as advertised (which is 99% of them), start off by contacting the vendor and requesting a refund first. You'll likely not get anywhere fast but it's going to help you when you take the next step of requesting a refund from WarriorPlus directly.
Step 2: Contact WarriorPlus Directly
If you hear nothing back or they refuse to give you your money back within 48 hours it's time to open a support request, which is just a simple form where you provide them with your item number and PayPal email address.
You'll probably get a copy and pasted reply telling you to go back to the vendor again, but don't worry, you have one more step.
Step 3: Dispute The Transaction With PayPal
Complete steps one and two and you are just one more step away from getting your refund.
The best way to get a Warrior Plus refund is to file a dispute with PayPal by providing them with the evidence you've completed the action steps above.
It's a very straightforward process and will only take you a couple of minutes. It shouldn't take too long to get a decision either and it will almost always go in your favour as PayPal knows about the fake advertising tactics and low-quality of WarriorPlus' products all too well.
Fair warning though, as Dale rightly points out, filing a PayPal dispute could get you BANNED from the WarriorPlus platform.
Here it is from the horse's mouth:

Don't let this put you off though. If you've been conned into buying a half-baked product due to fake and misleading advertising then you have every right to complain and get your money back.
They make it sound like getting banned from Warrior Plus is a punishment but, trust me, it's a blessing!
Can You Make Money With Warrior Plus?
You can make money with Warrior Plus either as a vendor creating and selling products or as an affiliate promoting other people's products.
Affiliate marketing is my all-time favourite way to make money online and I've made $100,000s since I got into it.
But push all those ridiculous get-rich-quick claims out of your head. You don't need to buy solo ads or spam social media to be successful at this.
Broken down, here's the 4-step process that gets me tons of traffic and sales every time:

Step 1: Choose An Interest
Travel, fashion, fitness, cooking, music, gaming – whatever you're into you can build a super successful business around it.
For example, you could:
Start a running blog
Start a beauty blog
Start a photography blog
Start a Christian blog
Start a gardening blog
The key is to choose a topic you have some level of interest and experience in as this will really help you in the long run.
Step 2: Build A Website
This is the part that gets technophobes running for the hills but you needn't worry. Gone are the days you had to become a programming expert to start a website.
In fact, it's never been easier.
Your website is going to be your digital hub that's going to drive all your affiliate marketing success going forward.
Most affiliate marketers struggle because they skip this step and go down the solo ads traffic route or even worse, try those done-for-you systems that doom them to failure every single time.
There's a better way. Start strong, do it right, create a website and you'll build a business on a rock solid foundation and do very well for yourself for many, many years to come.
Step 3: Attract Visitors
Billions buy groceries, book flights and do their shopping online every single day and your job as an affiliate marketer is to help match people with the right products for them.
You need eyeballs on your site to have a chance of earning commissions.
So what's the best way to get people to your website and clicking on your affiliate links?
Forget spamming Facebook groups and email inboxes. The single best way to get streams of traffic to your online business is Google.
Why?
Because once you master the art of search engine traffic you'll have 10,000s of people who are interested in your topic, looking to buy what you're offering coming to YOU.
Do it this way and there's no more having to chase or pay for traffic as this traffic is 100% free!
I explain more in this video:
Step 4: Earn Revenue
Each target topic is going to have good quality, sought-after products and services you can recommend to your audience and earn affiliate commissions for every sale you generate.
If anyone is selling anything online, chances are they have an affiliate program you can join for free. Then it's simply a matter of linking to their products and services from your website or YouTube channel with your unique link and watching the commissions pile up.
Nearly every company (big and small) has an affiliate program these days:
Amazon
Walmart
Sony
Target
eBay
Fiverr
The list goes on…
Should you promote WarriorPlus products?
I wouldn't. I never have and never will. It's all junk. And the problem with recommending junk is it gives you a bad name online and that's hard to come back from. I wouldn't do it.
If you want to be super successful at the online game then strive to be as helpful as possible, offer as much value as you can and always keep an eye on the quality of the products you're putting your name to.
Buy them yourself first and test them out. You'll make a lot more money if you do! 🙂
WarriorPlus vs Clickbank
Both WarriorPlus and Clickbank are online platforms that connect product creators with affiliates and handle all of the payment processing. The biggest difference between the two is that WarriorPlus focuses on online business type products, whereas Clickbank has a much vaster array of products.
Go to Clickbank.com and you'll find products in the sports, home and gardening, health and beauty, real estate, food and wine, language learning and self-help niches (to name a few).
You can make money with Clickbank selling anything from keto diets to dog training programs. And as most Clickbank products are digital products, they tend to offer generous commission rates of up to 75%.
WarriorPlus vs JVZoo
Like WarriorPlus, JVZoo is free to join and gives you access to boatloads of products you can promote as an affiliate.
JVZoo also focusses on products in the make money online niche with training courses and software aimed at helping affiliate marketing, dropshippers and internet marketers.
In terms of reputation, WarriorPlus, Clickbank and JVZoo all have a pretty dodgy track record when it comes to filtering out low-quality products from their platforms.
Warrior Plus Reviews: TrustPilot, BBB & YouTube
Now let's take a look at other Warrior Plus reviews and see what the average Joe thinks of this network.
First stop, Trustpilot.
WarriorPlus has a lousy 1.3 out of 5-star review rating after 95 customer reviews with 93% of people rating them bad: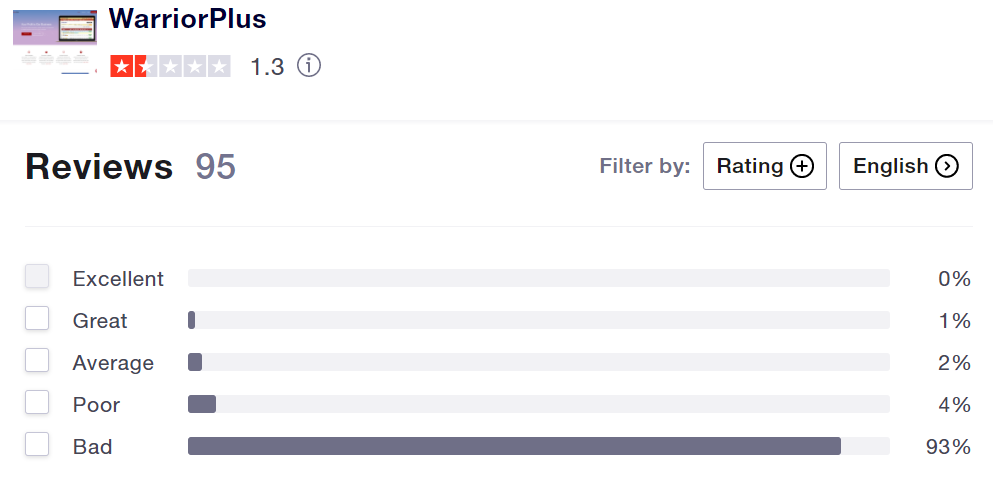 Unsurprisingly, their latest review is from someone who got scammed: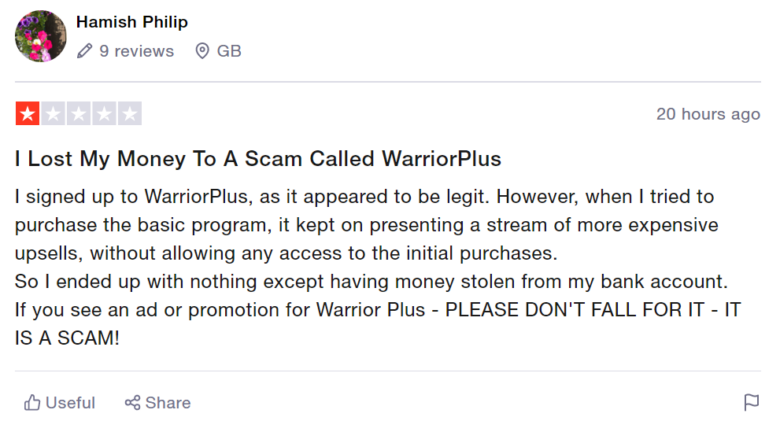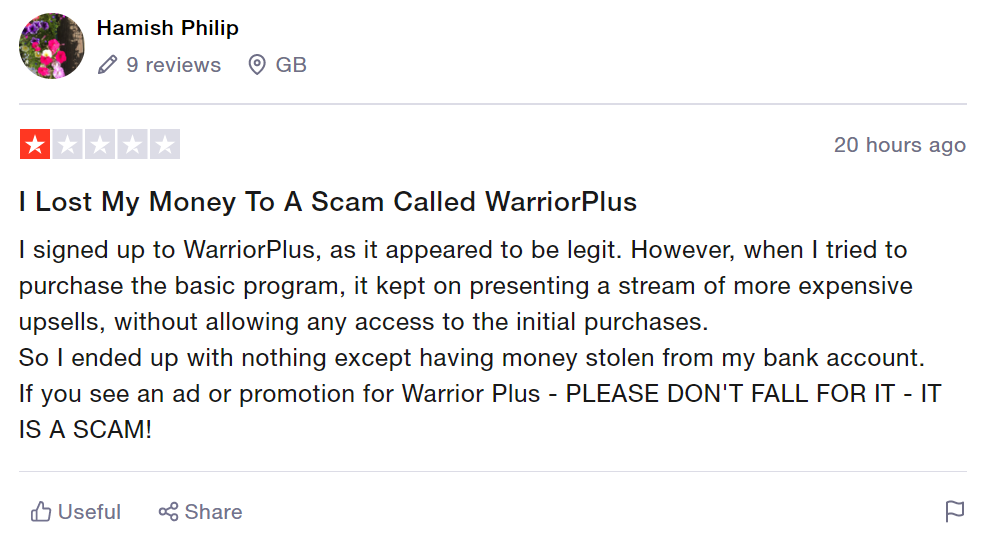 And I can't say I disagree with the next reviewer either…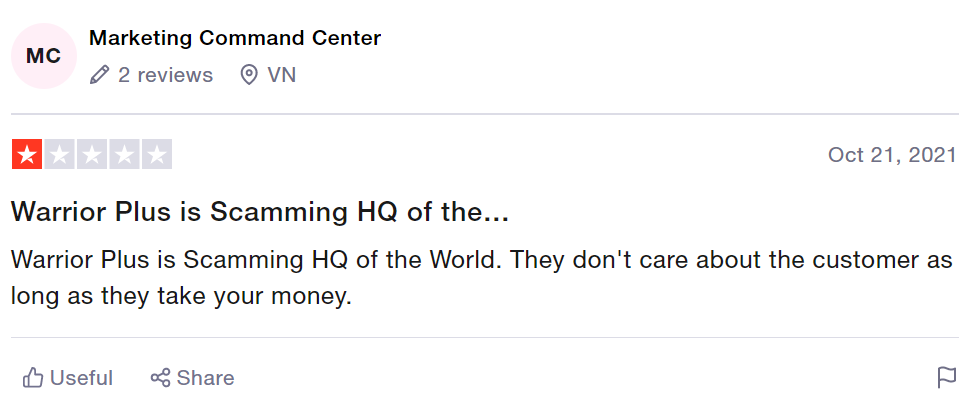 Here's a guy angry he was duped by a low initial pricepoint before being led down a neverending spiral of upsells and upgrades: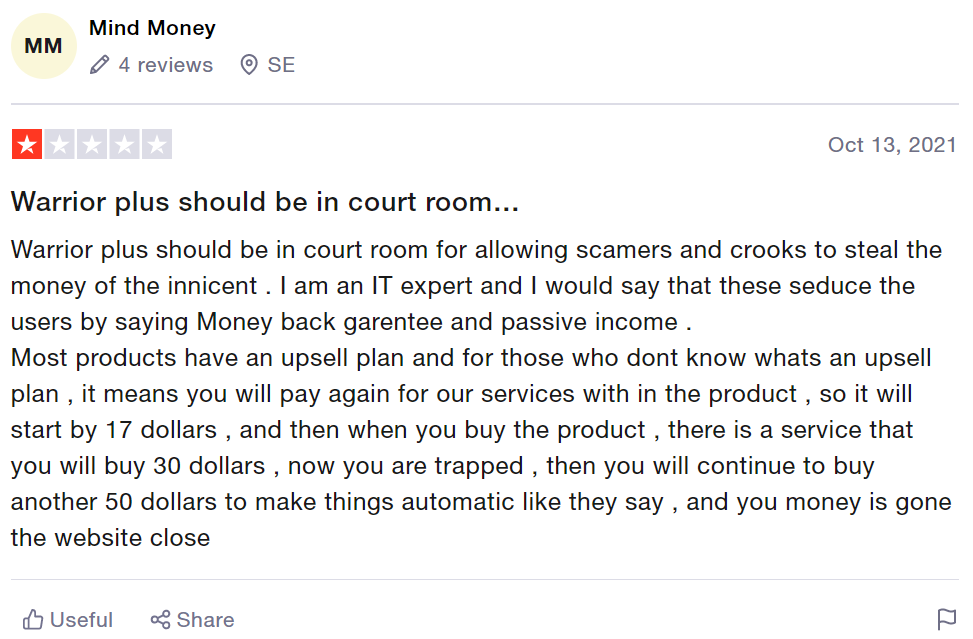 You'll see complaints like these over and over again.
Let's try the Better Business Bureau and see if Warrior Plus fares any better there…
Right off the bat, it doesn't look like it. This guy says he can't get a refund:

YouTube WarriorPlus reviews seem to say the same thing. Basically:
Don't buy anything sold on Warrior Plus and if you're an affiliate, find better products to promote to avoid tarnishing your reputation.
WarriorPlus just posted an update on their Facebook page.
Whilst I welcome the introduction of a compliance system, they have yet to begin to deal with the deceptive advertising that is running rife on their platform:
Warrior Plus Review Summary
So what's our objective take on WarriorPlus?
Pros
The oldest network solely for digital make money online products
High commission rates (up to 90%)
WarriorPlus provide a 60-day cookie across the board
Creating affiliate links is very easy
WarriorPlus offer weekly and fortnightly payouts
Cons
The dashboard design is 20 years old and in desperate need of an update
Products are limited to online business and internet marketing only
The vast majority of products are junky scams
They make it difficult for customers to get a refund
You have to request approval from vendors before you can promote
I have yet to find on WarriorPlus an affiliate marketing course I can recommend
Warrior Plus has a ton of negative reviews and has a reputation for being a safe haven for scammers
WarriorPlus Review Conclusion
So that brings us to the end of my WarriorPlus review.
WarriorPlus provides a platform for internet marketing product creators to find affiliates and the top 1% of vendors are making a lot of money.
The real issue with WarriorPlus is that literally anyone can sign up and start selling products. This is why the site is riddled with some of the scummiest make money online scams we've reviewed.
Yes, you absolutely CAN breakthrough and make good money as an affiliate marketer.
Just make sure you always do your research, read reviews and get the right training.
And if you're interested in making money online (and who isn't?) why not check out our free step-by-step crash course on launching a thriving affiliate business.
We teach aspiring online entrepreneurs the basics of choosing a niche, creating a website, getting ranked, how to create high-converting sales pages and how to start making affiliate commissions daily.
And you don't have to buy a damned thing from us.
Just let us know the best email address to send it to.
Your Warrior Plus Review
Have you been scammed by a supposed surefire money-making system you bought on Warrior Plus?
Had any experience trying to sell these products online?
Tell us about it in the comments below. Your experience could save others from having to go through the same fate.
Simon Crowe is on a mission to help as many people as possible kiss their bosses goodbye.
Take the free Commission Academy course to discover how to smash your online income goals and make your dream business a reality.