Jono Armstrong and Brendan Mace have teamed up again to peddle another affiliate marketing system. In my Smash My Campaigns review, you'll hear less of the hype and more of the truth behind what this system really is.
My initial reaction to it? Meh.
Although Smash My Campaigns is presented to be a brand-new system, I wasn't really impressed, I've made over 100 reviews on online make money systems, and Smash My Campaigns' methods are definitely something I've heard of before.
Honestly, making money with this system, though not impossible, is highly unlikely. I'll go over what it really is, how it costs, and how it works so you'll get a better look at this easy money software and see for what it really is.
I'll then tell you the cons of using Smash My Campaigns, if it's a scam, and if it's wiser to switch to a better alternative.
Smash My Campaigns Review At A Glance
About: Smash My Campaigns is an affiliate marketing system claiming its done-for-you campaigns can make you earn $1000s daily.
Price: $12.95 for the front-end plus $766 for 5 upsells, and at least $100 for solo ads.
Pros: Comes with a 30-day refund option.
Cons: The hype of making 1000s per day from the pre-made campaigns by making just a few clicks doesn't deliver.
Verdict: Smash My Campaigns is an over-hyped system that's highly unlikely to make you money because of the poor traffic source promoted.

What Is Smash My Campaigns?
Smash My Campaigns is an affiliate marketing income system made by Jono Armstrong and Brendan Mace, launched last January 2020. It provides 15 one-for-you campaigns with built-in products to allegedly earn $1,000s from, the same ones Brendan said that made him money.
Along with the 15 campaigns are bonus pages, email swipes, case studies, and a few other bonuses.
The package can look pretty enticing also because the sales page builds it up to look like a must-have software.
It says:
The campaigns are the "exact clones of Brendan's best-performing campaigns"
It's perfect for newbies because you won't need technical experience to make money from this
There's no limit to the money you can make
Top it off with the claim of being a "foolproof system which takes just minutes to set up but generates instant commissions".
Basically, it leads you to believe making money from Smash My Campaigns is easy and fast, the typical get-rich-quick hype that always fails to deliver.
I'm not really surprised, Jono and Brendan are serial product creators who launch products several times a month.
Some of Jono's other products are:
Brendan's products on the other hand are:
All are either low-quality or outright scams.
Honestly, the money they make are not results of using their systems BUT from selling new products almost every week.
How Much Does Smash My Campaigns Cost?
You can get Smash My Campaign's front-end software for $12.95. You also have to spend a whopping $755 for 5 upsells and a minimum of $100 for paid ads.
You don't 'have to pay' an outrageous $755 for upsells because they're optional but they do 'strongly encourage' or 'do their best to convince you to'.
Brendan says the front-end can get you access to bonuses worth $2,693. But think about it:
Does it really make sense to sell a front-end for spare change and get $1000s worth in bonuses?
And if this system really generates $1000s, why will anyone sell it for such a cheap price instead of just earning from what the system can do?
Selling it for $12.95 can sound like a good deal, but the truth is, it just reveals Smash My Campaigns for what it really is, a rubbish system.
If you're interested to know more about the upsells, here's a bit of an idea about what each of them.
Upsell 1: Traffic Training ($37)
This implies there's no traffic source taught in the system unless you buy this, showing how inadequate it is. The campaigns will be useless without this lifeblood.
The kicker is:
There's really no life to this blood. It only teaches you to share your campaigns on social media to generate traffic which won't work unless you have an impressive social following.
Plus, this is not a targeted traffic source because you don't really know if anyone will take you seriously or if anyone is interested in buying something you promote.
If there will be a few people who'd trust you and give it a shot, those will probably be family and friends. When they realize how useless this is, you can even risk losing credibility and ties.
Upsell 2: Lifetime Campaigns ($197)
This upsell will get them to send you campaigns every month for a lifetime. But then again, there's no guarantee given if these campaigns are compelling enough to move people to action or if the product it comes with even worth buying.
Upsell 3: The Ultimate Traffic Package ($197)
This upsell supposedly gets you 7 hours worth of traffic training using Youtube, Facebook, and Google ads. Basically, they'll teach you to spend on ads to drive traffic. This can cost you at least $100 for each traffic platform.
You'll most likely spend more than making money. Even if you're taught how to make compelling campaigns, if the product pitched is useless, you still won't make money.
Upsell 4: Easiest System Ever ($157)
Basically, this upsell sets everything up for you, another way of saying you have zero control over your income machine.
Upsell 5: License Rights ($167)
Allow you to sell the software and keep all the commissions. Unless you can prove this can really generate income, you won't be able to convince others to opt-in.
How Does Smash My Campaigns Work?
Smash My Campaigns furnishes you with 15 campaigns with bonuses and products you just have to activate to supposedly start making money. Basically, the campaigns will pitch a product and if anyone decides to buy, you get commissions.
Sounds easy right? Even the sales page made it look so easy by saying you only have to do 3 steps.
1. Login to the software.
2. Deploy the campaign.
3. Make money.
Even the members' area is pretty straightforward, too straightforward it's boring.
When you log in you get a video of Brendan telling you what things to click on.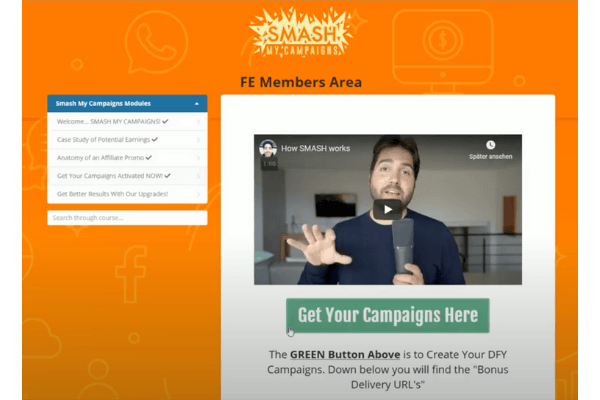 Essentially you just have to go to the campaigns page and assign a campaign name, enter your WarriorPlus affiliate link, choose from the 15 pre-made campaigns, and click generate.
After finishing those steps, you also immediately get a bonus page to come with it. Then you just wait forever for money to start pouring in.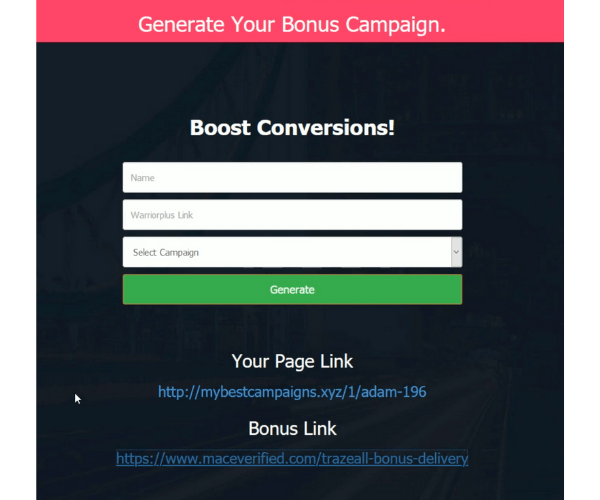 Something's missing right? Of course, traffic.
Again, it will only teach you to share your campaign link on your social sites and as I've said earlier it won't do you well unless you have a huge following.
You see, on the case study Brendan shows the huge following he has on YouTube which means it's easy for him to deploy his campaigns because he already established a following way before Smash My Campaigns existed.
For beginners, you most likely won't have as much following, unless you're an influencer. Even if you are one, I'm sure you won't risk promoting a product with questionable results.
Traffic will be your number 1 problem. No matter how good your campaign is, if you won't get people to see those, it's pointless. YOU WON'T MAKE MONEY.
Then again, even the products you pitch with the campaigns is not guaranteed to be high converting. This is problem number 2 for you.
Another pointless feature I see with Smash My Campaigns is proving you with emails swipes without really teaching you all about email marketing.
1 key principle for email marketing to work is establishing a connection with your list by providing value and not just pitching products all the time. Since Smash My Campaigns only gives you email swipes to pitch a product, you'll be completely ignored IF you even land on the inbox and not on the spam folder.
So, you see, making money with these done-for-you campaigns is easier said than done.
If you want to see a video of the inside look, check this out:
5 Cons Of Smash My Campaigns
1. The Sales Page Is Misleading
The income promised is way over the top but when you actually buy the software and deploy the campaigns, you'll realize getting a trickle back will take forever.
2. Inadequate Training
You'll just be taught what buttons to click on and not really how affiliate marketing and email marketing really works.
3. Expensive Upsells
The useless upsells will cost you an arm and a leg without really doing something good for you in return.
4. Zero Control
Since everything is done-for-you, you won't be able to make your campaigns better and if Brendan decides to shut everything down, your investment will get flushed down the drain.
5. Income Disclaimer
Every inch of what is promised on the sales page is squashed by the disclaimer saying there's no guarantee you'll make money just like Brendan and Jono did.

Is Smash My Campaigns A Scam?
Smash My Campaign is not a scam because technically you are given the 15 prebuilt campaigns with products and bonuses promised. But it can fall under borderline scam because everything else promised is not true.
Yes for $12.95 you get 15 campaigns. BUT it's all you get. There's no useful traffic so people won't really get to notice it. No traffic, no commission.
What's a campaign's use if no one will see it, right?
I definitely don't recommend this to you especially if you're a beginner.
Where Do You Go From Here?
Instead of relying on unguaranteed pre-built campaigns, it's way better to build your own niche-based website to pitch a product and get targeted traffic for free!
Smash My Campaigns won't teach you anything about it, but Wealthy Affiliate will.
Wealthy Affiliate will teach you how to build a SUSTAINABLE business from scratch in a CHEAPER but more EFFECTIVE way.
It provides every beginner's needed step-by-step training plus a group of like-minded affiliate marketers ready to help you grow your business.
You can even test-drive the 1st 10 lessons for free before shedding your hard-earned cash.
Wealthy Affiliate will teach you the cold hard truth in affiliate marketing and not hyped quick fixes to get you to buy anything.
If you want to know more about how Wealthy Affiliate can help you, head on to this in-depth Wealthy Affiliate review to satisfy your questions.
What's Your Take?
Do you think Smash My Campaigns is a mere quick fix that fails to deliver? Were you annoyed to know there's only 1 video training?
Share what you think, we'll look forward to it in the comments section.
Simon Crowe is on a mission to help as many people as possible kiss their bosses goodbye.
Take the free Commission Academy course to discover how to smash your online income goals and make your dream business a reality.