Heads up! Brendan Mace is back again with another churn and burn platform.
This month's entry: Print Monkey.
Is it another scam or is this the golden ticket to success you are waiting for?
If you're considering opening up your wallet for this I suggest you keep it somewhere safe first with a double-barrel lock before the hype blinds you. There are a few things you need to know to get you thinking practically again.
In this review, we'll be answering your questions about Print Monkey and showing you the best way to make money online.
Print Monkey Review At A Glance
About: Brendan Mace's and Jono Armstrong's done-for-you campaigns system that gets $100s in daily income.
Price: $12.95.
Pros: None I can think of.
Cons: The sales page is flooded with hype, no training provided, poor quality products, and fake income claims.
Verdict: Print Monkey is a scam. It's a mere rehashed system by its serial product creators. All hype and no results.

What Is Print Monkey?
The funny thing is, Mace starts out his marketing video saying he has something "ridiculous" for you. Did he just make a clown of himself without realizing it?
Well anyway.
Print Monkey is a DFY (Done For You) campaign that claims to flood you with a 4-digit income every day.

It pretty much works like StealthD, 0 To $100 In 24 Hours, and Profits Passport.
It's was launched by Brendan Mace just this June of 2020 and promoted by Jono Armstrong, his partner in other get-rich-quick systems he made in the past.
If you think this is a brand new revolutionary magical cash machine, I hate to break it to you, but it isn't. This is just a rehash of the past systems Mace has made just with a new lick of paint to dupe newbies into shelling out some cash.
Here's the thing about Brendan Mace:
Instead of using his skills and resources to build the best money making systems, he's been known for creating one program after another.
After some weeks, don't be shocked to find out he launched another "brand new" money-making product that's not far off from what he's made before. It will just be the same old gimmick-covered program ready to dupe unsuspecting ones.
Do me a favor. Don't be one of those people.
If you think you'll make a lot of money from this, you won't. If there's someone who will earn tons from this, it's only one person, Brandon Mace.
You might ask: How does he always get away with his rubbish systems?
Because he's a master of manipulation, creating a strong hype of product launches here and there backed up by a community of like-minded schemers ready to promote anything. When you start reading reviews of those people, you will start to think that every system he's made is credible.
It will only take some time for you to realize they're all working together to suck up cash from every newbie that comes along.
If you're a newcomer to the affiliate marketing field I suggest you check out this free beginner course for a jumpstart.
How Does Print Monkey Work? (Or Does It Really Work?)
You start by signing up and paying $12.95.You can then start sending out DFY campaigns to start earning a commission.
Sound easy right? Not exactly.
Although Mace claims that he already used this system to earn his 4-digits and he's sharing it to you so you won't crash and burn, making money from this is not a walk in the park. I'll talk a little bit about his claims in the marketing video.
Claim #1: 30 DFY Campaigns That's Proven To Make Money
The only proof he's given is a bunch of income photos that can easily be edited. If the experience was proof, it only proved HE made tons of money, not the people who bought his systems.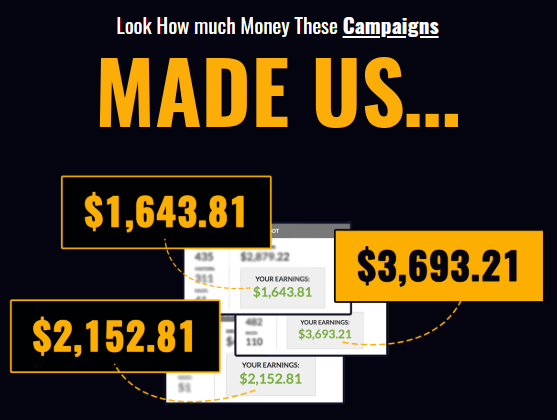 Claim #2: All The Right Pages To All The Right Offers Put Together in The Right Way
The thing is, you can't use a single bait for different fishes. It's ridiculous to say he's made the right pages and right offers that work for everybody. If he did, there won't be a single critic to stand in his way, everybody will be all praises to him.
Plus he didn't have to repackage old systems if it really worked.
Claim #3: "I Hate Seeing People Put All The Work In… Some Outdated Method That Doesn't Work"
I actually think he feels the opposite. He made money from all these people you know.
Claim #4: Will These Campaigns Become Saturated? NO
Actually yes, if you dupe enough people to buy this system, you will have tons of people using the same campaign to drive traffic. Trust me, it won't convert to sales.
People will look for value to be convinced to buy something, only a quality content does that, not some reused useless campaign. Granted, some people might get interested and check this out, but they won't find enough reason to buy.
No logical risk of saturation? Do you really think people will believe that?
What I Don't Like About Print Monkey
1. Sales Page Flooded With Hype
"Quick and easy"
"No more stress"
"No more worrying about bills"
"Freedom to travel"
"Impossible for you to fail"
"Proven to make money"
"Real results"
Honestly, these are the exact same phrases a scam will say to compel people to buy their product.
Here's more: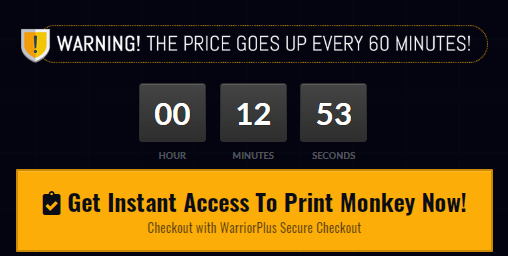 They put emotional manipulation 1 step higher by using the scarcity tactic. If you just refresh the page, the timer will start running again.
And another step higher with this: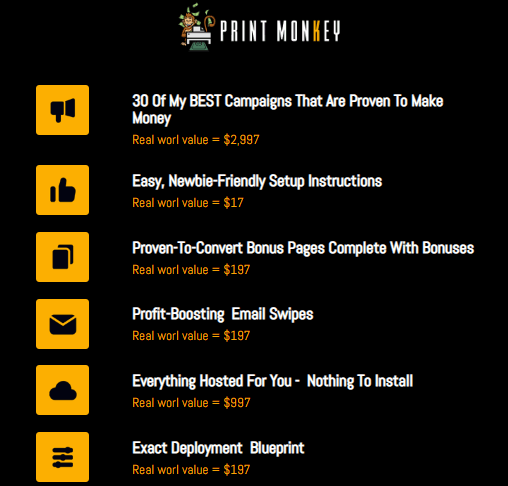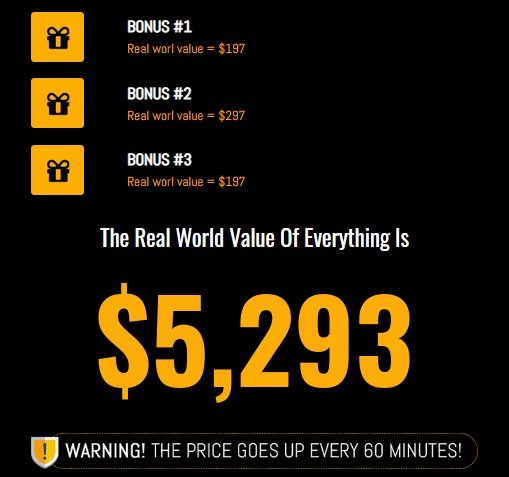 If the product was really that good as they claim it to be, this gimmick won't be necessary.
2. No Training
Unlike what Mace claims that he will not leave you hanging, he actually does. There's not even a basic training given on how to make this work, where to put this, and so on.
3. Promoting Poor Products
I'd give them a chance if they had a great line of products to promote because that means even with reused traffic, people will still end up buying because the product is worth it. But no, it's not.
Reused traffic + poor products = Get you nowhere
4. Not A Real Sustainable Business
Unlike his claim that this campaign will work weeks and even months from now, it won't. Why else will he jump on to the next product if it really does?
Using his campaigns means you're against huge competitors. There's no way you will stand out which means there's no way for you to really earn.
5. Fast And Easy Cash
Here's the truth:
Mace promises everything will be set up in just 10 minutes and then you start earning. But think about this, how will you make money by spamming every social media platform with his sales campaigns?
These people do not know you. More so, they won't trust anything you say to them (or what Brendan says because it's his face on the videos).
Ever wonder why spam sounds like scam? Because they're from the same bloodline.
6. Fake Income
It's easy to put of something like this but hard to prove it's not edited.
Is Print Monkey A Scam?
Need I say more?
Just think:
Brendan and his army make a habit of launching the next "revolutionary" money-making system every few weeks that roughly does the same things.
If they were legit, do they have to do that?
A legit system builds credibility, Mace doesn't. If he's building something, it would be a bad name.
It's just the same old concepts and videos repackaged with a new logo and name.
Honestly when I first heard the words Print Monkey, "monkey business" was the next words I thought off.
Print Monkey Bottom Line
Rehashed ideas sold as a brand new product?
Remember this:
It's a worn-out tactic of squeezing money from all unsuspecting people so that they can line their own pockets.
If Brendan really wants to help people earn as he does, he should have made a system that's built to last not jumping from one scheme to the other.
Print Monkey is just an overrated system built to last until the next "new" money-making system comes along.
It's just plain churn and burn. When Mace abandons this platform, your DFY pages will be dead. (If they even lived in the first place)
Shortcuts to success are really tempting but trust me when I say it doesn't work.
A better choice I'd say is working on a solid strategy that's really proven to work with time. Investing in quality content will never grow old because people will not grow old in finding value in whatever is put in front of them.
How I Make A Living Online?
After years of working in call centres I finally figured out how to create a 5-figure monthly passive income stream and become financially free.
Thanks to the right training and a lot of hard work I kissed my old boss goodbye and booked a one way ticket to Thailand.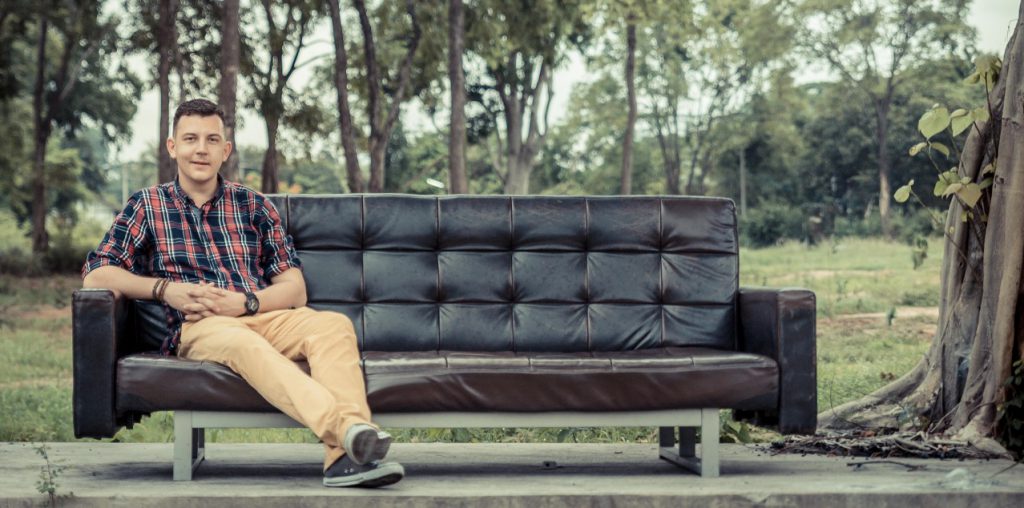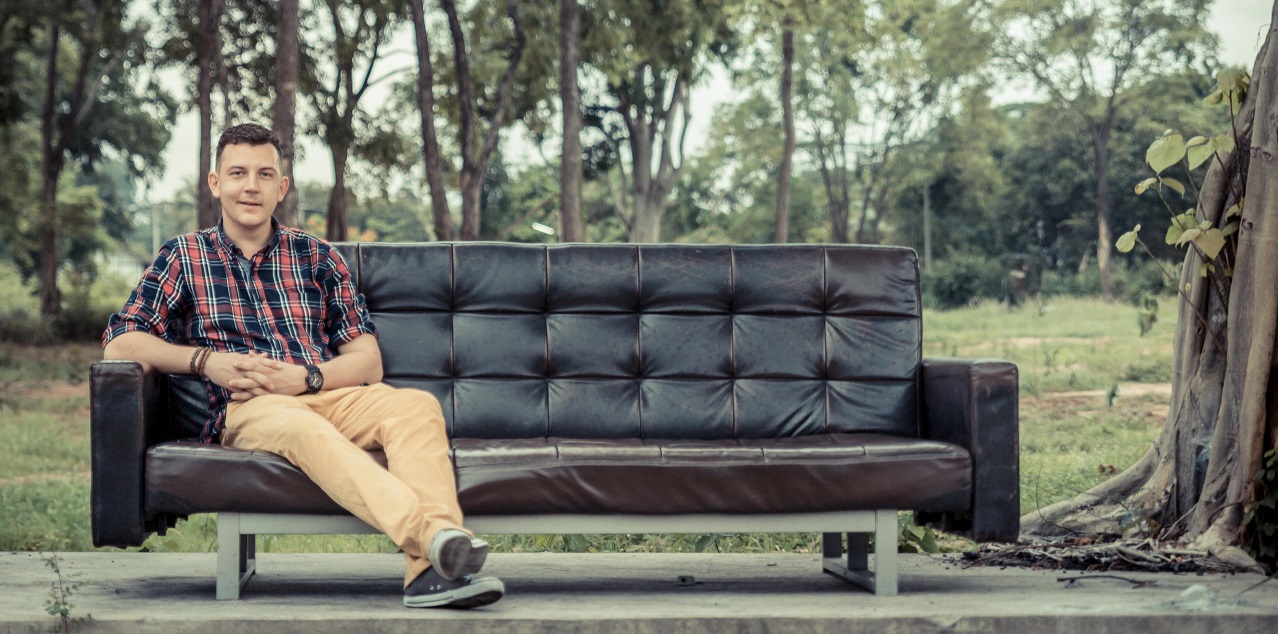 So if you're serious about building a thriving online business, click here for the exact step-by-step formula I follow.
Before You Leave
I hope this review fulfilled its purpose to help you in making the right money-making decision.
If you have any questions or any thought you'd like to share to other readers, feel free to do it in the comments section below.
We'd love to hear what you've got to say.
Simon Crowe is on a mission to help as many people as possible kiss their bosses goodbye.
Take the free Commission Academy course to discover how to smash your online income goals and make your dream business a reality.