Welcome to today's review of You Gen Bots where we will uncover the truth behind the $350 per day income from the self-confessed "world's first truly natural robot content". Brendan says this system is totally hands-free and 100% for beginners.
Frankly though, sales pages will only tell you what you want to hear. Things like, "faster than you ever dreamed possible" or "unbreakable money-make".
In this review, I'll divulge everything about You Gen Bots:
What it is
How much it costs
How it works
The pros (IF there are any) and cons about this system
If it's a scam
And a better alternative in making money online
Stick around to know the ironclad reasons why this system will only end ripping you off.
You Gen Bots Review At A Glance
About: Brendan Mace's You Gen Bots' is mainly a content spinner claiming to help you make $100s per day.
Price: The front-end costs $23.06 while the upsells total to $432.
Pros: There are none.
Cons: It promises to create income-generating content but all it ever does is spin PLRs to sound more confusing.
Verdict: You Gen Bots is a low-quality method to make money online, it's way better to learn what content generates money.

You heard it right, this system only gives you PLRS and offers to spin it for you to get you "original" content. But then again, when you read the spun articles, you'll see all the grammatical errors. It's really confusing to read.
What Is You Gen Bots?
You Gen Bots is a content creation software launched by Brendan Mace back in May 2020. It claims to monetize YOUR website using "human-driven" spin technology to drive traffic and commissions.
Essentially, it's just a system that has pre-loaded PLR content you can spin and put on your "own" website.
It also claims to be an astounding money-maker generating more than $2,000,000 in passive income every year.
The sales page portrays it as the perfect solution to your content needs. It says you won't need to:
Waste time
Waste money
Wait for results
Ironically, you'll be flushing money down the drain with this because it's completely useless and you'll wait forever to see a tinge of result (if there is even one).
You'll also read claims like:
You can make money without writing even a single word.
Ready to make money in half an hour.
99% done-for-you income model.
Skip the hard work, headaches, and monthly costs.
If you read between the lines, you'll realize it's just another get-rich-quick scheme which they made worse by saying it'll help you "fastest way to have a fully monetized blog live and ready".
You have to be very careful with the sales page because they'll go on to show blogs of different niches earning $41,000 to $170,000 per month.
True, blogs a can earn 6 digits, but none of those blogs ever used You Gen Bots.
If You Gen Bots is right about one thing it's that content is still king. Yes, it's still the best way to generate free targeted traffic, but the method used by You Gen Bots won't bring you the results you expect.
It never will.
How Much is You Gen Bots?
You Gen Bots' front-end system currently costs $23.06. It was previously priced at $12.95. You also have to spend $432 for 6 upsells.
Here's an idea of what you supposedly get for each upsell.
Upsell 1: Platinum Edition ($37)
This upsell supposedly gets you unlimited campaigns, training on how to use it, and 10 extra features they didn't bother to explain.
Since the campaigns you get will be the same for every taker, I don't think there's any use to this. Plus, it does guarantee you'll make sales once you opt into this.
Upsell 2: Done-For-You ($97)
This upsell gets you 20 more PLR content you can use for your "blog". It's pointless to get this because like the campaigns, you'll get the same written content everybody gets.
Upsell 3: Done-For-You Campaigns ($37)
Another upsell for pre-made campaigns! I guess this is their 2nd attempt to get you to shed more cash. After all, upsells are where they really earn from, not the cheap front-end.
Upsell 4: Multi-Million Dollar System ($97)
This is supposed to be a $1,000 worth done-for-you commission system. But Brendan never explained what this system is and how it's supposed to help you make money. Until he explains what this is, it will just be another shot to rip you off.
Upsell 5: Unlimited Traffic ($97)
Unlimited traffic? Not really, this just involves sharing your blog link on social sites they promote. This won't do you any good unless you're an influencer or anyone who has a large social following.
Upsell 6: License Rights ($67)
Almost every make-money system offers you the right to sell the system and keep all the commission. But, as I've said before unless you prove this system delivers the results it promises, you won't convince others to buy this from you.
How Does You Gen Bots Work?
Basically, You Gen Bots is just a system providing you with PLRs you can spin and post on your blog to claim as your own. The content they help you create will supposedly rank on search engines so people will notice your site and increase your visitors and sales on whatever you pitch.
Like all other easy money systems, the sales page says you only have to do 3 things:
1. Choose a niche.
2. Activate your automated profit site.
3. Monetize it with the income sources they promote.
But here's the real deal:
Once you get into the member's area, you'll only get a 6-minute video as your training. It will only teach you what things to click to produce your supposed original content which is merely spun PLRs.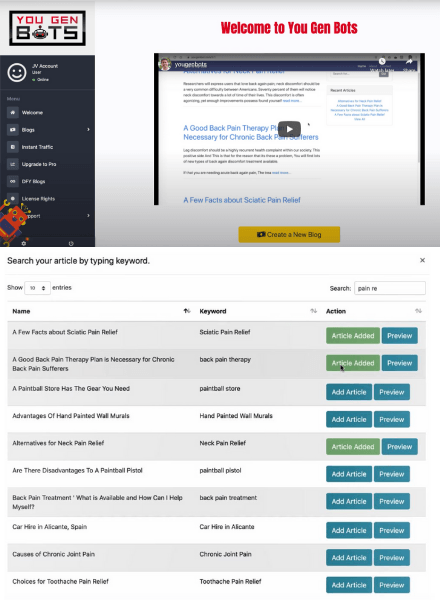 First, you'll be told to create your website, where your content supposedly goes to.
The kicker is:
You'll only get a frustratingly dull website like this.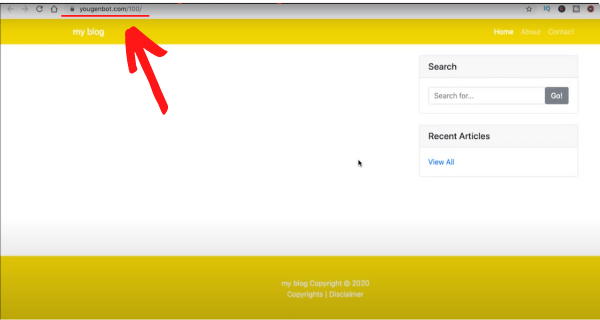 You can't edit the sidebar, nor the header, you literally have no control over "your" website. It basically looks like a dumb down version of WordPress.
That's not even the worst part, this is:
Your website is hosted by yougenbots.com. Your website's permalink will be: yougenbots.com/100/.
This apparently means they're claiming to get you your own website when you really don't. Also, this won't make you rank in search engines. No matter how much content you put in it, the credit won't go to you or your supposed website.
Plus, when Brendan decides to shut it down, you'll be left with nothing.
Now, for the articles, you can supposedly use. You can either publish it as it is or spin it to look a bit different.
When you leave it as it is, you get a content sounding too soundoff-ish. There's no human factor to what people read and I'm almost 100% sure they'd get bored more than interested in finishing it.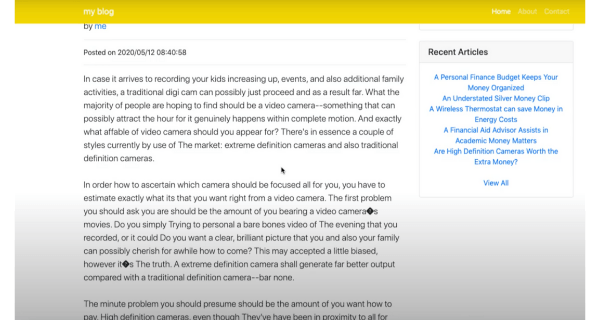 The fact in creating content is: it has to have value to its readers.
Without value, people will be unmoved. When they find no interest, they won't see you as an authority and never trust to read another content you make.
You can't even add images and backlinks to it. The only call to action you get is the one at the very bottom. People will be bored enough to reach that point. IF they ever notice your blog exists.
Does spinning it make a difference?
I actually think it will make the content worse. Take this for example: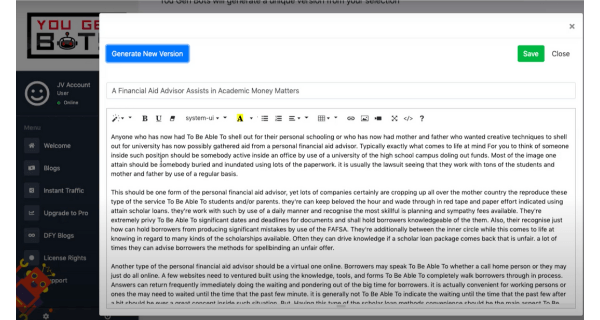 The bottom line is, the content they provide spun or not won't do you any good. It lacks the human factor, the element moving to build your credibility on the niche.
Just think about it:
Google is smart enough to detect spun content, even if You Gen Bots can really give you your own website, if you rely on the PLRs and spin it, you still won't rank in search engines. You can even end up penalized!
Frankly, nothing beats originally written content. Original content will help you connect to your readers and establish a connection. You can even work on adapting your tone to your audience to get them perked up to read what you write.
If you think writing is not for you, hiring writers from Fiverr, Upwork, or other freelance sites will be a better choice. Hiring writers will still help you connect to your audience by telling the writer what vision and tone you want to convey.
Even the claim: "you won't need to write a single word to make money isn't true". Titles count as words you know, and you have to make it yourself.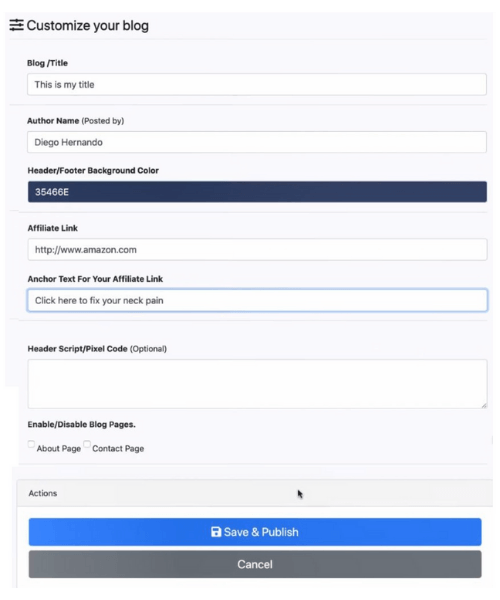 I've touched on the traffic source on the upsells part, but I just want to show you here what I mean. Here are the social sites you can supposedly share your content with. Some even look unfamiliar, I doubt most of these platforms gave the audience you are aiming for.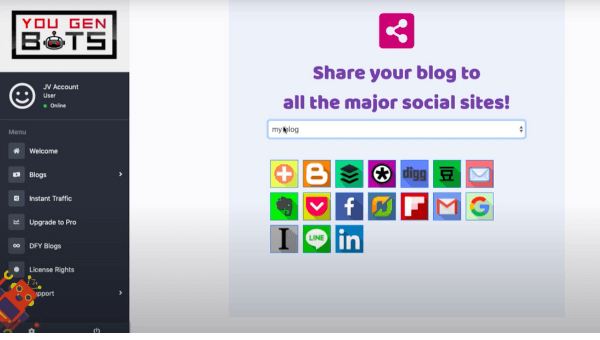 Again, only a large following will help you generate large traffic for your site. No matter how many times you share content on each social site, unless many people notice it, it's utterly pointless.
If you saw Brendan's website, it absolutely doesn't look like this which only proves even he doesn't use this rubbish.
Only one person can make money with You Gen Bots, it's Brendan, not you.
Check this video out to get a video version of the inside look:
5 Reasons I Wouldn't Use You Gen Bots
1. Sales Page Uses A Countdown Timer
When sales pages use these misleading timers, it always tells me they're emotionally manipulating you to opt-in giving you no time to think things through showing they're not confident enough to let you know about what the whole product is.
2. The Website Is Actually Not Yours
Since it's not actually yours, you won't be able to rank it so getting it noticed by people is next to impossible.
3. Spun PLRs Can Get Penalized
The content is not as awesome as promised, the spun content hardly makes any sense when you read it!
4. Poor Traffic Source
Social shares are only good for people who have a lot of followers. Unless you do, you won't get anybody to visit your site.
5. Income Disclaimer
This is the shameless proof everything they said on the sales page is baloney.

Is You Gen Bots A Scam?
You Gen Bots is not a scam in the sense that you do get built-in content and an article spinner as promised. But the results from using the content are outrageously misleading so I won't recommend this to you.
Where Do You Go From Here?
Originally written content is what will get you ranked, not spun PLRs. You Gen Bots hides that fact from you, but Wealthy Affiliate reveals everything you need to know to build a successful money-making website.
Wealthy Affiliate is focused on teaching you about affiliate marketing as its business model, but the training teaches a lot about building and maintaining a successful income-generating website, the reason you even considered You Gen Bots.
The great thing about Wealthy Affiliate is, you won't only learn about making your own website, you'll also learn the principles in monetizing it.
You get taught in the training itself, plus you get guidance from other successful marketers.
Everything You Gen Bots failed to tell you about, Wealthy Affiliate will. The 1st 10 lessons are even free as your test-drive.
If you want to learn more about how Wealthy Affiliate can help you reach your online income goals, you can head on to this in-depth Wealthy Affiliate review.
What's Your Take?
Did you think spun PLRs are useless too? Were you upset about the single 6-minute training you get?
Tell us how you feel about You Gen Bots, the comments section is ready for you.
Simon Crowe is on a mission to help as many people as possible kiss their bosses goodbye.
Take the free Commission Academy course to discover how to smash your online income goals and make your dream business a reality.