In this The No List Secret review, you're going to find out:
What it is
How it works
What the pros and cons are
Whether or not this can help you make money online
I've signed up to The No List Secret and gone through the entire training course so rest assured, I'll leave no stone unturned!
The "No List" Secret Review At A Glance
About: The No List Secret is an email marketing course that teaches you how to utilize Gmail ads for your digital marketing campaigns.
Price: $13.41 plus $755 for 5 upsells and at least $100 in ad costs.
Pros: Good earning potential.
Cons: Not recommended for newbies. Requires an ad budget.
Verdict: If you're an experienced affiliate marketer looking for a new traffic source and have money to spend on ads then The No List Secret is worth a look.

The sales page, as always is kind of hyped up, which, in most cases puts me off and gets me wary about any promise they make.
However, when I dug deeper, I was impressed with the method The No List Secret is teaching, but do you really need to pay for Brendan Mace's product to know about this?
What Is The No List Secret?
The No List Secret is a short 9-lesson training course created by Ashley Parry that shows you how to utilize Gmail ads to ramp up your affiliate earnings. It was launched on September 24, 2020.
Here's what a Gmail ad looks like:

On the sales page, it can seem like some sort of an income system, but no, it's training on list building and email marketing. This training course includes videos, a case study, and some cheat sheets.
The main goal of this training is to teach how to make money from email marketing without building a list. Or so that's what they claim.
In the sales page, you'll hear claims like:
Never seen before
10-30 minutes setup
Offers get 100-1000 clicks per day
As much as $2,000 in commission daily
No need for an email list, autoresponder, software, solo ads, and email marketing
A "sneaky" way to reach inboxes without the complicated techy stuff
Then it brings the emotional manipulation to the next level by saying you "owe it to yourself to stay ahead of the game!"
Other than the usual hyped-up claims, I also get annoyed by how many times they go over and over again throughout the whole sales page saying you won't even need the email lists and autoresponders. I mean we get the point, no need to shove it to our face.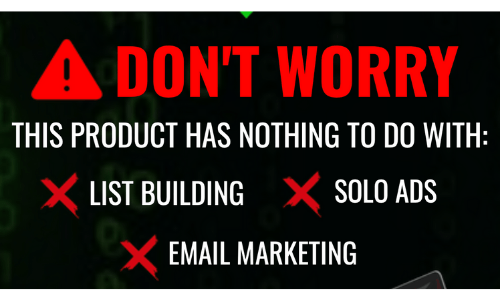 But here's the kicker:
Once you get to the training videos, you'll realize they've eaten the "no need for autoresponder" claim because they'll be promoting it.
How Much Does The No List Secret Cost?
The front-end training costs $13.41 which they claim to include $2,300 worth of bonuses. You'll also be paying for a sky-high $755 for 5 upsells, at the very least $100 for Gmail ad costs, and later on at least $300 a year for an autoresponder.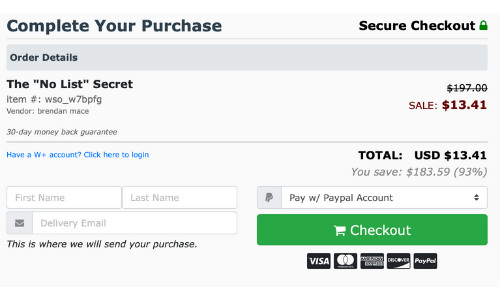 The Gmail ad cost is a very humble estimate but, in most cases, the cost can triple or even quadruple, so be ready to be lumbered off if you really want to give this a shot.
The 5 Upsells
As for the upsells, I'd like to give you an idea about what each one is so you'll see if it's worth spending on.
Upsell 1: Million Dollar Email List ($197)
Funny how they earlier said you won't need an email list but here they are selling you one. This list is supposed to be a custom audience which somehow implies they've already used this before.
The 1st problem with this is, the audience is most likely sick and tired of sales pitches every now and then so your pitches will tend to land on the spam folder where no one will ever see.
The 2nd problem is, you won't be the only taker of this upsell, meaning the same list will go to other takers getting you lots of competition.
These 2 problems will arise assuming you really get "real" high-converting people on your list. If not, the problem is way bigger altogether which simply means you're squandering your money aimlessly.
Upsell 2: Secret Money Page ($67)
This upsell supposedly gets you the same money page they are using to drive traffic. Then again, if it's the same one they're using, there's no originality, hence people would've seen it before and not be interested.
Upsell 3: Infinite Profit Sequence ($97)
This upsell gives you 200+ campaigns you can use for your autoresponder WHICH implies you'll need an email list and will pay for an autoresponder, utterly disproving the claim they earlier made.
Misleading? Definitely!
Upsell 4: High Ticket Integration ($197)
These are supposed to be high-converting products that will go with your campaigns. Sadly, they've left no proof these are indeed high-converting so you're in for a very big risk here.
Upsell 5: Unlimited Traffic Program ($197)
Brandon has made an email list from all his previous products which he claims to give you to also get you sales.
The downside is, Brandon's products are not all good. Here are some of them:
They're not outright scams, but they're not highly profitable either and most of them are quite deceptive. I doubt the email list he built will ever be interested in buying another one of his misleading products.
The funny thing is:
While promoting the product and upsells, he goes about bragging about the "no-questions-asked" money-back guarantee. It's like he's already expecting you to ask for a refund at the end of the day which somehow tells me he's not really confident about what his product offers.
Inside The No List Secret Members' Area
In the members' area, you'll see Ashley teaching the No List Secret method in 9 videos that are more or less 20 minutes long. He'll teach you:
How to set up your own Google Ads account
Finding offers to pitch
Setting up campaigns
Creating ad assets
His conversion booster method
Building your email list
He then finishes up with a bonus and conclusion video.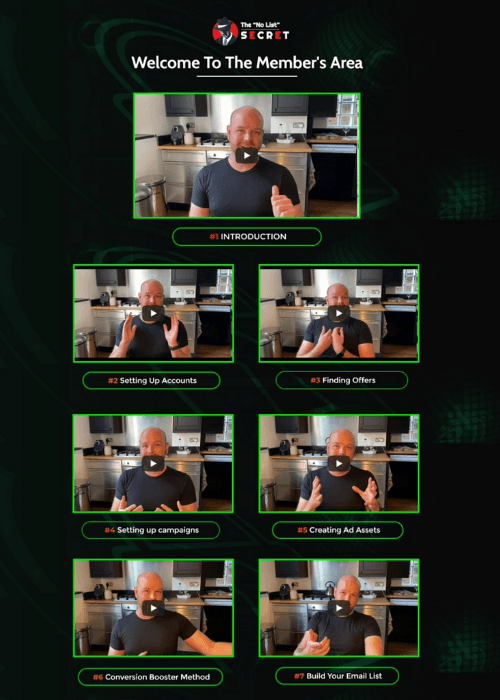 Can you really master Gmail ads watching these 3 hours of training videos?!
I think Ashley does a great job at laying out the basics you need to get started and this course will give any beginner a good foundation to get started.
The key to any successful paid ads campaign is trial and error – split test, split test then split test some more!
It's all about trying out different headlines, landing pages and affiliate offers to drop what's not working and scale up what is.
You don't just get the perfectly converting campaign in one go, you'll have to do trial and error, and this is where the Gmail ads cost piles up.
If people clicking your ad won't end up converting because the campaign wasn't really as compelling, this can mean more bucks down the drain.
Keep in mind too that even the best campaigns are diddly squat when you don't have a relevant and useful product to pitch it with. Relying on a 20-minute video will only do so much in helping you find the perfect offers.
The bottom line, no matter how large your potential traffic is (the whole Gmail community), the method will be useless unless you have ample experience with Google Ads, creating campaigns, and finding the right offers.
What I Like About The No List Secret
The method taught has great potential (when paired with the right campaign and offer)
Comes with a 30-day money-back guarantee
What I Don't Like About The No List Secret
The upsells and ad costs can quickly mount up
Earnings claims made are unrealistic and misleading
Brendan Mace has a history with low-quality products
Is The No List Secret A Scam?
No, The No List Secret is not a scam. There is great potential in using Gmail ads in pitching your offers.
However, it's not as easy as how Brendan makes it seem, the training videos are not enough to help you find the right offers and create compelling content. You'll need some time to get experience with these.
Another thing, you don't actually need to pay for The No List Secret especially the upsells to start utilizing Gmail ads.
Youtube tutorials and can teach you what Ashley teaches. If you're actually looking to learn about making money online from scratch, this is not the course to take, Wealthy Affiliate is.
Where Do You Go From Here?
If you think you have the budget for the upsells and the ad costs, go ahead and try The No List Secret. However, if you're interested in learning how making money online really works, from how you build your online business down to how you keep it running I suggest you try Wealthy Affiliate.
The No List Secret works more on the email marketing strategies of making money, but relying on a list by other people won't get you anywhere, either it's too saturated or you're merely sending emails to bots.
Gmail ads can get your targeted traffic but the cost is too high for beginners to pay.
Wealthy Affiliate, on the other hand, offers to teach you how you can make money with affiliate marketing at an affordable $49 per month. It involves creating a niche-based website, creating compelling content worthy of rankings and social shares, and monetizing the website by offering relevant and useful products and services.
Personally, I prefer creating a niche-based website because it gets you more targeted traffic than email marketing minus the solo ads and autoresponder costs.
Wealthy Affiliate offers to teach you everything from scratch and even offers a free test-drive with the 1st 10 lessons. Additionally, you'll also get in touch with other marketers who'll assist you with any questions you may have
Check this full and honest Wealthy Affiliate review to find out why it's a worthy training to take.
What Do You Think?
Do you think The No List Secret can teach you enough about using Gmail ads? Or did you think the sales video was misleading too? Share your thoughts, we'd love to hear from you.
Simon Crowe is on a mission to help as many people as possible kiss their bosses goodbye.
Take the free Commission Academy course to discover how to smash your online income goals and make your dream business a reality.