Jason Fulton and Mosh Bari say their new Fast Profit Jacker software makes it faster and easier than ever to start an online business, even if you're a complete beginner.
But is Fast Profit Jacker a scam or a legit way to start earning money online?
They say you'll start making $2,500 per month within 24 hours of sign up because their system does all the heavy lifting for you by taking the legwork out of finding local businesses ready to pay you to help them build their online presence.

Sound too good to be true?
That's what I thought, which is why I decided to check it out.
Fast Profit Jacker Review At A Glance
About: Jason Fulton's and Mosh Bari's lead generation software that supposedly helps you make $1000s by solving online business problems.
Price: $27 for the front-end and $515 for 5 upsells.
Pros: Legit business model, easy to use, affordable front-end.
Cons: Hyped-up claims, no training, no support, expensive upsells.
Verdict: Fast Profit Jacker is not a scam. In fact in can help you find clients to offer services too. But actionable solutions are not provided to help solve client problems.

Beware The 5 Upsells
After paying $27 for Jason Fulton and Mosh Bari's program I was hit with a barrage of upsells before I could get into the member's area.
I hate upsells, but of course, these are completely optional so you don't have to buy them. Just so you know, here are the 5 upsells you need to watch out for:
Upsell 1: Fast Profit Jacker Ultimate Edition ($47)
This upgrade promises to take your earnings to the 'next level' promising 100x more in profits and leads starting immediately.
Upsell 2: Fast Profit Jacker Site Spy ($97)
According to Jason and Mosh, the Fast Profit Jacker Site Spy is a cloud-based app giving you the ability to offer full SEO (search engine optimisation) services to local businesses and increase your earnings.
Upsell 3: Fast Profit Jacker DFY Website ($197)
This upsell looks kinda interesting…
If local businesses want you to build a website for them but you've never done it before, the Fast Profit Jacker team will build a professional done-for-you website you can sell on to your clients for a profit.

Upsell 4: Developer Rights ($77)
This one's a little vague, but they promise it'll help you easily make $500-$1,000 in the next 5 days…

Upsell 5: License Rights ($97)
For $97 you have full licence rights which give you the ability to sell Fast Profit Jacker and keep 100% of the commissions.
After skipping the upsells, I was taken to the Fast Profit Jacker main page which looks a little something like this: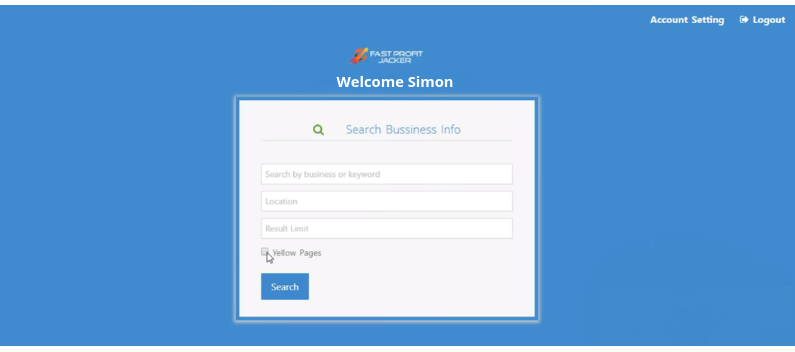 Before we dive into the pros and cons of the software and look at the possible earning potential, let's answer the question that's probably going through your mind right now…
What The Heck Is Fast Profit Jacker?
Essentially, Fast Profit Jacker is a tool that gives you details of the businesses in your area who need help with their online marketing.
Using the website and social media information you can step in and offer your services helping local businesses get more traffic to their websites to generate more leads and sales.
It's really not as technical as it sounds and this is definitely something you can do, even if you've never done anything like this before.
Combined with the right internet marketing training the earning potential is huge. Many business owners know they need to get online, they're just not quite sure how to go about it.
According to Jason Fulton and Mosh Bari, Fast Profit Jacker is a simple 3 step system:



The Fast Profit Jacker Software
As soon as you're logged in you can find potential clients by searching business type and location. You're not limited to your specific location either, as everything is done online.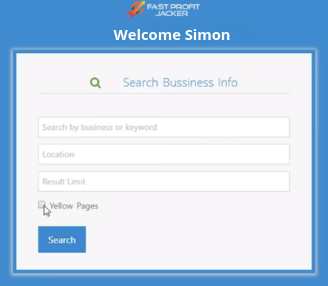 Let's say you run a search for all graphic designers in the New York area; hit search and you'll see a whole list of businesses along with their company name, address, contact number, website and email address.
You'll also be able to check the company's website and social media account stats, including if their website has an SSL certificate or not (we'll come back to what that means for you in a sec).

From there you can select the company websites that have either no SSL certificate, a poorly optimised website or low social media shares and send the owner an email or SMS text message using the pre-written templates to offer your services.
The Fast Profit Jacker Training (Or Lack Thereof)
While the software is pure genius, the biggest downside to this product is the lack of practical and actionable training…
Sure, there are videos where Jason shows you how to use the Fast Profit Jacker program and sets you up with some text messaging software, but I see a massive gap in the training.
Beginners getting their hands on this information are going to struggle to know exactly what to do to actually turn this into a full-time income.
Support is limited too. It's not like there's a questions and answers area or phone number to ring if you need help quickly. Get stuck and your only course of action is raising a support ticket and waiting up to 24 hours for a response via email.
As I see it, Fast Profit Jacker is best for local SEO professionals who are looking for an easier way to generate leads without having to comb through the Yellow Pages.
Newbies can make this work but I'd suggest taking a comprehensive online course like this one that walks you through the practical steps of how to make a website, how to improve a website's Google rankings, how to run successful social media campaigns and so on.
That way you know you have the necessary skills to provide the much-needed services local company owners will gladly pay you for.
Can You Make Money With Fast Profit Jacker?
Absolutely, yes you can!
But please ignore these unrealistic earnings claims you saw the sales page: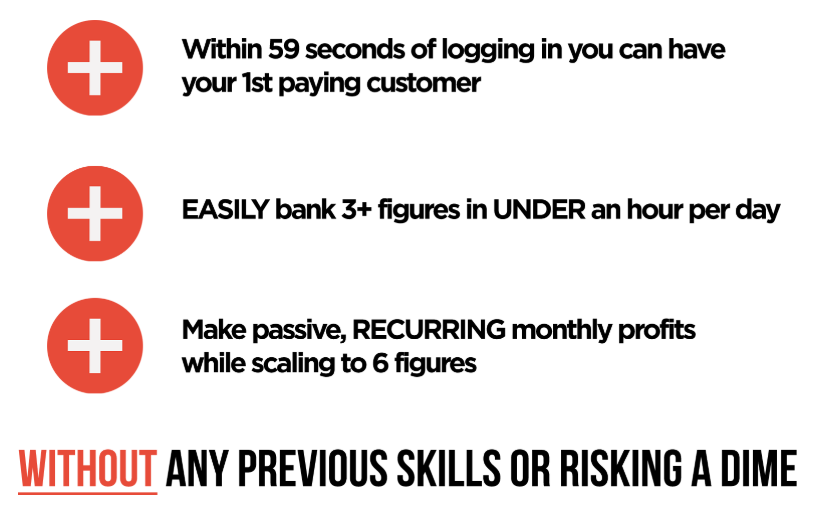 Let's just keep it real. While the software is fast and the email templates are super easy to use, you're not going to be making money within the first 59 seconds and you'll probably have to put in more than an hour's work a day to make this work.
Saying that though, digital marketing services are in high demand right now as many local business owners know they need to promote themselves better online but just don't know where to start.
These are the people who will happily pay a premium for someone to come in and help them improve their online presence and get more customers through the door.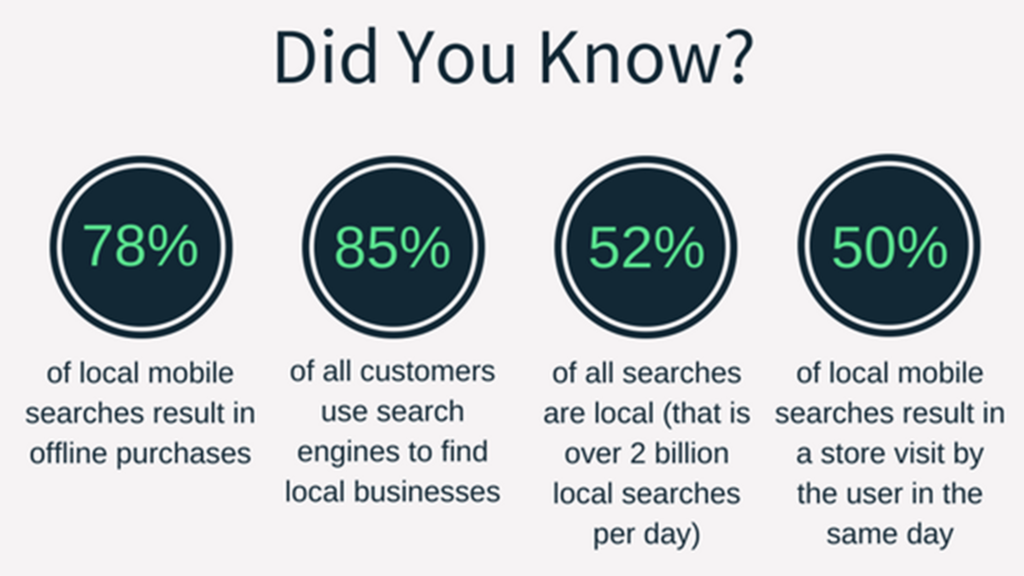 4 Ways You Can Use Fast Profit Jacker To Generate Income
Here are just a few ideas on how to turn the information the software provides into dollars in your account:
1. Offer SSL Certificates

Have you ever tried going onto a website without an SSL certificate?
You'll normally see a warning message come up warning you the website is not secure.
Since 2019 Google's really cracking down on sites that don't have an SSL certificate. Rankings of sites that start with http:// instead of https:// are going to suffer.
And this is where you come in by offering a bespoke SSL certification service.
2. Create Websites
So many businesses are struggling because they're not online. While most have a Facebook page, a massive 49% of small businesses don't yet have a website.
Whether the business owner has just never gotten round to it or just thinks it's too technical, it's actually never been easier to create one.
3. Provide SEO Services
Once a small business owner has a website, they'll want people to see it when typing in things like "hairdressers in London" or "Key cutters in New York" and the way you do this is through search engine optimisation or SEO.
Learning how to rank a website on the first page of Google can make or break a business, which is why you can charge a lot for proving this kind of service.
4. Manage Social Media Campaigns
Whether it's Facebook or Instagram, social media is super important for small businesses.
As a social media manager, you can charge a fixed-rate monthly fee for coming up with creative, out of the box campaigns and raising overall brand awareness.
It is entirely up to you how much you want to charge and whether you want to get paid per job, per hour or per month.
According to Entrepreneur.com the standard hourly rate for a digital marketer is $50 to $100 per hour or around $1,000 per month.
Going by these numbers, all you'd need to do is find half a dozen clients using the Fast Profit Jacker software and you're your own boss.
Remember you've always got the option of outsourcing this to sites like Upwork and Freelancer if you wanted to get someone else to do the work for you.
Is Fast Profit Jacker A Scam?
Despite the hyped-up sales page and claims of making money within 59 seconds:
Fast Profit Jacker is not a scam.
Jason Fulton and Mosh Bari have put together legit software that really can help you generate leads for your local SEO business, but without the proper training, using their software to make money is going to be extremely difficult.
Fast Profit Jacker Final Rating: 75/100
The software does exactly what they say it does and is a very smart way to find potential clients you can offer your digital marketing services to.
This a very valid business model where you can make a lot of money providing the services that are in high demand.
In all honesty, Fast Profit Jacker is a bargain at $27 and well worth it in my opinion. Plus, with a 30 day refund policy, you can try Fast Profit Jacker with nothing to lose.
My only reservation and why I didn't give this software a higher rating, is because I think you're going to struggle to earn any money with the information you're given, especially as a beginner.
That's why if you're interested in learning how to rank websites and generate traffic and sales then I urge you to check out this free beginner's training course that will give you the skills and easy website building tools you need to become a successful digital marketer.
What Do You Think Of Fast Profit Jacker?
Now you've seen Fast Profit Jacker in action, what do you think? Is it worth it?
Have you already signed up and tried it? Scroll down and let us know your experience in the comments, I'd love to hear from you!
Simon Crowe is on a mission to help as many people as possible kiss their bosses goodbye.
Take the free Commission Academy course to discover how to smash your online income goals and make your dream business a reality.