Welcome to my review of MagickFunnels and today you're in for some jaw-dropping revelation! I've already hinted at it with the title but seeing the facts will shake you to the core!
Glynn Kosky claims MagickFunnels is a "list-building funnel on steroids". He also says you can take control of this software and generating traffic is "magically easy". Magically as in getting you mind-blowing results or magically as in like it's just a pie in the sky?
You're going to find out what it really is, how it's supposed to work, the downsides of it, if it's a scam, and if it's time to look the other way.
MagickFunnels Review At A Glance
About: MagickFunnels is a funnel-based software promising to get you buyer traffic and sales in under a minute.
Price: $17.97 for the front-end system, $262 for upsells, $600/year for an autoresponder, and a minimum of $300 for paid ads.
Pros: Comes with a 30-day refund option.
Cons: The results are overly-hyped but underdelivered plus it's expensive to use.
Verdict: There is no magic in MagickFunnels. You won't make $1000s every day with it because you'll be relying on paid ads.

What Is MagickFunnels?
MagickFunnels is a funnel-builder software created by Glynn Kosky and launched last April 5, 2020. This software includes 14 done-for-you funnels, built-in products, and step-by-step training.
Glynn describes it as the "world's best funnel, traffic, and sales software" and the "groundbreaking software that gets you buyer traffic in less than a minute".
Basically, this is similar to almost every plug and play income system promising $1000s in daily income like:
This system is said to eliminate the need for:
Handing money upfront (ironically, you can't use the system unless you pay up)
Figuring out traffic sources
Learning complicated software
Dealing with massive competition (as in everybody who gets the same funnels as you are not competition)
The kicker is:
It also claims to "offer fast results instead of waiting months to build a list from scratch" which is another way of describing a get-rich-quick scheme.
On the sales page, other affiliate marketers like Brendan Mace and Jason Fulton vouch for MagickFunnels to be an effective system. However, these guys are pretty much like Glynn who launch products here and there several times a month.
What I'm saying is, they got each other's backs no matter how useless the products they promote are. Really, they're just vouching for each other not because the product is great but just because they are friends.
I have no problem helping your friend out to make money online. Who does anyway? My problem is, helping your friends rip unsuspecting ones with over-hyped systems that fail to deliver.
I'll show you what I mean in a bit.
How Much Does MagickFunnels Cost?
MagickFunnels front-end system costs $17.97 while the 6 upsells totals to $262. You also have to spend $600 per year for autoresponder costs and at least $300 a month for paid ads.
Glynn also offers what he says to be bonuses worth $22,884. But if you think about it, who will even sell a system with a price not even a fraction of the bonuses' worth?
It's either he's just too generous or the software doesn't really have value. I think the latter is a better explanation.
Now on the upsells.
Upsell 1: Unlimited Version ($37)
This supposedly gets you unlimited funnels for unlimited income streams. Unless you prove the built-in funnels generate income, I think buying this will be useless.
Upsell 2: Done-For-You Funnels ($37)
This upsell is said to get you more done-for-you funnels (what's the use of this when you have the 1stupsell?) complete with lead magnets and affiliate offers. He says you won't have to do much work other than plugging in your affiliate ID so start earning.
Reality though, this upsell is basically telling you they'll handle everything for you which only sounds good at first because it also means you have little to zero control over your business.
Upsell 3: Automated Traffic Flow ($47)
Glynn says with this upsell; you can retarget customers to get your own profit. "Retarget" simply means it has been targeted somewhere else before, in this case, Glynn's other products.
Who knows how many times he sent pitches to this traffic list before? And who knows how many people bought this upsell before you? With it being so exhausted, you'll only get adamant people, not interested ones.
In the first place, you don't even know if this traffic is interested in buying anything at all!
Upsell 4: Conversion Boosting Tools ($37)
This upsell adds exit pop-ups, chat widgets and social proof pop-ups. Honestly, I think this will be more annoying than helpful.
Do you even take a second to read pop-ups?
Upsell 5: Bonus Page Creator ($37)
This upsell allows you to insert bonus pages to your offers which is actually a great strategy to get people to come back to you to but something. So far, this is the only upsell I have no issue about.
Upsell 6: License Rights ($67)
This upsell will get you the right to sell the software and keep 100% of the profit. Unless you prove the funnels work, there's no point buying this when you can't convince people yourself this really works.
How MagicFunnels Work
MagickFunnels lets you combine a funnel with an offer and insert your affiliate link in it to make a commission.
The sales page summarizes the step you need to make into 3:
1. Get the MagickFunnels software.
2. Login and select a funnel and offer to earn from.
3. Watch as the system gets you buyer traffic and commissions.
The sad thing is, it only works in theory. Nobody can make $1000s every day by putting a funnel and product together and just waiting for "magic" to do the rest of the work. The members' area will tell you a different story.
MagickFunnel Members' Area
The members' area consists of an introduction in the middle of the dashboard and feature tabs listed on the left.
Here's where I'll break it to you. MagickFunnel's software looks exactly the same as Profit Sniper X and I don't just mean the interface. I'll go through this as I bring you around the members' area.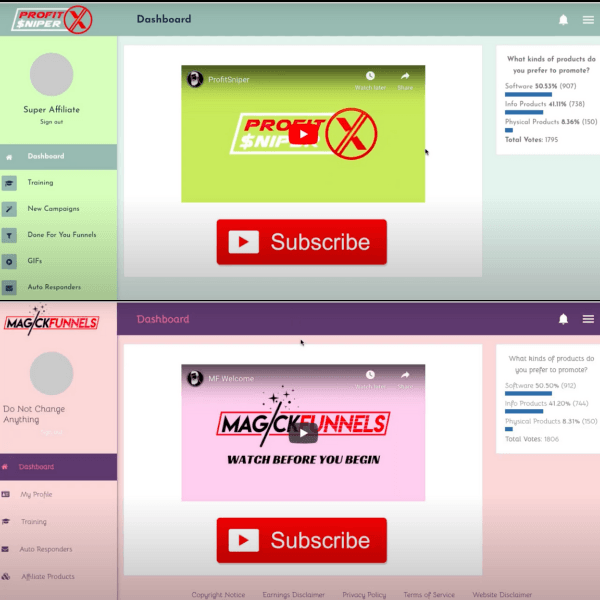 Next to the Profile tab is the Training tab. It basically has videos on how you set up campaigns, connect to an autoresponder, add additional products on the download page, and so on. The exact same videos you'll see on Profit Sniper X.
The training centers on the concept of having an opt-in page capturing emails and directing visitors to a promo page, and then a promo page directing the actual download page that features other products.
It then goes on to teach you to use solo ads, Youtube ads, and Instagram ads to get traffic.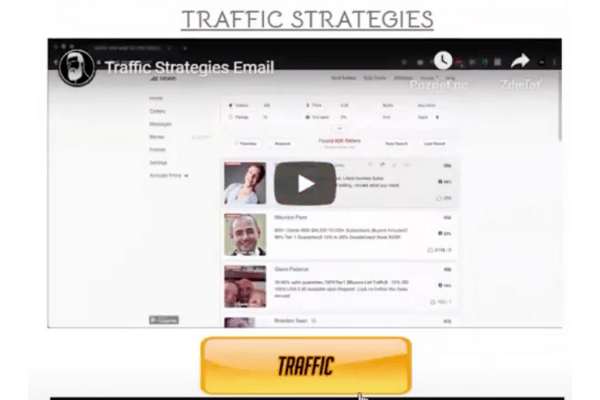 I really don't think these paid ad sources are good for beginners. With solo ads, you have to go through a lot of trial and error to get the perfect campaigns for your audience.
Since MagickFunnels have built-in offers from all over (from weight loss to make money systems to woodworking), you can't focus on one niche making targeted campaigns even harder to create.
Also because you're just new and don't know what the right products to promote are, you'll be mostly reliant on these built-in offers which are not guaranteed to be high converting.
And again, they're the same ones you get from Profit Sniper X! This means more competition on your part.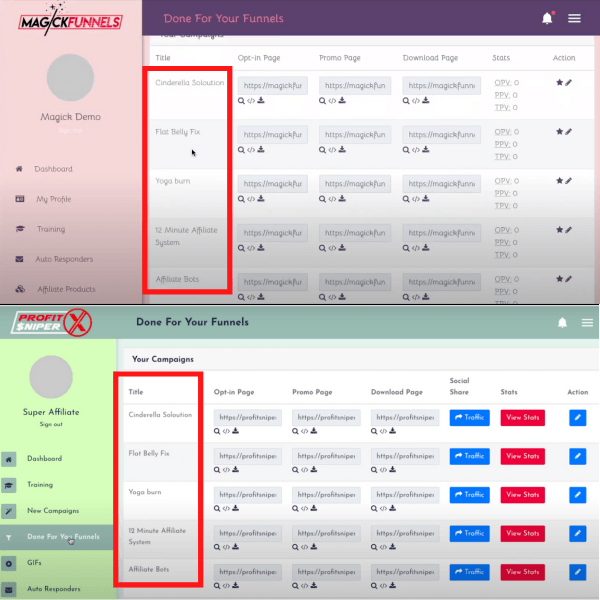 You also have to consider if you're really provided with the traffic of people who are really interested in buying something for you. If not, the $0.30 – $1 you spend with each click will go down the drain.
It's very expensive and you're not guaranteed the right traffic so it's not for those just starting out.
For Youtube ads, you'll need to master moving people to action with the few seconds you're given to pitch your offer. For Instagram ads, you'll also need to have the skill of keeping people from scrolling over your ad. Simply, you need to have skills to make this work, otherwise, more money down the drain for you.
I have to give it to Glynn, he also teaches about free traffic sources, but these types don't get you traffic and commission in under a minute, it can take months for this to show results.
There's also one tab on the members' area dedicated to Free Traffic but disappointingly, it directs you to traffic sources like Affiliate Traffic Lab which turns out to be just a spammy source.
If you want in-depth training on free traffic, Wealthy Affiliate can teach you way better than MagickFunnels.
You can also check out Simon's best traffic source video too and learn from his expertise.
Everything you see on MagickFunnels is the same ones in Profit Sniper X. The latter is slightly better because it has a split test function but overall, it's the same thing.
If Glynn rehashed MagickFunnels to be Profit Sniper X. It's safe to say he's not earning enough because people haven't found any value in it and realizes the system is only good on paper.
What I Don't Like About MagickFunnels
Upsell and ad costs are expensive.
The income proof can simply come from selling other products and not as a result of using the system.
Traffic sources are either expensive or take some time to show results.
Solely reliant on the system so you have no hold once it shuts down.
The unreadable disclaimer disproves every hyped claim and clearly shows it's a rehash of yet another system forgetting to edit Affiliate Traffic Lab out.

Is MagickFunnels A Scam?
No MagickFunnels is not a scam because you do get a funnel-generating software complete with built-in offers. But the results they claim are overly-promised so this is not something I'd recommend you buying.
Where Do You Go From Here?
Making money with MagickFunnels is not as easy as promised. It involves more than just picking a funnel and an offer. You also have to work or getting the right campaigns for the paid ads.
But if you're a beginner, paid ads are not the way to go. You can end up spending more than you'll ever make.
However, this does not mean you have to give up on your online income goals. Wealthy Affiliate offers an affordable step-by-step from scratch training on how to make money online. For just $49 a month, you'll get to learn everything you'll need in building and maintaining your online business.
But if you're wary of spending upfront, you can check out the 1st 10 lessons for free.
You don't have to take my word for it, you can head on to this in-depth Wealthy Affiliate review to see how you can get started and experience things for yourself.
What Do You Think?
Did you think MagickFunnel's claims are full of baloney? Were you disappointed knowing you'll be lumbered off for paid ads?
Share what you think and feel, the comments section is ready for you.
Simon Crowe is on a mission to help as many people as possible kiss their bosses goodbye.
Take the free Commission Academy course to discover how to smash your online income goals and make your dream business a reality.