In this Shaw Academy review where we'll be taking a closer look at the training, the support and the pricing to help you decide whether this learning platform is worth signing up to or not.
I must confess: I am a serious self-development addict!
Whether it's listening to audiobooks on leadership or attending property conferences, I'm a huge believer in investing time and effort into improving yourself.
And the beauty of the online world is that learning is no longer limited to the classroom. Whatever you want to learn, you can! In your own time and at your own pace, wherever you are.
Sure, you can learn a heck of a lot on YouTube, but sometimes you just can't beat a step-by-step, well-structured training course where you can track your progress and get the sense of accomplishment when you're done.
So what about Shaw Academy? Is it a scam you should stay away from or a legit learning platform that's worth joining? Let's take a look.
Shaw Academy Review At A Glance
About: Shaw Academy is James Egan & Adrian Murphy's 10-category and 42-course online training platform.
Price: $45/month for 1 course, $49 for final assignment, $59 for certificate, and at least $16.99 for subscription.
Pros: Has a 7-day free trial and high-quality easy-to-understand courses.
Cons: These guys cannot be trusted. Shaw Academy is anything but a legit training platform.
Verdict: Shaw Academy is a total scam that takes unauthorised payments out of your account. Read the comments from our amazing readers to see why you SHOULDN'T join.

2021 UPDATE: Shaw Academy is now being investigated by Trustpilot following a surge of complaints and refund requests.
What Is ShawAcademy.com?
Shaw Academy is an online training platform that was founded by Dublin-based James Egan & Adrian Murphy in 2013. They have one clear mission statement:
"To deliver great education, accessibly and affordably to everyone"
They also have over 800,000 followers on their Facebook page and boast over 4 million graduates so far.
Here's a quick overview video I think you'll find helpful:
The Shaw Academy Training
With a mission to equip the world with skills, they offer 42 courses organised into 10 different categories:
Photography (8 courses)
Finance (4 courses)
Health and Wellness (4 courses)
Marketing (5 courses)
Technology (7 courses)
Design (4 courses)
Beauty (1 course)
Music (2 courses)
Business (5 courses)
Language (1 course)
They're updating their courses so they're always current and adding new courses all the time. Whether you want to learn how to develop an app, trade on the stock market, improve your Photoshop skills or learn how to play the guitar, you can develop your skills here.

Each course comes with live webinars with Q&A sessions, interactive quizzes, video walkthroughs and optional assignments.
I really like the training area layout. It's easy to find your way around and it looks great.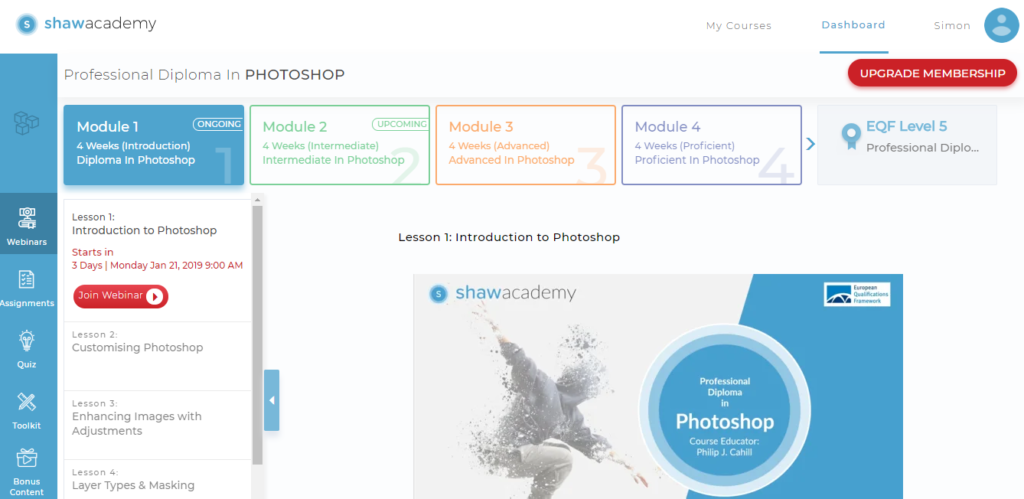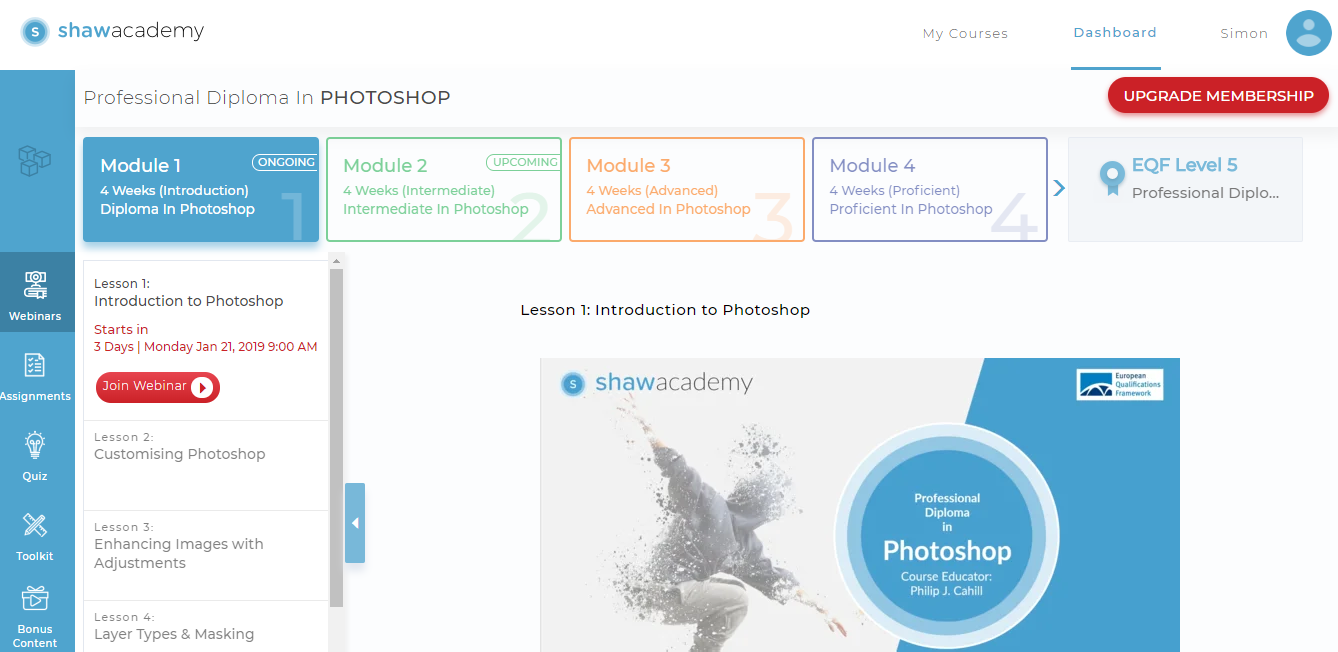 The number of modules and lessons will differ from course to course. Either you can work your way through the training at your own pace and develop your skills in your chosen area, or you can pay an additional fee to take the formal assessment.
Shaw Academy is accredited by the CPD Certification Service which unfortunately is not very well known or recognised. This may be a turn off for some.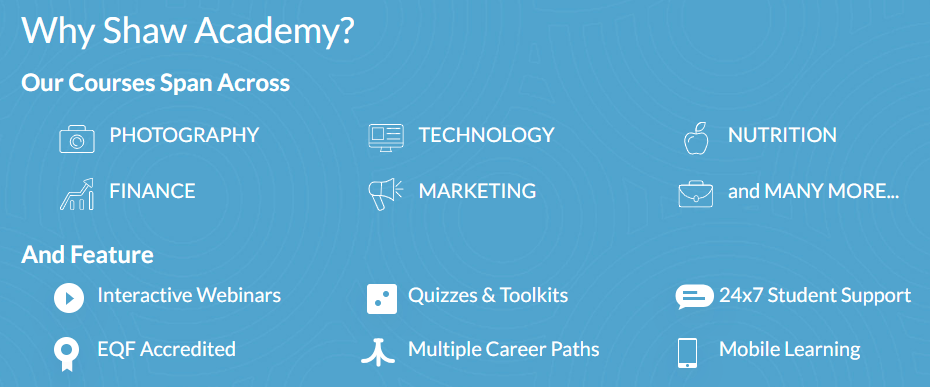 The Support
Support could be better. If you have any issues you're told to email [email protected].
Support is available to paying premium members only.
Shaw Academy Pricing
I'll be honest – it's not easy to get a handle on exactly how much the training costs but after a failed attempt at contacting customer support (I'll explain below) and a lot of digging around in the fine print, I think I've finally got to the bottom of it.
They have a 7-day free trial offer with one free 4-week course included, after that here's a breakdown of the prices:
$45 per month per course (can unsubscribe at any time)
To take the final assignment – $49
To get a hard copy of your certificate – $59
On top of that, they have a monthly premium membership which is either $22, $32 or $39 per month.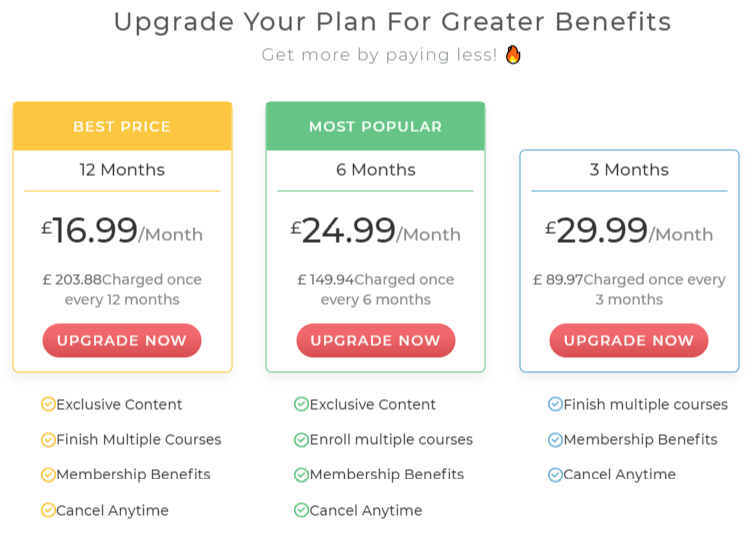 Who Is Shaw Academy For?
If you're looking to earn a widely recognised qualification like a Master's or Bachelor's degree then this training platform is not for you. Check out these alternatives instead.
Shaw Academy is ideal for people looking to acquire or develop their practical skills in a certain area.
Perhaps you've got to a certain level as a software developer watching random videos on YouTube but now you want to go to the next level. The Shaw Academy training will give you a well-defined, focused and structured learning program to follow.
The end result?
You acquire practical, 'sellable' skills and become an expert in your chosen field which can open an infinite number of doors for you going forward.
The Pros And Cons Of Shaw Academy
Pros
1. High-Quality Easily-Digestable Training
The training courses are excellent. Rather than just listening to someone speak or watching them do something, it's clear the trainers have gone to extra effort to make the lessons as interactive and practical as possible.
The modules are broken down into bitesize chunks and you can choose the dates you attend the live classes so it works with your schedule.
2. 7 Day Free Trial
The free trial period gives you the opportunity to take your first course completely risk-free so you can browse the training area and see if it's a good fit.
Cons
1. They Need To Be More Upfront About Their Prices
Rather than displaying their full prices clearly, I had to dig around in the lengthy FAQ's section to find how much it cost. Even after reading the full terms and conditions, I wasn't sure.
It seems I wasn't the only one confused either…
As you'll see here when we look at members' feedback in a second, nearly all of the complaints are around billing issues – either they claim they were charged for something they were unaware of or didn't realise they had to cancel their membership before the free trial period to avoid paying the monthly membership.
2. Support Seems Somewhat Lacking
It seems like the billing department could do with a customer service course refresher.
Whenever issues arise (especially around billing), you need to be sure you can get help and support when you need it most. Sadly, the second biggest complaint from members is that they are either completely ignored or get a, let's say 'less than helpful' response from support staff.
In researching and writing this review I was looking for confirmation of Shaw Academy's pricing structure. The website recommended I contact the support team if I had any queries… so I did! And it bounced back!
All I got was this automated email saying I could only contact support if I upgraded my account!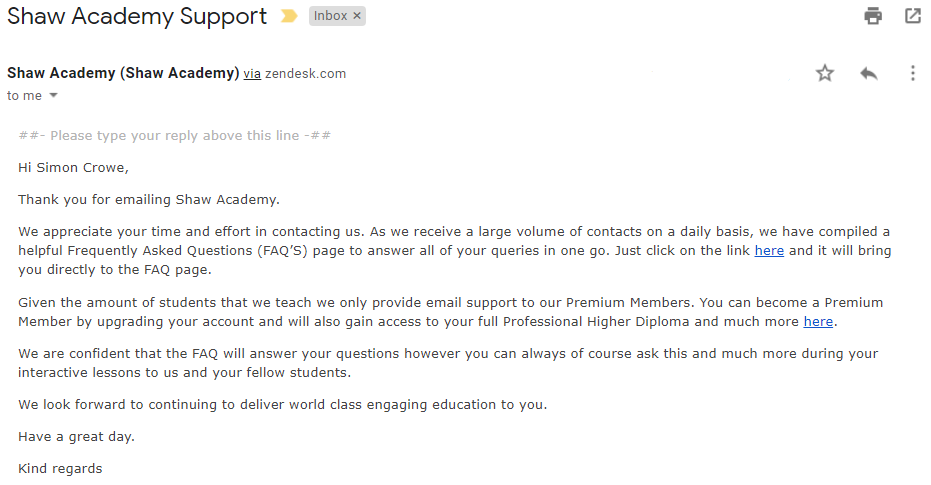 Shaw Academy Reviews: What Others Say
Shaw Academy has a 4 out of 5-star rating on TrustPilot.com out of a total of 1,905 reviews.

The vast majority of members are clearly very happy with the online training program with 85% rating the site 'Excellent' or 'Great'.

And it seems that you're assigned a personal learning advisor when you upgrade to the premium membership so you can get the support you need…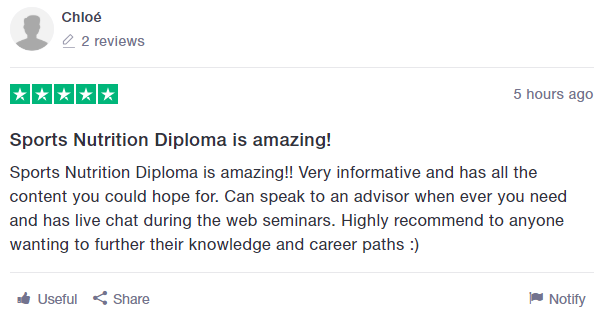 Here's a positive review from another satisfied learner who has been a member now for a couple of years and even signed up for the lifetime membership:
On the flip side, some people accuse Shaw Academy of being a scam because they say their credit cards have been charged the monthly fee without their authorisation.
Here's a complaint from the Better Business Bureau review site that confirms the need for clarification on membership costs:

Is Shaw Academy A Scam Or Legit?
My biggest bone of contention is the (intentional?) lack of clarity surrounding the course and administration fees…
It really can break trust and as we've seen, can cause people to call them a scam after being charged unexpectedly.
Sure, legally you can say they should've read the terms and conditions but we know in reality very few people do.
Shaw Academy would help their members and themselves by doing the right thing and displaying their prices clearly and prominently so people know exactly what they're getting into.
Aside from that, the training is very well thought through and put together and they actually offer a great value option for learners looking to develop their skills in a particular area, at their own pace and in their own time.
The 7-day free trial gives you the opportunity to browse the courses and test out the whole platform with no money down so you can decide whether or not this is right for you.
In my opinion Shaw Academy, though certainly not perfect, is a legit training platform that offers a high-quality education at great rates.
UPDATE: Shaw Academy is now being investigated by Trustpilot following a surge of complaints and refund requests and is most definitely a scam.
3 Better Shaw Academy Alternatives
1. Udemy – 100,000's Of Courses
Udemy.com have over 100,000 video courses on almost any topic you can think of. Seriously. From accounting to game design, pet grooming to poker – they've got it all!
2. Open University – Get A Recognised Degree
Pioneers of online learning, OpenUniversity.edu have a whole range of qualifications, from certificates and diplomas to Honours degrees and postgraduate qualifications.
If a formal qualification with flexible learning is what you're after, this is the one for you.
3. Wealthy Affiliate – Learn How To Build An Online Business
WealthyAffiliate.com has been helping aspiring entrepreneurs achieve online success since 2006. Their step-by-step video training walks you through exactly how to build an income-generating business from scratch.
They have a free Starter membership so you can test drive the platform with no credit card details required and their Premium membership is just $49/month and you can cancel anytime.
Check out the full Wealthy Affiliate review to find out more.
Your Shaw Academy Review
I hope you've found this review of Shaw Academy helpful. I'd be really interested to hear from former or current members on this one.
Scroll down and share your experience!
Simon Crowe is on a mission to help as many people as possible kiss their bosses goodbye.
Take the free Commission Academy course to discover how to smash your online income goals and make your dream business a reality.