Profit Sniper X is supposed to be a "breakthrough software creating done-for-you funnels and campaigns" that gets you "jaw-dropping results".
The sales page even describes it as the "world's 1st viral traffic and funnel app to get you unlimited leads and commissions".
Glynn did a good job blowing up the hype, but in this review you'll see Profit Sniper X for what it really is. 
I'll also tell you how Profit Sniper X costs, how it works before considering if this is a scam and if there are better alternatives.
Profit Sniper X Review At A Glance
About: Profit Sniper X is a funnel-creating software complete with built-in campaigns and offers that claims to generate as much as $10,000 per week.
Price: The front-end system costs $18.30. You also have to spend $362 for upsells, $600/year for an autoresponder and at least $300 for paid ads.
Pros: Comes with a 180-day refund option.
Cons: The traffic sources taught will not work for beginners and are very costly.
Verdict: Profit Sniper X isn't a scam, but the training is low-quality and expensive to implement. You probably want to invest your time and money elsewhere.

What Is Profit Sniper X?
Profit Sniper X is a funnel-based software launched by Glynn Kosky in June 2020 that teaches you how to use done-for-you funnels to promote built-in offers you're supposed to earn from. 
Glynn says Profit Sniper X eliminates the need for: 
Struggling to build email lists
Find high-converting offers
Running campaigns
Scaling your income
Paying for traffic
Except, it's funny how he claims you don't have to pay for traffic when the actual training recommends using various paid traffic sources: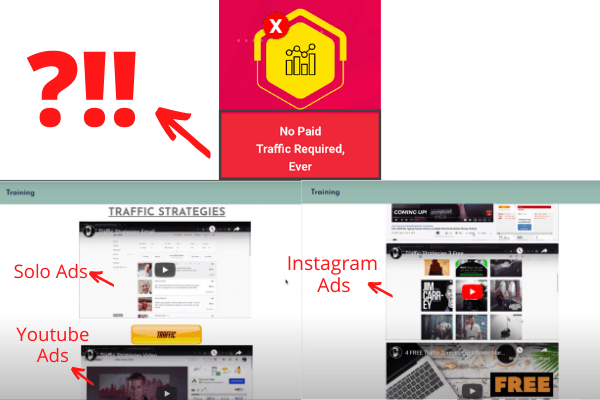 On the sales page, you'll read other hyped-up promises like:
Multiple income streams and commissions 24/7
Air-tight funnels that plug the profit leak
100% beginner-friendly
Grow massive buyer lists
Premium grade hosting
Amusingly, it also boasts about "hands-free" commissions which perfectly describes how little control you have over your supposed business. 
Glynn is trying to push all your buttons to get you to take out your credit card. Just take everything he says with a grain of salt.
How Much Is Profit Sniper X?
Profit Sniper X's front-end system is currently sold at $18.30. However, you also have to spend $362 for upsells, $600 per year for an autoresponder and at least $300 for solo ads, Youtube ads and Instagram ads.
Glynn also offers you Profit Sniper X bonuses apparently valued at $23,000….
But think about it, would anyone really offer something worth $23,000 as a freebie for an $18 product?
Now a bit about the upsells…
Upsell 1: Pro Unlimited Upgrade – $67.00
This upsell supposedly gets you unlimited campaigns, funnels, templates and storage. 
Upsell 2: Done-For-You Upgrade – $97.00
We're told this upsell cuts out all the guesswork by doing every campaign and funnel for you while you just wait for the money to roll in. 
This sounds great because they'll be doing all the heavy lifting for you, however, this will also mean you have little to zero control over your business so you can't do anything to grow or scale it up yourself. 
Relying on done-for-you funnels is risky and can actually do more harm than good.
Just think how many others were duped into buying Profit Sniper X who all have the exact same campaigns and funnels. You won't stand out and your funnels will look really spammy.
Upsell 3: Unlimited Traffic – $97.00
Glynn gives no assurance you'll get targeted traffic. Most likely you'll either get uninterested people, or worse bots visiting your funnel. 
Upsell 4: 30k Per Month Upgrade – $97.00
Aside from saying this upsell "turbo-charges you to make $1,000 per day" he utterly fails in explaining how that's supposed to happen.
If you don't know HOW this is supposed to jack your income, I suggest you don't buy this. 
Upsell 5: Affiliate Upgrade – $97.00
We're told this is a bonus page builder add-on software creating stunning pages to increase conversion potential. Bonuses are great in convincing people to buy from you IF the products you'll offer have real value.
Unfortunately, with Profit Sniper X you'll be promoting low-quality Clickbank scams like Easy Retired Millionaire, Perpetual Income 365, Bulletproof Profits and 12 Minute Affiliate. 
Upsell 6: License Rights – $147.00
As the name suggests, this upsell gives you the right to sell the system and keep 100% of the profits. 
Upsell 7: Conversion Upgrade – $47.00
This supposedly gets you access to tools to scale your income, but they never mention what these tools are or how it's supposed to help you make more money. 
How Profit Sniper X Works
Essentially, Profit Sniper X provides done-for-you funnels and campaigns to use to pitching offers found in the members' area. Mix and match a funnel with an offer and put your affiliate link and you'll get commissions. 
The sales page says you only have to do 3 things to start earning:
1. Buy Profit Sniper X.
2. Login, choose a campaign, and insert your affiliate link.
3. Enjoy unlimited traffic and commission in under 30 seconds.
Looks easy on paper but really, they've left out a few important parts here. 
I'll walk you through the members' area to show you what I mean.
Profit Sniper X Members' Area
Log into Profit Sniper X and you'll land on the dashboard where you'll see an introduction video in the center.
The kicker is the members' area looks awfully similar to the Magick Funnels scam!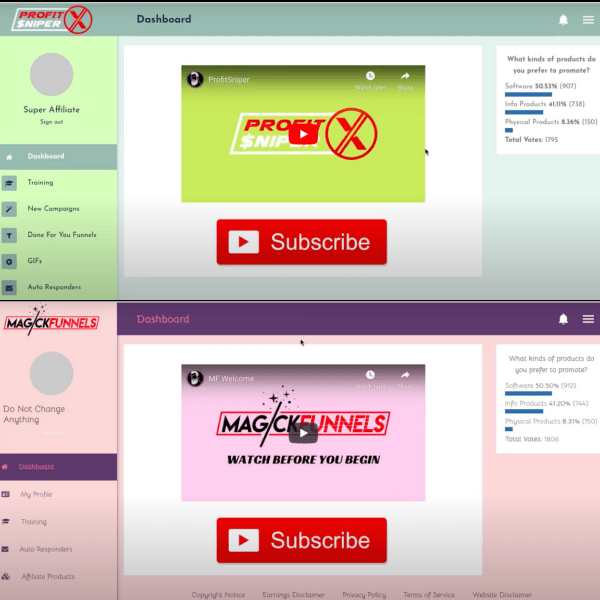 Is Profit Sniper X a rehash of an old scam?
It certainly looks like it!
They've added a few functions like the GIF generator and split test feature to make it seem new but essentially, they're one and the same.
So, any "never before seen" claims on the sales page are completely unfounded!
Profit Sniper X's Training
Immediately under the Dashboard tab, you'll see one for training.
Basically, it teaches how to set up campaigns, autoresponders, add products to the download page and how to use pop-ups to increase conversions
It also includes 4 videos covering traffic sources which cover: 
1. Solo Ads
Solo ads are when you pay someone with a long list of email subscribers to promote your offer.
This isn't a beginner-friendly traffic source because it involves a lot of trial and error to get the right campaigns to the right people and these ads don't come cheap.
And since you will be using other people's email lists you can't guarantee targeted traffic or a group of people enthused with offers after they've been bombarded with so many already. 
2. YouTube Ads
Youtube ads require an ads budget too as well as skills on your part on how to structure campaigns to get people to take action in just a few seconds which takes time to master. 
3. Instagram Ads
This too needs skill so for these 3 traffic sources, traffic won't come in under 30 seconds like they claimed on the sales page.
How about the 4th traffic source? 
4. Free Traffic
Here is where they'll teach you traffic strategies minus the cost BUT the challenge with free traffic is it can take weeks and even months to get visitors.
I like them teaching this though because free traffic is more sustainable and beginner-friendly, but there's more to it than what Profit Sniper X show you in their 20-minute video.
If you want in-depth training on free traffic, Wealthy Affiliate is a much better choice. 
Check out Simon's video to find out the best source of free traffic and the 3 reasons why: 
Other than the 4 traffic source videos, all the other Profit Sniper X videos just show you how to go around the members' area. It made me feel like a 1st grader following a set of steps without really understanding what I'm actually doing.
Like when you're taught to capture emails on the opt-in page, it won't explain what you'll do with it. It doesn't include training you on email marketing. 
So, if you're a beginner this can't help you know everything from scratch. 
Now let's take a look at the Done-For-You Funnels tab. 
Profit Sniper X's Done-For-You Funnels
Here you'll see 3 links to each campaign, one for the opt-in page, one for the promo page, and another for the download page: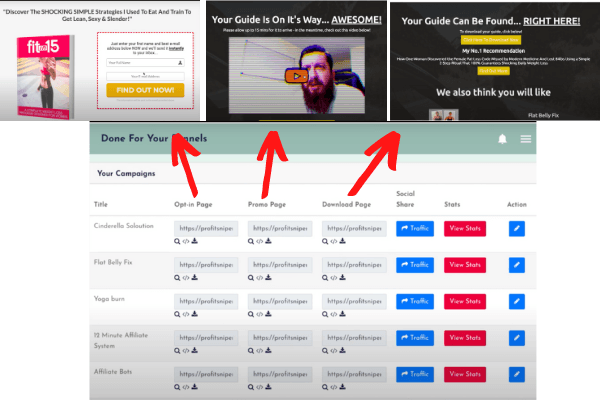 The good thing about having a promo page is you'll get people to come back to you to buy the product because you're going to give freebies along with it.
Who doesn't want free stuff, right?
Opt-in pages are also nice to have but you have to know about how email marketing works to be able to utilize the list you'll build. 
Right after the last link, you'll see a button for social shares to get traffic: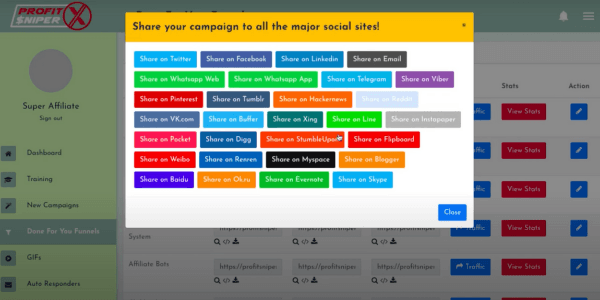 But sharing these campaigns on social site will only work if:
1. You have an account for the site.
2. You have a large following. 
Unlike Magick Funnels, Profit Sniper X has a split test feature so you'll be able to see which page converts better: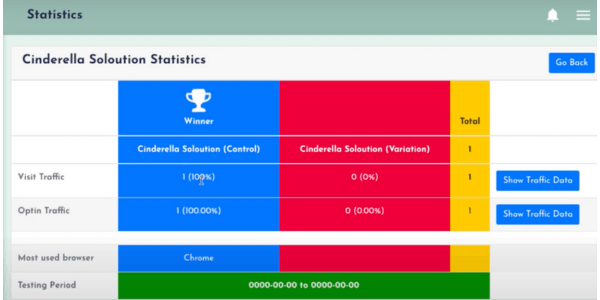 This offers products from various niches. The problem with this is you won't be able to build authority. Without becoming an authority in a niche, people won't trust you and they'll completely ignore whatever you pitch to them. 
Another thing I shudder at is you're not given any assurance the products you'll be pitching have good potential to convert. For all you know, you're pitching low-quality products that will ruin your credibility instead of building it. 
Aside from what is taught in the training videos, Profit Sniper X also promotes other free traffic sources like Affiliate Traffic Lab. 
The downside is, this source only ends up spamming Youtube using low-quality videos. I'm pretty sure you won't get traffic doing it.
Plus, once you register for this source, you'll quickly be spammed!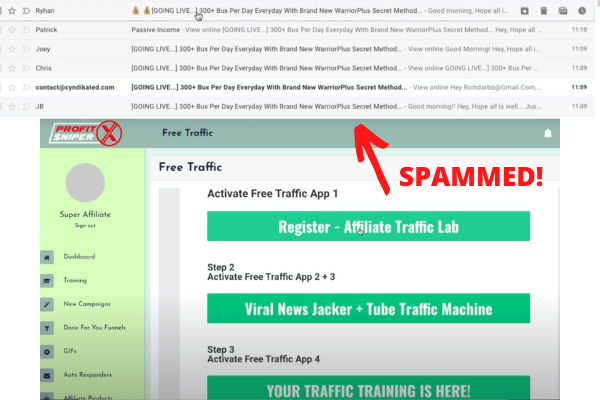 7 Things Don't Like About Profit Sniper X
1. The Fake Countdown Timer
Profit Sniper X has a countdown timer saying the price goes up within the hour.
This is nothing more than ruse to force you to click the Buy button before you realize what it really is. 
2. The Misleading Sales Page
They say you'll get the traffic flowing in less than 30 seconds but they really don't.
3. This Is Not Beginner-Friendly
Profit Sniper X promotes the use of paid traffic which only leads to money down the drain if you're a beginner. 
4. The Costs Will Add Up
The higher-priced upsells, email marketing software and paid ads costs will leave your credit card maxed out before you know it. 
5. You'll Be Overly Reliant On The System
Since Profit Sniper X hosts the funnels, campaigns and offers, if and when they decide to shut down, you'll be left with no business to work on and your time and money investment up in flames. 
6. There's Too Much Spam
Once you register for their free traffic sources, you immediately get bombarded with spammy emails. 
7. A Disclaimer That's Too Honest
With the bubble getting bigger and bigger with each hyped-up promise, the disclaimer debunking those claims is the needle that finally bursts it: 

And see what it says about TrafficMultiplier.net. I guess Profit Sniper X isn't just the new name for the Magick Funnels scam!
Is Profit Sniper X A Scam?
No, Profit Sniper X is not a scam because it somehow delivers with its funnel-generator and some useful training videos. But because the income claims are too hyped-up you'll end up disappointed realizing making money with this is not as easy as promised.
Where Do You Go From Here?
Profit Sniper X promises beginners they'll get tons of traffic and start earning fast. The truth is this 'quick fix' isn't able to deliver on its promise.
Making money online doesn't come instantly by just buying an income system promising fast results. You have to learn the ropes yourself, so you'll have total control over scaling YOUR business. 
A great avenue to learn this is with Wealthy Affiliate. It offers step-by-step training from scratch and access to fellow marketers ready to help you succeed. Here, you'll be taught how you can REALLY make money online, in a sustainable way. 
You can even test the waters out for free because you can access the 1st 10 lessons without cost. 
Read this in-depth Wealthy Affiliate review and see how they can help you make your online income goals a reality. 
What's Your Take?
When did you realize Profit Sniper X is not for beginners?
Did you also feel paid ads is not the way to go for new ones?
We'd love to hear what you have to say in the comments section below! 
Simon Crowe is on a mission to help as many people as possible kiss their bosses goodbye.
Take the free Commission Academy course to discover how to smash your online income goals and make your dream business a reality.