10x Profit Sites claims to take the hard out of hard work in making money with affiliate marketing. It promises 1,000s in daily income with the system doing all the heavy lifting. In this review, you're going to find out if there's any truth to the claims they make.
You're going to find out:
What 10x Profit Sites really is
How it works
If it's an old system with a fresh lick of paint
Other red flags you should be aware of
If it's a scam or not
To cap everything off, I'm also going to tell you about a better alternative worth considering.
Here's the thing:
Most reviews you'll find on 10x Profit Sites only tell one side of the story because a commission awaits them if you buy the system. You can rest assured knowing this review will not hold back revealing any filth I find so you can't make the wisest decision possible.
10x Profit Sites Review At A Glance
What Is 10x Profit Sites?
10x Profit Sites is an online income system claiming to create done-for-you review sites for "top-of-the-line" affiliate offers. It was launched last September 14, 2020, by Glynn Kosky.
Funny how Kosky claims to be a platinum ClickBank affiliate member yet is selling this product through WarriorPlus.
In the sales video, Kosky (or his hired voice-over) goes on and on rambling about how taxing it is to make money with affiliate marketing because you need to create your own review websites, demo videos, bonuses, and also need to scour the internet yourself for traffic.
He then goes on to mention that only the top few affiliates pile all of the commission because they "out-hustle" all the competition with their experience in making review, demos, and so on.
Kosky then presents 10x Profit Sites as the solution by saying "if you can't bring all of those to the table yourself, 10x Profit Sites will do it for you in under a minute."
We're told this system launches a "brand new" affiliate site for you complete with product reviews, affiliate offers, professionally written articles, and video content without lifting a finger. He also claims it instantly builds your authority on the niche by packing it with "top converting, evergreen offers".
The kicker is:
He doesn't bear out his "professional writers" and "top converting offers" making the claim hard to believe.
What's more, 10x Profit Sites echoes the hype of most low-end and scammy opportunities like:
100% done-for-you system
No skills and experience needed
100% built-in free traffic
With 10x Profit Sites, Kosky promises you won't need to waste time:
Designing a website, graphics, and banners
Analyzing products offers
Creating in-depth reviews
Selecting and adding value to bonuses
The system is supposed to provide all the exact tools and systems top earning affiliates are using so you'll get to earn as much as them minus all the hard work.
10x Profit Sites Cost
10x Profit Sites' front end system costs $17.29 plus a whacking $372 for 6 upsells and $300+ yearly for autoresponder costs.
I'll tell you a bit about the upsells so you can see if it's worthwhile to buy or a complete waste of money.
Upsell 1: Unlimited Upgrade ($47)
This upgrade supposedly allows you to create unlimited review sites complete with site themes, giveaways, and unlimited storage generating more commissions for you.
It also includes an agency license so you can get paid for creating review sites for clients plus a "Premium VIP support from the USA".
BUT it doesn't mention anywhere about helping you get targeted traffic leaving me to assume you'll do all the hard work for it. This means it can take you ages to drive traffic to you "unlimited review sites".
Personally, I'd only purchase this once I prove with my first review site that it can generate the income it promises, if not this will be completely useless.
Upsell 2: Done-For-You + Additional Features ($67)
This upsell provides a done-for-you package comprising of additional DFY sites and a library of DFY themes.
These sites are said to be proven to generate traffic and sales and also boost your credibility. Unless the front-end system proves all the promises it made, any claim this upsell makes is unfounded.
Upsell 3: Automated Traffic Flow ($67)
The traffic this upsell generates supposedly comes from their previous launches, meaning it's already been used.
Most likely, the people in this traffic flow are worn out from all the sales pitches they have to deal with in the past and directed future pitches in the spam folder.
Plus, you're not even given the guarantee of targeted traffic so you can end up with people who won't even give your offer a chance so there's no potential commission for you in this case.
Upsell 4: Conversion Boosting Tools ($47)
Apparently, this upsell adds social proof to your pages. But you can only take advantage of this if you already have an established following.
It also ads a Facebook Chat widget to your site so visitors can communicate with you plus a countdown timer to "add genuine scarcity" to your offers. (I rarely find countdown timers to be genuine because in most cases it's a mere ploy to involve your emotion so you get pressured to buy)
Lastly, it also adds exit popups which I find annoying more than useful.
Upsell 5: Bonus Page Creator ($47)
As understood in what this is called, it adds bonus products to your pages. (I thought the front-end product already comes with this feature?!)
Upsell 6: License Rights ($97)
This supposedly gives you a clone of the 10x Profit Sites sales page and keep 75% of the profits generated.
Making money with clone websites is next to impossible. Your website will be buried deep in the search engine results where you won't get noticed. No visitors, no conversions, no commission.
How 10x Profit Sites Work
10x Profit Sites builds a done-for-you review website complete with reviews and 15 "top converting" offers. You'll only need to configure some basic information like your affiliate link into the system and then you can start earning affiliate commissions.
Sound simple, right? I'll let you into the members' area for you to see if making money from this is really as easy as it sounds.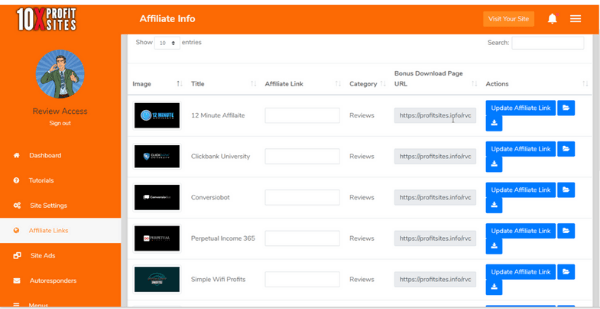 On the left side you'll, you'll see the tutorial tab. If you're expecting a whole lot of training to learn from, you'll be disappointed. The tutorial only has 4 videos that are barely 5 minutes long.
The videos only teach how you go around the members' area and what you click to generate your done-for-you review website.
How do you expect to earn 1000s every day by learning next to nothing from those videos?
After the Site Settings tab, you'll see the Affiliate Links tab where you'll input your affiliate link so commissions will be directed to you.
Interestingly, one "high-converting" offer on the list looked too familiar. As you can see in the photo above, the last offer on the list, Simple Wifi Profits, is a low-end training lumbering almost $1,500 from its takers.
High-converting? I don't think so. My guess is, these so-called "high-converting" offers are merely products made by him or his colleagues. They made 10x Profit Sites the vehicle to hopefully land a sale while they make you spend on the website to promote it.
Here's the worst discovery I made:
10x Profit Sites look a lot like CB Profit sales! They even have similar offers! What are the chances these 2 systems were made by the same creator OR one of them just a rehashed version of the other?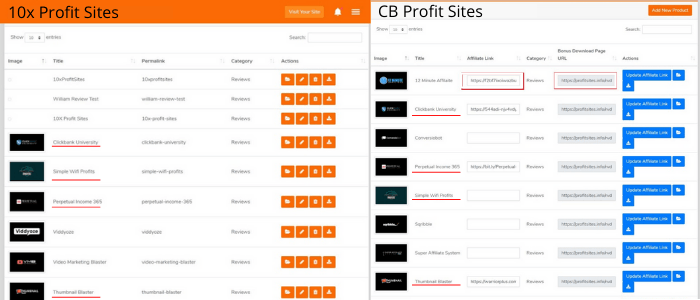 One thing I know, a rehashed system is an indication it doesn't make money. Because if it does, why the need for a fresh lick of paint?
4 Red Flags Of 10x Profits Sites
1. Looks Like CB Profit Sites
If the system itself is rehashed, you couldn't expect the review sites they provide to be brand new as the claim. Like I said earlier, cloned sites don't get noticed so there won't be money coming in.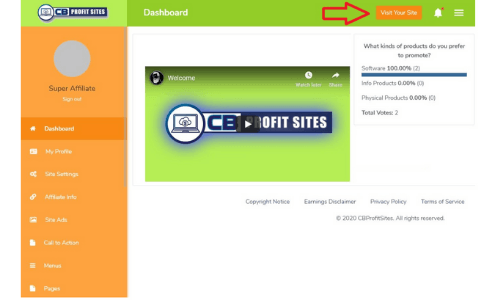 2. Uses Fake A Scarcity Tactic
The sales page says you'll only have 30 minutes until the price goes up, just refresh the page the timer goes back on. It's just a cunning plot to get you to hit the purchase button.

3. Questionable 180 Days Moneyback Guarantee
Unlike other moneyback periods indicated in the order details, you won't see one in 10x Profit Sites'. So you really don't know for sure if you have 6 months to request a refund.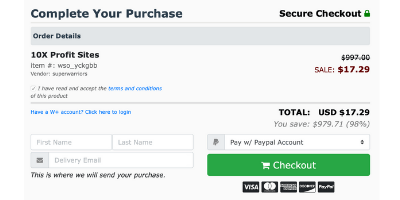 4. Disclaimer Disproves Claims
Contrary to the sales page hype, the disclaimer shows there's no guarantee you'll make money. No matter how hard they try convincing you by saying it'll get you financial freedom, luxury vacations, a secure future, and being your own boss, the disclaimer debunks it all.

Is 10x Profit Sites A Scam?
No, 10x Profits is not a scam because it does provide you with a website-generating system. But it's a borderline scam because all the claims about how much money you'll make are all lies.
Yes, they do provide a website, but it will hardly generate any sales and traffic because it's the same ones they give to every taker.
Since there's nothing remotely unique about these done-for-you sites there's no reason for Google to rank them, leaving you to either spam social media sites or pay for expensive ads to hopefully generate traffic and sales.
Where Do You Go From Here?
Even the best-looking websites are worth nothing if the traffic you get have been used too many times and the products you promote are bootless. In 10x Profit Sites' case, even the done-for-you website is lifeless.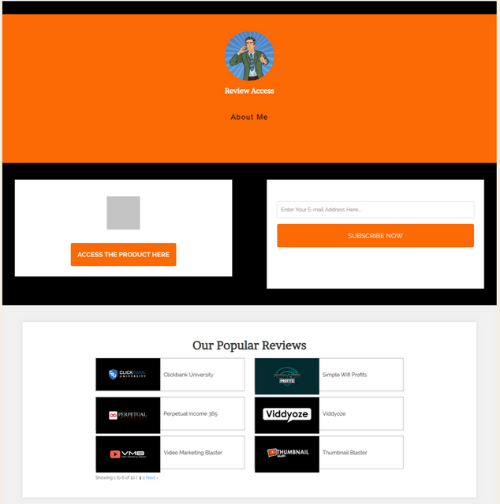 Stay away from this "everything done-for-you to make money easy" rubbish and learn how you can really make money with affiliate marketing.
It does involve work, yes, but the effort you put in will not go down the drain. Plus, by learning everything from scratch, you'll have total control over your money-making machine instead of worrying it'll shut down someday.
Wealthy Affiliate offers great training. It'll teach you everything you'll ever need to know as an affiliate marketer and how you can run a successful affiliate business.
It'll show you why it pays to work on your business rather than relying on shiny shortcuts. You can even try the 1st 10 lessons for free!
You can head this full and honest Wealthy Affiliate review to find out why it's my all-time top pick so you don't have to take my word and see it for yourself.
What's Your Take?
Did you think the system is too good to be true? Did you also think there was something fishy about them doing everything for you if you just pay up for the 10s Profit Sites?
The comments section is ready for your thoughts.
Hi I'm IG, nope not a kin of the social media; I've been IG since '93. I'm 1 part writer, 2 parts reader and 3 parts puzzle nerd.