This is a SUPER in-depth review of Shawn Josiah's Perpetual Income 365 software.
In this up-to-date review I'll break down:
What Perpetual Income 365 is about
What's covered inside the training
How much this will cost you
Things I like
Things I don't like
Whether it's a scam or legit and worth buying or not
Let's get started.
Perpetual Income 365 Review At A Glance
About: An affiliate marketing course by Shawn Josiah that promises to show you how to generate $432 a day online.
Price: $9 initially then $47 a month plus $397 in optional upsells (discount info)
Pros: Low price, pretty smart software, refunds available and good support. 
Cons: The training is extremely short and does nothing to show you how to make money. You'll also need to set aside an ads budget to make this work.
Verdict: Perpetual Income 365 is yet another hyped-up money-making system that isn't worth your time or money. Not something I can recommend. 

All you're told is to set up your landing pages and pay for low-quality solo ad traffic which hardly ever converts.
Anyone signing up to Perpetual Income 365 will find themselves trapped in an endless spiral of paying out for more and more ads in the hope of recouping their losses.
This isn't a good business model, you're just rolling the dice with your financial future.
There are way better alternatives out there like Invincible Marketer that will teach you how to use 100% free traffic methods to start earning affiliate commissions the right way.
That's why they're my all-time top recommendation for beginners.
What Is Perpetual Income 365?
Perpetual Income 365 is a landing page creator software with training videos on how to attract traffic to your affiliate offers designed to teach you make money promoting digital products online.
Go to PerpetualIncome365.com, watch the dramatic sales video and you're led to believe Perpetual Income 365 is all about learning the super sinister secrets sites like Netflix, Google and Facebook use to rack up profits on autopilot.
You're told a bizarre backstory about how a disgruntled "renegade scientist" who "escaped Netflix's clutches" and is now ready to spill the juicy details to the rest of us…
So what's this big Netflix conspiracy we're all missing out on? 
What's the shocking secret to making $432/day in pure profit?
According to course creator Shawn Josiah, the secret to making an income online can be boiled down to a simple 4 letter acronym: M.C.C.A.
M.C.C.A. stands for Micro-commitment, Consistency, Compounding and Algorithm.
In laymen's terms, Shawn says the best way to make a passive income online is to promote programs that ask people for a small amount of money on a regular basis like Netflix does with their $9.99/month subscription. 
On this I completely agree. 
I earn 5-figures a year online and just last year earned my spot as a super affiliate at Wealthy Affiliate Las Vegas conference.
How?
By only promoting affiliate programs that generate me monthly recurring commissions.
That way, instead of going to all that effort of getting someone to your site and earning just a one-time commission, you earn a lot more and enjoy the compounding effect Shawn talks about. 
Perpetual Income 365 Training
Essentially the training covers email marketing; you're told the best way to make money online is to sign up to ClickBank.com's affiliate program, create high-converting landing pages then go out and buy email solo ads to drive traffic to your offers in the hope of making sales.
Trust me when I say there's nothing new about this old idea.
To be honest, it's frustrating…
I've lost count of how many times these same tired, worn-out methods have been repackaged and sold as "brand new methods"…
Here's what the training area looks like: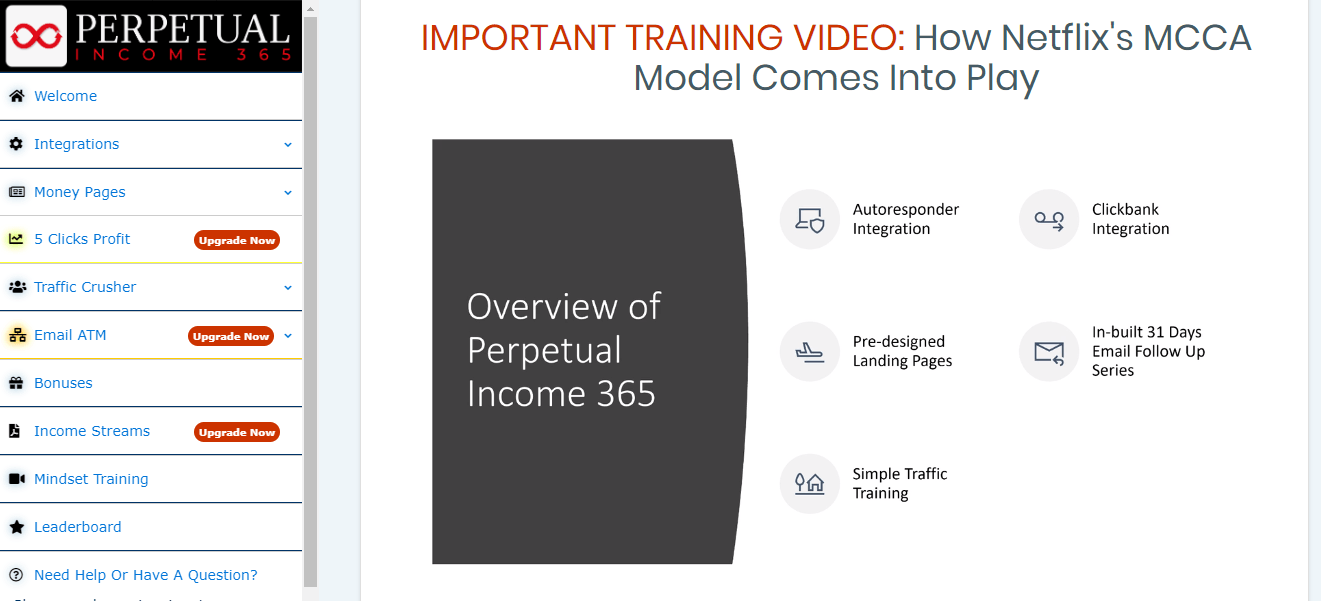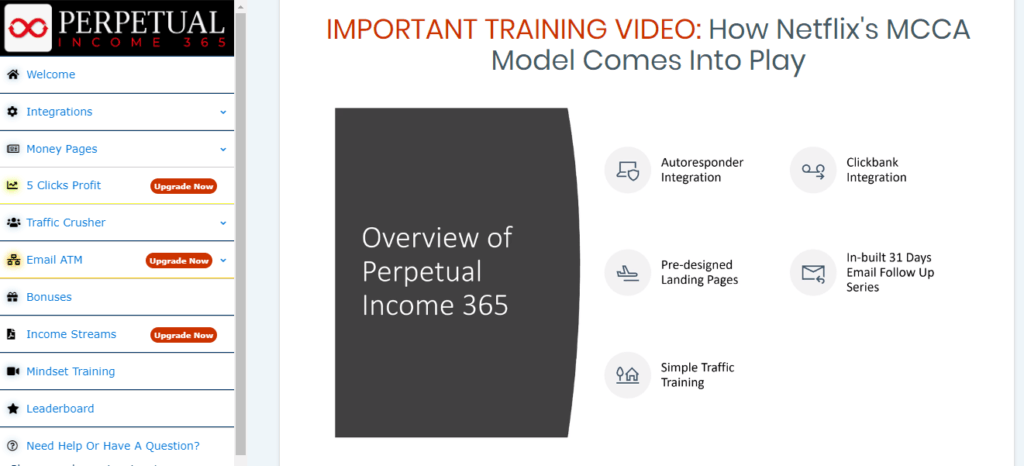 While the software does a pretty neat job at integrating your affiliate links into the landing pages, it doesn't matter how fancy your landing page is if you're getting no traffic!
One of the main reasons why I'm not recommending this product is because the only way they show you to get people to your site is by paying email spammers to promote your offer.
99% of your emails will end up sitting in people's junk mail folders, the rest might click through but since these people are bombarded with spam on a daily basis, they're highly unlikely to buy.
This leaves you with only 2 options:
1. Continue to pay out more money to solo ad vendors in the hope of making or sale, or even worse:
2. Cut your losses and call it a day, abandoning your hopes of making money online in the process.
Either way, if you're just starting out in affiliate marketing you are definitely a lot better off learning how to build a website that gets ranked in search engines.
That way you get tons of daily, super-targeted traffic coming to you for free.
Surely that's a better, risk-free way of going about things, especially if you're just starting out!
Can You Make Money With Perpetual Income 365?
In theory yes, though it's unlikely…
While the software does a good job at creating optimised landing pages, you're still going to have to get traffic from somewhere.
And not just any traffic either…
Remember, you only make money when real people hear what you have to say and take action. That means you want to be sure you're promoting the right kind of products to the right kind of people.
I hope it goes without saying:
Spending a lot of money to spam random people with links to your landing page isn't the best long-term strategy…
You're going to need an ad budget of $100's or even $1,000's to spend on solo ad vendors through sites like Udimi in the hope you can make more than you're paying out.
Solo ads aren't cheap either… realistically you should expect to pay anywhere between $0.30 – $0.95 per click.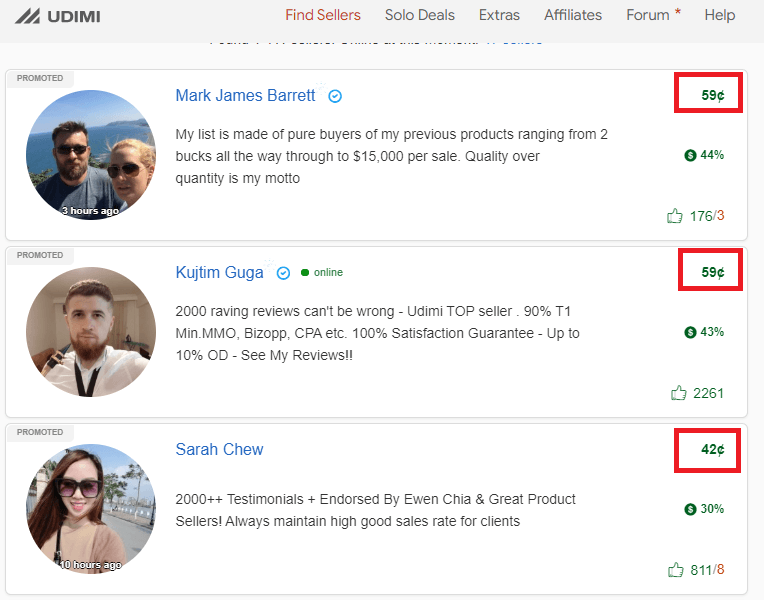 Perpetual Income 365's Actual Pricing
You can buy the Perpetual Income 365 system for $9 (or $10.80 when you include VAT). Plus there's a $47 monthly payment to access the community and training updates.
This came as a surprise to me, but notice what's written in the red box below:
When you sign up to PI365 you are actually signing up to pay a $47 membership fee each and every month until you cancel. 
Then there's a whole bunch of annoying upsells you're going to have to contend with… here's a quick overview of those:
And that's before you start paying money to email spammers to promote your offer.
Perpetual Income 365 Pros
1. They Have A Good Facebook Group
A big plus for this program is it's got a very active Facebook group you can join as soon as you sign up.
As I write this review the group has 400+ members and a lot of engagement. If you want to succeed online then having access to community support is crucial. Not only when you have questions, but for general motivation.
Here's a cool post I saw recently from a Perpetual Income 365 member, notice the reply from Shawn Josiah too:
2. You'll Get Access To One-On-One Email Support
You'll also find a support email address within the members' area you can send your request for help to for a reply within 24-48 hours.
That's 10x more than most products like this usually give you so this definitely gives Perpetual Income 365's support ratings a boost in my view.
Perpetual Income 365 Cons
1. Upsells Drive Me Insane
And Perpetual Income 365 has 7 of them – that has to be a new record!
As product creators, Jason and Mosh get to choose what marketing
techniques they use – and don't use. Whether they pack PI365 with as much value as possible or decide to charge more for the privilege.
Personally, I detest upsells and I would never want too put my valued customers through them. You should always treat customers the way you would want to be treated. Simple!
2. Beware The Mounting Monthly Costs
It's important to keep in mind that on top of the initial sign-up fee and $47 recurring monthly recurring payments, you're going to need to set aside an ads budget and (if you haven't already) you need to sign up for an email autoresponder so you can start building an email list.
AWeber starts off at $19 a month for up to 500 subscribers or GetResponse will cost you $15 a month for up to 1,000 subscribers.
I know this isn't a massive amount but over the course of a year, these monthly costs can start to add up.
3. This Is A Lousy And Outdated Business Model
This is my biggest gripe with Perpetual Income 365. I've lost count of how many programs I've seen out there telling people making money online is as simple as setting up a couple of fancy landing pages and paying out for low-quality solo ads.
Is Perpetual Income 365 A Scam Or Legit?
Perpetual Income 365 can't be considered a scam in the strict sense because what they're teaching can work in theory and there are members achieving success.
But neither can Perpetual Income 365 be described as a legit program because what you get in the members' area is not what you were sold on the sales page and the only way to make money is to shell out for email ads with no guarantee of a return.
There's nothing revolutionary or new about this now tired and worn out money making method.
The sales video is deliberately misleading too. In reality, this program isn't remotely related to Netflix or its algorithm.
Bottom Line: Is PI365 Worth $47/Month?
I've been a fully paid-up member for 2 weeks now and in that time I've seen a couple of updates in the Facebook group and Shawn has added a new page of steps within the training area. 
Does that justify paying out $47 a month to remain a member?
I don't think so. 
On the plus side, Shawn Josiah is an established affiliate marketer and could be good to learn from and the system is clever in the way it integrates your ClickBank account with the email autoresponder.
A Better Alternative That Actually Works
Here's the truth:
If you really want to find true financial freedom then you need to forget about short-term shortcuts like Perpetual Income 365 that hype up how much you can make and very rarely (if ever) give you the results they promise.
I honestly think you deserve better!
You can run as hard as you like, but run in the wrong direction and you'll never make it to the finish line, which is exactly why you need a tried and tested, proven method you can follow.
I can't tell you how many scams I fell for before I found a step-by-step formula that actually worked – probably way too many to count!
That is until I took advantage of Wealthy Affiliate's free Starter membership and learned the ropes of affiliate marketing the right way.
As a direct result of that training, I quit my call centre job in the UK and now live the life I want in Thailand.
There are so many scams out there and you should be sceptical and look carefully into any program before handing your credit card details over.
That's why I recommend you try out Wealthy Affiliate for free and see it for yourself.
Leave Us Your Perpetual Income 365 Review
So that's it for my review of Perpetual Income 365. Now I'd like to hear from you.
Have you tried it? What do you think?
Good? Bad? Somewhere in between?
Scroll down and let us know! 🙂