Is Profiteer a scam?
I believe so.
According to the Merriam-Webster dictionary a scam is:
"A fraudulent or deceptive act or operation."
So here's the real question:
Are the creators of Profiteer using deception to promote their program and make a quick buck or are they genuinely trying to give you a legitimate way to earn money online?
Let's find out.
Profiteer Review At A Glance
About: Jason Fulton and Mosh Bari's make money online system selling niche websites to make $100/day.
Price: $12.94 plus $248 for 4 upsells.
Pros: None at all.
Cons: Made by serial product creators, uses a content spinner so website won't rank.
Verdict: Profiteer is a lousy scam system. All they give are plugins and a content spinner. You won't have what it takes to sell a competitive niche website.

What Is Profiteer?
Profiteer is the brain-child of Jason Fulton and Mosh Bari and has been heavily promoted by affiliate marketers in the make money online niche.
Head on over to ProfiteerToday.com and you'll see a long sales page telling you about revolutionary new software you need to start making over $100 per day – for just 15 minutes of work.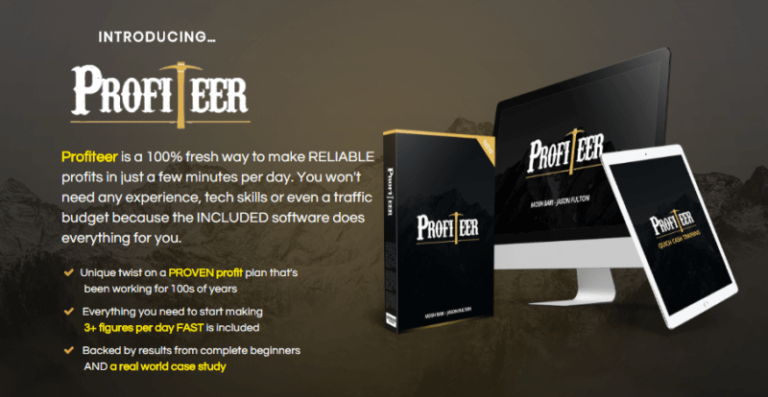 It goes on to say you could be earning a time-span as short as the next 24 hours too.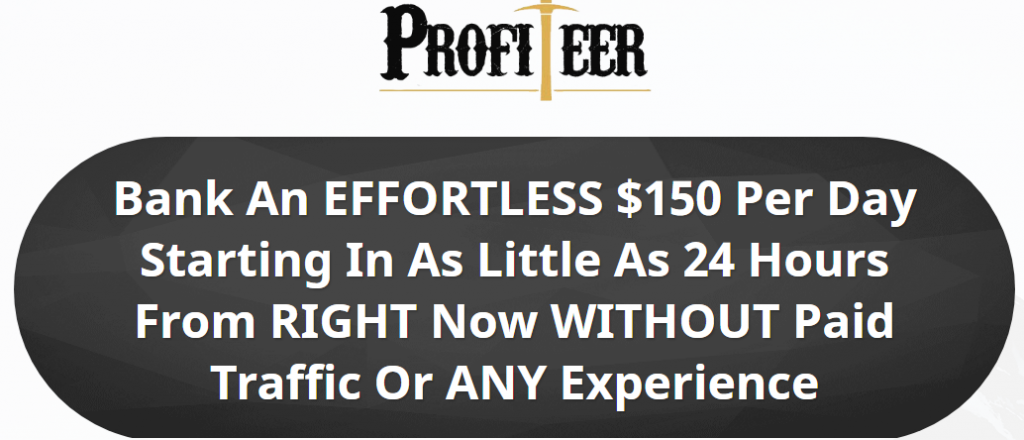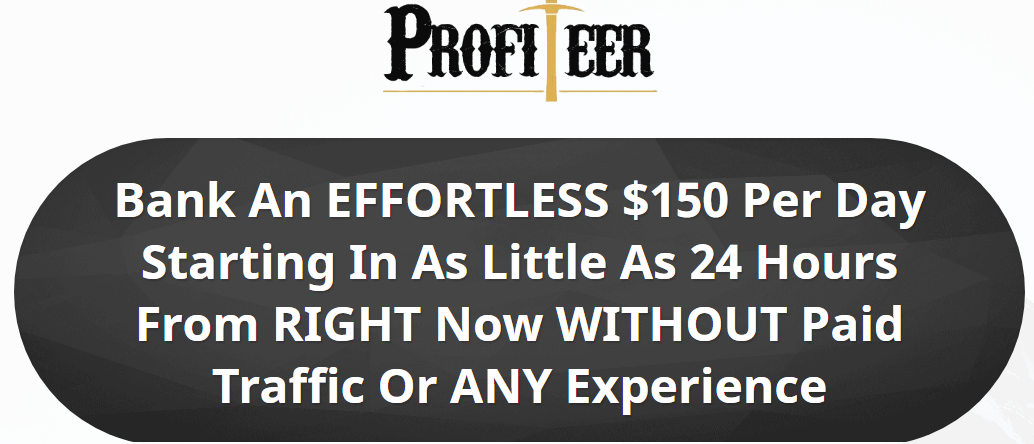 Wow! A pretty bold claim!
I couldn't help but be reminded of the 30 Minute Commissions scam I reviewed yesterday and so many get rich quick scams like it – they promise you the same thing: a lot of money in very little time for doing absolutely nothing.
So How Do You Supposedly Profit From Profiteer?
They say by following the video training and using the website builder to quickly create small niche websites you can then sell on sites like Flippa.com for $97 or $197 a pop.
This is like a twist on traditional domain flipping that was popular in the late 1990s and early 2000s.
There are many flaws with this type of business model, some of which I'll get to here in a minute, but the main thing being these sites you're trying to sell have inherently no value whatsoever unless you happen to come across a highly sought-after domain name.
What You Actually Get
Once inside the member's area, you'll see a few training videos with a WordPress theme and a couple of plugins.
Follow the lessons and you'll be taught how to create these mini niche sites. They use the WordPress platform to create your websites with a theme and plugins.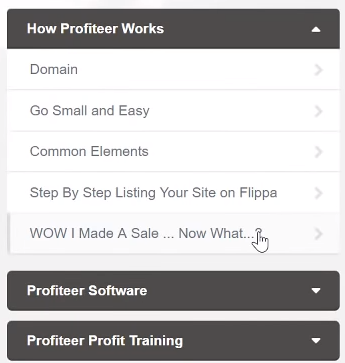 You're then given a link to a content spinner so you can copy and paste any old content and "spin it" to trick Google into thinking it's original.
"Article spinning is the process of re-writing an article to create new "original" copies in an attempt to avoid duplicate content issues that can result in a penalty from search engines like Google when article marketing your website."
Not only is this unethical, it simply doesn't work. Maybe you could have got away with this 10 years ago but Google, Yahoo and Bing search engines have updated their algorithms to detect shady behaviour like this.
To put it simply: you can't get around having high quality, original content if you want your website to be successful.
Feel free to check out my article: How to get higher rankings in Google for more on this.
So these websites you're going to try and sell on Flippa are completely worthless. They have no traffic, no income generation, no original content and no Google rankings.
Profiteer focuses on trying to make a quick buck in the short term but with no long-term view. This is why I can not recommend Profiteer at all – it's just not a sustainable or legitimate way to make money online.
Watch Out for The Upsells!
Did you wonder why Profiteer was so cheap? I mean, the whole $150+ per day system for as little as $12.94! What's with that?
Let me tell you – there are 4 upsells. (Notice they get increasingly more expensive.)
Upsell 1. Done For You Profiteer Campaigns – $37
Once they've got you in the door it's time to squeeze as much cash out of you as possible. Despite claiming Profiteer is as easy as 30 minutes a day to implement, this up sells claims to help you take your investment even further to help you get even more sales and leads.
This always leads me to wonder just how confident they are in the training they've already given you. If it's already got everything you need to know why would you even need to look at buying anything else?
Upsell 2. Advanced Profiteer Tactics – $47
This promises to take everything you've learned in the Profiteer course and take it up a notch to the professional level. If earning $150 within 24 hours wasn't fast and ludicrous enough, Advanced Profiteer Tactics says pay out an extra $47 and you'll start even quicker.
Honestly, they'll tell you whatever you want to hear in the hope you're naive enough to get your wallet out and hand over even more money.
Upsell 3. Set This Up On Autopilot – $67
For those people who believe it's possible to make money online with a single click of the mouse, this system sets the niche website creation on autopilot.
Upsell 4. – Full License Rights – $97
For $97 you can become an owner of the Profiteer system, promote it however you'd like and keep 100% of the revenue.
Now you're starting to see why this is being promoted so heavily by people who have "gone all in" and are trying to make some of their money back.
More Profiteer Reviews
Still not convinced Profiteer is a scam? Look around at other Profiteer reviews on the web and you'll read story after story of people who dived in head first, bought the system and now live to regret it.
Take a look at this complaint from Tom. He paid out for this program and is now warning others to say away: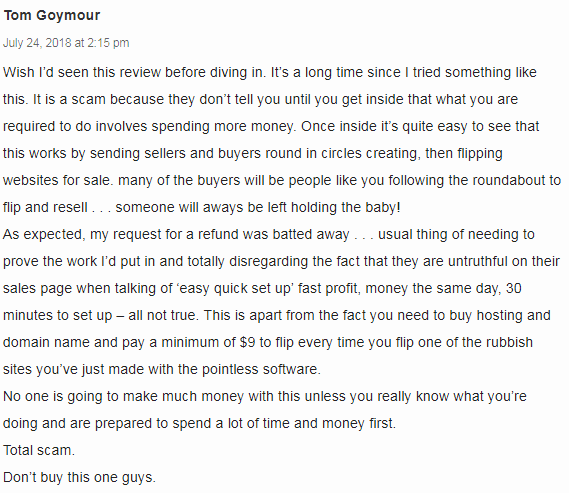 Is Profiteer Right For You?
Absolutely not! It's yet another scammy product that promises everything but gives you nothing.
Creating sites with no real content, no rankings, no earnings track record is of no value to anyone whatsoever.
My hope in writing this review is that I've shown you enough to convince you to keep your money.
There's a huge difference in someone creating a training product because they genuinely want to help people find financial freedom online and just selling any old thing to make themselves a quick buck.
With Profiteer I fear it's the latter.
People who are always looking for shortcuts never get anywhere and that's the truth. My advice? Forget about get-rich-quick schemes that never work and instead focus your efforts on what will get you actual results.
Affiliate marketing is a legit way to make money online but here's the catch:
It takes patience to build a strong and profitable affiliate marketing website.
If you're serious about building a legit internet business from home then check out this free beginner's training here.
Yes, you're going to have to work your way through the course and apply every action step they give you, but it's well worth it in the end.
Simon Crowe is on a mission to help as many people as possible kiss their bosses goodbye.
Take the free Commission Academy course to discover how to smash your online income goals and make your dream business a reality.