This is the ultimate Invincible Marketer review for 2023.
I didn't just eyeball the sales page for a couple of minutes and call it a day like all the other "reviewers" out there…
No, I spent 30+ hours going through all 63 lessons and then took action on it.
So now let me show you what I found out to help you decide if Aaron Chen's Invincible Marketer is the right course for you.
Here's a quick overview:
Invincible Marketer Review 2023 At A Glance
About: Aaron Chen's Invincible Marketer is an internet marketing course that aims to equip students with the right skill set and mindset to achieve financial freedom online.

Maybe it's because we've reviewed close to 700 make money online courses at this point, but I bought a lifetime membership to this program without any real expectations.
I have been a pretty successful affiliate marketer for 8+ years after all…
What more could there be to learn?
As it turns out, a heck of a lot!
In the course of researching for this review of Invincible Marketer, I went from "Actually, this Aaron guy is pretty good…" to "This training is blowing my mind!"
So much so, that I had to completely shake up how I run my affiliate marketing businesses. Invincible Marketer is the real deal.
Join Invincible Marketer, start the training, apply the action steps as you go and by the end of it you'll be banking commissions consistently and saying this was one of the best decisions you ever made.
What Is Invincible Marketer?
Invincible Marketer is an affiliate marketing course created by Aaron Chen to take you through the exact steps of starting a profitable business online. It's called Invincible Marketer because it promises to transform students into unstoppable, powerful and invincible entrepreneurs.
To set you up for success, Aaron provides every Invincible Marketer Lifetime member with:
Step-by-step core training modules
Bi-monthly coaching calls
Done-for-you blueprints, templates and handouts
Expert mentoring
Community help and support
Here's how Invincible Marketer describes itself:
On that same sales page, Invincible Marketer calls itself the "#1 affiliate marketing training program in the world!"
I've heard lots of claims like this before so I was a little sceptical, but as I'll show you in this review, it turns out it probably is.
Who Is Aaron Chen?
Based in Kuala Lumpur in Malaysia, Aaron Chen is the creator and expert trainer behind Invincible Marketer. Aaron worked a corporate job for 15 years (though he doesn't look old enough!)
When it comes to making money online, there's not much he hasn't tried:
He's been in 4 MLMs
Run a dropshipping business
Sold T-shirts online
Spent $30,000 on solo ads
Promoted several "done-for-you" systems
After spending $1,000s on low-quality courses over 8 years, hitting roadblock after roadblock and learning from his experiences, he designed Invincible Marketer as the complete A to Z guide for anyone looking to build a profitable online business and get results.
In Aaron's own words: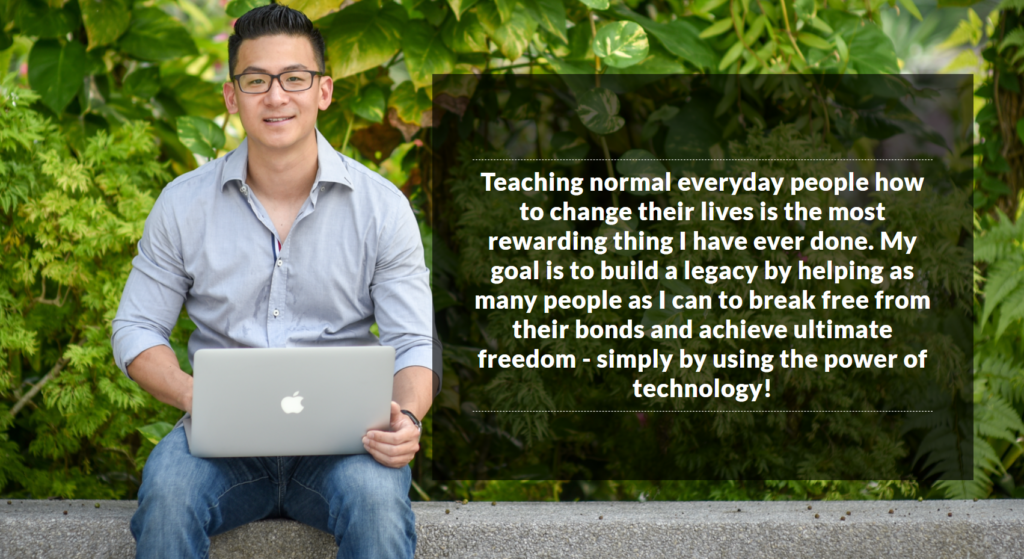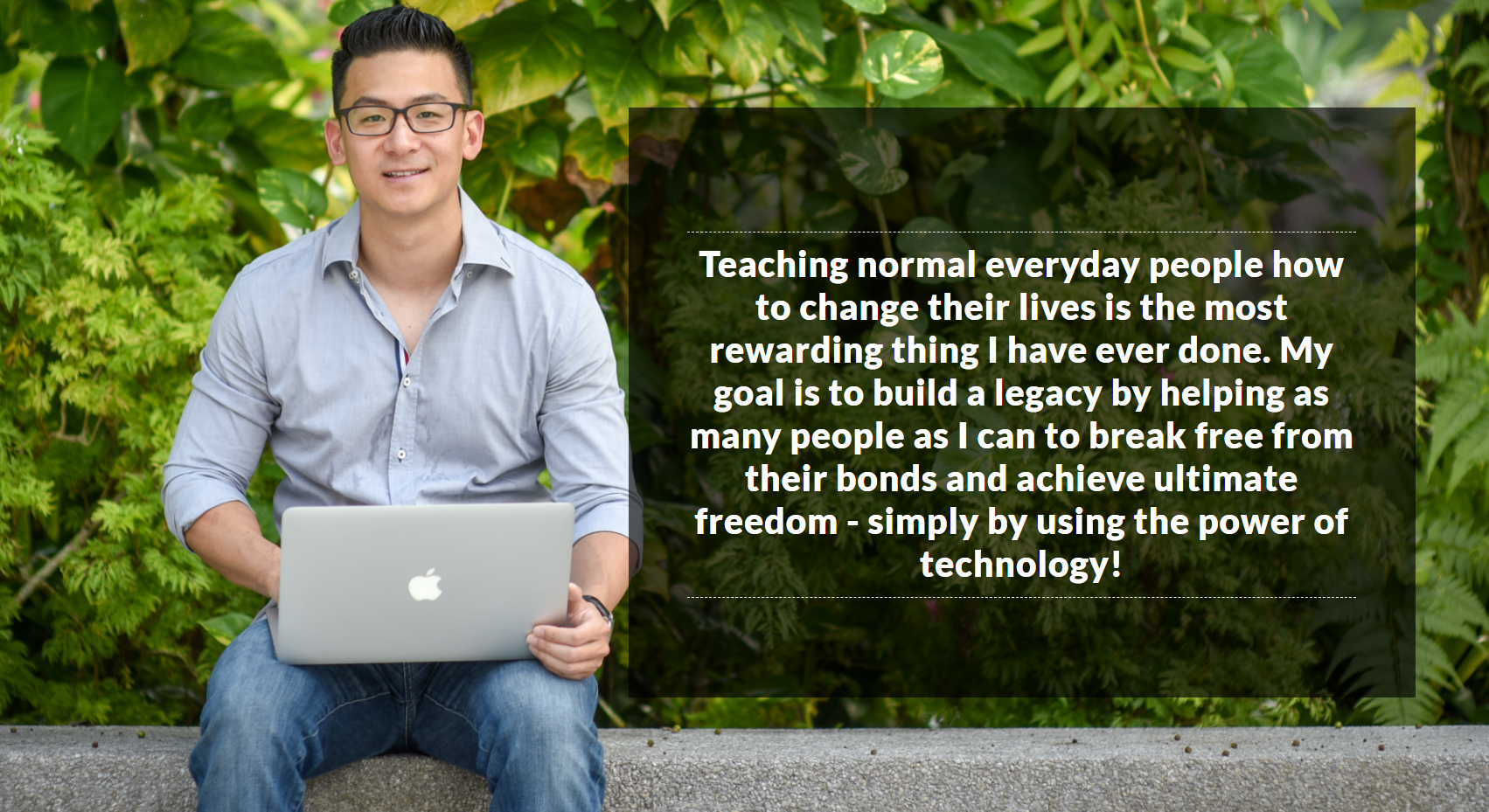 You may have first come across Aaron (as I did) on YouTube through his YouTube channel which currently has 21.7K subscribers: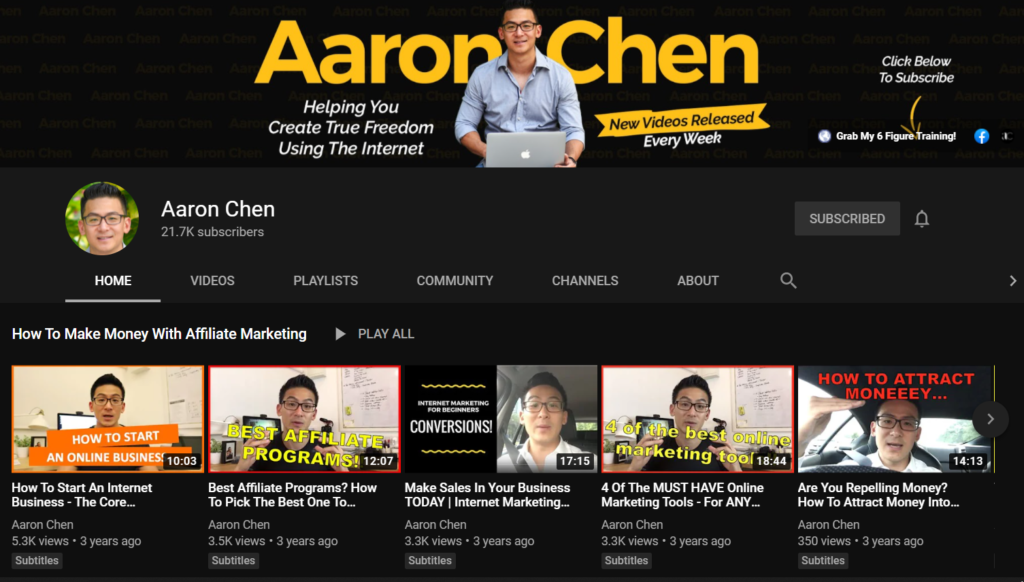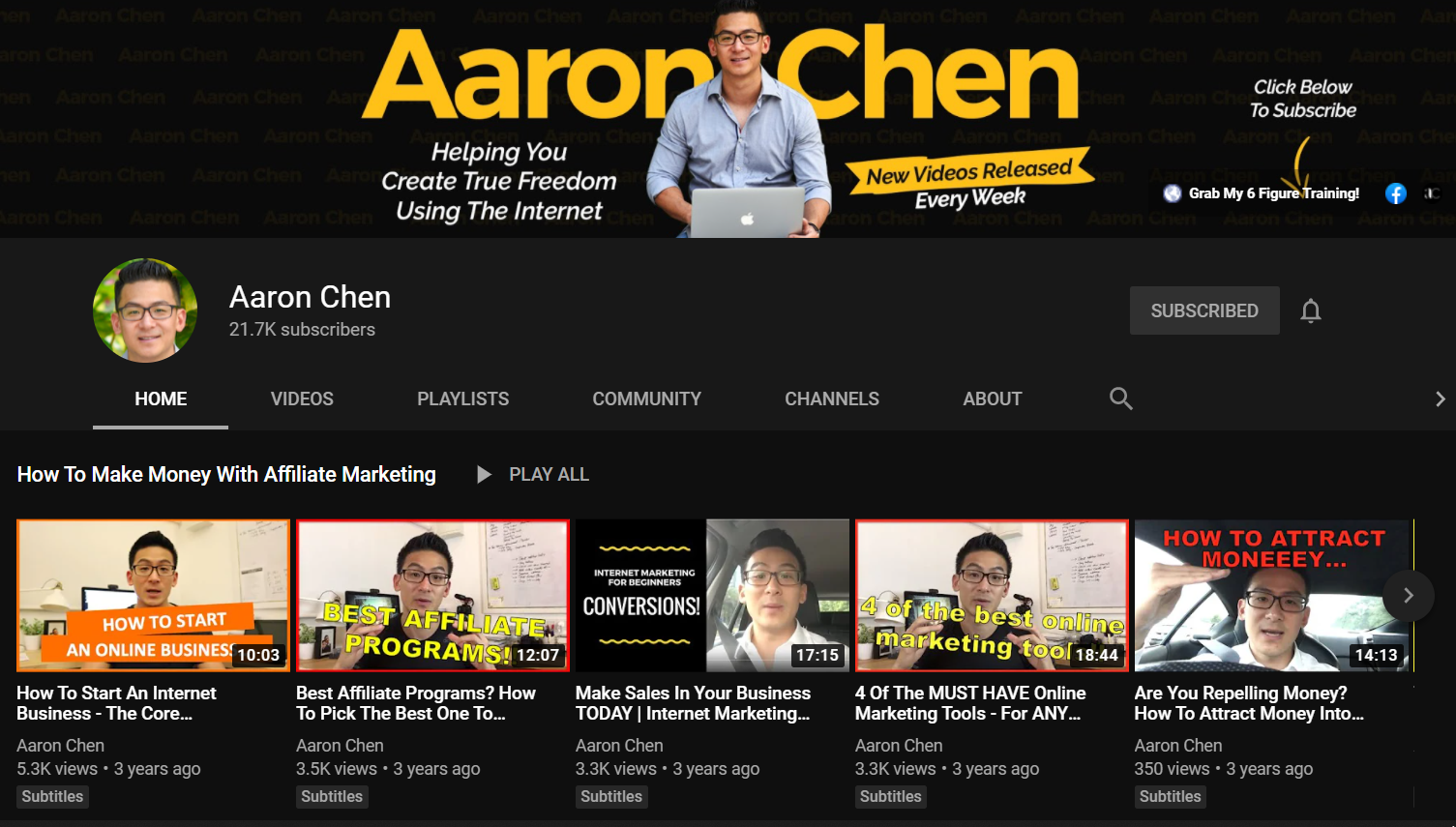 Here's one of Aaron's most popular videos with over 155,000 views:
And if you like his YouTube content, you should definitely check out The Freedom Audio Show podcast where Aaron dives deep into the big entrepreneurial ideas that will revolutionise the way you think and work.
Aaron's created 2 courses so far with the aim of teaching people how to go about affiliate marketing the right way and saving them from the expensive years of frustration and trial and error that he went through: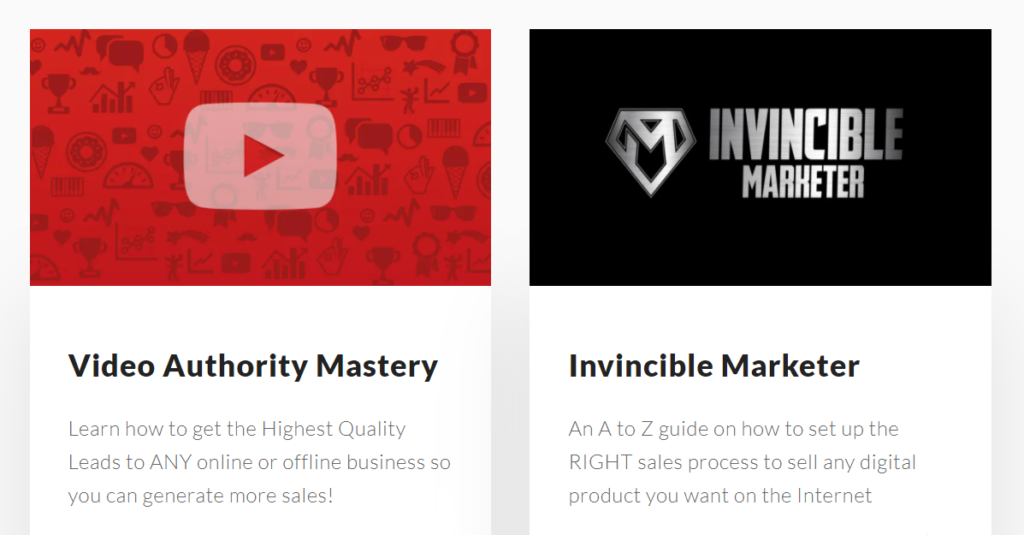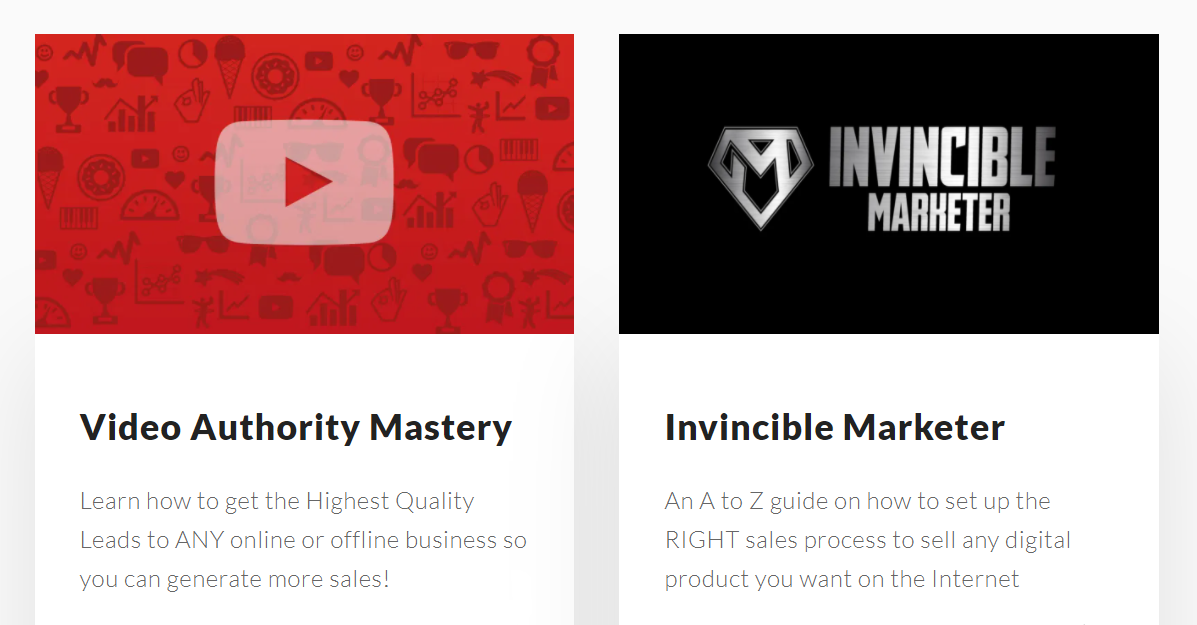 What Makes Invincible Marketer Different?
Sign up to Invincible Marketer and you're going to learn how to make money with affiliate marketing.
Here's the simplest definition of affiliate marketing courtesy of Pat Flynn:
"Affiliate marketing is the process of earning a commission by promoting another company's product (or service). You find a product, promote it to others, and earn a piece of the profit for each sale that you make."
If you're brand new to the make money online game then let me tell you affiliate marketing is by far the best way to build a business online.
Thanks to my affiliate earnings, I've been able to quit my UK call centre job, book a one-way ticket to Thailand and live the life of my dreams in the tropics.
Now here's the big BUT…
95% of affiliate marketing courses we've reviewed tell you pretty much the same thing…
Pick the highest-converting affiliate offers
Do all you can to generate traffic
Send all that traffic to the sales page of the product you're promoting
Aaron calls this "The Direct Selling Method" or "The Broke Model" because less than 1% of the people you send directly to the sales page will buy anything and you end up losing more money than you paid to generate the traffic to begin with:


What you'll learn inside Invincible Marketer is "The Invincible Model", where you send your leads through a 4-day "Value Series" where you offer high-quality, helpful content before sending them to the sales page: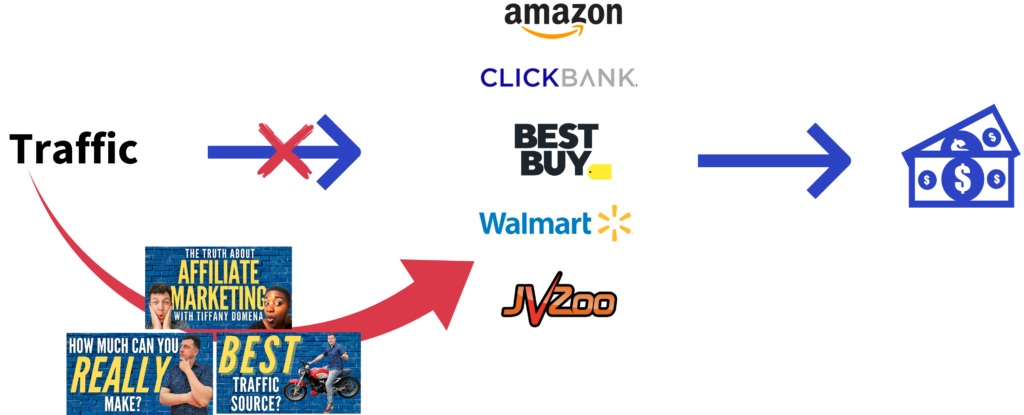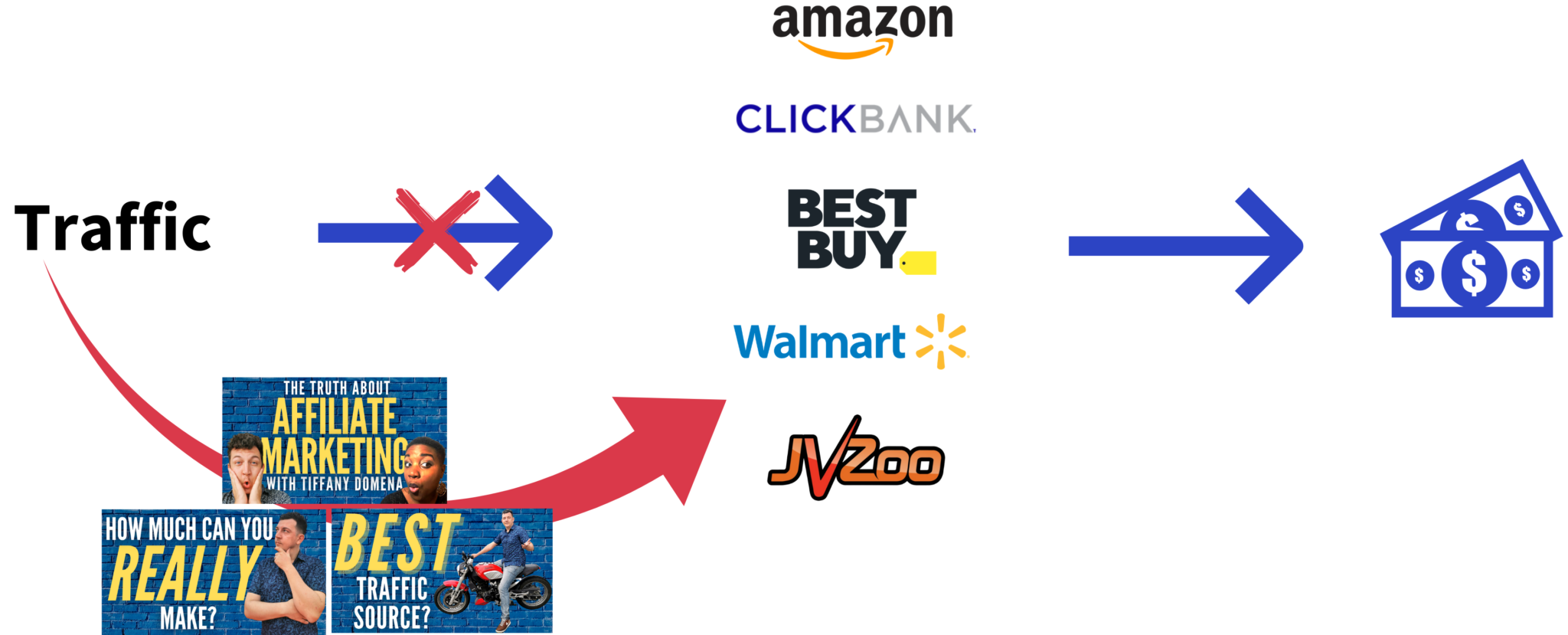 This is a real game-changer. Learn affiliate marketing this way (the right way) and you could achieve 5 to 10% conversion rates.
10x the sales = 10x the revenue!
These are the kind of results you can expect if you follow through and why, if you're serious about making money online, joining Invincible Marketer is a no-brainer.
Who Is Invincible Marketer For?
Invincible Marketer is for three types of people: total newbies, those struggling to earn at least $1,000 a month online income and affiliates looking to ramp up their earnings.
If you've never earned a dime online before then this training is going to walk you through everything you need to know from beginning to end.
If you've bought various courses in the past but aren't getting results as expected then this training is going to show you how to break through.
If you're an experienced, successful marketer then this training is going to give you the tools and strategies you need to take your earnings to the next level.
Whichever category you fall into, know this isn't a "set and forget" type deal (they don't exist! 😉) You are building a real business and you are going to need to invest the TIME to go through the training and put in the WORK to apply it.
This leads us very nicely on to the next section…
Who Is Invincible Marketer NOT For?
This Invincible Marketer review wouldn't be complete if I didn't go through who Aaron Chen's course isn't suitable for, so here goes.
Aaron used a great analogy in session 12 about how you could have the best personal trainer in the world with the best program possible but unless you get out there and do the pull-ups, squats and bench presses yourself then you're not going to see results.
You don't want to be one of those people who buy courses but never follow through.
With this in mind, Invincible Marketer isn't for you if:
You're expecting life-changing results overnight
You're not willing to take the assigned action steps at the end of each lesson
You're not ready to invest in yourself and your education to acquire the income-generating skills that'll pay off for you time and again
How Much Does Invincible Marketer Cost?
There are two membership options with Invincible Marketer:
Monthly membership – $67 a month
Lifetime membership – $430 one-time or 3 payments of $145
The regular monthly membership price is listed as $197, but use this link to get a 66% discount at just $67 a month.
A Sneak Peek Inside The Training Area
Once you've signed up for Invincible Marketer, you'll get instant access to the training area which looks a little something like this: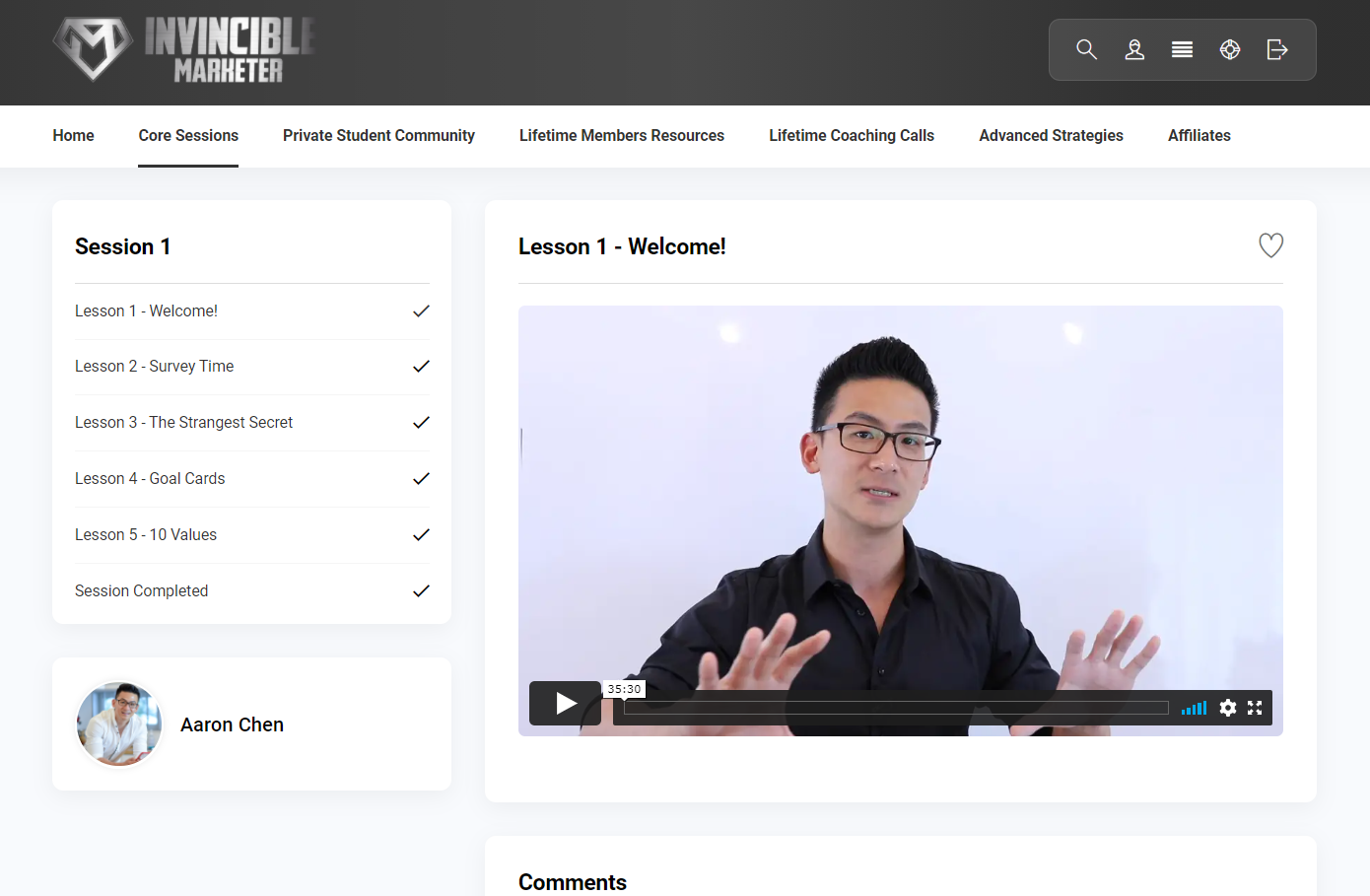 As you can see, it's got a nice, clean layout that's really easy to navigate.
The core training and links to all your resources are accessible from the top menu and you'll see a progress bar as you work your way through your training so you can see how far you've come.
Here's Aaron Chen's Invincible Marketer review giving you an inside look into the members' area:
What Does Aaron Teach In The Training?
The core training gives you a complete A to Z of everything you need to know to build a thriving and profitable online business from scratch.
I'd recommend you start at the beginning and work your way through the sessions systematically, completing all the action steps along the way before moving on to the next.
The Invincible Marketer training is designed to take you from an absolute newbie with no prior knowledge or experience and take you through earning your first commission, to generating income on a regular basis to a full-time invincible marketer. Aaron does a great job of laying it all out in an easy-to-understand way.
You'll learn how to:
Pick the right niche
Choose the right affiliate products to promote
Identify the needs of your target audience
Create a high-converting sales funnel
Have a success mindset
Write compelling headlines and capture pages
Build an email list
Run profitable email marketing campaigns
Drive traffic from native ads, banner ads, social media and search engines
Effectively manage your time and boost productivity
Build an authority website
Create a successful YouTube channel
Optimise for maximum conversions
And so much more besides!
How Is The Invincible Marketer Training Structured?
Invincible Marketer has 17 sessions with 63 lessons, giving you over 31 hours of SUPER in-depth training.
Here's a full breakdown:
SESSION 1
Lesson 1: Welcome!
Lesson 2: Survey Time
Lesson 3: The Strangest Secret
Lesson 4: Goal Cards
Lesson 5: 10 Values
SESSION 2
Lesson 1: Pyramid Of Success
Lesson 2: Subconscious Conditioning
Lesson 3: The Current Landscape
Lesson 4: 6 Figure Conversion Model
Lesson 5: 'Must Have' Tools
SESSION 3
Lesson 1: Review Goal Cards
Lesson 2: Financial Thermostat
Lesson 3: Affiliate Marketing Explained
Lesson 4: Good VS Bad Products
Lesson 5: Picking Good Products
SESSION 4
Lesson 1: Review Goal Cards
Lesson 2: The Long Game
Lesson 3: Gary V Video
Lesson 4: Recommended Products
Lesson 5: Asset Checklist
SESSION 5
Lesson 1: Ambition VS Actions
Lesson 2: Be Resourceful
Lesson 3: The Value Series
Lesson 4: The Customer Journey
Lesson 5: Campaign Blueprint
Lesson 6: Dan Khan Interview
SESSION 6
Lesson 1: Let's Talk Metrics
Lesson 2: Gratitude + 5 Minute Journal
Lesson 3: The Strangest Secret
Lesson 4: Understanding Domains
Lesson 5: Clickfunnels Domain
Lesson 6: Clickmagick Domain
SESSION 7
Lesson 1: Let's Journal!
Lesson 2: Don't Be Cheap
Lesson 3: Capture Page Overview
Lesson 4: Creating Your Capture Page
Lesson 5: 6 Figure Email Strategy
Lesson 6: Attach Your List
SESSION 8
Lesson 1: Let's Journal!
Lesson 2: Broke VS Poor Mindset
Lesson 3: Let's Talk TRAFFIC!
Lesson 4: Tracking Time
Lesson 5: Clickmagick Setup
SESSION 9
Lesson 1: Focus On Building
Lesson 2: Delayed Gratification
Lesson 3: Value Series Review
Lesson 4: Value Series Build Out
SESSION 10
Lesson 1: Real Talk
Lesson 2: Morning Routines
Lesson 3: Mastering Video
Lesson 4: Value Series Videos
Lesson 5: Edit Sales Funnel
Lesson 6: Melvin San Miguel Interview
SESSION 11
Lesson 1: Behind The Scenes
Lesson 2: READ!
Lesson 3: Communication Strategy
Lesson 4: Set Up Your Private Email
Lesson 5: Email Creation Time!
Lesson 6: Integrate Your Email
Lesson 7: Add Emails To Autoresponder
Lesson 8: Conversion Pixels
SESSION 12
Lesson 1: 10 Values Review
Lesson 2: Condensing Timeframes
Lesson 3: Funnel Review
Lesson 4: Final TEST!
Lesson 5: Split Testing
Lesson 6: Getting Traffic!
SESSION 13
Lesson 1: How To Crush Obstacles
Lesson 2: Taking Action!
Lesson 3: Unlimited Traffic Masterclass
Lesson 4: Master Your Traffic
SESSION 14
Lesson 1: Your Commitment
Lesson 2: Audit Your Circle
Lesson 3: Your Authority Site
Lesson 4: Authority Site Build Out
Lesson 5: Create Your First Post
Lesson 6: Cultivating Your List
Lesson 7: Broadcasts & Segmentation
SESSION 15
Lesson 1: Self Care
Lesson 2: Excuses!
Lesson 3: How To Convert More!
Lesson 4: Create Your Bonuses
Lesson 5: Bonus Page Creation
Lesson 6: Bonus Delivery
SESSION 16
Lesson 1: Status Check
Lesson 2: Fear Of Failure
Lesson 3: Manage New Customers
Lesson 4: Customer List Setup
Lesson 5: FB Tribe Building
SESSION 17
Lesson 1: Build Your Spider Web
Lesson 2: ATTITUDE Is Everything!
Lesson 3: Where To Focus Your Time
Lesson 4: Aren't Making Sales?
The Invincible Marketer Facebook Community
As well as the question and answer areas at the bottom of each lesson, students can get help and support from Aaron Chen and other expert marketers through the Invincible Marketer student-only Facebook group.
The group looks like this: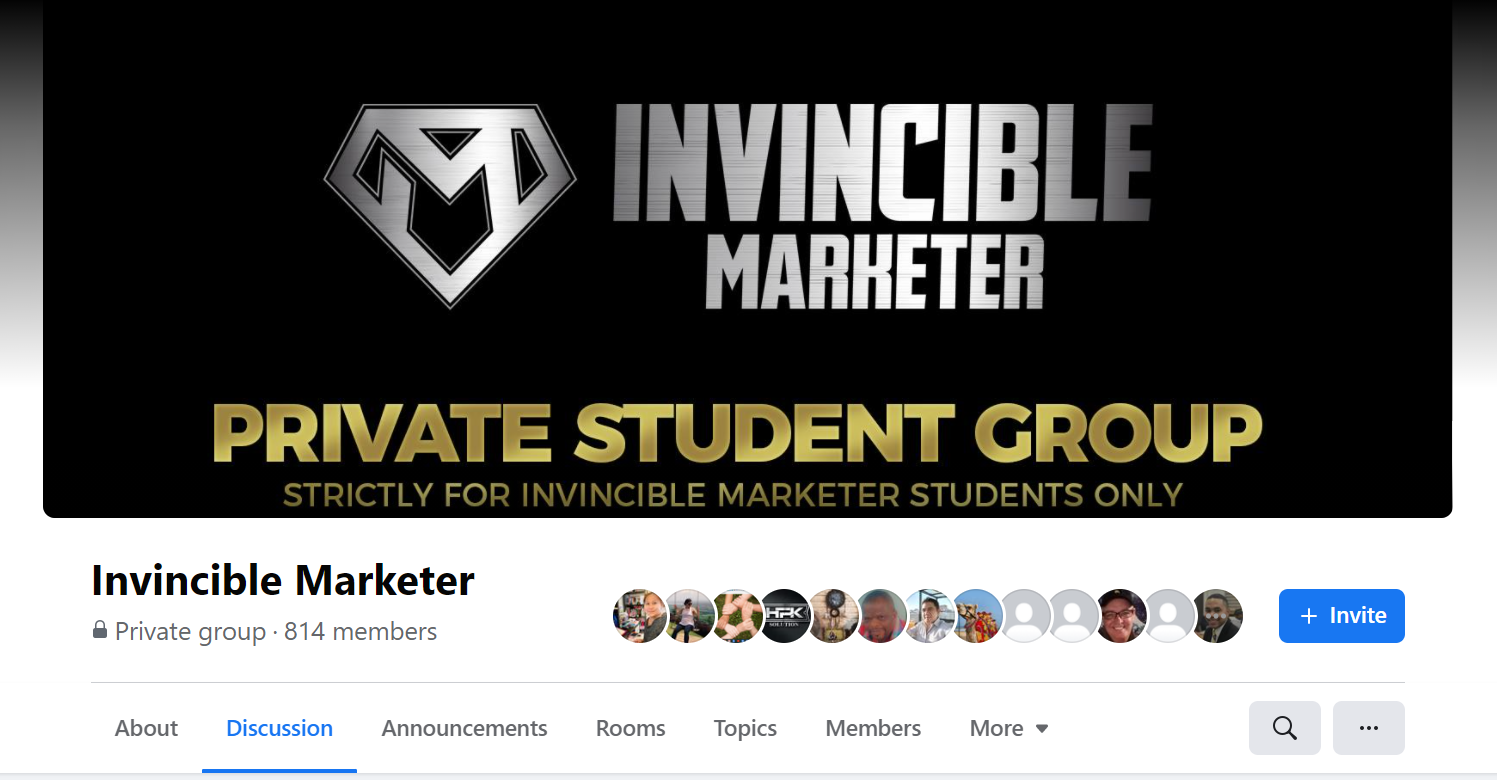 It's pretty active: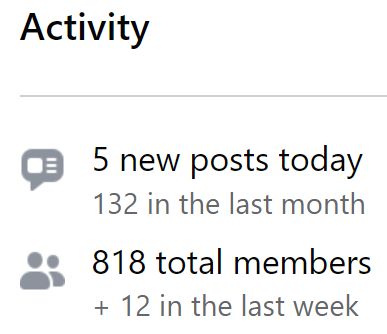 Here's how Aaron describes the group on the sales page:
Having been in the Facebook group myself for a few months now, he's not overselling it.
Never again do you have to try and figure everything out on your own or sit struggling unsure of what to do next.
When you join Invincible Marketer you become part of a bigger community of like-minded aspiring entrepreneurs who will push you to achieve more.
While writing this review I jumped over to the group and grabbed a couple of the most recent posts. As you can see, they both received solid engagement within a few hours…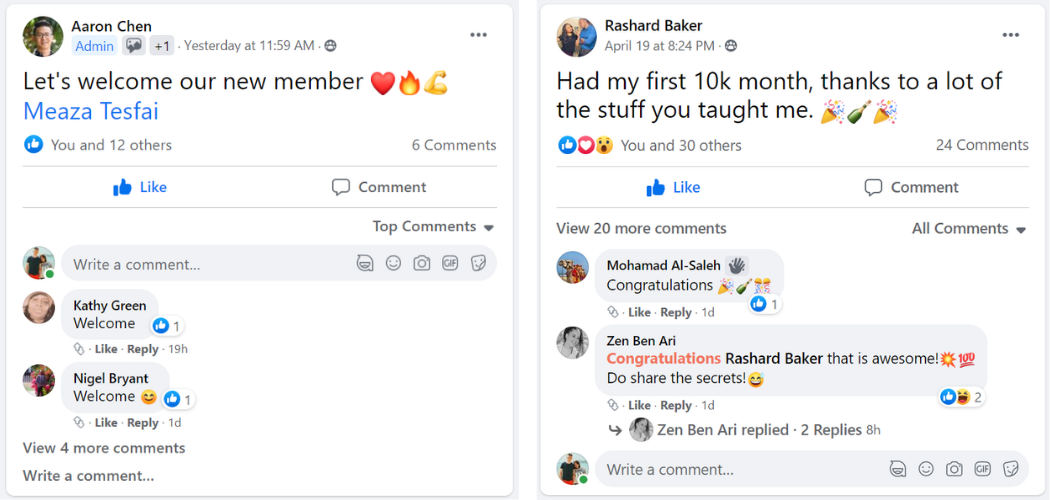 Lifetime Coaching Calls
Join Invincible Marketer as a Lifetime member and you'll be invited to bi-monthly live Zoom Q&A coaching calls with Aaron Chen.
You get to ask any questions and show your work to Aaron for review. This is invaluable if you want expert feedback on your campaigns or confirmation that you're on the right track.
2 Invincible Marketer Cons
Invincible Marketer is by no means perfect and this review wouldn't be complete if we didn't at least critique some of the possible cons.
That being said…
1. Too Much Mindset Training?
A potential criticism of Invincible Marketer is that Aaron focuses too much on the power of the mind instead of sticking to the practical stuff.
Though the main focus is always on the detailed click-by-click, there are some mindset lessons sprinkled throughout the course covering topics like:
Goal setting
Subconscious conditioning
Gratitude journaling
Daily affirmations
The reason?
According to Aaron:
"The training is 20% mindset (to keep you 'in the game' and motivated) and 80% strategy, tactics and action steps. You'll love it!"
While I do think some people take the whole 'power of the mind' thing way too far, your mindset really does make all the difference in whether you go all the way and become a huge success or you merely dip your toes in the water and get nowhere.
Talking as someone who's been building online businesses for 6 years and experienced every high and low possible (think: Google updates, hiring writers, defunct affiliate programs and a whole myriad of other challenges), it's your grit, determination and self-belief that's going to keep you in the game.
2. The 30-Day 'You Will Get Results' Guarantee
Know if you buy Invincible Marketer today, you can't just request a refund tomorrow. You have to go through the information and apply it.
To quote the refund page:
"We put our heart and soul into our products and we are confident in the information contained in them so we do require you to complete all the sessions, get involved with our community and build out your capture page and value series before making your refund request.

If you have done so and can provide evidence of the work you have done laid out in the program and still don't feel like you got your money's worth, then we are happy to give you a refund within the 30 day period."
Read the full Invincible Marketer refund policy here.
8 Invincible Marketer Pros
1. This Is NOT The Same Old, Same Old
9 out of 10 make-money online programs out there tell you to pay out for low-quality solo ads to send extremely low-quality traffic to a landing page that converts at 0.5% or 1% if you're lucky.
This is an outdated (and expensive) way of doing it that will hold you back from achieving real success online.
With Invincible Marketer, you're learning the latest, cutting-edge strategies that work.
2. This Is A COMPLETE Click-By-Click Course
Invincible Marketer isn't a course you can binge-watch in an afternoon.
What you're getting here is a complete step-by-step, over-the-shoulder course complete with homework assignments.
Aaron does a great job of making the lessons fun and engaging but most importantly, it gives you a FULL roadmap to follow from beginning to end.
Here's how Aaron puts it:

3. Aaron Keeps It Simple Yet SUPER In-Depth
Invincible Marketer is NOT a basic course.
Yes, it's designed for beginners but it's going to transform you into an online entrepreneur.
Launching an online business seems like a daunting prospect but Invincible Marketer breaks everything down into easily digestible chunks, with each lesson building on the previous.
Whether Aaron's teaching you how to create capture pages, come up with clickable headlines, set up landing pages or conversion tracking, he will introduce a new concept by giving the "30,000-foot view" before zooming in on the details.
A good example of this would be when Aaron talks about why email marketing is so important and how it fits into your overall business, before diving deep into how to write them, including real-time demonstrations on how to add them to your autoresponder, integrate your email addresses and so on.
4. A Real Focus On Integrity Throughout
When talking about choosing your affiliate offers in Session 3 Lesson 3, Aaron teaches that the ultimate litmus test is whether or not you'd be happy selling the product to your mum or family member:
"If you're selling junky stuff that's not actually going to get people the results they're looking for in the first place, that's not a good thing. If you're not willing to sell it to a family member then you probably shouldn't sell it all"
And then again in Session 7 Lesson 3:
"Don't ever lie in your marketing. It's not cool. People are going to find out about it and it's very important you have integrity in your business."
Unfortunately, this is super RARE in the make-money online space so it is refreshing to see Aaron putting the emphasis on having integrity in all aspects of running your business.
5. Each Lesson Comes With Actionable Steps
I've seen so many affiliate marketing courses only give broad strokes of what you need to know without ever equipping you with the practical how-to.
Invincible Marketer's not like that. At the end of each lesson, you'll be assigned specific tasks meaning you earn as you learn; you're actually digging out your foundation and then building on it as you go through the training.
6. Handouts Galore
Aaron Chen provides students with dozens of resources, blueprints and templates to help you as you're building out your business.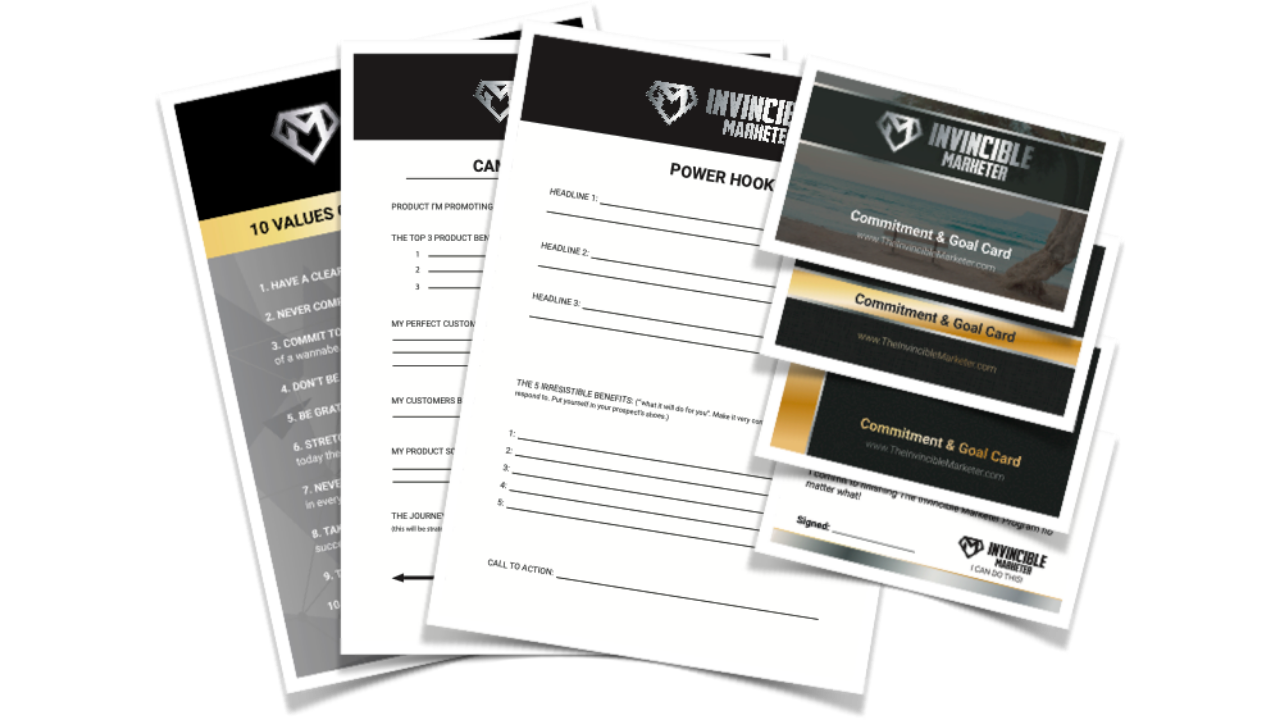 Like these goal cards to help hold yourself accountable:

Or this campaign blueprint: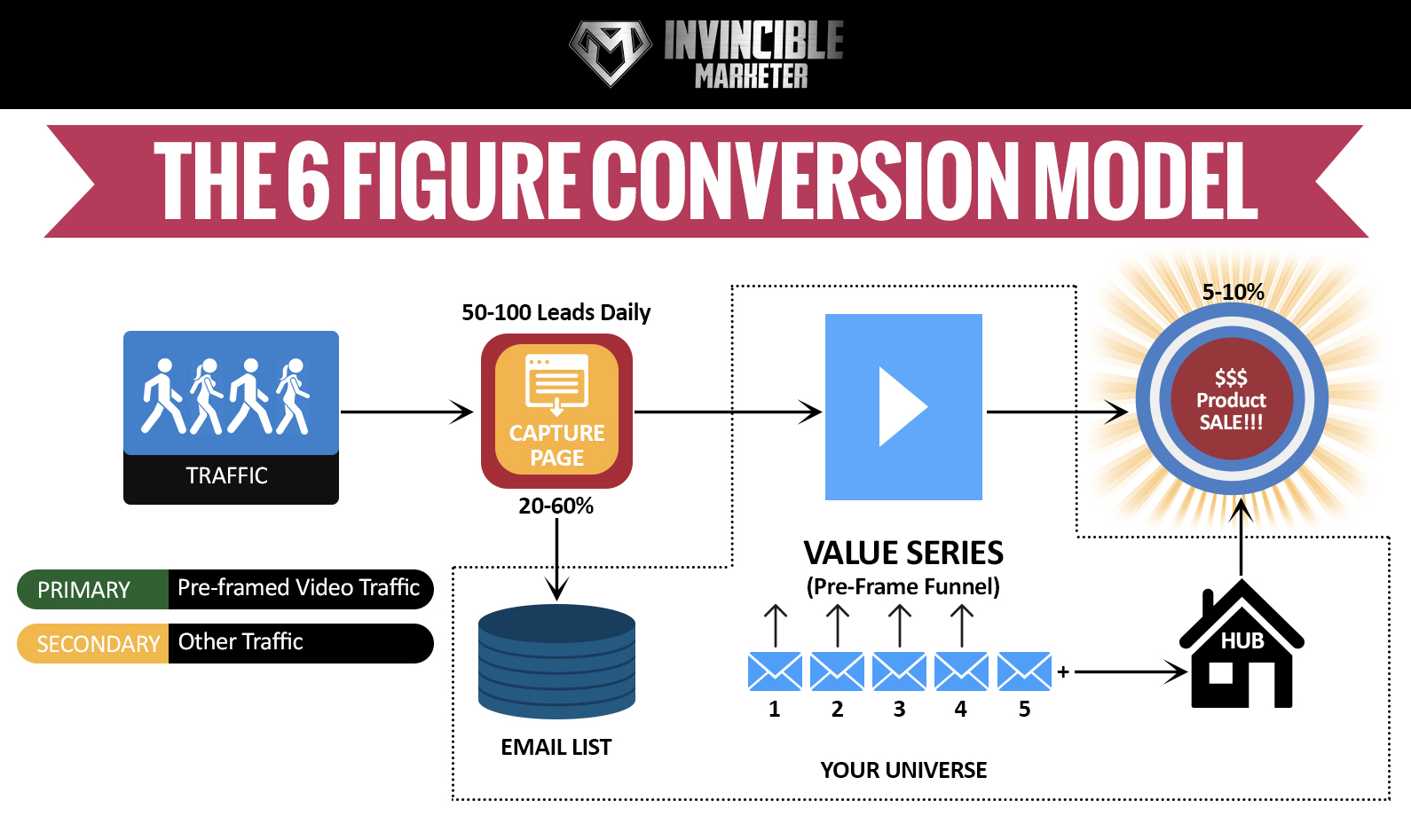 7. Aaron is Always Super Helpful And Responsive
You'll always see Aaron answering questions and interacting with members inside the Invincible Marketer community.
It's not often you see this with online courses.
I've also messaged Aaron a number of times and he's always gotten back to me with a helpful and timely response.
8. Students Get Results
If there was a pro above all other pros, this would be it.
You'll learn strategies in this program that took Aaron years to learn the hard way, strategies that have been tried, tested and proven.
You and I are in this to get actual results and these are the kind of results Invincible Marketer students are achieving: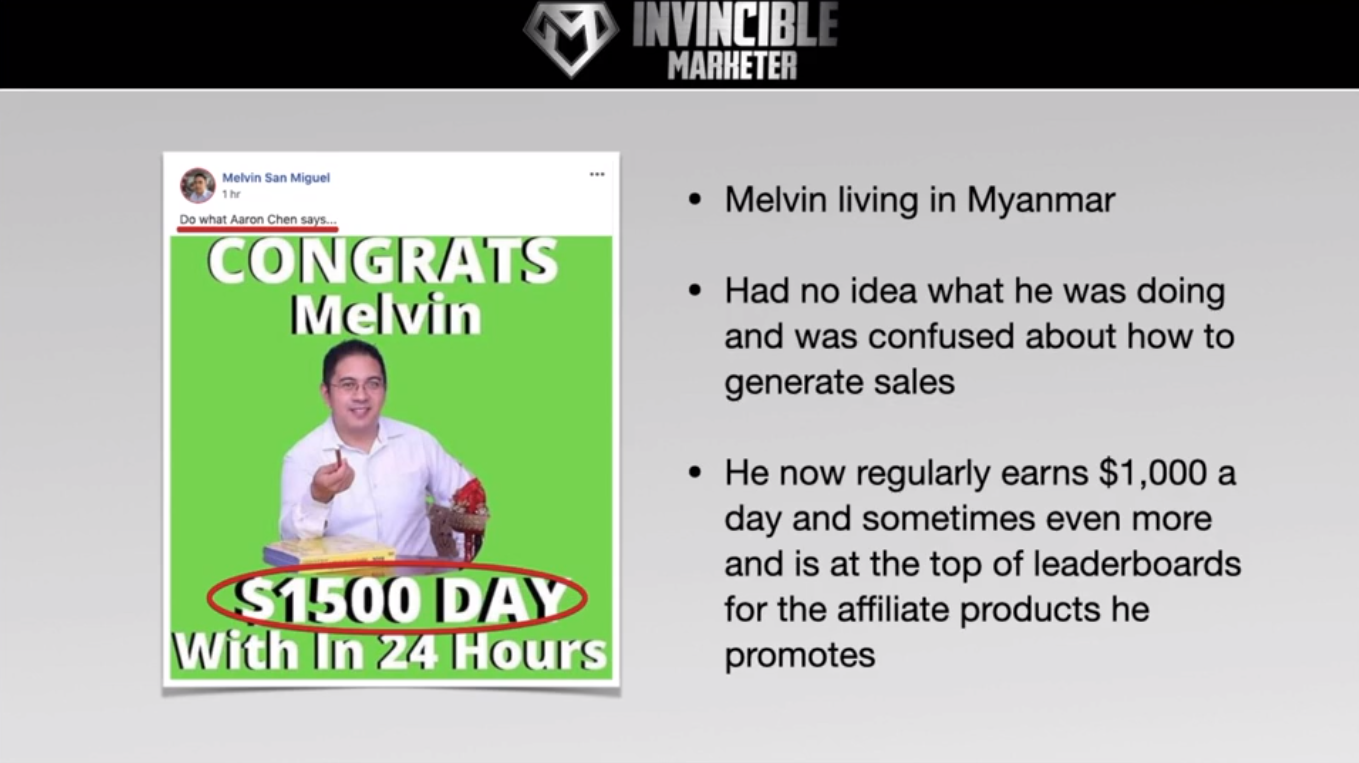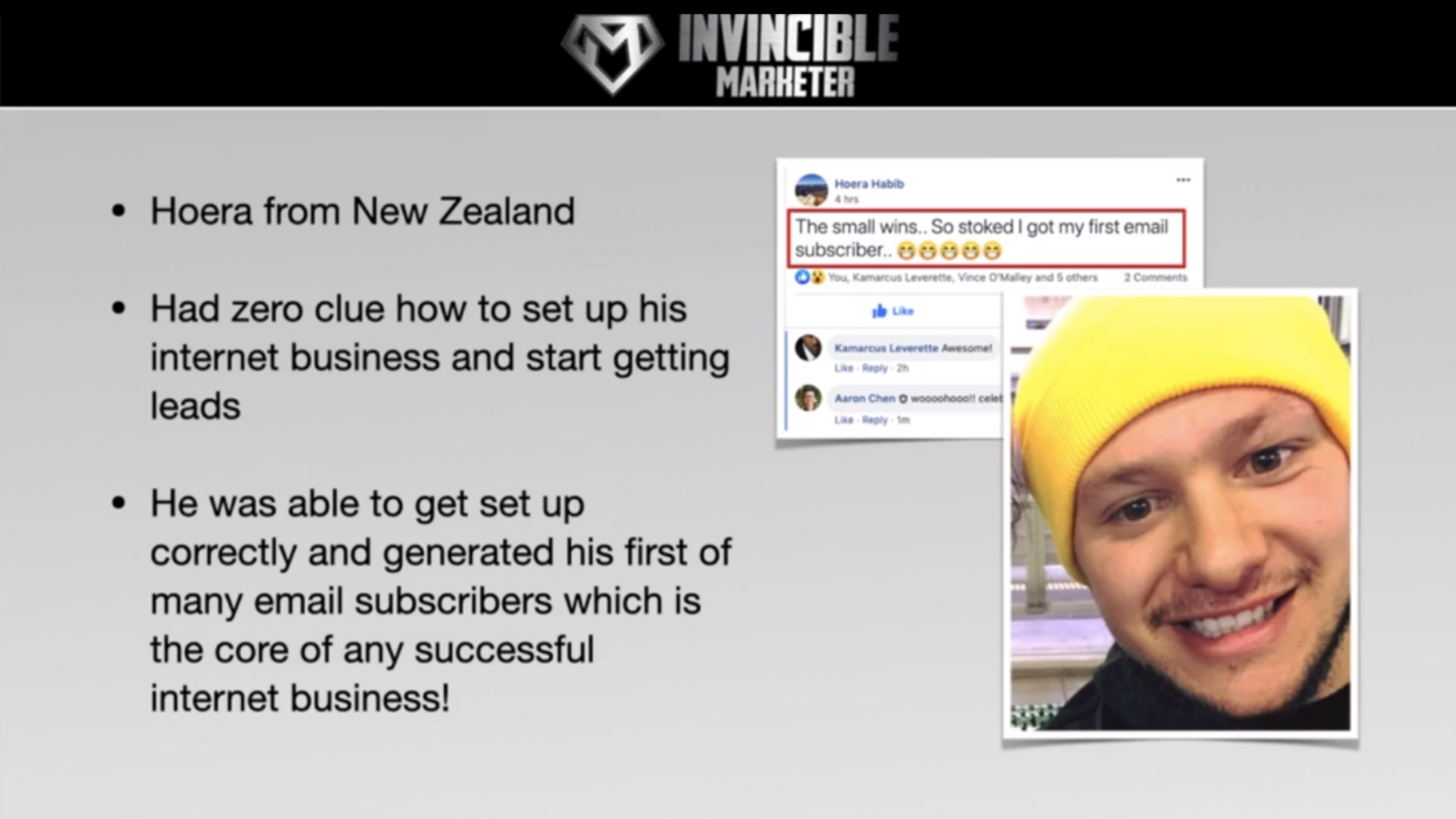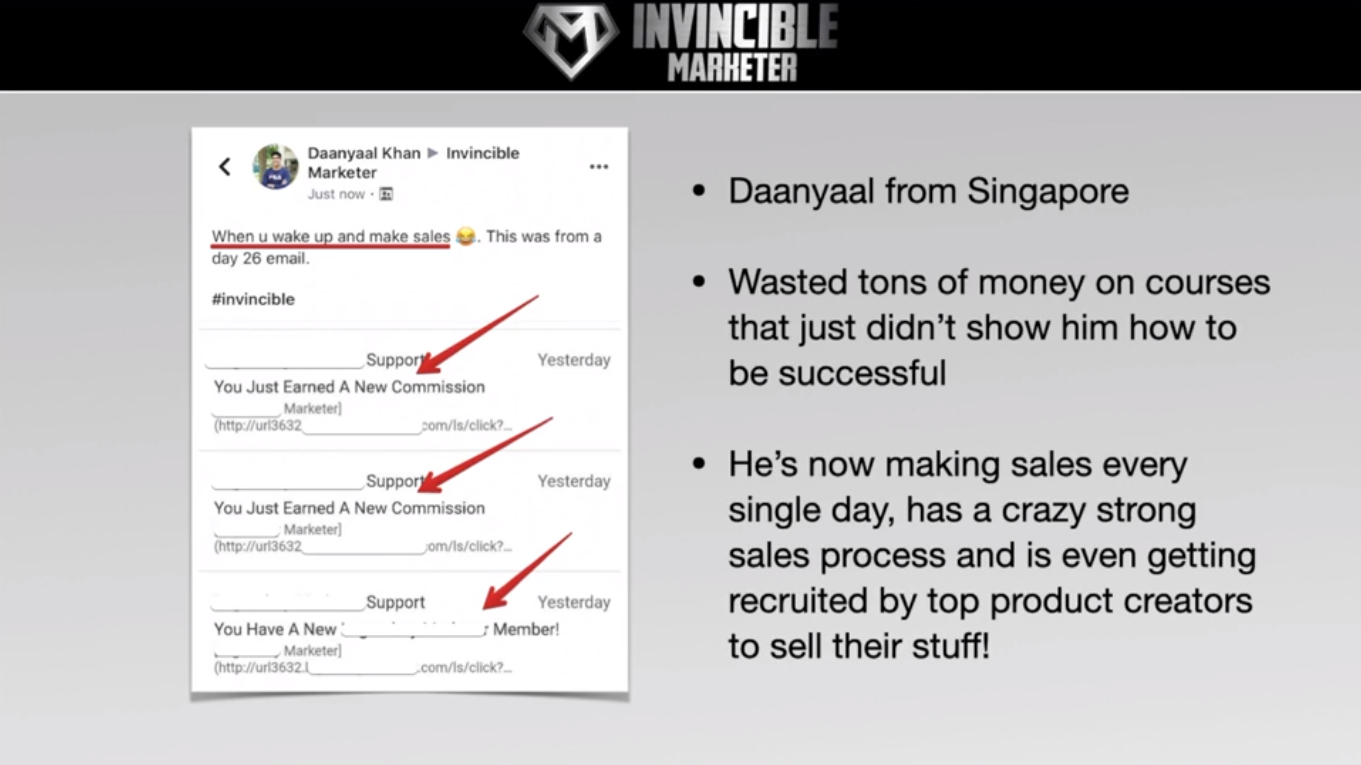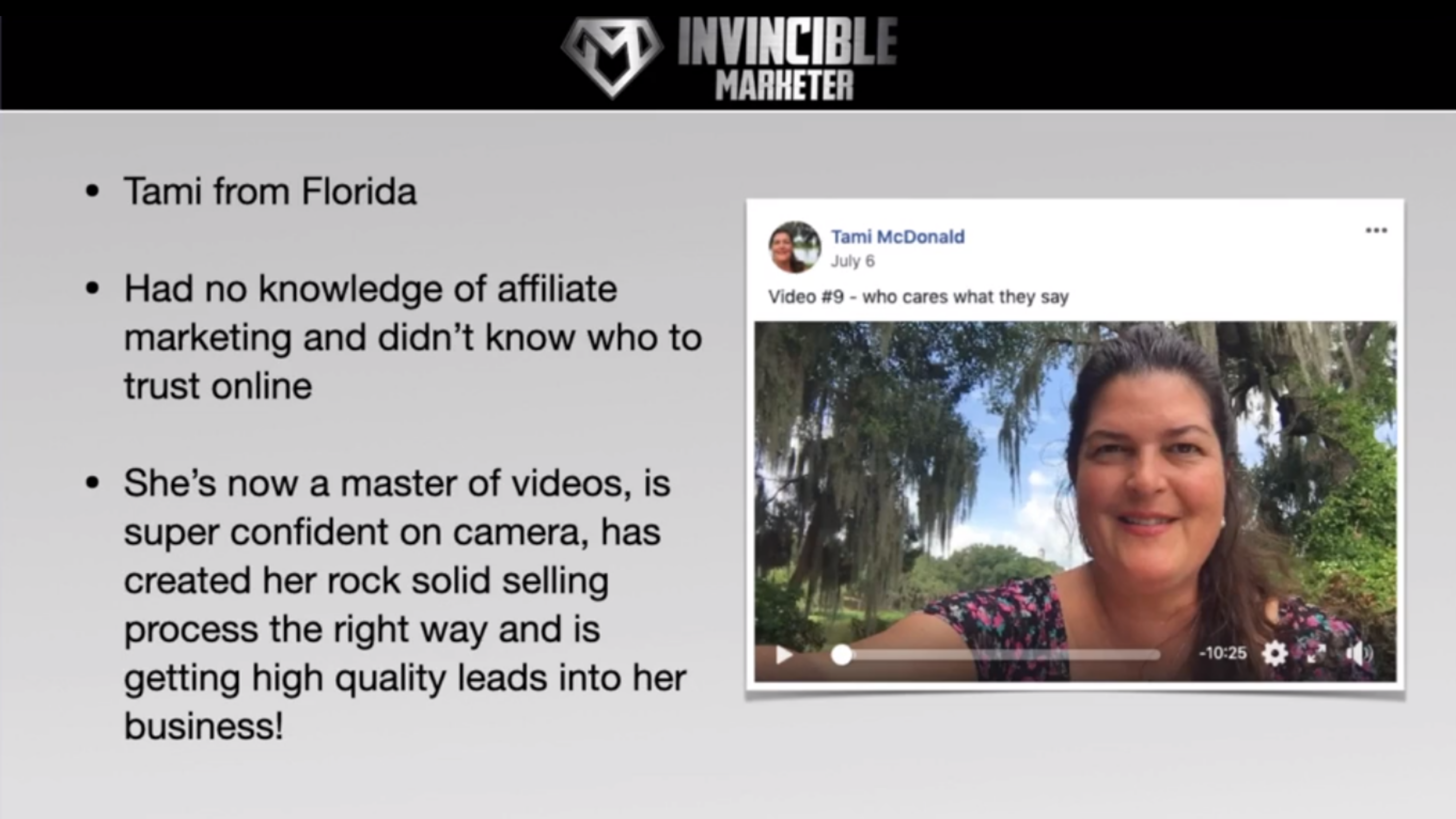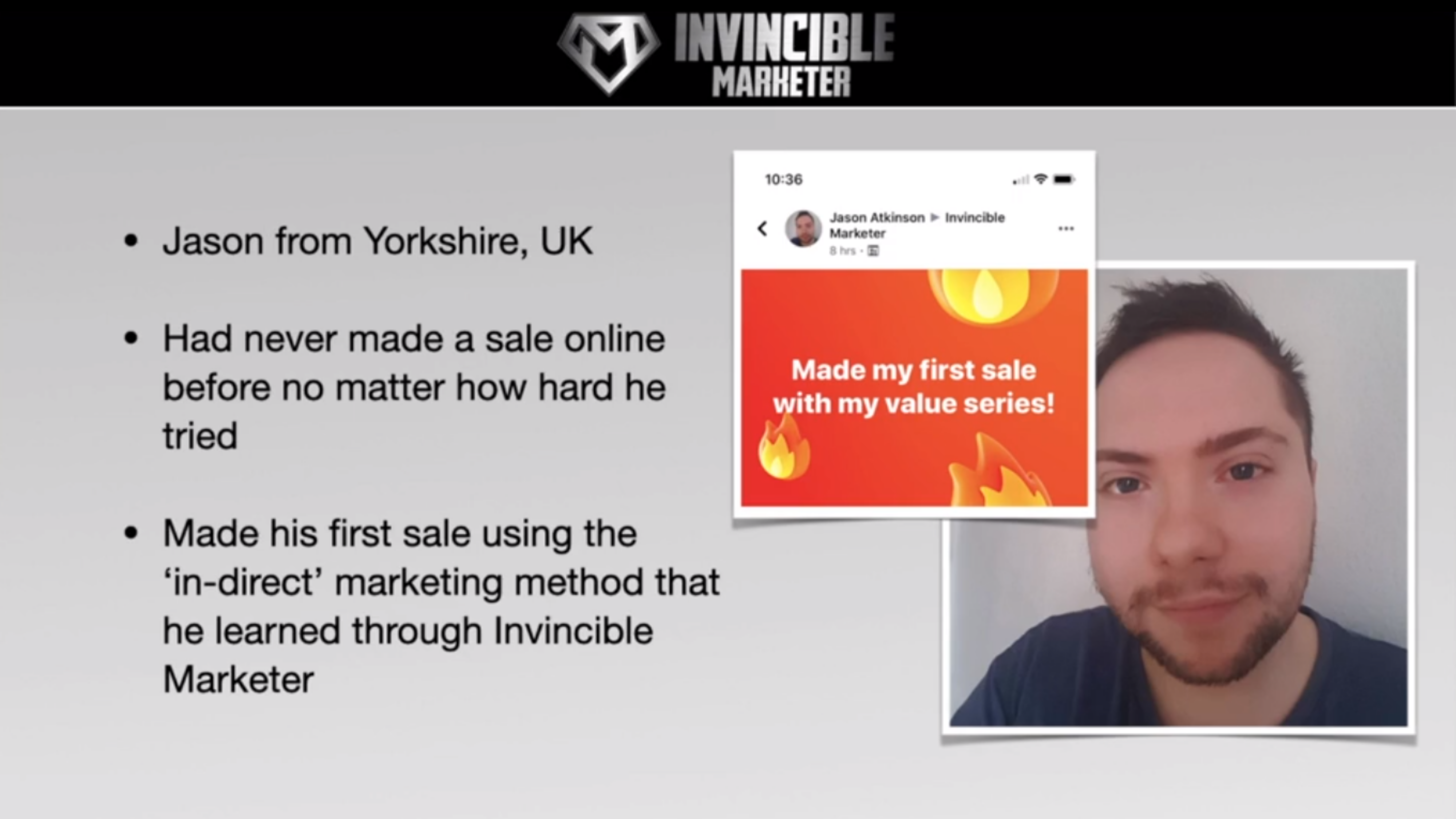 Is The Invincible Marketer A Scam Or Legit?
Invincible Marketer is clearly not a scam and anyone saying it is hasn't gone through the course. The impressive student results speak for themselves. Invincible Marketer is a legit training program and community that will arm you with everything you need to succeed online in 2022 and beyond.
Invincible Marketer is also praised by students and has been rated 4.8 out of 5 stars with 193 reviews on SoTellUs.
Decision Time: Is Invincible Marketer Right For YOU?
You don't want to be one of those people who buys a course and watches the training videos but doesn't apply it…
Know that just like buying a gym membership, this is the start of your journey and the work starts now.
With that in mind, if you're all set to dive into the training and take action then investing in Invincible Marketer will surely save you $10,000s and help you avoid years of frustration and failure and give you a proven roadmap to follow.
Ready To Join Invincible Marketer?
If so, I highly recommend you go watch Aaron's video presentation here.
It'll give you a solid overview of the entire program.
And if you've already decided to sign up to Invincible Marketer, do yourself a favour and buy it with a big discount…
Your Invincible Marketer Review
I hope this in-depth Invincible Marketer review has helped you decide if this is the right fit for you. If you have any questions at all, shoot me a comment and I'll get back to you.
Already a member of Aaron Chen's program?
Leave us your Invincible Marketer review below – good or bad – it doesn't matter as long as it helps readers!
More Invincible Marketer Reviews
Simon Crowe is on a mission to help as many people as possible kiss their bosses goodbye.
Take the free Commission Academy course to discover how to smash your online income goals and make your dream business a reality.