In today's review, we're going to deep dive into The Secret Page and reveal if the secret is really worth finding out. I get secrets are really intriguing, but will this be worth your time and money?
You're going to know what The Secret Page really is, how much it costs, if the method taught really helps you make money, and if it's a scam or not. I'll then wrap this whole review up with a way better alternative you should definitely consider.
So stick around to find out the shocking truth!
The Secret Page Review At A Glance
What Is The Secret Page?
The Secret Page is an online income training by the Team Black Belt, Art Flair, Pallab Ghosal, Ram Rawat, and Will Allen. This short training course on how to use funnels to advertise CPA offers or affiliate products was launched last June 27, 2020.
Most likely, you'll be doing affiliate marketing with this one.
Although the team Black Belt promotes this product, Will Allen is its main creator. If you've read my other Black Belt Product reviews, you'll know why I'm wary when this group is involved in a product.
They're launching products 2-3 times a month which basically tells me they make money by selling products and not actually because they use it themselves. You'll understand this better once I go inside The Secret Page members' area a bit later.
Most of the products they promote are either scammy or really low-quality. Just yesterday I did a review on Traffic Turbine and I wasn't impressed at all.
As for The Secret Page, it claims to get you $1,915 in just 2 days by just adding "a fast and easy hack". It's even said to generate free autopilot traffic for your website.
The funny thing is:
They say it's a proven system and the income screenshots can vouch for it. However, if you really think about it, the income they earned can simply come from all the products they launched and not as a result of using The Secret Page Method.
Until they give a solid connection between this method and the income, it really doesn't prove anything.
The Secret Page Price
The Secret Page front-end product costs $2 while the upsells are $262 in total. They also said about giving you bonuses worth $438 but in reality, you're just getting 4 cheap PLRs. You also have to spend on a domain that is around $10-$20/year and hosting which is at least $120 per year.
Now you might wonder why the front-end price was so cheap. I just actually clicked on the popup discount window appearing on the sales page. Others though got the front-end for around $17. Sometimes the prices vary with time.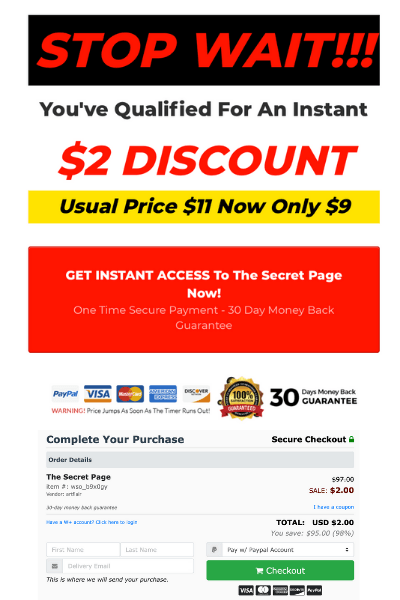 The front-end supposedly gets you:
5 training videos which are around 4-6 minutes long each.
1 6:10-minute Case Study video
10 Done-For-You campaigns
A "viral traffic tsunami automated traffic software"
30-day money-back guarantee
Now for the upsells.
Upsell 1: 20 Done-For-You Campaigns ($47)
These are just 20 more of the pages containing review links, discount pages, and affiliate links. I personally do not suggest you buying this until you prove you can make money from the initial 10 campaigns you have with the front-end.
Upsell 2: Automated List Building System ($37)
This supposedly adds an email capturing software to your website so you can build email lists. Unless you know how email marketing works, you won't be able to utilize this.
Upsell 3: 100 DFY Affiliate Emails ($27)
Now they actually hand you over an email list. But there is no proof real people who are interested in buying what you'll be pitching is what you'll get with this. And since you won't be the sole taker, the list would've been used by others making you have tons of competition. (And I'm not even assuring you'll land on the Inbox, most likely your pitch will be left cold on the spam folder)
Upsell 4: Reseller Pack ($67)
Basically, giving you the right to sell The Secret Page and keep 100% of the commissions. Again, with all other reviews I made having this upsell, you'll only make money with this when you prove the product really works as promised.
Upsell 5: 6-Figure Training ($47)
Like other Team Black Belt products, you'll be given:
Instagram Traffic module
Google Adwords module
Product Creation module
Upsell 6: Case Studies ($37)
Supposedly helps you scale your income 10x more. I have a big issue with these case studies which you'll understand in a while. Basically, the case study you'll get on the front-end is very disappointing and I see no reason for these to be different.
The Secret Page: An Inside Look
On the sales page, you'll be told you'll get a series of step-by-step short videos (4-6 minutes long each) teaching you the hack to make money.
Essentially though, you'll be taught how to put a discount page between a review page and the actual offer to supposedly increase your chances of conversion. This will be what the 1st video is all about.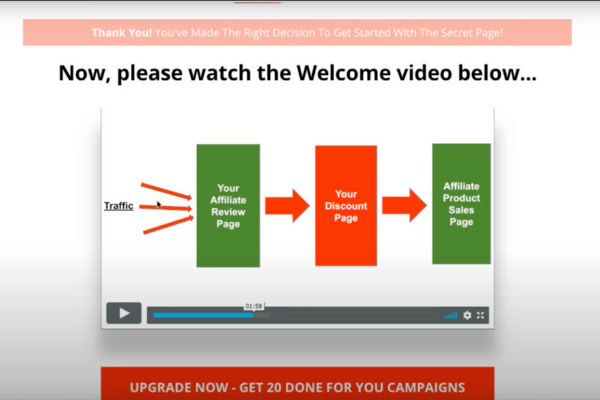 The 2nd video basically teaches you how to build your own website and the 3rd website, your discount pages.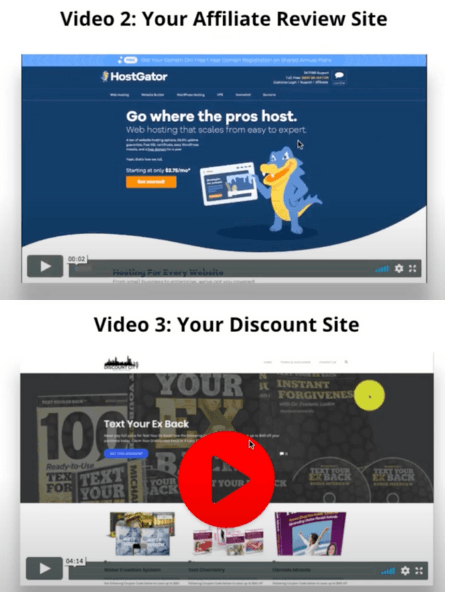 The 1st 3 videos are quite decent, there's some value to it and I can say you'll have takeaways from them.
What's interesting are the 4th and 5th video.
Let's talk about the 4th video: The Viral Traffic Tsunami Software. A little hyped up, but you'll know in a second if it can deliver.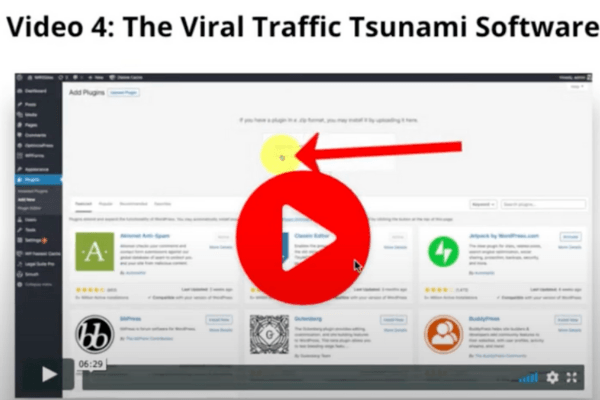 It actually teaches you to use a plugin you'll put on the bottom of your review page. It's said to let you offer a discount in exchange for sharing the page to a specified number of people, in the example, you'll need 2 visitors.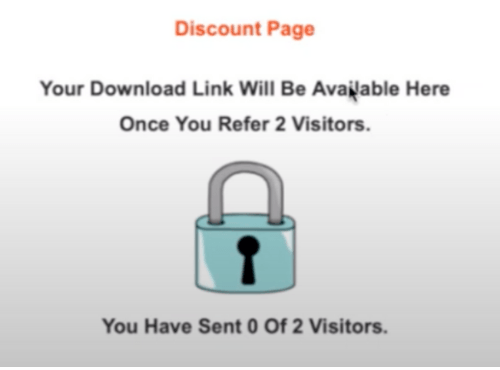 The idea is, you'll get a web of shares to flood your site with traffic. BUT it only sounds good in theory because getting people to actually click on your link is not as easy as it looks.
1. You're not trained to come up with compelling words to get people interested.
2. At this point you haven't established any authority yet, so people won't really trust the links you share.
Simply said, this "viral traffic tsunami software" is not as viral as it claims to be.
Disappointed? Wait until you hear about Video 5: The Case Study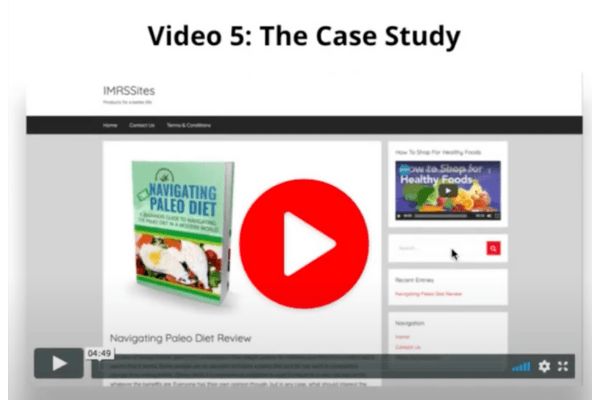 The case study promotes using IMRSsites for the review pages. I went to the website itself and looked at the product they used on the video. The review was quite old, published early last year.
I checked the review and, on the bottom, the plugin you're supposed to use isn't there. Instead, you'll see a discount link which then brings you to the discount button directing you to the discount page. (Quite a lot of pages to go to, I'd understand if you'd lose interest while transferring from one page to another)
If you noticed, the plugin isn't there so you can't be offering the discount yourself. The product actually already has a discount offered by the vendor.
What they tell you on the training is, YOU will be the one to offer the discount BUT in reality, you'll just be looking for ClickBank, JVZoo, and WarriorPlus products WITH discounted offers and claim you're the one offering it through the plugin.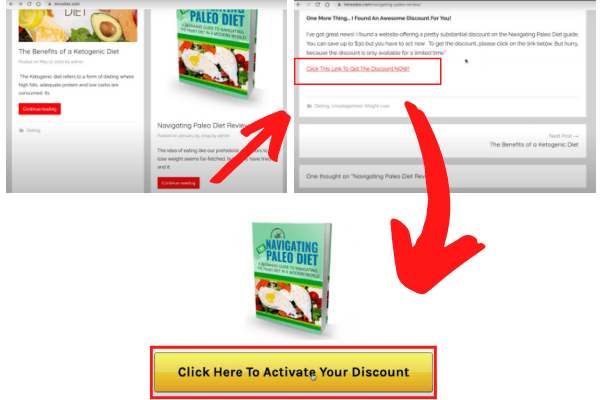 Unethical and misleading.
The worst part is:
The call to action button does nothing, basically telling you the Team Black Belt never really made money from this case study.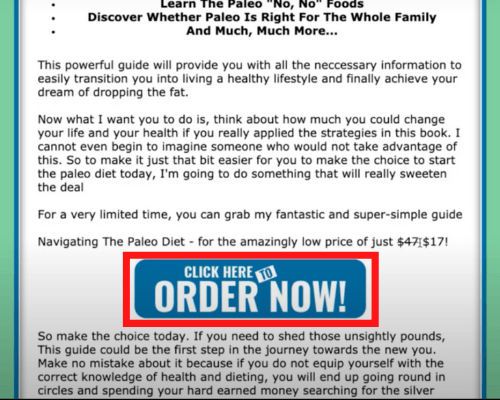 The bottom line: the case study didn't really prove any income made.
So, I went back on the IMRSsites home page to check other offers. There's one called Easy eCash, so I checked it out. It led me to an unsecured page. Both you and I will never input our card details on an unsecured page!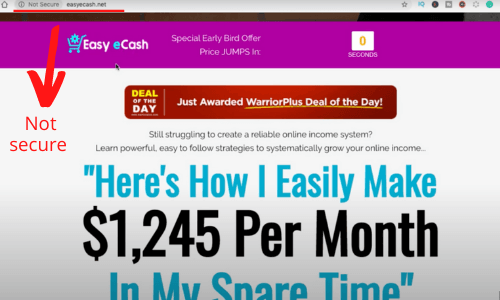 And actually, the Team Black Belt doesn't use the plugin. They offer bonuses, not discounts to get people to convert. They make money not by actually using their products but just by peddling them to others.
A HUGE LETDOWN.
I'm not even done yet. The Secret Page doesn't teach any other traffic source and knowing the discount plugin doesn't work means there's no traffic coming on to your website after all.
No traffic = no conversions.
What I Don't Like With The Secret Page
There's really no viral traffic method.
Doesn't teach about other traffic sources.
The discount strategy is misleading.
The case study doesn't really prove anything.
Pitches email marketing on the upsells but doesn't teach you about it.
Is The Secret Page A Scam?
No, The Secret Page is not a scam because it teaches you a good marketing strategy of using discount pages to get higher conversion rates and it teaches you how to make your own website. But what I don't like about it is misleadingly telling you that YOU offer the discount yourself using the plugin when in reality you are not.
There's some value to the 1st 3 videos but I can't say the same for the next 2 especially the "viral traffic" isn't so viral at all.
Where Do You Go From Here?
With The Secret Page, you'll learn one marketing strategy and how you can make your own website. But honestly, making money online involves learning more than those two.
Although some of the training videos you get with it have some value, the lack of traffic training and the misleading case study wants me to point you in another direction when it comes to training.
Instead of investing with inadequate training like The Secret Page, why not use your time and money on a real step-by-step from-scratch training in affiliate marketing.
Wealthy Affiliate offers to teach you everything you need to know from building your niche-based site to running it. Aside from the training, you'll also get to enjoy guidance from other affiliate marketers who've had experience in the field.
This means the training has been proven and tested by thousands of marketers worldwide.
But if you think it's easy for me to say these things but a whole different story proving it, why not try it out yourself. You can do so without cost! The 1st 10 lessons are free for you to try.
If you want to know more about what Wealthy Affiliate can offer you, head on to this in-depth Wealthy Affiliate review.
What's Your Take?
Were you satisfied with the training The Secret Page teaches? Did you also feel the plugin strategy was a lot misleading? Share what you think, the comments section is waiting for you.
Hi I'm IG, nope not a kin of the social media; I've been IG since '93. I'm 1 part writer, 2 parts reader and 3 parts puzzle nerd.