In this SUPER in-depth The Secret Page review I'll break down:
What The Secret Page is about
Exactly what's inside the members' area
How much The Secret Page really costs
And whether it's a scam or legit program worth buying
Let's get started.
The Secret Page Review At A Glance
About: The Secret Page is a short training program that supposedly teaches you a top-secret hack to unlock $1,000s within 2 days.
Price: Front-end costs $2, then there's $262 for 6 upsells and around $130 per year for website domain and hosting.
Pros: Some training videos teach decent strategies to make money online.
Cons: Additional costs, inadequate training and I don't trust the product creators.
Verdict: Lots of red flags and the main method taught is deliberately deceptive. We strongly recommend you invest your time and money elsewhere. 

What Is The Secret Page?
The Secret Page is a short video training course by Team Black Belt, Art Flair, Pallab Ghosal, Ram Rawat, and Will Allen on how to use funnels to promote cost per action offers.
CPA offers can be a great way to make money with affiliate marketing.
Although the team Black Belt promotes this product, Will Allen is the main trainer. They launch 2-3 products 2-3 a month and most of them are either scammy or just really low-quality.
Here are just a few of the "new and revolutionary money-making methods" they've released in the last few months:
As for The Secret Page, it claims to get you $1,915 in just 2 days by exploiting a "fast and easy hack" to drive free autopilot traffic to your website.
How Much Is The Secret Page?
The Secret Page costs $2 while the 6 upsells total $262. They say they're including bonuses worth $438 but really they're just throwing in a few worthless PLRs to add perceived value.
You also have to buy a website domain for $12/year and hosting which will set you back at least $120 per year.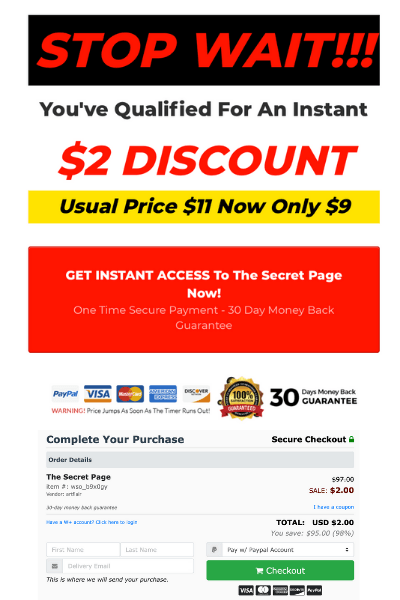 Buy The Secret Page and you're told you'll get:
5 training videos which are around 4-6 minutes long
1 6:10-minute case study video
10 done-for-you marketing campaigns
Viral traffic tsunami automated traffic software"
A 30-day money-back guarantee
So Why Is The Secret Page So Cheap?!
Ever wondered why on earth anyone would offer to sell you the secret to earning $1,000 a day online for a measly $2?
If The Secret Page was a legit program that really did what it says it can do then surely it would be worth $10,000s if not $100,000s?
So what's really going on here?
I'll tell you:
It's all about the upsells!
Get-rich-quick scams like The Secret Page lure you with an initial low-ticket fee to get you inside the members' area before bombarding you with upsells to get their grubby hands on as much of your cash as possible.
The Secret Page has 6 upsells to watch out for:
Upsell 1: 20 Done-For-You Campaigns ($47)
These are just 20 more of the pages containing review links, discount pages, and affiliate links. I personally do not suggest buying this until you prove you can make money from the initial 10 campaigns you already have.
Upsell 2: Automated List Building System ($37)
This supposedly adds email capturing software to your website so you can build an email list. Unless you know how email marketing works, you won't be able to utilize this.
Upsell 3: 100 DFY Affiliate Emails ($27)
Handy if you can't be bothered writing your own emails, this upsell will give 100 email templates we're told are "blazing hot, plug-n-play, high-converting" emails that generate commissions on-demand.
Upsell 4: Reseller Pack ($67)
Buy a reseller pack and you basically have the right to sell The Secret Page and keep 100% of the commissions.
Upsell 5: 6-Figure Training ($47)
Like other Team Black Belt products, you'll be given access to:
Instagram Traffic training module
Google Adwords training module
Product Creation training module
Upsell 6: Case Studies ($37)
Is $1,000 a day not enough? Pay an extra $37 and you'll supposedly 10x your income. These guys are the kings of hype.
The Secret Page Training: A Sneak Peek
On the sales page you're be told you'll get a series of step-by-step short videos (4-6 minutes long) that will teach you the hack to making infinite amounts of cash online.
In reality, you're taught how to put a discount page between a review page and the actual offer to increase your chances of conversion.
This is what the first video is all about. Here's a screenshot: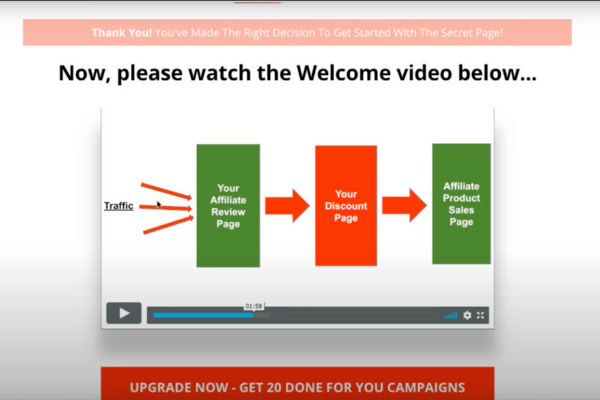 The second and third videos quickly run through how to build a website and discount pages and recommends using HostGator for your web hosting.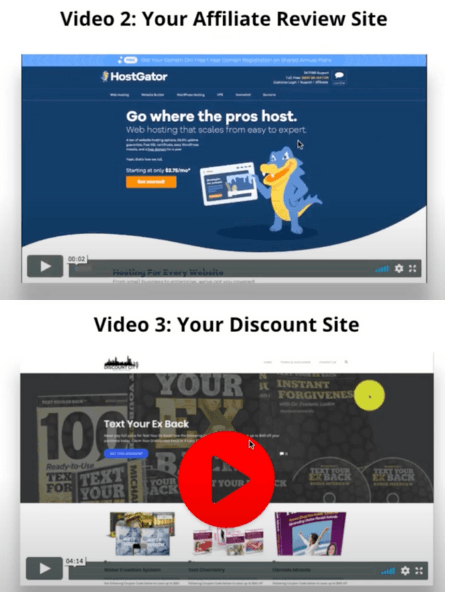 Now let's talk about the fourth video which talks about "The Viral Traffic Tsunami Software".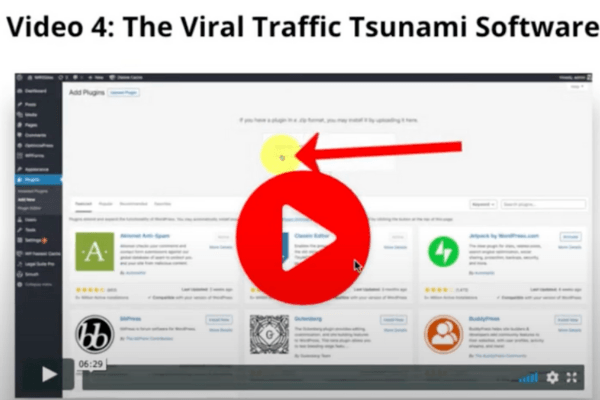 Will Allen actually teaches you to install a WordPress plugin that'll offer readers a discount in exchange for sharing the page with a minimum number of people: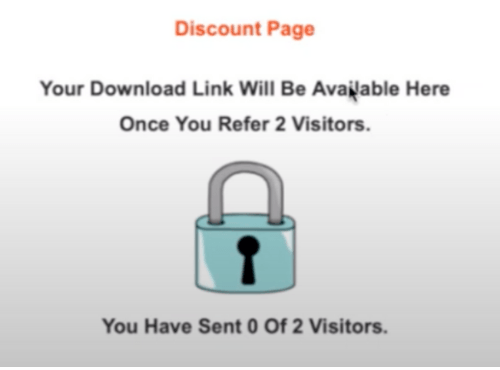 The idea behind this is you'll get a ton of Facebook shares which will send a torrent of visitors to your website.
While this sounds great in theory, getting people to actually click on your link is not as easy as it looks. People don't just scroll their Facebook timelines, see a spammy-looking link and click it.
Simply said, this "viral traffic tsunami software" is not as viral as it claims to be.
Disappointed? Wait until you hear about the fifth video: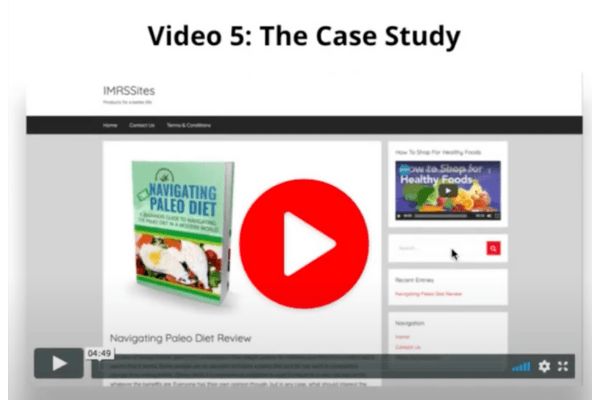 The case study promotes using IMRSsites for your review pages.
I went to the website and looked at the product they used on the video. The review was quite old, published early last year.
I checked the review and on the bottom, the plugin you're supposed to use isn't there. Instead, you'll see a discount link which then brings you to the discount button directing you to the discount page.
(That's quite a lot of pages to go through. Most people would lose interest.)
If you noticed, the plugin isn't there so you can't be offering the discount yourself. The product actually already has a discount offered by the vendor.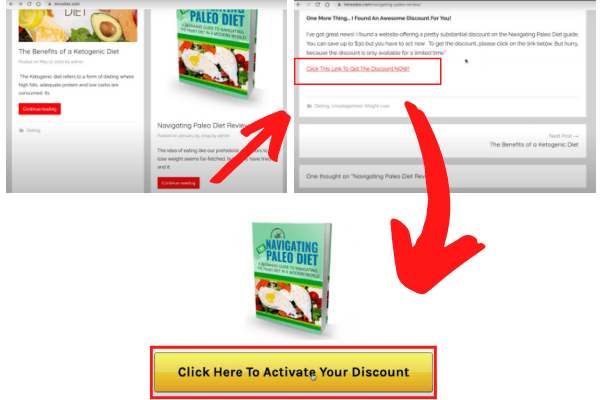 What they tell you in the training is that YOU will be the one offering the discount when really, you'll just be looking for ClickBank, JVZoo, and WarriorPlus products WITH discounted offers and claim you're the one offering it through the plugin.
This is unethical and misleading.
The worst part is:
Click the call to action button and nothing happens. This case study is a fake and Team Black Belt has never really made money from this.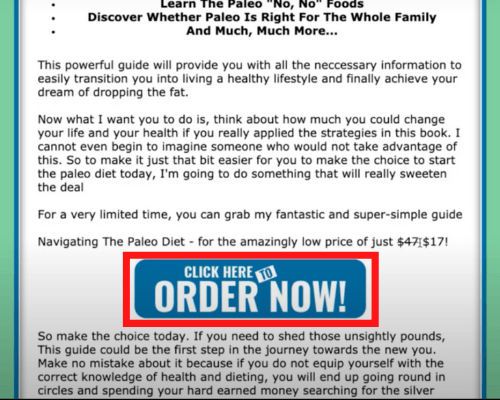 So, I went back on the IMRSsites home page to check other offers. There's one called Easy eCash, so I checked it out. It led me to this unsecured page: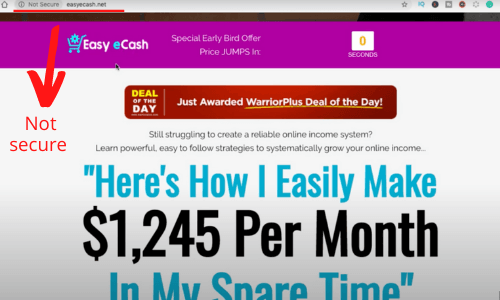 Both you and I know never to enter our card details on an unsecured page!
And actually, the Team Black Belt doesn't use the plugin. They offer bonuses, not discounts to get people to convert. They make money not by actually using their products but just by peddling them to others.
WHAT A HUGE LETDOWN!
I'm not even done yet. The Secret Page doesn't teach any other traffic source and knowing the discount plugin doesn't work means there's no traffic coming on to your website after all.
No traffic = no conversions and no income for you.
What I Don't Like About The Secret Page
There's really no viral traffic method
They teach you nothing about other traffic sources
The discount strategy is deceptive and misleading
The case study is a fake
Is The Secret Page A Scam Or Legit?
The Secret Page is not a scam because it introduces a good marketing strategy of using discount pages to get higher conversion rates, but beware, these are pre-existing discounts and not discounts you are offering yourself.
Where Do You Go From Here?
With The Secret Page, you'll learn how to set up a website and offer discounts, but making money online involves way more than that.
Want my honest advice?
Instead of wasting your time with inadequate products like The Secret Page, learn how to build a REAL online business.
Wealthy Affiliate will train you on how to become a successful online entrepreneur without the tricks and gimmicks.
They'll give you full step-by-step courses and around the clock support from a whole community of experts ready to give a helping hand.
With 2.2 million members launching 10,000+ new internet business every month, the training's been tried and tested and proven to get results which means you'll be in the best place to make your income goals happen.
Check out the full Wealthy Affiliate review to get started for free.
Give Us Your The Secret Page Review!
Were you duped into buying The Secret Page?
Good or bad, tell us about your experience, we'd love to hear from you.
Got any questions at all about making money online? Leave a comment below and I'll help you in any way I can! 🙂
Simon Crowe is on a mission to help as many people as possible kiss their bosses goodbye.
Take the free Commission Academy course to discover how to smash your online income goals and make your dream business a reality.