Easy, money-grabbing, copy, and paste campaigns making you over $9,000 a month for less than an hour every day?! Is Zero Hour Work Days for real? Today, we're going to review another Brendan Mace product and see if it glitters with gold.
Tons of make money online products bombard the internet but only a handful stand to be legit. Additionally, not all legit products can make you a great deal of money, so in this review, we're going to find out if Zero Hour Work Days is a training course worth paying for.
Zero Hour Work Days Review At A Glance
About: Brendan Mace's email marketing training program with done-for-you campaigns promising to help you make $9,000.
Price: First you'll be told it won't cost you a thing but once you get to their funnel, you get forked out of $2,375.
Pros: You can learn online marketing basics with the modules.
Cons: The owner has a bad reputation for being a serial product creator, the sales page is misleading, the income claims are hyped, and has many hidden upsells.
Verdict: I won't put Zero Hour Work Days in the scam list only because some of the modules have decent content, but all the other elements to this program are sketchy.

What Is Zero Hour Work Days?
Basically, it's a training program to build an email list to pitch affiliate products. The idea is Brendan will give you done-for-you campaigns to gather email leads by simple copy and paste.
A smart approach to make an email list? More of a lazy one. You can then use the list to run promotional emails to get people to buy products so you can earn a commission.
Brendan shares his thoughts on how you can make more than $9,000 using this approach. That's a very handsome looking income, but hold your horses, you'll be in for a little surprise a bit later.
Who's Brendan Mace By The Way?
Brendan is a self-proclaimed successful online marketer, together with his friend Jono Armstrong, they've created multiple money-making products and training every now and then.
My question is: why don't they just invest in creating one of the best digital products instead of jumping from one product to another?
For just a couple of weeks, they'll be back again with another "brand new" product which is just actually a rehash of their old products sprinkled with a little tweak to look new.
Within days you'll see a number of positive reviews on the "product". No, not because the product was able to market itself, but because they have in their backs an army of money-hungry affiliates ready to make them look good.
I recently did a review on Print Monkey, also made by Brendan Mace if you want to get a bigger picture of how his products look like.
There's also a review on Secret Weapon and 7 Minute Sales Machine which he co-created if you want to know more.
How Much Does Zero Hour Work Days Cost?
You'll actually be led to think it won't cost you anything at first.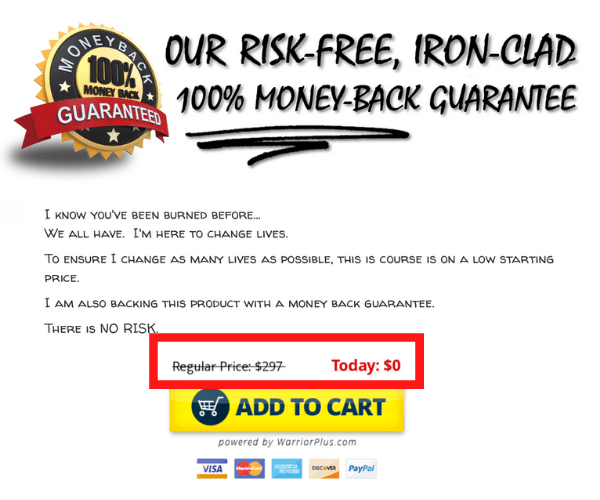 After you click the "add to cart" icon though, you'll be led to the page where it says' you need to pay $37 to get the copy and paste email campaigns.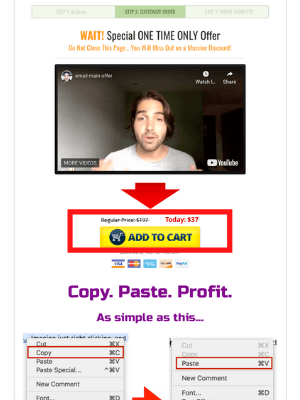 That's not the end of, you'll also have to pay for:
Done-For-You Money Pages – $67
Profit Builder – $67 or Clickfunnels – $97/month
Coaching Program – a whopping $1,997!
Paid Solo Ad Traffic – $100 or more
ClickMagick – $12/month
In total, the minimum cost you'll have to fork out it $2,375! For someone new, this won't be a good cost to pay. It's not even worth risking your monthly bills budget over.
Making money online isn't complicated…
This video will show you exactly how to get started. Tap to watch now »
Zero Hours Work Days Course Module
The whole course consists of 8 modules plus a case study, we'll go on to check each module.
1. Module 1 – Intro To Zero Hour Work Day
Here, Brendan will discuss the difference between free traffic and paid traffic. He'll also talk a bit about how to use Facebook, Google Alerts, and SEO to get free traffic.
2. Module 2 – Free Resources
Brendan will now discuss how to find and join Clickbank testimonial groups on Facebook to trade traffic with other marketers. He'll teach you how you can make a deal with other marketers to send traffic to your page which you'll also do for them in return.
He'll also talk about ClickMagick to track your traffic campaigns.
3. Module 3 – Tips To Get Lots Of Traffic
This is another module where he'll talk about utilizing Facebook, but now to find marketers who sell solo ads at reasonable prices. If you're just starting out, this can still cost you around $100 as I mentioned in the cost earlier.
4. Module 4 – Free And Paid Traffic Sources
Brendan gives a list of trusted traffic sellers in Facebook you can turn to for a cheap price.
5. Module 5 – How To Get ROI
Now Brendan will talk about Profit Builder and Clickfunnels. This module is actually designed to coax you to buy any of the two software mentioned to make squeeze pages for you.
He'll also talk about his prebuilt pages which are made to gather leads to pitch Zero Hours Work Day itself for an affiliate commission.
6. Module 6 – Build Your Landing Pages
This is where he'll promote Aweber to manage your leads and prepare automated campaigns.
7. Module 7 – Promotional Ways For Your Affiliate Products
Brendan will now teach you how to find WarriorPlus affiliate offers together with email swipes.
8. Module 8 – How You Can Manage Your Commission Sales
This is where Brendan will discuss how promoting high-ticket products are your best shot for making tons of cash.
Then there's the case study where he'll highlight how you can reduce the cost for each subscriber. After paying for ads, he'll discuss how you can re-access the traffic minus the cost.
The thing is, it's all just theory unless Brendan shows evidence it really works. Will you ever fork out more than $2,000 for something that has no sure ROI? Me neither!
Matter of fact is, many internet marketers are known for setting up systems promising overnight success with little effort to get their hands on people's money. Most of them, if not all will end up failing to deliver.
Hyped-up claims are no more than main ingredients for a catastrophic crash!
The truth is, if you're looking for time-tested money-making opportunities, the best ones are those that tell you straight on that making money involves some time and effort. Shiny shortcuts are mere fairytales.
What I Like About Zero Hour Work Days
The product owner has a face and name and not just hiding behind stock photos (still, he has a reputation for being a serial product maker)
30-day moneyback guarantee
The course module has some substance
What I Don't Like About Zero Hour Work Days
Misleading sales page
Overhyped claims
The course is not comprehensive enough for beginners
UPSELLS!
A great emphasis on upsells there because honestly, I think this is solely designed to suck up as much money from you while you're caught off-guard.
Think about it:
If the product is as good as how they market it to be, they won't need to fork money out from you using deceptive techniques. They can generate tons of money from the product itself.
Is Zero Hour Work Days A Scam?
I won't actually say it's an outright scam, though I think it's leaning towards it. They do provide training content. But marketing it in a very dodgy way doesn't sit with me well.
I think another thing that stinks is how they created the impression making money comes off very easy and that you can earn quick cash and live the laptop lifestyle and travel anywhere you want with very little effort.
Don't get me wrong, the laptop lifestyle can really give you the freedom to travel, but it's not an overnight success. As I've said earlier, you'll need time and effort to build yourself a money-making machine to reach your online income goals.
Zero Hour Work Days is not something I'll recommend to you, especially if you're a newcomer to the online industry because working with campaigns and traffic need time to master. There's also the trial and error process to get the perfect concoction for income-generating campaigns. Zero Hour Work Days fails to explain this part to you.
In my eyes, Zero Hour Work Days is just another training designed to squeeze as much cash from you. Someone does make money from it: Brendan Mace, not you.
Zero Hour Work Days Review Closing Thoughts
I think I've pretty much explained everything you can expect from Zero Hour Work Days, and I hope you get the picture. It's far off from how Brendan paints it to you.
Affiliate marketing is actually a great money-making opportunity, only if you have the right understanding of how everything works.
A little overview: it does involve some cost. You have to pay for training which will teach you everything you need. It's not as hefty as Zero Hour Work Days' cost. Just $49 per month.
If you're apprehensive, you can always try it out for free first. If you want more information on this, you can check out this in-depth Wealthy Affiliate review.
Plus, it will require work. The best thing about it though is this: after you've established your website, it can start generating income even when you're away from your computer. This is how you'll really get to enjoy your dream vacation!
The bottom line is shiny shortcuts won't get you anywhere, there's no easy way to success. You have to work for it, but if you do it right, you'll be living the kind of life you've always wanted.
How I Make A Living Online?
After years of working in call centres I finally figured out how to create a 5-figure monthly passive income stream and become financially free.
Thanks to the right training and a lot of hard work I kissed my old boss goodbye and booked a one way ticket to Thailand.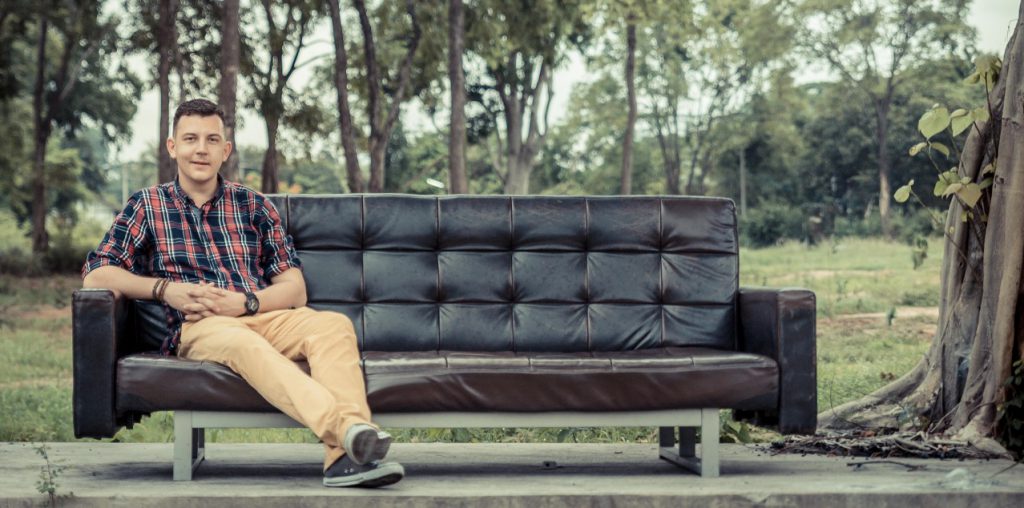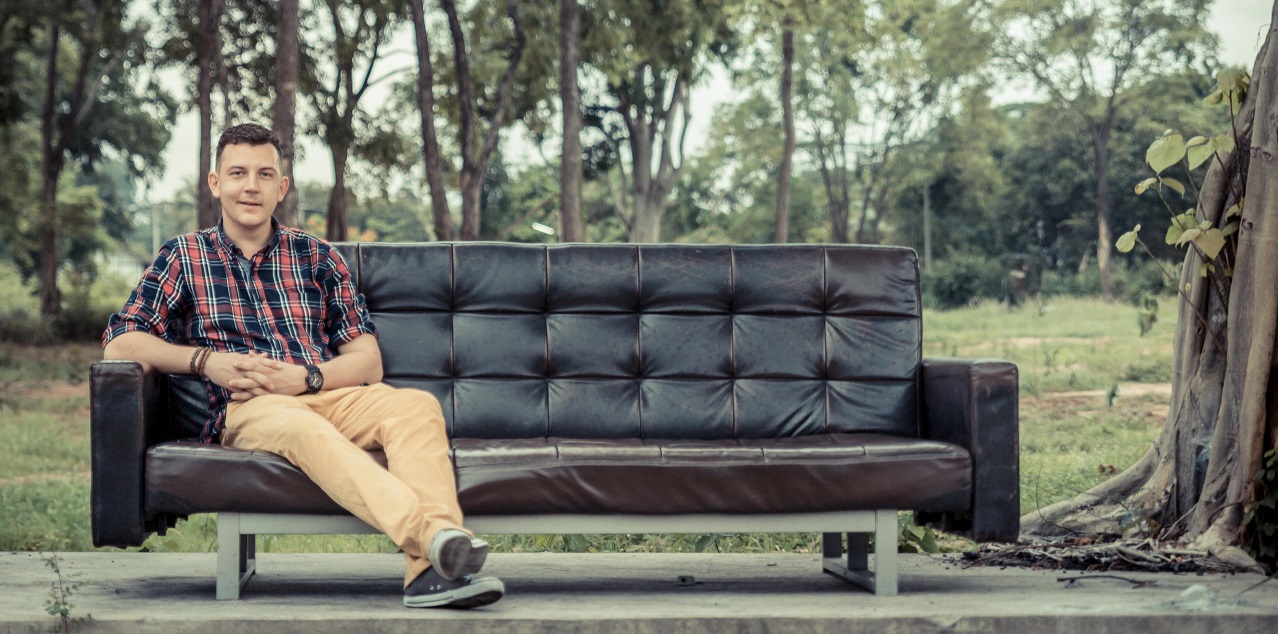 So if you're serious about building a thriving online business, click here for the exact step-by-step formula I follow.
What's Your Take?
Share your thoughts with us, we'd love to hear from you. Just drop it in the comments section below.
Simon Crowe is on a mission to help as many people as possible kiss their bosses goodbye.
Take the free Commission Academy course to discover how to smash your online income goals and make your dream business a reality.