Hi, I'm Simon and welcome to my 0 To $100 In 24 Hours Review!
Let me start by commending you for taking the time to do your research before diving in head-first and buying any so-called "automated profits system." That's the best way to avoid scams and find legitimate ways to make money online.
From 0 To $100 In 24 Hours says it'll help you make at least $100 in the next day 24 hours by simply copying their methods. Can we believe what the promo video tells us or is 0 To $100 In 24 Hours a scam to be avoided?
Is this finally the legitimate money making system you've been looking for all this time or just another waste of your time?
I just had to buy it myself and see…
0 To $100 In 24 Hours Review At A Glance
About: An 8 video course from Jono Armstrong that promises to show you how to make your first affiliate commission within 24 hours.
Price: $97, discounted to $12.95. There are 5 upsells totaling $595.
Pros: Affiliate marketing is a legit online business strategy when done right.
Cons: Short, shallow and generic training. Missing crucial info. Some bad advice.
Verdict: Follow this training and you'll be promoting low-quality Clickbank scams, hardly the best long-term strategy. Try it if you must but please keep your receipt.

Despite having way too many upsells, 0 To $100 In 24 Hours offers a semi-decent course on helping beginners make their first affiliate commissions.
However, some of the techniques they recommend are unethical in my opinion.
Follow their advice and you could end up selling scammy, low-quality products to unsuspecting buyers. Definitely not a good strategy in the medium to long term.
What Is From 0 To $100 In 24 Hours?
From 0 to $100 In 24 Hours is an 8 video course that promises to show you the secrets of successful super affiliates. It promises over-the-shoulder training on how to make your first affiliate commission within a day, even if you've got no website, traffic, email subscribers or experience.
The big idea behind 0 to $100 In 24 Hours is that you get to learn from Jono as he's challenged to make at least $100 online starting from scratch in 24 hours with nothing but an internet connection.
Jono Armstrong, the creator of this training is someone I can definitely relate to – we're both from Yorkshire in the north of England, we both make a full-time income through affiliate marketing and we now both live in southeast Asia.
However, he's also the man behind various get-rich-quick scams like 7 Minute Sales Machine, Boomerang Buddy, StealthD, Octane, The Secret Weapon and Ministry of Freedom.
I've got to say I really enjoyed the promotional video, it's probably one of the best I've seen in terms of promos for affiliate training courses.
In this video Jono shows you he he made $190 within 24 hours:
The whole marketing is based around the promise you can copy and paste what Jono is doing and get the same results, even if you're a complete beginner and have never done anything like this before.
What You'll Learn In The Training
Here's a sneak peek of the training area…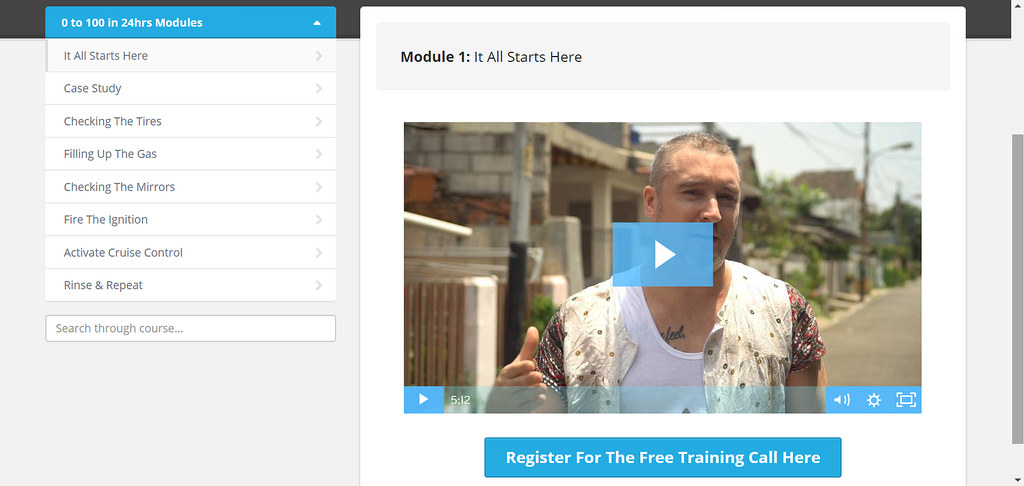 As you can see, the From 0 To $100 In 24 Hours training is broken down into 8 modules.
Let's give a brief rundown of each lesson:
Video 1: It All Starts Here
Jono gives you a general overview of the course and what's to come.
Video 2: Case Study
This video shows you how Jono made $190 in 24 hours starting from scratch.
Video 3: Checking The Tires
In this module Jono will runs you through how to set up your first free website and launch jacking compaign.
Video 4: Filling Up The Gas
You'll learn how to find affiliate offers to promote within the make money online niche.
Video 5: Checking The Mirrors
How to give people incentives to buy by offering bonuses using free PLR content.
Video 6: Fire The Ignition
This video shows you how to get traffic to your offers via YouTube and written reviews.
Video 7: Activate Cruise Control
Here you'll learn the fundamentals of keyword research.
Video 8: Rinse And Repeat
A general 'go get em' summary video.
One of the first things I noticed is that the videos here are all pretty brief; each one is less than 10 minutes long.
Running a profitable affiliate marketing business takes a lot of knowledge and skill and honestly is not something you can be fluent in after watching a few short videos.
While Jono does a good job or giving you a brief overview of the concepts he's talking about, I think the training barely scratches the surface in terms of equipping you with what you need to know in order to really be successful online.
In contrast, my top rated affiliate marketing course has 70+ step-by-step training lessons.
Can You Make Money With 0 To $100 In 24 Hours?
Follow along with the course and you'll be taught how to earn money through affiliate marketing by using a specific technique called launch jacking to promote other make money online programs.
Launch jacking is when you take advantage of the marketing hype surrounding a new product launch to earn an affiliate commissions. You can do this by promoting the product itself or another very similar to it.
Jono teaches that the best way to do this is by making video or written reviews on make money online products that have yet to be released.
As email marketers and affiliates ramp up their marketing efforts some people will search on Google for reviews of that product, find your review and buy through your affiliate links.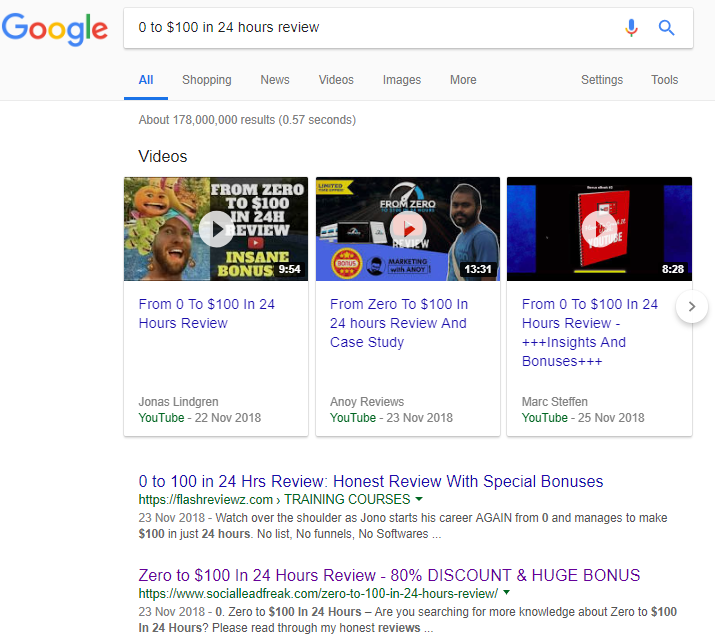 The vast majority of these reviews give you nothing but a repeat of the sales page spiel because their only goal is to get you to buy through their link, regardless of whether it's a good training course or not.
Can you make money with launch jacking? Absolutely yes. A lot of people have become wealthy doing this, though I don't recommend it.
Is this what I do on The Make Money Online Blog? Absolutely not.
While I write a lot of reviews, my goal here is to point people to training that I believe will actually help them get to where they want to be and avoid online scams.
Sure, I could use salesy gimmicks and hype to make more money in the short-term, but I know to be successful in the long-term means actually helping people.
How Much Will It Cost You?
Their sales page says the regular price is $97, though right now it's available at a discounted price of $12.95 and has been for months.
Exactly how long this price will be available for, I'm not sure.
The site reads, "If you close this page and come back later, you'll end up paying more" but it's says that every time I go back onto the page so it's probably just more sales hype used to try and pressure you into buying.
It's also good to know what upsells or 'upgrades' they're going to try and get you to buy into. They have 5 in total:
Upsell 1: Traffic Training ($37)
This one's pretty self-explanatory. Pay a little extra and you'll get training on how to drive traffic to your affiliate promotions and increase sales.
Upsell 2: Limitless Traffic for 365 Days ($197)
Opt in for this upsell and you're told they'll send you given super targeted buyer traffic to your sites for a whole year.
Upsell 3: "Done For You Funnels" To Use ($67)
This is for 13 done-for-you sales funnels you can use to promote other make money online products.
Upsell 4: Lifetime Campaigns ($197)
You'll get done-for-you sales campaigns put together by Jono himself every month 'for life'.
Upsell 5: License Rights ($97)
This last upsell will give you full reseller's rights to 0 To $100 In 24 Hours meaning you can rebrand it and sell it on as your own and keep 100% of the profits.
Making money online isn't complicated…
This video will show you exactly how to get started. Tap to watch now »
A Quick Rant On Upsells
I've talked here on the blog many times about why I'm not exactly a huge fan of upsells. You could say it's a pet peeve of mine!
The main reason is this: if the product you're selling is as good as you say it is then there should be no need for any upsells at all.
So if you're trying to upsell it's only ever for 1 or both of these reasons:
#1. Your product isn't as good as you say it is so it can't stand by itself.
#2. Rather than trying to show people how to put money in their pockets, you're more concerned with filling your own.
Enough said!
What I Like About 0 To $100 In 24 Hours
1. Affiliate Marketing (Done Right) Is A Real Money Maker
While I definitely don't recommend implementing the launch jacking technique taught within the course, you will still get an insight into how the process of making money with affiliate marketing works.
Unlike most affiliate training out there that tells you to copy and paste your affiliate links all over Facebook, Jono runs you through the basics of setting up a website, starting a YouTube channel and how to do keyword research so you can build a sustainable source of traffic from search engines in the long term.
If you don't want to be limited to only make money online programs then check out my ultimate affiliate marketing guide for beginners here. It will show you exactly how to set up a profitable affiliate marketing website based on any topic or hobby you're interested in.
2. 60 Day Money Back Guarantee
You can get a full refund at any point within the first 60 days which is reassuring, though this is only for the 0 To $100 In 24 Hours course. You won't, however, be able to get your money back for any of the upsells.
Here's how to get a refund on Clickbank.
What I Don't Like So Much…
1. Launch Jacking Isn't A Good Long-Term Strategy
In lesson 6 of the training you're told to write product reviews on products before they've even been released, which means you've never seen it yourself and only have the sales page to go by.
At best, launch jacking means you'll be writing shallow reviews that give only very limited information people can find on the sales page and offering as many low-value bonuses as you can while urging readers to buy in.
At worst, you'll simply copy and paste the sales page and claim it as your own. After all, it's not about giving an actual review, but about getting people to click through at the bottom of the page. If you've ever seen launch jacking in action, you can spot these kinds of reviews a mile off.
While it may work for you in the short term, you're damaging your credibility and breaking trust with your readers. I'm not saying don't write product reviews (you're reading this review I wrote, right?) just please make sure you're as honest and helpful as you can be.
Don't start promoting products to people who are putting their trust in you just because the sales video showed so-called 'income proof'. Don't tell people about a 'revolutionary new system' unless you know what it actually does.
2. You'll Be Making Money By Duping Others
By following the 0 To $100 In 24 Hours method you'll be promoting make money online products from sites like JVZoo and ClickBank to earn a commission.
After reviewing hundreds of these type of products I can tell you 90% of them are utter rubbish that come from serial product launchers who are bringing out this type of stuff every other week.
They are mostly low value, low quality products that don't do much to help anyone, but who cares as long as the product creators and affiliates are still cashing in right?
And if the refund rate starts getting too high or too many complaints start coming in, they'll just start all over again with the next "one of a kind online money making machine".
Sure, you could strike it lucky and make money using this method, but at what cost? You'll be writing fake reviews selling people scammy products you know nothing about. Is this really how you want to earn a living?
3. The Make Money Online Niche Is Uber Competitive
Long before I started this blog I was already earning a full-time income online with websites based on niches or topics that had absolutely nothing to do with making money online.
Let me tell you from experience: the make money online niche is not easy and the competition is fierce, but the beauty of affiliate marketing is that there are literally millions of products and services you can promote and make money with.
I know very successful affiliate marketers who have made $10,000's a month by promoting thinks like motorcyle gear, language courses and camping equipment.
Whether you're into food, fashion, fitness or fishing, the possibilities are endless!
What I'm trying to say is you dont have to go down the make money online niche route – there are so many easier, way less competitive options out there. When I'm guiding aspiring entrepreneurs on how to set up their first online business I tell them the same thing:
You're far more likely to succeed at this affiliate marketing gig if you start by choosing a topic you're interested in and like to talk about.
Is From 0 To $100 In 24 Hours A Scam?
From 0 To $100 In 24 Hours is not a scam but I don't recommend it.
Jono clearly knows what he's doing and as we saw in the case study video, he managed to make $190 in a day.
The methods he's teaching could help you earn your first affiliate commission, heck you might even get lucky and earn a decent amount from it.
I just don't think it's easy as the hyped-up sales page makes it out to be.
If you still think it's worth a shot for $12.95 then click here and go ahead. I just don't believe it's the best training for those serious about earning a full-time income online.
A Better Affiliate Marketing Strategy
If you disagree with me about launch jacking not being an ethical way to make money online, you must admit it's not a good strategy even from a practical standpoint.
Promote get-rich-quick schemes you know nothing about and it won't be too long before complaints start coming in, people stop trusting your recommendations and your site loses all credibility.
It makes more sense to build a real affiliate marketing site you can build into an authority site over time. Not only will your income be more consistent as your site ranks higher in the search engines, but your traffic and income will go up too.


This simple 4-step process is what I follow to generate more than $7,000 each and every month from just 1 of my sites. Follow the same step-by-step training I did and you will get results.
The best part? It's completely free to get started.
Leave Us A Comment
That's it from me, I hope you've found this review helpful in deciding where to go next.
If you have any questions at all about how to get started with affiliate marketing be sure to post your question down in the comments below and I'll get right back to you.
Had any experience with From 0 To $100 In 24 Hours? Is Jono Armstrong a peddler of get-rich-quick scams or just a super slick marketer who knows how to sell? Either way, go ahead and give us your take. We'd love to hear from you!
Simon Crowe is on a mission to help as many people as possible kiss their bosses goodbye.
Take the free Commission Academy course to discover how to smash your online income goals and make your dream business a reality.