In this review, we'll be looking at Jono Armstrong's StealthD program that promises to show you how to generate a lot of clicks and sales in a very short space of time.
Jono's sales page tells us StealthD is a brand new method newbies can follow. You don't need a list of email subscribers, a website or to pay out for expensive solo ads to be able to make money with affiliate marketing.

This sure sounds interesting, but does the StealthD method work and will Jono Armstrong really deliver?
Is StealthD a fly-by-night program that's here today and gone tomorrow or a legit way to earn your first paycheck online? Let's find out!
StealthD Review At A Glance
About: A short course on getting started with Gmail ads for affiliate marketing.
Price: $12.95 plus $528 in upsells, but paying for paid ads will add to that total.
Pros: A viable online business model. Comes with a full money back guarantee.
Cons: Jono has a mixed reputation. Requires an ads budget making it risky for beginners.
Verdict: If you're an experienced affiliate marketer looking for a new traffic source then StealthD might be worth a look, otherwise don't bother.

While I've no doubt Jono has made a lot of money implementing what he's teaching, I don't believe this is something affiliate marketing newbies should be buying into as there's just as much potential to lose money here as there is to make it.
Which is why it's best to start with learning how to get free traffic first. This free beginner's course will show you how.
However, if you're an experienced affiliate marketer looking for a new traffic source to increase your monthly commissions then StealthD is worth a serious look. Read this review in full to find out why.
First Off, I Don't Recommend StealthD If…
You are a complete affiliate marketing beginner
You haven't mastered free traffic methods yet
You don't know the fundamental process of how affiliate marketing works
This is because StealthD advocates using paid traffic methods, namely advertising through Google's Adsense program, and while this can be a highly lucrative strategy, it does mean risking your money upfront.
Making money with paid advertising is never as quick and simple as some people would like you to believe and you have to make sure you get the right products in front of the right people and keep your ad campaigns running optimally to be in a chance of coming out on top.
Get this wrong and ad costs could easily spiral out of control leaving you worse off.f.
If you're an aspiring affiliate marketer and you want to get the best start possible then check out this free beginners course instead. You'll get instant access to by far the biggest affiliate marketing community and training platform online.
You'll also find out exactly how to create websites that attract laser-targeted traffic 24/7 for free. You can put your wallet away too because it's free to get started.
For those of you who already have a successful online business, stick with me and I'll show you how StealthD can help you tap into a little-known traffic strategy you can exploit to push your affiliate income to the next level.
Who Is StealthD Creator, Jono Armstrong?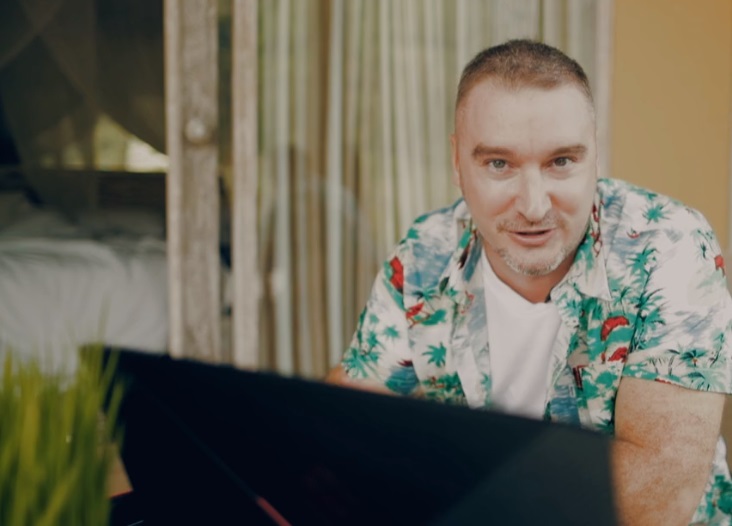 In case you've never heard of Jono before, he's been earning a very lucrative online income for over 10 years now and there's no doubt he knows his stuff.
Jono is known for releasing a variety of training programs every couple of weeks or so that are aimed at helping people earn their first commissions online.
Here are just a handful of Jono's courses I've reviewed here on the blog:
As you can see, with the tight launch schedule he keeps, some programs are definitely better than others…
Now we know a bit more about the guy behind StealthD, let's take a look at exactly what his latest program is about.
What StealthD Is In A Nutshell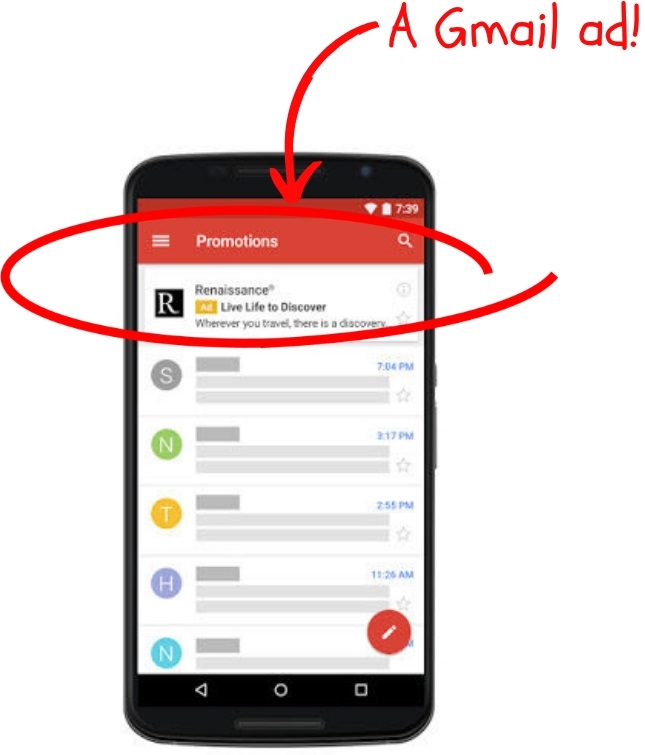 StealthD is all about how to get your affiliate products in front of the right people without them ever needing to subscribe to your mailing list.
How?
With Gmail ads.
For $12.95 you get full access to the StealthD 6 module training course that'll walk you through exactly how to generate affiliate commissions through Gmail marketing.
The neat thing about this method is you don't need to build an email list, use an email autoresponder and no need to pay solo ad vendors to spam inboxes.
Here's the man himself giving us a live demo of the StealthD training area:
Is this is a new and revolutionary method?
Not by any means – people have been advertising on Google's Gmail platform for years, but this is the first training course I've come across that's ever dared to cover it.
Honestly, it's refreshing to see a make money online course that doesn't follow the same old ineffective strategy of paying a ton of cash out to solo ad vendors to spam subscribers with affiliate offers that results in very few clicks and even fewer sales.
Inside The StealthD Training Area
As you can see, the training is well laid out and easy to navigate. You can access the 6 video lessons from the left-side menu: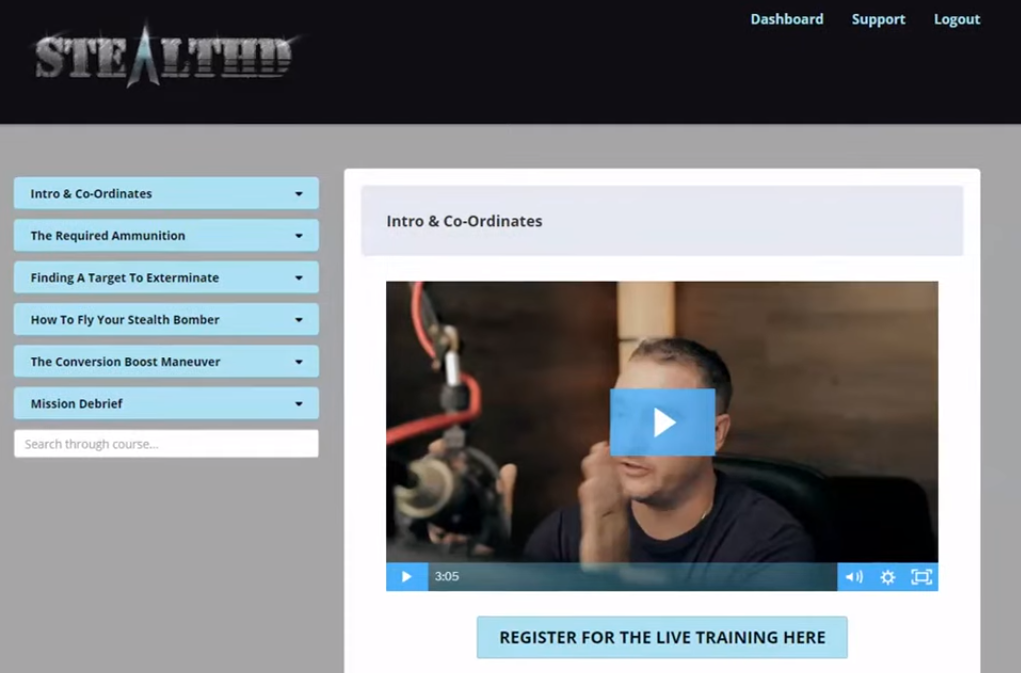 Jono walks you through all the steps of making money following his tried and tested method; from picking the right products to promote to narrowing down your target demographics to get the most bang for your buck.
My favourite part of the training is when Jono shows you how to get your hands on a $100 Adwords coupon so that even though you need an advertising budget to implement the StealthD method, you at least get a little head start.
StealthD Pricing And Upsells
Buy StealthD and it'll set you back $12.95. I'm not sure how long this 'early bird' price will be available for but it is covered by a no questions asked 30-day money-back guarantee.
Unfortunately, every single one of Jono's training courses comes with a whole army of upgrades and StealthD is no exception to the rule:
Upsell 1: Advanced StealthD Strategies ($37)
This upsell will give you further training on optimising your Gmail ad campaigns and advanced marketing strategies.
Upsell 2: Limitless Traffic For 365 Days ($197)
Buy this upgrade and you'll be able to add tracking pixels to your sales pages to start building your list of email subscribers.
Upsell 3: $1000 Commissions Solution ($197)
This gives you access to Jono's video ads that generate $1,000 per sale. All you have to do is promote.
Upsell 4: The "Done For You" Option ($97)
This final upsell gives you 10 of their highest-converting sales funnels you can use to send traffic to and generate commissions.
Can You Really Make Money With StealthD?
Full disclosure: While I've played a little with Google Adwords with some success, I've never dabbled with Gmail ads specifically.
And even if I had, I still wouldn't say you'll definitely make money with this but what I can tell you is this is a viable (and potentially very lucrative) business model.
Like any paid advertising, the key is to continually optimise your ads to make sure they're only showing up in the inboxes of those most likely to click on and buy your product and this may take a little tweaking to begin with.
Check out this useful video that will give you a better idea of how Gmail Ads work:
Google Adwords is good at giving you all the stats you need to make sure your cost per sale doesn't exceed your affiliate earnings so you can ensure you're always earning a healthy profit margin.
Once you have a campaign that's making more money than it's costing you, you're onto a winner and the next step is to scale up!
Is StealthD A Scam Or Legit?
StealthD is definitely not a scam.
What Jono's teaching here is a legit and often overlooked way of increasing your affiliate income. And at just $12.95, StealthD is a steal.
I think it's a high-risk, high-cost strategy for those just starting out in affiliate marketing, but for those of you with more experience this training program could open up a brand new traffic source.
Questions Or Thoughts?
Those of you who are experienced affiliate marketers – have you ever considered Gmail as a possible traffic method? Now you've read this review, what do you think about Jono Armstrong's StealthD method?
Do you have any questions about this product or about affiliate marketing in general? Scroll down and leave your comment and I'll be more than happy to help you out.
Simon Crowe is on a mission to help as many people as possible kiss their bosses goodbye.
Take the free Commission Academy course to discover how to smash your online income goals and make your dream business a reality.