Glynn Kosky never runs out of products to make money from. In this review, we're going to talk about his Freebie Commissions software. It claims to "turn free giveaways into non-stop profit machines".
I've done 100s of make money product reviews and I tell you; this doesn't strike me as brand new. I actually think it's just a tweaked version of Glynn's other product, High Ticket Hijack.
In this review you'll get to know:
What Freebie Commission is
How much it costs
How the members' area looks
Why Freebie Commissions won't work
If it's a scam
I'll then wrap everything up by telling you about a better course of action you should take to build a sustainable online income.
Let's get started!
Freebie Commissions Review At A Glance
About: Freebie Commissions is an income system using free giveaways to entice people to pay for upsells where you'll supposedly make money from.
Price: The front-end system is sold for $17.97. You're also "highly encouraged to buy the 6 upsells for $352 and pay for an autoresponder costing $600/year.
Pros: It offers a 30-day moneyback period.
Cons: The freebies are not guaranteed to be high quality and the traffic method used are social network shares which only work with a huge following.
Verdict: Freebie Commissions is worse than a mediocre system because it ultimately under-deliver the income claims made.

What Is Freebie Commissions?
Freebie Commissions is a cloud-based income system offering freebie software to drive in commissions by selling upsells to people who opt in. Glynn Kosky launched this in WarriorPlus back in October 2019.
He claims this system is the "easiest way to bank online profits without selling a thing" which is ironic because you'll be pitching paid upsells to earn from. He even says you can earn as much as $497 for every person who accepts your free product.
This is also said to allow you to capture email leads so you can do email marketing to earn more. This basically implies you'll also need a paid autoresponder.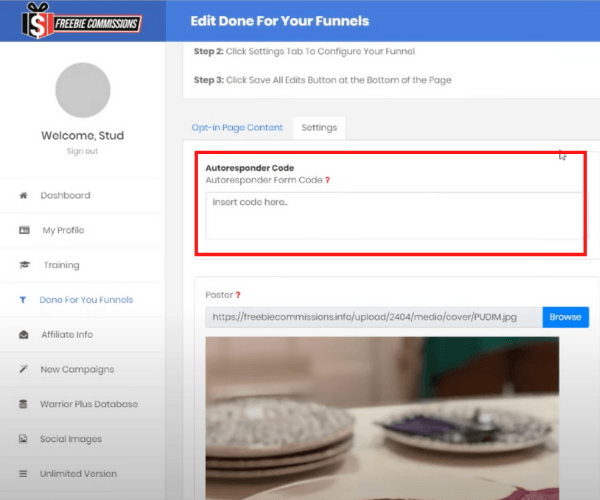 The funny thing is:
Glynn also says you'll get 100% free viral traffic. In reality, you'll just be sharing your funnel links on social media for a number of people to see.
One of the biggest hype I've read on the sales page is the claim of generating leads and profits in half an hour! He says to watch your profits "explode" by giving 2 of his "award-winning products". (There's no proof shown by the way)
I'll explain to you later why this won't ever happen.
One Thing Glynn Is Right About
Of course, for his method and software to be believable, it has to stem from something truthful. In this case, it's the principle of leading with value. By giving something for free, you'll get people interested in what you can offer.
Yes, the principle works. The problem is, the overall method Freebie Commissions works on defeats the principle it supposedly follows.
You'll get a clearer picture of this once I give you a look of the members' area.
Promoted By Brendan Mace and Jason Fulton
Supposedly, when someone vouches for a product, you'll get to trust it more. In Freebie Commissions case, it's quite the opposite.
You see, like Glynn, Brendan and Jason are serial digital product creators. They make money from selling products a couple of times a month, NOT as a result of using any of the systems they peddle.
It won't be a problem if both of them promoted high-quality systems. Sadly, that's not the case. If you want to know why to check out some of the products they created.
Brendan Mace:
Jason Fulton:
Who Is Freebie Commissions For?
First and foremost, Freebie Commissions is for its owner, Glynn Kosky. Worse comes to worst, he'll be the only one who makes money from this.
This is also for people who want:
Everything done for them
Quick fixes
Not willing to put in effort
Willing to flush money down the drain
How Much Does Freebie Commissions Cost?
Freebie Commissions' sales page only offers the Pro version for $17.97. The cost doesn't end there because you also have to pay $352 for 6 upsells and at least $600 every year for an autoresponder service.
Here's a quick look on each upsell:
Upsell 1: Unlimited Version ($47)
Upsell 2: Done-For-You System ($47)
Upsell 3: Automated Traffic Flow ($67)
Upsell 4: Conversion Boosting Tools ($47)
Upsell 5: Bonus Page Creator ($47)
Upsell 6: Resell Rights ($97)
Pretty much the same upsells you get with High Ticket Hijack.
Freebie Commissions' Members' Area
Essentially, Freebie Commissions will let you offer Glynn's 2 products, Commission Shortcut and Triple Traffic Bots for free. When a person decides to give his email address in exchange for the free income software, you can then offer them paid upsells and later on pitch offers again through email.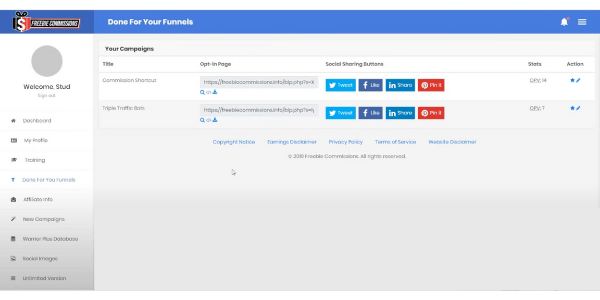 Some built-in funnels also offer to give free eBooks and mini-courses. The downside is, the eBooks and courses are either low-quality or outdated. This is why, as I said earlier, this system ultimately defeats the "leading with value" principle it supposedly follows because there's zero value to the freebies he provides.
Like all quick fix income systems, Freebie Commissions says making money only requires 3 steps:
1. Select an offer.
2. Add your affiliate link.
3. Get viral traffic and sales.
Frankly, there's no viral traffic promoted here. If you go back to the screenshot above, you'll see 4 social buttons: Twitter, Facebook, LinkedIn, and Pinterest. Unless you have a large following and seen as someone credible by your network, you won't get them to opt into your freebie offer.
Will the "over-the-shoulder" training help you with your traffic problems? Absolutely not!
You'll get a total of 14 videos in the training section. Most of just guiding you on where to go and what to click to set up your campaigns. You won't be able to utilize them outside Freebie Commissions.
They did include 3 videos on traffic strategies. BUT it's all about PAID TRAFFIC! One video is about solo ads, the 2nd about Youtube ads, and 3rd is about Instagram ads. This means an additional cost of at least $300 per month for the ads!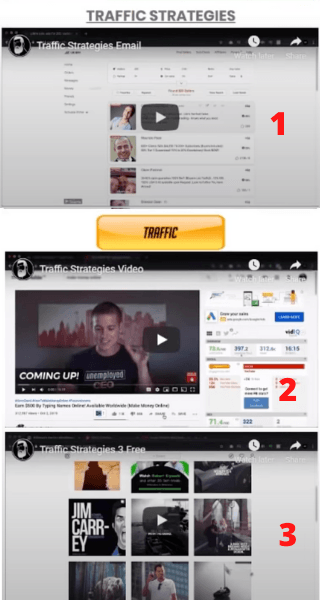 Funny because on the sales page they said you won't need paid traffic but here he is teaching you to spend on ads you know nothing about!
The 3 videos won't actually teach you the principles behind paid traffic. It won't tell you you'll be dragged into a lot of trial and error which means a whole lot of cost on your end. You'll only be taught, again, the steps on setting things up.
It won't work for you especially if you have no experience which primarily defeats, yet again another sales page claim of Freebie Commissions being beginner-friendly. Plus, it also shows you can't really make money with it in under an hour!
Check these built-in funnels out: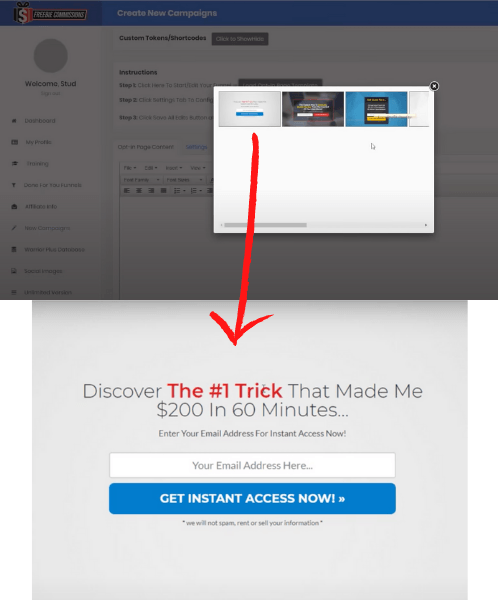 Who in their right mind will fall for this poorly-created funnels?!
So, you see, making money from this is next to impossible.
7 Reasons Why Freebie Commissions Won't Work
1. The Built-In Products Are Not Guaranteed To Be High-Quality
Unless proven to have value, nobody will take the 2 products seriously.
2. The Freebies Are Low-Quality
For people who opt in to this, seeing how bad the freebies are, I'm quite sure you won't get them to move forward and pay for your upsell pitches.
3. Inadequate Training
It only teaches the technical stuff and the traffic methods included are paid ones, contrary to the sales page claim that you won't need paid traffic.
It's way better to invest in Wealthy Affiliate if you really want to build a sustainable online business with traffic training that really works.
4. Free Viral Traffic Is Not Viral At All
You'll be merely sharing links to your network on socials media, you'll only get a handful of people noticing your funnel.
5. Built-in Funnels Are Too Boring
Nobody will get interested in the spammy looking funnels you share. People might even end up losing trust in you for promoting it.
6. Funnels Are Hosted By Freebie Commissions
You'll risk getting shut down when Glynn sees it's time to rehash this system to another one to dupe another set of unsuspecting people.
7. The Disclaimer Reveals How Misleading Freebie Commission Really Is
Freebie Commissions' earning disclaimer retracts all the sales page hype by saying you're not really guaranteed even a single dime!

That's really how blurry it is on the sales page!
Is Freebie Commissions A Scam?
Freebie Commission falls short of being the scam for the sole reason of you'll be getting a funnel-creating software will built-in offers. Overall, this system is not nearly as described on the sales page, very misleading actually.
You won't make fast commissions with this and frankly, the hype doesn't match the system one bit. It's an utterly half-baked system you shouldn't even try.
What Do You Do Now?
Knowing Freebie Commissions is not what is advertised doesn't mean you have to wave your white flag in making money with affiliate marketing.
Now you know Freebie Commission for what it really is, you can focus on learning how you can build a sustainable affiliate business. By now you know quick fixes don't really work so you'll take the proper process seriously.
Wealthy Affiliate will teach you everything you need to know from scratch. You just don't get taught about affiliate marketing; you'll be required to apply what you learn to really see you're building your business bricks.
Other than the training, other successful affiliate marketers will help you with the questions you'll have along the way.
The great thing is, you can get started for free! You can learn from the 1st 10 lessons without paying a dime.
To know more about this awesome opportunity, head on to this tell-all Wealthy Affiliate review, where you'll get a better feel of how this training can help you reach your online income goals.
Questions? Recommendations?
Were you disappointed with Freebie Commissions' misleading claims? Do you have any questions about Wealthy Affiliate? We'd like to hear from you, the comments section is ready for you.
Simon Crowe is on a mission to help as many people as possible kiss their bosses goodbye.
Take the free Commission Academy course to discover how to smash your online income goals and make your dream business a reality.