What sort of sorcery is Local Flip Magic? How is it supposed to help you make money? In today's review, we'll break this income system down into pieces and see if it's worth your buck.
I highly doubt it.
If you ask me how I initially feel about it, I have one word for you: confused. The sales page didn't really prepare me for what's to come. I was shocked to find out how I was supposed to make money from it.
To digest everything, I'll tell you:
What Local Flip Magic is
How much it costs
How it works
It's pros and cons
If it's a scam
And if you should opt for a better alternative
Stick around as I demystify Local Flip Magic for you so you can make a better decision if you should give this a shot or not.
Local Flip Magic Review At A Glance
About: Local Flip Magic is a flipping income system claiming to get you up to $3,000 in commission per transaction.
Price: The front-end system costs $10.98. There are also 4 one-time payment upsells worth $218 in total and 1 upsell with a $19.95 monthly cost.
Pros: There's some value in the training.
Cons: Making money using this method is complicated and requires experience. Definitely not for beginners.
Verdict: Local Flip Magic poses to be something bringing you easy money, but in reality, making an income from this will be very hard. 

What Is Local Flip Magic?
Local Flip Magic is an online system created and peddled by Vick Carty and launched last February 2020. It claims to be the "most powerful flipping system" online.
Flipping essentially means buying something and reselling it at a higher price for a commission. It's a term mostly used in real estate, the main offer in this income method. 
Vick Carty isn't the only one earning from Local Flip Magic, but it's quite confusing because on one sales page it says he's working with Art Flair and in another one with Derrick McBay. Whatever the case, he shares the profit with someone else.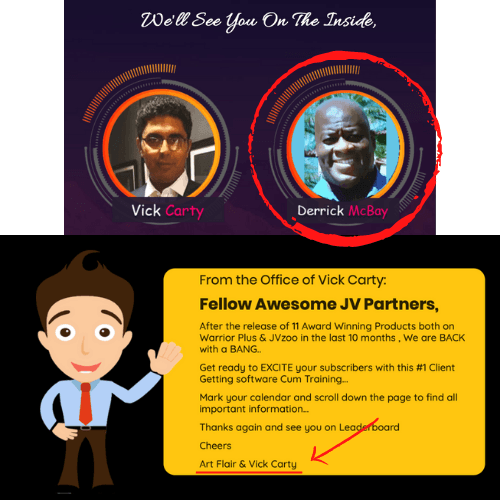 It's quite off-putting Art's part of this, if you don't know him yet, he's a serial product launcher selling low-quality systems and training multiple times a month, without fail.
His other products are:
Art is not the only one who's part of this system, Mosh Bari is too.

Essentially, he's like Art, selling digital products that are over-hyped but mostly under-delivers like:
Local Flip Magic Sales Page
On Local Flip Magic's sales page, you'll see claims starting from earning $315 per sale up to as much as $3,000 per flipping transaction which is said to only take 30 minutes or less.
It also says you should promote this because of:
Big commissions that are paid instantly
Free traffic retargeting
Super high-quality products
We're told if you buy the system, you'll get "not just training but a complete done-for-you system that includes high-converting sales pages, in-demand products, proven to convert email sequence, and high-converting funnel".
To me it's all fluff.
If you go over the sales page yourself, you won't actually get the whole picture of what the system really is. A typical sales page hype to a churn and burn product.
Vick doesn't bother to make this one perfect as long as he earns from it before he launches another product. These things are disposable to him, he doesn't even care correcting typos like this:

What makes it more confusing is adding a sort of affiliate contest gimmick where you "win" half of the revenue you generate. He didn't provide other details, so you don't actually know how you qualify for it.
The sales page alone is a lot confusing, but wait until you see how it works, your jaws will drop.
How Much Does Local Flip Magic Cost?
Local Flip Magic's front-end is sold at $10.98. He also "encourages" you to buy the 5 upsells where you spend at least 218 for 4 of it and $19.95 per month for 1 other upsell to supposedly get the best income potential.
Here's a bit on the upsells.
Upsell 1: Local Flip Magic Ultimate ($27)
This upsells supposedly gets you advanced features and exciting add ons that Vick doesn't bother to explain more about.
Upsell 2: Local Flip Magic Advanced ($47)
This gets you more advanced training, again he didn't put into detail what this advanced training includes.
Upsell 3: IM Elite Academy ($19.95/month)
This upsell is said to give you access to Vick's 300 videos. I just don't understand how it's supposed to help you.
Upsell 4: IM Traffic Academy ($47)
Another set of training which they dub as the "Traffic Bible". Again, no other explanation. Pfft. What a bummer.
Upsell 5: VIP Bootcamp ($97)
This is supposed to be a live boot camp where you'll know "very underground secrets" to close more clients. Reeking some illegal methods to me.
I don't really fancy getting flooded with too many trainings with no actual experienced users to ask advice from and opportunities to apply what I'll learn.
I like Wealthy Affiliate's approach to teaching you how to make money online better. You get trained, try things for yourself, and consult with other experienced marketers to see if you're on the right track and what else you can do to scale your business.
How Local Flip Magic Works
Essentially, Local Flip Magic's method in making money is flipping mortgage notes. Mortgage notes are promissory notes or written documents where you promise to repay what you owe plus its interest in a specified time. You'll be taught how you can buy and resell mortgage notes to earn.
If it's your first time hearing about what a mortgage note is, this video can help you understand better.
You'll be given 10 training videos, each around 10 minutes in length to learn what a mortgage note is and how you're supposed to generate income from it.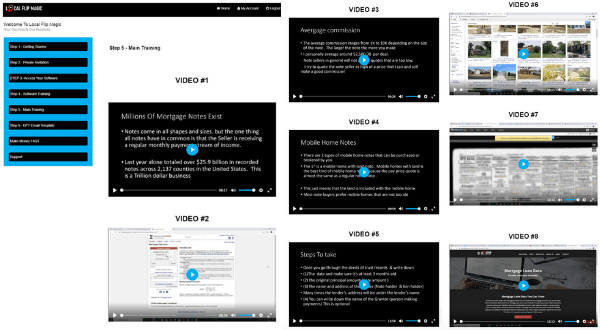 This might income method might come off overwhelming and a big surprise especially because the sales page doesn't really tell you about it. You'll only know once you get into the members' area.
How are you supposed to master the realty trade with just a couple of 10-minute videos?
If you ask me, this can be risky and definitely not for beginners. You can't learn the ropes of realty business overnight even if you watch all the training, you need to have experienced too!
Other than the training, you'll also get a local lead page finder tool inside the members' area. A tool supposedly helping you to find prospects. But at best it can only generate 15 results for a certain query.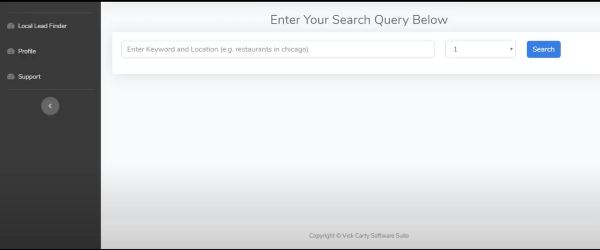 You'll also get a done-for-you email template you can use to pitch to the prospects you find.
The funny thing is:
The template is totally unrelated because it's pitch for SEO jobs, a completely different niche!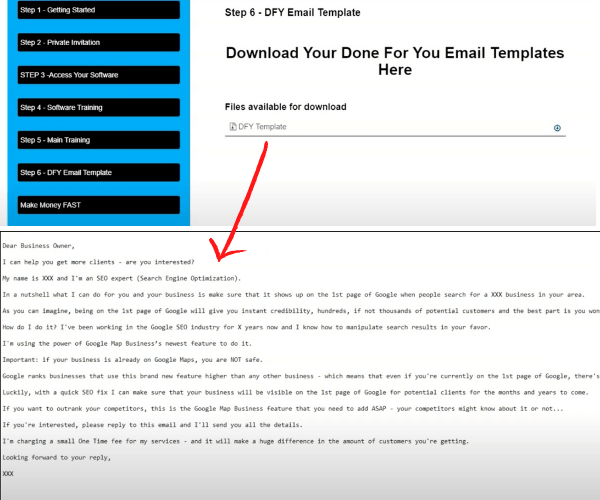 You're not even taught about email marketing so there's no chance you be able to utilize the emails you'll find.
A very basic fact in email marketing is:
You have to establish a connection with your leads by giving something valuable to them and not just pitching every chance you get. Unless you do so, you can't get them to take you seriously and give your pitch a shot.
But then again, I don't think email marketing is the best method for flipping. Getting your offers in a realty marketplace offers more potential.
Then you also get a "Make Money Fast" tab which is basically a low quality and spammy funnel to another totally unrelated pitch.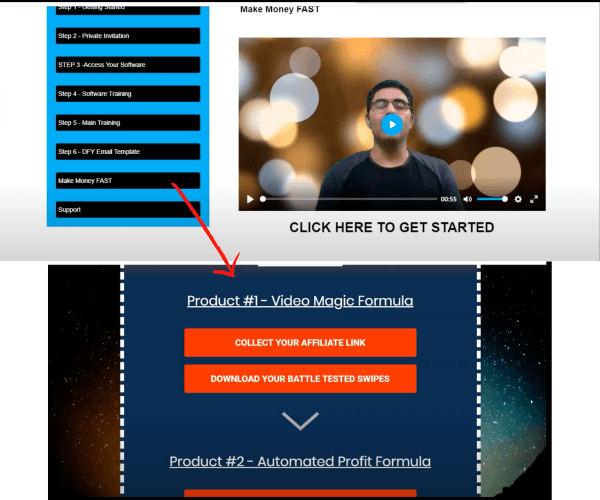 It's quite annoying how Vick spurts random products here and there. I highly doubt anybody takes his offers seriously.
The members' area is in complete haywire, I don't think I can last a minute inside.
First, you get mortgage notes flipping training videos, then you get an SEO email swipe, and then another funnel for an offer that's wide off the mark!
What are you really pitching Vick?!!!!!
What I Like About Local Flip Magic
1. Training Videos Has Some Value
I'm not all bad, I'll give Vick a little credit because you can really learn something about mortgage notes on the training videos.
Still, it's not enough to help you build a sustainable online business. You need a lot of experience if you really like to delve into the realty business.
5 Things I Don't Like About Local Flip Magic
1. The Sales Page Is Full Of Hype And Misleading
Making money from this doesn't happen in under 30 minutes, I hardly even understand the method. Plus Vick doesn't tell you what this income system is really about which to me is misleading.
2. Realty And Mortgage Notes Is Risky And Complicates
10 videos won't make you an expert, neither will it help you make money.
3. The Email Swipe Is Useless
The email is for a very different niche and the content is not something you can utilize for this kind of offer.
4. The Make Money Fast Funnel Spammy
It's total junk, how do you suppose people wanting to buy mortgage notes will get interested with a baffling "Video Magic Formula". You don't even know what this is.
5. The Disclaimer Disproves All Income Claims
If the hype is rubbing off on you, this disclaimer is your dose of reality. Local Flip Magic CAN'T GUARANTEE YOU'LL MAKE MONEY.

Is Local Flip Magic A Scam?
No, Local Flip Magic is not a scam in the sense that it does give you mortgage notes flipping training. However, the training is not enough to help you build a sustainable business. The worst part is, almost all other elements in the members' area are totally unrelated to the realty niche so they're useless.
Where Do You Go From Here?
I have to drop the bomb on you, making money with Local Flip Magic won't generate income for you. It barely provides you experience in the realty flipping niche. Making money online involves more than just 10 short videos and a local lead finder software.
Ditch this rubbish and learn how you can make money with affiliate marketing instead.
Affiliate marketing is way easier to learn than mortgage notes flipping and is without a doubt more highly profitable.
It's as simple as creating a niche-based website (anything you're totally interested in) and creating compelling content that gets you rankings and social shares. You then monetize it by offering relevant and useful products in the niche you chose.
Don't be overwhelmed, Wealthy Affiliate will give you the step-by-step training from scratch so you can build a sustainable online business you'll definitely love working on.
You don't only get training; you also get help from other well-experienced marketers who are ready to share their success strategies and stories.
The great thing is, you can test the waters for free by taking the 1st 10 lessons without cost.
If you're interested, head on to this tell-all Wealthy Affiliate review to get started.
What's Your Take?
Did you find Local Flip Magic overwhelming and totally confusing? Are you disappointed with all the useless stuff you find in the members' area? Feel free to rant! The comments section is ready for you.
Simon Crowe is on a mission to help as many people as possible kiss their bosses goodbye.
Take the free Commission Academy course to discover how to smash your online income goals and make your dream business a reality.