Buy Wealth Machines and Art Flair promises to fill your pockets with up to $4,921.45 per day.
He even says it's the world's easiest, most hassle-free way to generate commission online…
This full Wealth Machines review will expose just how shady his claims really are.
I'm going to show you what Wealth Machines really is, how much it costs, if it really creates automatic profits regardless of your skills or ability and if it's a scam.
As icing on the cake, I'll cap off the review with a time-tested alternative that'll give you the results Wealth Machines never can.
Wealth Machines Review At A Glance
About: Wealth Machines is an income system offering 20 done-for-you sales funnels to supposedly generate $1,000s in daily income.
Price: The front-end system costs $12.45 and $195 for 5 upsells.
Pros: Comes with a 30-day refund.
Cons: The income claims are crazy over the top. Making $1,000s a day online is possible but it's not nearly as easy as Art Flair would lead you to believe.
Verdict: These done-for-you funnels will not make money as promised. Wealth Machines is a typical get-rich-quick scam you'll want to avoid.

These done-for-you funnels pitch low-value, low-quality PLR products, exactly the type of products people don't want to buy.
Try it if you must but you're gonna find it a hard slog getting any sales and making any money with this.
What Is Wealth Machines?
Wealth Machines is another WarriorPlus make money online product peddled by Art Flair, Pallab Ghosal, Ram Rawat and Will Allen. It was released in September 2020.
Wealth Machines gives you 20 done-for-you funnels complete with either a PLR eBook or video. In Art's words, these products are "insanely popular and virtually guarantees you the easiest profits you've ever made."
I'm immediately wary because I don't trust Art Flair and friends who are well-known for launching 2 or 3 "brand new and revolutionary!" low-quality make money online products and borderline scams each and every month.
Some of his other products include:
Art says earning with Wealth Machines is as easy as clicking your mouse a couple of times.
If that's not enough to win you over, he goes on to say:
There's no need for domains, hosting and websites so if you can tie your shoes, you can make sales
There's virtually no work required
You can profit no matter how good or bad the economy is
Wealth Machines is fast, reliable and fun
Art also says he won't take money from you but then pummels you with several higher-priced upsells the minute you get into the members' area.
How Much Does Wealth Machines Cost?
The Wealth Machines front-end system costs $12.45. To get the full benefits of the system though, you'll have to purchase 5 upsells costing $195 in total.
What you get with a basic Wealth Machines membership isn't much and certainly nothing that'll help you earn $1,000s per day.
I'll show you inside the members' area in a bit so you can see for yourself, but for now let me tell you about the upsells.
Upsell 1: 10 More Wealth Machines ($47)
You'll be given 10 more funnels which basically means 10 more PLR products you'll have to try and sell on to others.
Upsell 2: Wealth Machines Pro ($47)
Apparently, the Pro version is the one Art and his Team Black Belt uses to make $73,602 in less than a month.
We're told you'll get the done-for-you tools and traffic strategies they use.
Upsell 3: Auto-Blogging Software ($47)
Creating compelling content is an effective way of getting more exposure and increasing your potential customer base with your product.
This auto-blogging software is supposed to be a powerful tool to turn any blog into an autopilot cash machine.
FAIRY TALE.
The truth is, Google's algorithm is smart enough to detect this lazy, low-quality content and you'll never get ranked.
No rankings mean there's nobody going through your sales funnel, nobody clicking on your links and nobody buying. Your online business is a poverty-stricken ghost town.
Upsell 4: Done-For-You ($27)
For this upsell, you're supposed to get:
DFY CPA (Cost Per Action) Campaigns
​DFY Automated Campaigns
DFY Affiliate Campaigns
​DFY Email Campaigns
DFY Social Media Promos
​DFY Engagement Posts
DFY Squeeze Pages
DFY Stock Music
DFY Images
Sounds like a good deal for less than $30, you might say…
Think again.
You can get the DFY stock music and images for free online on sites like Pixabay and PremiumBeat so don't bother paying for them.
Plus think about it, everyone buying this upsell is going to end up with the exact same campaigns so you'll never stand out.
Upsell 5: Copywriting Training ($27)
I think this is most decent upsell out of the 5.
You'll learn how to create email sales pitches, product descriptions, blog posts, and ads.
Just skip the whole hype about this tearing open customer's wallets!
Inside Wealth Machines' Members' Area
On the sales page, Art promises all it takes to start making an income online is 2 simple clicks:
1. Click the Wealth Machines access link
2. Click the Wealth Machines activation link
But as you're about to see, it's gonna take a lot more than that.
Here's what the members' area looks like: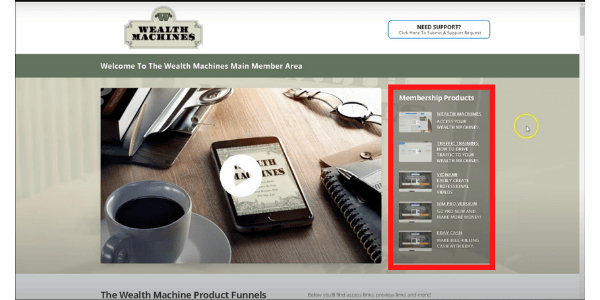 The Wealth Machines Training
As you can see on the right-hand side, there's the traffic video training.
But the videos are from 3 years ago and the methods they teach are drastically outdated.
When it comes to making money online, what was profitable a year ago might very well not be today…
But it gets even worse:
The training videos arent even theirs!
The 11-minute video for Bing paid ads belongs to Neil Patel and the 9-minute Facebook traffic video is from YouTube.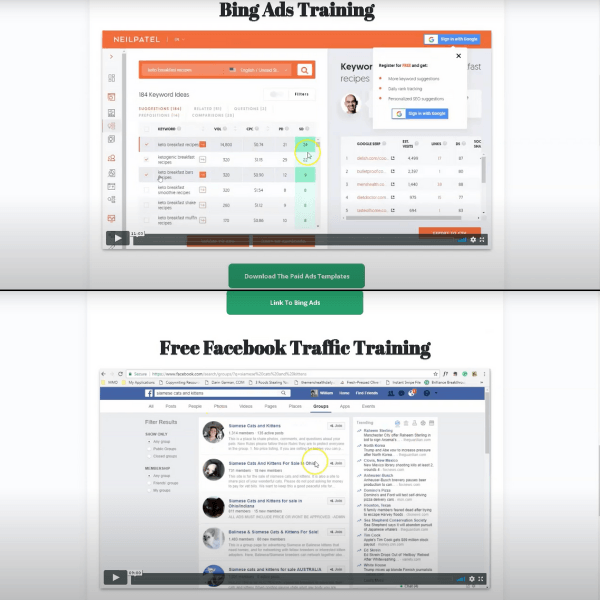 The Wealth Machines Sales Funnels
Scroll further down the page and you'll find 20 done-for-you funnels like these: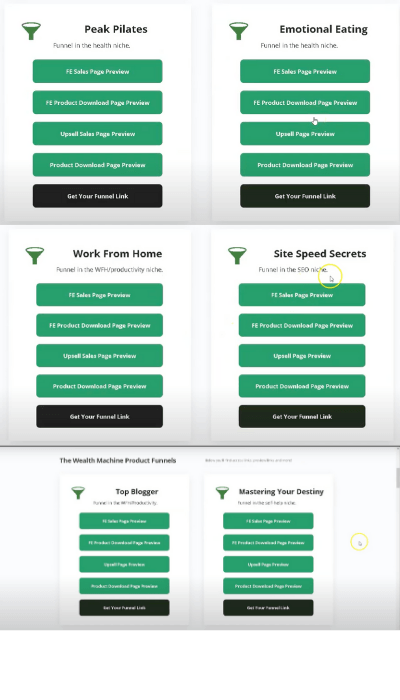 And this is where it gets interesting:
Go ahead and click the health niche funnel and they're promoting the Mastering Your Destiny eBook.
But why would anyone buy this junk when you can just Google it and download it for free?!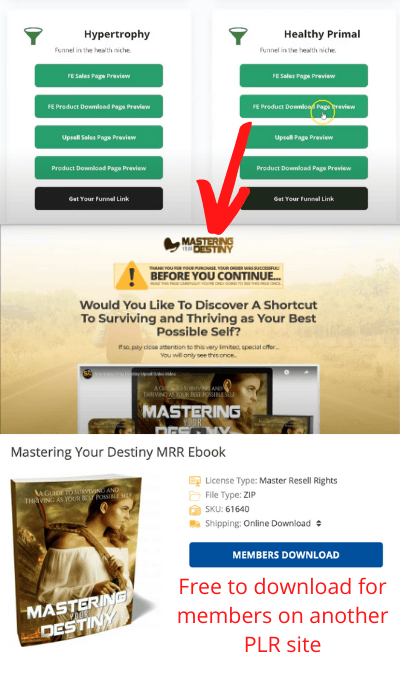 Join Wealth Machines and you'll end up trying to sell tacky trashy products to people who aren't interested.
Can You Really Make Money With Wealth Machines?
According to their sales page this'll help you make $4,921.45 per day.
According to their earnings disclaimer there's a risk of loss and no guarantee you'll make anything:

5 Things I Don't Like About Wealth Machines
Totally unrealistic income claims
An earnings disclaimer that directly disproves the entire sales page
Shabby products that are available for free elsewhere
Outdated traffic training they stole from other people
Since you don't own the funnels, you lose everything when they shut it down
Is Wealth Machines A Scam?
Yes, Wealth Machines is a hyped-up, get-rich-quick scam that gives you low-quality PLR products you won't make money with.
It looks like I'm not the only one saying Wealth Machines is a scam either:
Where Do You Go From Here?
When it comes to really making money online, quick fixes never work. That's just not what they're designed for.
The biggest secret to online financial success is that there are no shortcuts and thee only people benefiting from them are the ones selling them.
I know this can be a bitter pill to swallow but the good news is:
For those willing to take massive action, making money online is really not that difficult. Anyone can make money online, you just need to follow the right program.
The training course I'm recommending?
It's completely free to start so put your wallet away! I know whatever your online income goals are, if you really want to make them happen then you will!
Leave Us Your Wealth Machines Review
Were you considering buying Wealth Machines?
Now you've read this review in full, do you still think it's worth paying out for?
Already signed up to Wealth Machines?
Let us know how you got on in the comments below!
Simon Crowe is on a mission to help as many people as possible kiss their bosses goodbye.
Take the free Commission Academy course to discover how to smash your online income goals and make your dream business a reality.