Art Flair promises to "fill your pockets with up to $4,921.45 per day" with his new income system, Wealth Machines. He even says it's the world's easiest, most hassle-free way to generate commission online. This review will reveal how shady his claims are.
Today, you'll know what Wealth Machines really is, how much it costs, if it really creates "automatic increasing profits regardless of your skill your ability", and if it's a scam. I'll then cap this review off with a time-tested alternative that delivers what Wealth Machines can't
Wealth Machines Review At A Glance
The done-for-you funnels pitch PLR products which are the kind of products people will less likely to be interested in, so you won't land a sale easily with this.
What Is Wealth Machines?
Wealth Machines is another WarriorPlus income system peddles by Art Flair and Pallab Ghosal. With this product, they also worked with Ram Rawat and Will Allen and launched it just last September 18, 2020.
What makes me wary is that Art has a reputation for releasing 2 to 3 products each month. His being a serial launcher is an indirect way of saying his products are not good enough to generate lots of profit, so he needs to keep on making new ones to earn from.
2 of his other products are:
I hate to break it to you but Onyxx is highly likely to be a scam, so I don't have high hopes for Wealth Machines either.
On the sales page, Art claims you can make money with Wealth Machines in just 2 simple clicks and is "100% guaranteed for everyone". (Guarantees what by the way?)
If that's not enough to win you over, he'll go and say
Because there will be no need for domains, hosting, and websites, if you can tie your shoes, you can make sales with this
There's virtually no work required
Works no matter how good or bad the economy is
Fast, reliable, and so much fun
Here's the kicker:
He'll also say he won't take money from you but then sells you the system plus lumbers more from you with the upsells.
Essentially, Wealth Machines provides you with 20 done-for-you funnels complete with either a PLR eBook or video as the product. In Art's words, these products are "insanely popular and virtually guarantees you the easiest profits you've ever made.
I'll leave it at that for now, but after I tell you about the price, I'll start debunking the over-ambitious income claims Art made.
How Much Does Wealth Machine Cost?
Wealth Machines' front-end system costs $12.45. To get the full benefits of the system, you'll also be told to purchase 5 upsells for $195 all in all.
Honestly though, what you get in the front-end is very basic, it won't get you to earn $1,000s per day. I'll show you the inside look in a bit, so you'll get my point better. For now, I'm going to tell you a bit about the upsells.
Upsell 1: 10 More Wealth Machines ($47)
You'll be given 10 more funnels which basically means 10 more PLR products so there's really not much value to it.
Upsell 2: Wealth Machines Pro ($47)
Apparently, there's a Pro version, the one Art and his Team Black Belt uses to make $73,602 in less than a month. With this, you get the done-for-you tools and traffic strategies they use.
Emphasis on "use", meaning it's something they've exhausted before. I won't have much problem with the tools. (if they actually explained better what these are and how it can help you) My concern is more about traffic strategies.
Since they've exhausted it before, the people on that traffic will be highly likely to be tired from sales pitches here and there making your chances to get them interested next to none. When they're not interested, you won't get visitors. No visitors, no conversion.
Upsell 3: Auto-Blogging Software ($47)
Creating compelling content is a very effective way of increasing targeted traffic for your product. This auto-blogging software is posed to be a "powerful tool turning any blog into an automatic and autopilot cash machine".
Within seconds, this software is said to generate affiliate commissions.
FAIRY TALE.
The truth is, Google's algorithm is competitive and smart enough to detect these kinds of content and I tell you; it won't get ranked making no benefit for your product.
Your content won't get noticed by people and so nobody will get interested in your funnel.
And for just $47 for this software, I quite sure you won't get decent enough content. You see, back in 2010 a fairly good auto-blogging software costs around $2,000. That's 10 years ago, I'm sure these types are worth more nowadays.
A $47 auto-blogging software will get you nothing but rubbish.
Upsell 4: Done-For-You ($27)
For this upsell, you're supposed to get:
DFY CPA Campaigns
​DFY AutomatedCampaigns
DFY Affiliate Campaigns
​DFY Email Campaigns
DFY Social Media Promos
​DFY Engagement Posts
DFY Squeeze Pages
DFY Stock Music
DFY Images
Sounds like a good deal for less than $30 you might say. Think again. I can go over each of these features but you might end up sleeping.
So just to drive a point, you can get the DFY stock music and images for free so you don't have to pay $27 for it. As for all of the campaigns, you can easily Google them to get the same ones this upsell provides.
Plus think about it, if you won't be the single taker of this upsell, a lot of other people will get the same DFY campaigns you have so there's no chance for you to stand out and be noticed by buyers. (Google doesn't rank duplicates)
Upsell 5: Copywriting Training ($27)
So far, I think this upsell is the most decent out of the 5. I'm not saying it's good enough, just that there is some value to what you can get with this.
You'll get to learn how to create email sales pitches, product descriptions, blog posts, and ads. (Just skip the hype of this claiming to tear open customer's wallets)
Now, I suggest you don't buy this early on, if you see the system works, you can always get access to these in the members' area. If you do otherwise, you can risk throwing money off the air with the wind blowing it far away from you.
Inside Wealth Machines' Members' Area
On the sales page, Art promises 2 simple clicks so you'll start making an income:
1. Click the Wealth Machines access link
2. Click the Wealth Machines activation link
But as you'll see, making money from this involves more than just 2 clicks, if ever you really do make some.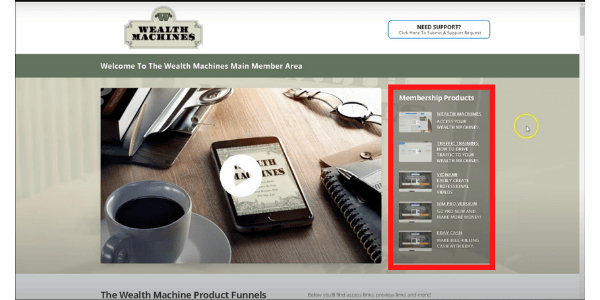 As you can see, on the right side, you'll see a list of traffic video training. The kicker is:
Some videos are from 3 years ago!
Traffic strategies is a very dynamic element, what was profitable a year ago won't be the same today. Basically what I's saying is, the video training you'll get is outdated and may have little to no help for you.
Another thing, other videos are not even theirs!
The 11-minute video for paid ads using Bing is from Ubersuggest of Neil Patel and a 9-minute Facebook traffic video can be found off Youtube.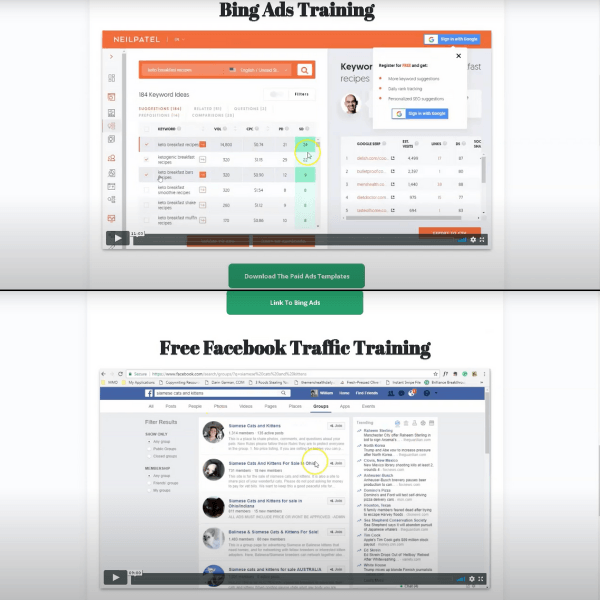 Now, if you scroll down on the members' area, you'll the list of 20 done-for-you funnels like these: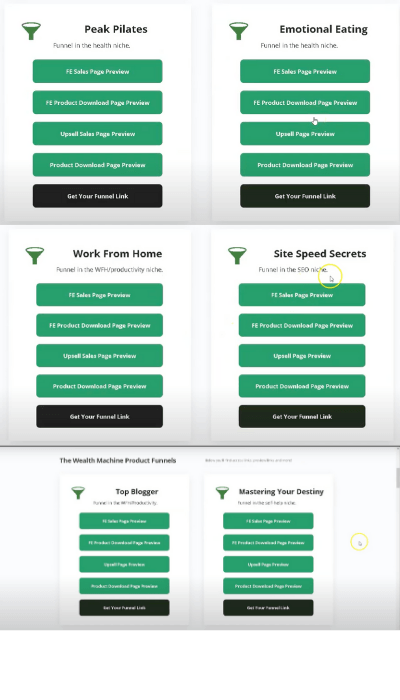 Here's the interesting part:
I'll go ahead and check on the health niche funnel.
This funnel sells the Mastering Your Destiny eBook. Apparently, if you just Google it, you can get the eBook for free for simply becoming a member in one PLR site.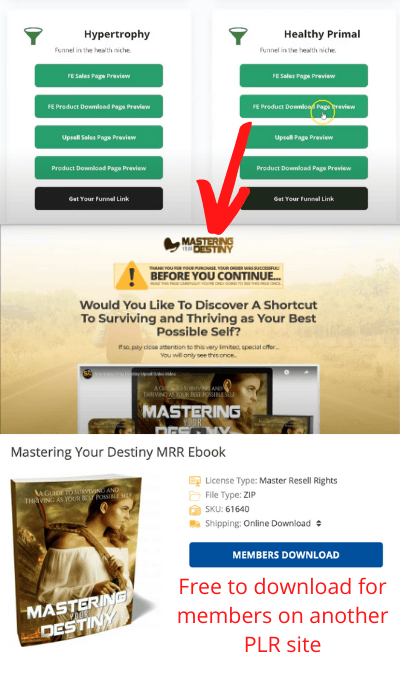 The bottom line, there is no value in the products you are pitching. People can even find it on other sites so there's tons of competition for you!
The funny thing is, you won't easily be allowed to use the funnel in Wealth Machines, you still have to get approved for it. It's like saying making money with this is similar to moving a mountain!
Another problem is if you do get approved and other members get approves, you're in for a lot of competition because you're basically using the same cookie-cutter funnels to sell the same useless products!
Now they say you don't have to pay for a domain, hosting, and website because they'll take care of it for you. Seems great in hindsight but if you really think about it, it just means whenever they decide to shut down, you'll be left with no business and a wasted investment.
Here's one of the most hilarious parts with this system:
Team Black Belt says they can't promise you'll make money with the system, but they can guarantee you'll be satisfied with the secret page system.

How will a money-making system be satisfying when you're not earning from it?!
Take some logic class, I suggest!
So you see, there's an itty-bitty value in the training. Wealth Machines won't be able to deliver the $1,000 of income a day.
Here's a video to show you more of why Wealth Machines is worth diddly squat.
What I Don't Like About Wealth Machines
Makes unrealistic claims
Disclaimer disproves every hype
Products are not competitive to make sales
Traffic training helps you little
You don't really get your own business so you can risk losing investment when it shuts down
Is Wealth Machines A Scam?
No, Wealth Machines is not a scam. BUT it's a low-quality income system using PLR products so you're highly unlikely to make money with this. So I won't recommend this to you.
Where Do You Go From Here?
Ditch the quick fixes and learn how to make money online the right way with affiliate marketing.
Unlike Wealth Machines, Wealthy Affiliate offers to teach you how you can make money from scratch. Not only that, a community of marketers will help you any time you need it.
With Wealthy Affiliate, you'll be taught what products are worth promoting so you have better control of how profitable your business will become.
Plus it will really be YOUR business so you'll have total control over it eliminating the anxiety of worrying it might get shut down one day.
If you want to make sure you're making the right investment, you can even take the 1st 10 lessons for free!
I can tell you all about Wealthy Affiliate here, but there's a better article to do it for you. Head on to this in-depth Wealthy Affiliate review to get you started in reaching your online income goals.
What's Your Take?
Did you think Wealth Machines' sales video was full of baloney? Were you shocked to find out you're given outdated training and rubbish products to sell?
Tell us what you think, the comments section is ready for you.
Hi I'm IG, nope not a kin of the social media; I've been IG since '93. I'm 1 part writer, 2 parts reader and 3 parts puzzle nerd.