In today's review of Commission Hotshot, we're going behind Art Flair's claims of having the "real solution to your traffic problem". He even says it's a game-changer and you can now say goodbye to paid ads.
Is Commission Hotshot really the "last free traffic and commission formula you'll ever need"?
Each of the claims the sales page makes only looks good on paper, but in this unbiased review, I'm going over:
What Commission Hotshot really is
How much it costs
How it works
The pros and cons
If it's a scam
By the end of this review, you'll be wise enough to know if you should buy it or not. I'll then wrap everything up with a better alternative worth trying.
Commission Hotshot Review At A Glance
About: Commission Hotshot is an online training put together by Art Flair promoting creating Youtube reviews to get traffic.
Price: The Lite Version costs $1 while the Pro Version, complete with access to all the features is worth $4.95. There are also 6 upsells totaling to $482.
Pros: The training has some valuable points on search engine optimization to generate traffic.
Cons: The traffic method taught doesn't live up to the "$789.80 in just 19 minutes" claim.
Verdict: Commission Hotshot has a handful of helpful content, but the methods taught in the training is only good on paper. 

What Is Commission Hotshot?
Commission Hotshot is a digital traffic training peddled by the Team Black Belt, Art Flair, Ram Rawat, and Pallab Ghosal. They launched it early this year, February 21, 2020. This training is supposed to help you make as much as $789.80 within 19-minutes without using paid ads, websites, email lists, chatbots, funnels, and complicated software.
On the sales page, Art says Commission Hotshot gets you "100% free targeted traffic" minus all the hard work. Hyped? Of course.
He also says you won't have to worry about tracking and split testing plus you'll generate sales even when you're asleep. Wealthy Affiliate also teaches you about making money even when you're away from your computer BUT in a very realistic kind of way.
He's building his point on 2 things:
1. Paid traffic costs $0.50-$1 per click but can't still guarantee conversions.
2. Google and Facebook ad guidelines are getting stricter risking you to get banned.
So, he offers you a solution where you won't need to use Google and Facebook ads to generate traffic. He says his formula guarantees you 30% conversions from the free targeted traffic he'll teach you about.
With Commission Hotshot, he'll share his $789 case-study on how to get the free traffic.
The funny thing is:
Just yesterday I did a review on The Secret Page, another product of theirs and the case study didn't really prove any income claim made on the sales page.
I'm not so optimistic about Commission Hotshot because of it and also because his sales page is injected with the all-too-common sob story of how he was next to broke and this formula changes everything for him. But I'll give him a chance, so you'll know all you need before you take out your wallet for this.
The Price To Get Commission Hotshot
Recently, Commission Hotshot cut back the prices on the 2 versions. It used to be around $17-$19 but now the Lite Version costs just $1 and the Pro Version $4.95. Unlike the former, the Pro Version includes a Product Description Creator Software, Youtube Rank Analyzer Software, Bonus Case Study, and a Commercial License. You also have to spend a whopping $482 for upsells.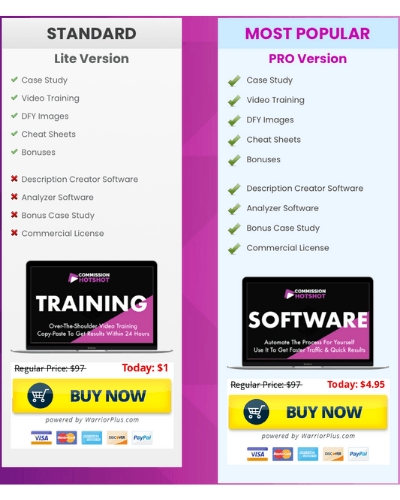 Here's a bit of idea on each upsell.
Upsell 1: Real Like Case Studies ($27)
This upsell gets you 8 more case studies, advanced training, and a bonus training. As for what each training includes they never really explained it.
Upsell 2: Done-For-You Package ($37)
The Secret Page, which I mentioned earlier also has this upsell that includes the following:
DFY Affiliate Campaigns
DFY CPA Campaigns
DFY Email Campaigns
DFY Social Media Promos
DFY Engagement Posts
DFY Squeeze Pages
DFY Stock Music and Images
For the stock music and images, you can get these on stock websites for free so you don't really have to spend on it and the campaigns will be the same ones other members get which will make it hard for you to stand out and get ranked because Google and Youtube algorithms do not rank duplicates.
Another concern I have because this upsell is offered with their other products, all other product takers from another offer have the same campaigns you will have. This means a wider scope of competition.
And what will you need email campaigns and social media promos for when the method he teaches in Commission Hotshot is doing Youtube reviews?
He certainly won't cover those things in Commission Hotshot so you won't really be able to utilize it.
Upsell 3: Reseller Pack ($197)
This upsell allows you to sell Commission Hotshot and keep 100% profit. Until you prove this really generates the traffic and commission promised on the sales page, no one will be interested in buying this from you.
Upsell 4: 45+ Awarded Products ($147)
This upsell gives you access to all of Team Black Belt's products released from 2015 to date. This supposedly gets you the chance to have more affiliate products to promote but really, this is just a ruse to get you to market their products.
The worst thing is, you have to pay for doing the work for them! (Trying to shove your logic under the rug)
Upsell 5: 6-Figure Training ($47)
The same modules you get with their other products.
Instagram Traffic Module
Google Adwords Module
Product Creation Module
But really, these modules can't guarantee 6-figures for you.
Upsell 6: 3 Traffic Software ($27)
This upsell gets you:
Rapid Lead Magnets
Keyword Research Ninja
Twitter Marketing Bot
They didn't say you'll get training on how to use these, so I guess you'll be on your own.
How Commission Hotshot Works
Essentially, Commission Hotshot is a cloud-based training on how you can generate targeted traffic using Youtube reviews as video content. Art even prides it as an "over-the-shoulder training".
However, generating targeted traffic is not as fast as how Art said it to be. It will take more time and work than what he claims. So, you can't really expect the 19-minute result.
As the sales page puts it, you can generate traffic and conversion in just 3 steps:
1. Pick the right offer to promote.
2. Add the free traffic method he'll teach you about.
3. Enjoy the passive profits.
BUT once I take you to the members' area, you'll realize this won't be the case.
Commission Hotshot Members' Area
Inside the members' area, you'll immediately see a 1:45 minute introduction video.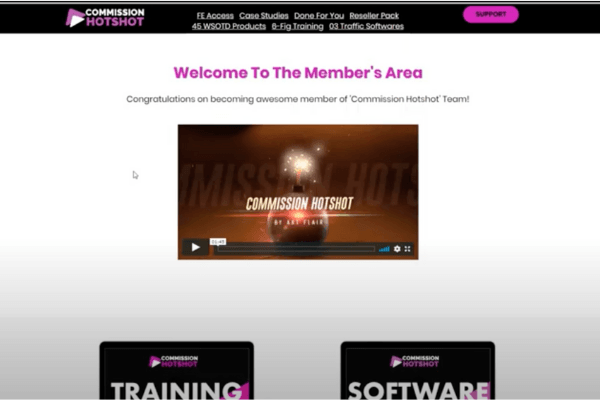 The video just after it is the 6:57 case study promoting a product called Easy Arbitrage. This digital product was launched in December 2019 (the same month and year he made his review on it), 2 months prior to Commission Hotshot's launch which basically implies this can't prove Commission Hotshot can take credit for the stats of this video.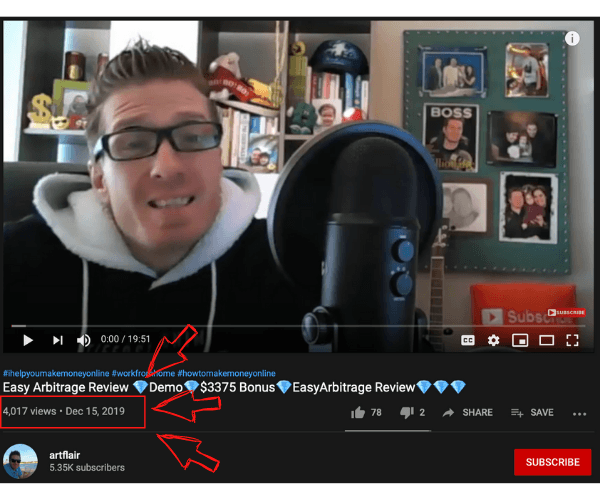 Here you'll have a better picture about his methods:
1. Find a good product to promote.
2. Analyze and research about the product.
3. Make a review video about it.
4. Optimize it for Youtube and Google.
He'll also tell you about creating your own blog and posting the review videos on it to rank better in search engines.
The 8:58 minute Module 2 is where he'll teach you more about finding the right offer. He'll basically be talking about affiliate marketing here which I have no issue about.
The kicker is:
He'll then recommend, as a Commission Hotshot member, to take advantage of the pre-approval he gives to promote all his products. This is his way of saying, "market my products for me".
Module 3 is a bit longer taking 13:05 to finish. Basically, he'll tell you about making your own website which is completely different from the sales page claim of "you won't be needing a website".
Module 4 will be about using free tools to make campaigns while Module 5 is where he'll teach you to create reviews.
Module 6 will delve a bit more on the review video content, he'll talk about:
How to get a high click-through rate
Strategies on how to retain viewers
How long the video should take
What I don't like about this is sometimes it can go overboard and sound too click-batey and in the long run destroy your credibility when the viewers realize the claims are far off from what they can actually get.
Module 7 will be on search engine on-optimization like how you structure title, description, tags, and more. Module 8 will shift to what you'll need to optimize outside the website like creating backlinks, getting comments, and likes.
This too can get a little shady because it indirectly promotes fake likes and comments to get rankings. Plus, backlinking can also be risky when done on completely unrelated websites.
Module 9 will then be on additional traffic. It tells you to use social media because IF your post goes viral, you'll have millions of potential visitors. Again, emphasis on the IF because this is completely circumstantial. Poor social media following = zero to none traffic.
Module 10 will be on scaling it up and followed by a conclusion video.
By now you'll be completely convinced it will take more than 19 minutes to get traffic especially if your Youtube channel is new, it can take months to get ranked.
Commission Hotshot won't be upfront with this, but Wealthy Affiliate will.
Aside from the training videos, you'll also get a Youtube Optimizer that optimizes product descriptions and a Youtube Rank Analyzer to pull up data such as likes, comments, and views.
You can always get this for free with Tube Buddy or VidIQ.
For most of the videos, I can say you'll learn something valuable in them. I just don't like how it promotes click-batey titles and unauthentic comments and likes just to get ranks.
What I Like About Commission Hotshot
It will teach you some points on affiliate marketing
It will teach you how to create a website and what its benefit is
It will teach you about search engine optimization which you can use for websites and not just for Youtube videos
What I Don't Like About Commission Hotshot
Expensive upsells
Some methods taught are quite dodgy
The fast result claim is unfounded
The disclaimer (which is barely readable attests there's no guarantee you'll make money with this)

Is Commission Hotshot A Scam?
No, Commission Hotshot is not a scam. You'll get some useful points on affiliate marketing and SEO in the training. But dodgy strategies on the titles, comments, and likes don't sit with me well because it can either ruin your credibility in the long run or can get your Youtube channel banned.
Where Do You Go From Here?
The hyped-up claims of Commission Hotshot will leave you disappointed. Yes, you'll get some valuable points in it, but it won't really work if you're just starting from scratch because it's not comprehensive enough.
If you want training that provides not just the methods in making money online but also the principles that come with it, Wealthy Affiliate is a way better choice. You learn how to build your affiliate marketing business from scratch as well as how you can maintain, and scale it.
The great thing is, you'll also have access to like-minded affiliates ready to help and guide you.
If you're wary about the investment you'll need, the 1st 10 free lessons are perfect for you.
If you want to learn more about Wealthy Affiliate, head on to this in-depth Wealthy Affiliate review to know why it's a better training program.
What's Can You Say?
We're you satisfied with Commission Hotshot's modules? Did you feel something was lacking? Tells us your thoughts, the comments section is ready for it.
Simon Crowe is on a mission to help as many people as possible kiss their bosses goodbye.
Take the free Commission Academy course to discover how to smash your online income goals and make your dream business a reality.