I get suspicious whenever I come across a make money online opportunity like Home Cash Club claiming to give you an easy way to make $500 a day, which is why I decided to dig a little deeper and write this review to help you find out if Home Cash Club is a scam or legit.
I signed up myself and tried out the training so I can tell you exactly what this program has to offer.
So let's dive in.
My Home Cash Club Review At A Glance
About: Greg Thomas' My Home Cash Club promises to give you full training on how to set up a $500 a day dropshipping business.
Price: $47 plus upsells.
Pros: Nothing I can think of. 
Cons: Scarcity tactics, unknown owner and similar to other get-rich-quick scams.
Verdict: All you get is a lousy, low-quality eBook on affiliate marketing. I can't for the life of me see how anyone following this can make money. Definitely a scam. 

What Is My Home Cash Club?
My Home Cash Club is marketed as the ultimate dropshipping eBook aimed at helping you make $500 per day online.
The sales video introduces 'Greg Thomas' as its owner. This is the same fake name used for the Your New At Home Career scam. Whoever is behind doesn't want you to know who he really is.
Another bad sign is there are a ton of other scams out there all promising the same $500 a day amount for 30 minutes work a day. Here's a few to prove my point:
The Drawbacks Of My Home Cash Club
In the video, Greg Thomas tells a sorry tale of breaking up with his fiancée and ending up penniless, until of course, My Home Cash Club turned things around for him. 
He'll basically tell you everything to tickle your ears like how much he makes and how easy it is. But he never explains what My Home Cash Club really is and how you can make money from it. 
Another thing is his sales video includes testimonials from supposed members bragging about how much money they've made. You guessed it, they're not real members at all, but actors hired from Fiverr: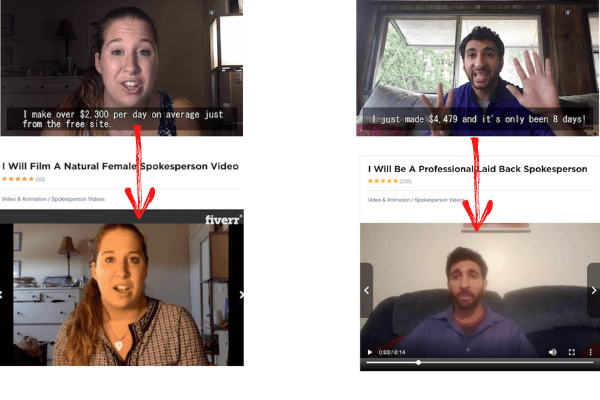 Think about it:
Would a legit and work from home opportunity need to resort to hoodwinking you with fake testimonials? I don't think so!  
To make things worse, he employs the all too predictable scarcity tactic of saying there are only limited slots left. Check this out:
On the right side, he says there are only 5 slots left, but in the bottom, it says 8! He can't even get the two things to connect. Not just that, if you refresh the page an hour, day, or week later it will still show the same thing.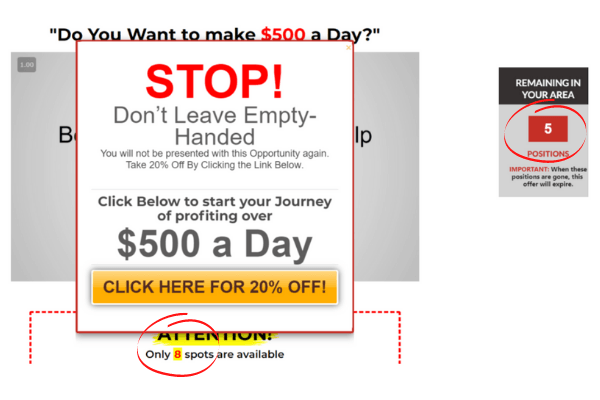 The whole thing falls far short of delivering what you're promised on the sales page; this includes the disappointing dropshipping eBook. (We'll talk more about the so-called 'training' in a bit.)
On the whole, My Home Cash Club uses lies, gimmicks and deception to try trick you into forking out your hard-earned cash. 
How Much Is My Home Cash Club?
Getting to the members' area will cost you $47. You'll have to click your way past several higher-priced upsells first though. 
Which brings up another red flag: the entire My Home Cash Club website isn't secure.
Even though they call this page a "Secure Payment Form" and tell you this is security and privacy verified, it's anything but safe.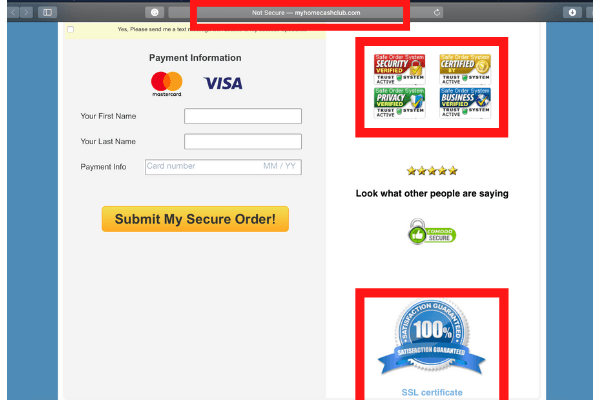 Here's why: unless you see a padlock next to the website name in your browser, the page isn't secure, meaning any information like credit card numbers and addresses could easily be stolen by hackers.
Want my advice? Skip the signup process and instead read this review to the end. 
My Home Cash Club's 'Training' Is A Joke
Get to the members' area and instead of teaching dropshipping, you're lumbered with a generic and outdated eBook on affiliate marketing. The information in these is pretty useless and nothing you can't find yourself online for free.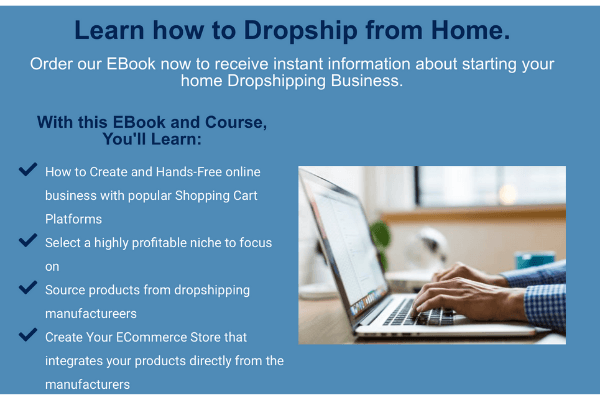 Basically, you're paying $47 expecting to get one thing and getting another. Here's a video talking more about the disconnect:
Aside from the outdated eBooks, you'll also get access to archaic how-to videos about affiliate networks like ClickBank, ClickBetter, and JVZoo.
There are also videos on WordPress training, affiliate training (from 2007), Facebook video guides from 2010, eBay selling guides from 2009 which too are outdated. Basically, they're all useless. 
There's also a section inside the training area promising 3 secret steps to wealth: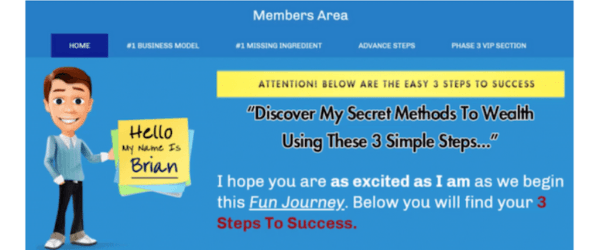 Phase 1 is a general guide on affiliate networks and traffic.
Phase 2 is entitled "Get Your Money Making Site" but you're in for yet another letdown because it doesn't talk about how you can make money from your own website, instead, it links you to a web-hosting service called MaxBounty. 
Another letdown, the link won't direct to MaxBounty but to a spammy survey site. 
You'll also see a recommendation for a traffic provider called Max Visits. It promises to get you 10,000 visitors for just $10. This is also useless because normally for $10, a traffic provider can only give you more or less 25 visitors. 
How can Max Visits promise 10,000 visitors? Because they'll just send bots to your website! It's just rubbish so don't waste your money. 
Another rubbish recommendation is Click.org; a link tracking service used to split test links. Unfortunately, it doesn't explain why you need split tests. It also does cloaking or hiding them from social media sites. Sites like Facebook consider it a shady practice so you could quickly find yourself banned for using it.
There are two ways to categorize what you can find inside the member's area: outdated or complete rubbish. 
Affiliate Marketing And Dropshipping
Just to be clear, both dropshipping and affiliate marketing are legit ways to build an online business.
You can make money with dropshipping by being a middleman between a merchant and a buyer. On the other hand, you can earn with affiliate marketing by promoting other people's products and earning commissions.
Your problem is not with affiliate marketing, but with the low-quality material you get for your money. 
My Home Cash Club's 8 Red Flags
Fake Creator
Fake Testimonials
Overly hyped up income claims they fail to deliver on
A ton of useless upsells
Website is not secure
Misleading eBooks
Outdated videos
Rubbish recommendations
Is My Home Cash Club A Scam?
Yes, beyond all doubt My Home Cash Club is a scam. Having eBooks doesn't make them a bit legit. It even digs the hole deeper for them. They're all outdated and rubbish there's no real value in them whatsoever.
Top it off with questionable practices like hiding the true identity of the owner, using fake testimonials and scarcity tactics and you don't want to waste $47 on it.
I don't even suggest trying it out and get a refund afterwards because unlike other programs, My Home Cash Club is not sold through ClickBank and Clickbetter so your chances of actually getting a refund or next to none.
A Better Money Making Alternative
My Home Cash Club will leave you with your pockets empty. If you expected an automated online income stream after signing up, sorry but that's just not what you're getting here.
Don't get discouraged though. You really can make a full-time online, you just need to follow the right training. 
Wealthy Affiliate will give you the cutting-edge training, state-of-the-art tools and community support you need to build a thriving online business of your very own.
Click here to read my SUPER in-depth Wealthy Affiliate and discover how they'll make your online income goals a reality.
What's Your Take?
Sick and tired of getting ripped off by My Home Cash Club or similar scams? Were you surprised by how little training there was? Have you ever tried affiliate marketing? We'd love to hear from you in the comments section below. 
Simon Crowe is the founder and editor of The Make Money Online Blog on a mission to help as many people as possible kiss their bosses goodbye.
Watch this video here to discover how to smash your online income goals and make your dream business a reality.