Looking for a REAL My Income Club review?
Most reviews you'll read online either don't tell you the whole truth or are just downright dishonest.
This is NOT one of those.
So if you want to know the real deal with MyIncomeClub.com – keep reading!
Who wouldn't want $500/daily commissions on autopilot? We all dream of achieving success and the financial independence to take control of our lives and My Income Club says they've got what you need to make it happen.
But if you've got a sneaking suspicion not all is as it seems, I'm right there with you.
From the hyped-up promises of fast and easy cash at the click of a mouse to the cheesy photos of sports cars and holiday villas, my first impression is this is a scam.
So in this review, I'm going to take you beyond the sales page to show you exactly what My Income Club is, how it works and whether it's a legit income earner or a scam not worth getting involved with.
I'm Not Affiliated With My Income Club In Any Way.
I'm free to give you my honest opinion based on 5 years of earning a full-time income online and reviewing 600+ programs and courses, to help you skip the scams and discover real money-making strategies.
My Income Club Review At A Glance
About: Alfredo Delgado's My Income Club is supposedly a free and fully automated system you can use to generate $500 a day online.
Price: Advertised as free but cost of joining totals $5,525.95.
Pros: It's technically possible to make money but only by recruiting others.
Cons: Training is focused on signing you up for various subscription-based programs.
Verdict: My Income Club is an expensive pyramid scheme and most definitely a scam.

What Is My Income Club?
According to the sales video, Alfredo Delgado's My Income Club is a 100% free and fully automated system you can use to make $500 a day, even if you've never made a penny online before.
You'll see members in the video claiming to have made more than $22,000 and even $30,000 in a single month.
But as I'm about to show you, what My Income Club says it is and what it actually is are two entirely different things…
3 Major My Income Club Claims Debunked:
1. My Income Club Is Anything BUT Free
Technically yes, it's free to create an account but what Alfredo fails to tell you is it's gonna cost you a bomb to implement the steps he lays out once you've joined.
Make no mistake about it:
My Income Club is going to require a hefty upfront investment before you can even be in with a chance of making a penny of it back.
2. There's Nothing Automatic About This
Another claim you'll hear is that this is a passive way to make money on autopilot, and yet to make this work you are going to have to put in some serious effort and risk on your part on a consistent basis.
3. 99.88% Of People Typically Lose Money With These Kinds Of "Done-For-You" Systems
Unfortunately we have no figures to prove how much the average member makes.
The website's earnings disclaimer states that because the site just recently launched, they don't yet have enough information to be able to give us any reliable income disclosures.
What I do know though is that because of how My Income Club is structured, far from being a foolproof, beginner-friendly way to get started online like they claim, statistics show that this is one of the riskiest routes to take.
How My Income Club System Really Works
Fill out the signup form, log in to the My Income Club members area and it won't take long to figure out you've just stepped inside an affiliate marketing sales funnel.
The whole system is designed to get you to buy various services and subscriptions so you can, in return, promote the same system to others and earn commissions when they buy the same products you just bought.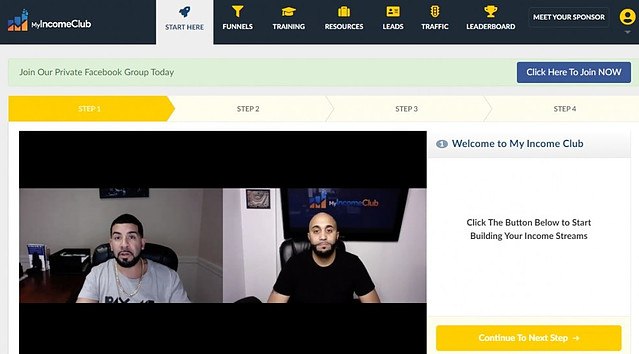 Click the Start Here menu tab and you'll be taken through the 4 steps of the system.
Here's a quick run-through of each of the steps with a full breakdown of the costs:
Step 1: Welcome
The 2-minute welcome video from creator Alfredo Delgado and his business partner Diosnedy Pelegrin gives you a quick overview of what's to come and invites you to join the My Income Club Facebook group.
Step 2: Join MyEcon (U.S. Residents Only)
Continue onto Step 2 and you're told to sign up to as an associate for MyEcon (short for My Economy), a network marketing/MLM business where you make money by promoting the MyEcon membership.
They sell personal finance products like identity theft protection and credit score repair services. For more details check out this MyEcon review.
While a legit company with real products, MLM's aren't for everyone.
Costs: $19.95 start up fee and a monthly $34.95 subscription.
Step 3: Join Direct Mail Pro
Like Mailbox Profits, Get Weekly Paychecks and Big Profit System, Direct Mail Pro is a pyramid scheme where you buy in at increasingly more expensive membership levels so you can get paid to recruit others.
The reason pyramid schemes are illegal in most countries is because they are just not sustainable in the long-term.
While this model may work for the few at the top, most people (87.5%) end up losing out, not only not making any money, but losing everything they put in.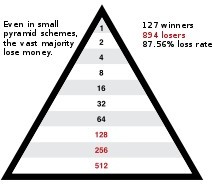 That means nearly 9 out of 10 people who follow the My Income Club steps and join Direct Mail Pro end up worse off.
This is a nightmare scenario for anyone, especially when you consider the top membership comes with a $5,000 price tag.
Costs: Direct Mail Pro has 5 membership levels that'll set you back anywhere from $250 to a whopping $5,000.
Kickstarter Level – $250
Amateur Level – $500
Elite Level – $1,000
Pro Level – $2,500
VIP Level – $5,000
Step 4: Join List Leverage
The fourth and final step in the My Income Club system is to sign up to List Leverage – a website supposed to help you build an email marketing list and generate traffic.
Unfortunately, any traffic you may get from will be extremely low-quality. You might get some clicks but you're almost guaranteed not to make any sales.
List Leverage is almost identical to Empower Network, a pyramid scheme that was shut down by the FTC a couple of years back.
Costs: Members will require $47/month recurring fee or a one-time fee of $497.
Making money online isn't complicated…
This video will show you exactly how to get started. Tap to watch now »
Can You Make Money With My Income Club?
The short answer is yes, it is possible to make money following My Income Club's training steps, but the only way to make that happen is by recruiting other people into the system you yourself just signed up to.
In the step 1 video, Alfredo Delgado says it like this:
"Here's the deal. Everyone you show this system to is going to go through the exact same process you're going through right now, watch this same video you're watching right now and go through the steps you're about to go through."
People pay out large sums of money in the hope they can promote it to others and get their money back. There's nothing of real value or substance here to speak of. (I'll talk about the so-called training here in a sec).
In a nutshell:
Not only is My Income Club recommending you sign up to various pyramid schemes, the system itself is a pyramid scheme where the vast majority of people will lose out.
If you're looking for a more sustainable way to earn commissions online selling real products and services then check out my free affiliate marketing guide for beginners where I outline exactly what I do to generate more than $7,000 per month online.
The Real Problem Is Gonna Be Getting Traffic
No matter how good the videos may be at convincing people to sign up, the only way to make a dime with My Income Club is if you can send consistent streams of high quality, targeted traffic to their sales page.
My Income Club has a 10-minute training video talking about uploading nice looking cover photos for Facebook and YouTube, but the main way is by running expensive email marketing campaigns where 90%+ of your emails will only get as far as people's spam inboxes.
Another thing to take into account is the fact every single My Income Club member is going to be renting the same spammer's email lists and sending identical emails out to people already bombarded with spam on a daily basis. You're going to be up against a lot of tough competition in an overly-saturated market.
My favourite way to generate traffic to my income-generating websites is the free way – by learning how to get ranked in Google to ensure I get 1,000's of page views each and every month.
It takes time and work to make it happen but this method is far superior in my opinion as it requires no investment upfront and once you start getting Google traffic, you can grow it consistently over time.
Training And Support Is Severely Lacking
Will you find any training videos inside the My Income Club members' area?
Yes.
Is the training value-packed with helpful and useful content?
No.
Is the purpose of the training to help you build a profitable online business and be successful?
No.
The few short videos are all focused around squeezing more money out of you.
For example, click the Build A List training tab and you'll find 5 videos all telling you to sign up to AWeber (see my AWeber review):
Video 1: Purchase AWeber
Video 2: Create A List In AWeber
Video 3: AWeber Create Signup Form
Video 4: AWeber Single/Double Opt In
Video 5: AWeber Broadcast Follow Up
Signing up for AWeber is going to set you back a further $19/month or $194/year.
While I personally use AWeber to keep in touch with my subscribers, the only purpose of the training is to get you to pay out even more money so the person who referred you can earn a big fat commission cheque each month.
Is My Income Club A Scam?
My Income Club is not a scam per se but it IS a pyramid scheme as the only money-making method here is recruiting other people into the program.
I can't, in all honesty, and good conscience, put my reputation on the line and recommend this product. The main reason being, this is a lousy long-term strategy.
Put your hopes in this basket and you're building a financial future on shaky ground.
Too often I see these "done-for-you" affiliate sales funnels pop up before quickly fizzling out and when My Income Club inevitably disappears, the time and money you invested into this will be wasted and you'll be back to square one.
The best advice I can give you is don't rely on someone else to give you a "business-in-a-box" and instead, go out there and build an online business you have complete control over.
Where Do You Go From Here?
I know you'd love for My Income Club to be the real deal, I would too, but it's not. Don't worry though because I've got you covered.
Earning a full-time income online has been truly life-changing for me and what I've learned after 5 years of being an online entrepreneur is earning commissions from 100% free traffic is the way to go.
Now I'm going to give you a free step by step beginner's course to making money with affiliate marketing and you can get it by clicking HERE.
In it, you'll discover the exact step-by-step formula I follow to generate more than $7,000 per month and how you can get started too.
Simon Crowe is on a mission to help as many people as possible kiss their bosses goodbye.
Take the free Commission Academy course to discover how to smash your online income goals and make your dream business a reality.