I came across a website today called ViralPoints.co where you can sign up as a social media influencer to earn $500 a day by referring your family and friends to the site. Is it true? That's what this Viral Points review is all about.
They say they can pay you so generously because they work with some of the biggest brands and sponsors who pay them advertising fees for helping to send traffic their way.
This all sounds ideal if it's true, but is Viral Points a scam or is it really a legit money-making platform?
Well, you've come to the right place because in this Viral Points review I'm going to tell you everything you need know so you can decide whether this is the best route for you to take going forward.
Here's what I found out:
Viral Points Review At A Glance
About: We're led to believe Viral Points is a site that can scale social media following.
Price: Free to join.
Pros: Nothing.
Cons: Parent company isn't real, part of a huge scam network, fake payment proof.
Verdict: Viral Points is a scam. The whole website is based on lies and you won't be able to cash out at the end. You'll just get tons of excuses.

What We'll Cover In This Post:
What Is Viral Points?
Owned by Zindex, Viral Points claims to be a site founded in 2015 that allows anyone with a Facebook, Instagram or Twitter account to turn their social media following into $1,000's.
They say they paid $68 million to nearly a quarter of a million members to date and show us countless payment proof images from dozens of happy and satisfied members all earning extra money online since they signed up.
They'll pay $2 per person who clicks on your referral link and $10 for every person who joins. Plus they promise to pay a $25 sign up bonus just to sweeten the deal.
They say there's no limit to the amount of money you can earn, that it all comes down to how hard you're willing to work.
Unfortunately, as you're about to see, this is all smoke and mirrors and nothing you see on the Viral Points website can be trusted.
5 Viral Points Claims Debunked
1. Parent Company "Zindex" Doesn't Exist
We're told on the About Us page that Viral Points is owned by a company called Zindex who have been creating online marketing solutions since 2005, except search the web and you'll find nothing.
This is because Zindex doesn't exist and this isn't a legitimate site. Why would they make something like this up? Because they want to fool you into thinking they're a real and reputable site you can trust.
The truth is you can only trust Viral Points to take your personal information, waste your time and turn you into a Facebook spammer.
2. Account Manager's Info Shows Up Nothing
Create your free account and inside the members' area you're told you have been assigned a personal account manager who you can contact at any time via Skype for fast support.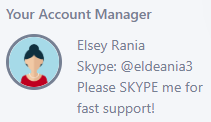 Guess what?
This Skype name doesn't exist and you're given no other way of contacting them.
This means they purposefully set out to deceive you into thinking you have a personal account manager but when the time comes to be paid you'll find you've been left high and dry.
3. Viral Points Is A Part Of A Huge Scam Network
Be in no doubt, Viral Points is just the latest in a very long line of scams littering the web and I'm sure it won't be the last.
So far on The Make Money Online Blog we've exposed at least a dozen other sites that are exact clones of ViralPay.co, except for the titles and logos. Here are our other reviews exposing some of the other scams in this scammer's network:
Each and every time you get the same empty promises of $500/day. Same web layout, same fake parent company, same anonymous owner, same scam.
4. Fake Payment Proof
Click on the Payment Proofs tab and you're shown multiple screenshots supposedly showing evidence that Viral Points is legit and they do payout…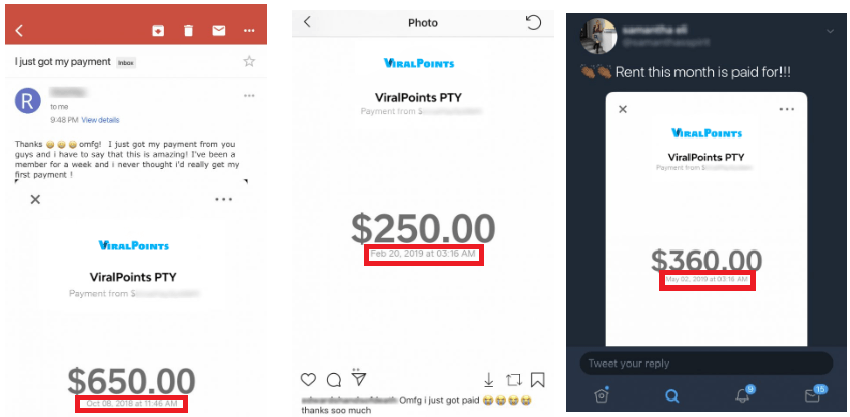 Take a closer look though and there's something very fishy going on here…
The emails and posts we're shown show dates of October 2018, February and May 2019, yet the Viral Points website was only set up on the 26th May 2019, so how is it possible these people got paid before the site even existed?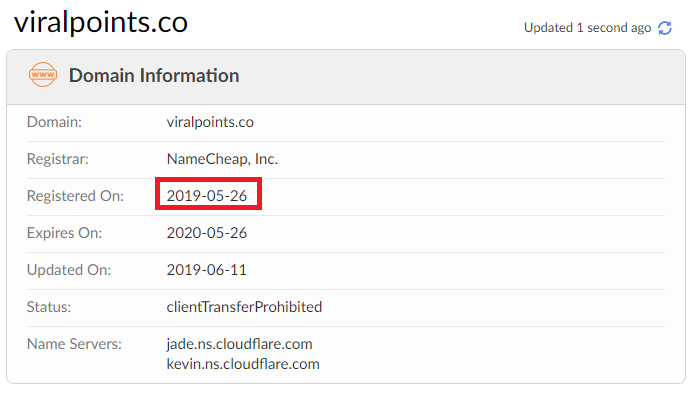 Not only that, but this internet scammer uses the exact same images of "payment proof" on every single other scam site he owns.
Why can't the unidentified founder show us any real proof? Because no one has ever made any money.
5. They Haven't Paid $68 Million Because They NEVER Pay
Try to cash out and every single person is told the same thing:
You're not getting paid because of fraud and your account will be terminated within 7 days.
It doesn't matter if you've fulfilled all of the eligibility requirements, followed their instructions to the letter and done everything above board – the point is this scammer has no intention of sending you a dime.
Read real member testimonials across the web and you'll see this proven time and again: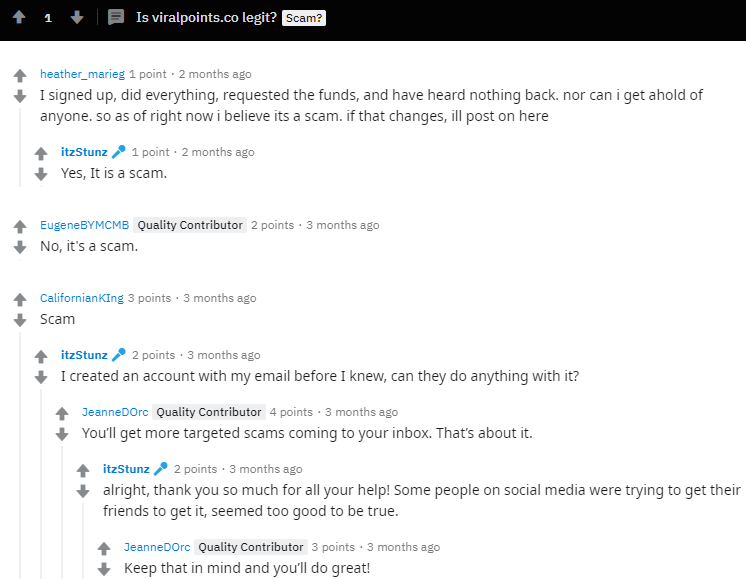 This scammer is really good at making promises but really rubbish at keeping them. He only promises you'll get paid so you'll go out and promote his sites for him free of charge, but as you can see, this is a complete waste of time.
Other Helpful Viral Points Reviews
Our Final Opinions About Viral Points
At first glance, Viral Points looks like everything you could ever want in a work from home opportunity; it's free, fast, easy and pays well, except now you know the scammer responsible for putting this site together has deliberately gone out of his way to deceive you.
Just thank God you had the sense to listen to your gut and do your research before putting hours of work into this and end up having nothing to show for it!
Are they real ways of making some extra money online?
Yes absolutely, but this isn't it.
Instead of spamming social media with links to this scam site, you'd be a lot better off creating an affiliate website and sharing links to sites like Amazon.com to earn monthly residual commissions.
This is what's known as affiliate marketing and it's by far my favourite way of making money online. In fact, this is how I've earned for a full-time income for the last 5 years and anyone can do it.
Yes, even you!
All you need is to put in the time to learn and the work to make it happen and your affiliate website will end up making sales and generating an income for you around the clock.
Start by grabbing your free step-by-step affiliate marketing guide for beginners here.
Running a successful affiliate site takes time and effort, but it's worth it. The best affiliate marketing training platform I've ever come across is Wealthy Affiliate. Here's why.
Simon Crowe is on a mission to help as many people as possible kiss their bosses goodbye.
Take the free Commission Academy course to discover how to smash your online income goals and make your dream business a reality.