Welcome to this no-hold-barred Referral Pay review where we'll take a close look at a new site called ReferralPay.co and find out if it's a scam or a legit way to make money online.
At first glance, this is a site giving the average Joe a way to earn an extra side income from home, but God knows there are so many scams out there that promise the earth but never deliver, so kudos to you for taking your time to do your research before signing up.
Referral Pay Review At A Glance
About: Referral Pay poses to be the "#1 influencer network" where you supposedly make money by sharing links and making referrals.
Price: Free to join.
Pros: Nothing. Zilch. Nada.
Cons: Part of a large network of scams, fake testimonials, doesn't pay.
Verdict: Referral Pay is a scam. It's no more than a rehashed attempt to get your information to sell to other scammy websites.

What Exactly Is Referral Pay?
Referral Pay calls itself the #1 influencer platform that helps you earn money by promoting them on social media.
They claim to work with top brands like Dunkin' Donuts, Burger King and Target and say they've paid out $68 million to 225,000 members since their launch.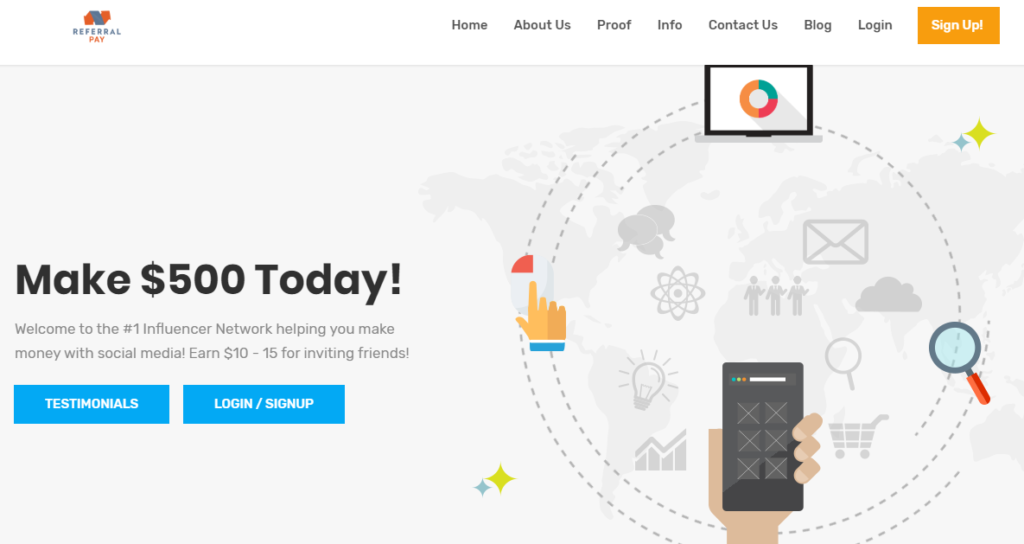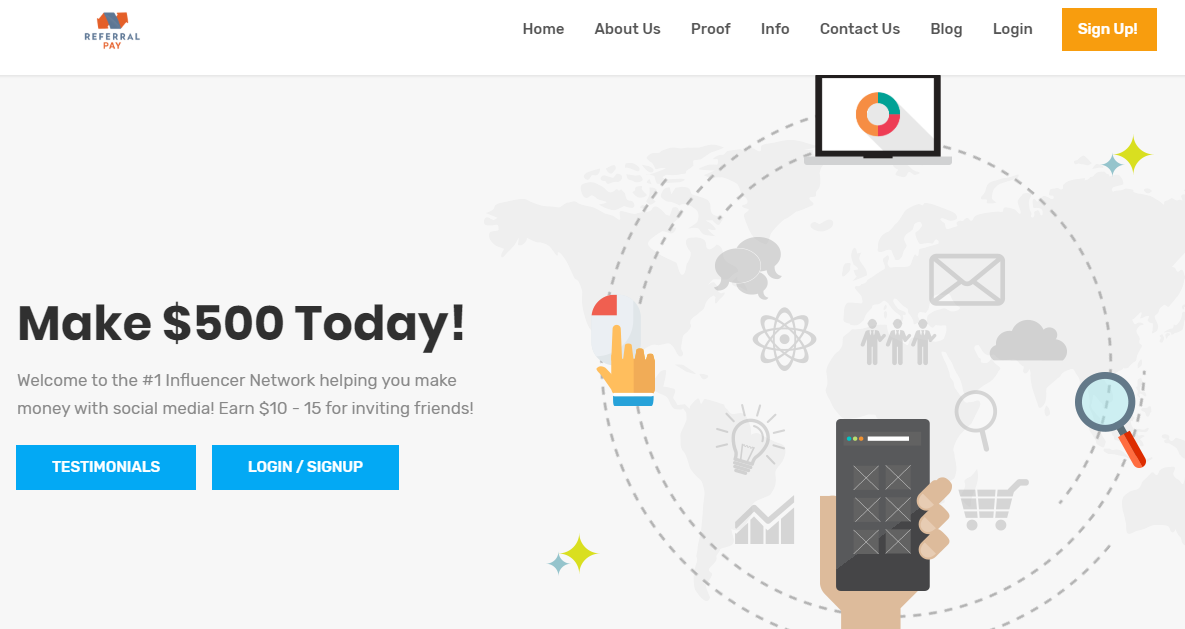 On the main homepage, they tell you you can make $500 a day, starting today by earning $1- to $15 for each and every friend or family member who joins the site through your link.
To sweeten the deal, they even offer you a $25 sign up bonus just for creating a free account.
This would be a pretty lucrative online money maker if only it were true, but it isn't. You can't believe anything you read on their site and I'm going to show you why.
Inside The Referral Pay Members Area
Referral Pay is completely free to join which is why so many people think they have nothing to lose and let their guards down. This is a mistake you don't want to make.
Once you're registered, this welcome message pops up giving you your own unique link you're supposed to start sharing on sites like Facebook and Twitter: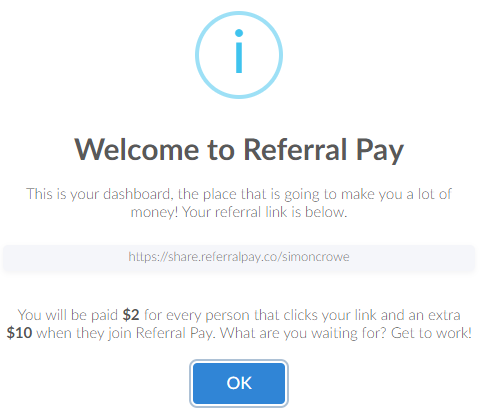 Getting paid $2 every time someone so much as clicks on your link (regardless of whether or not they sign up) might not sound like a lot, but it can quickly accumulate depending on how many social media followers you have.
So if this is legit, how can they afford to pay you so generously?
It's not as if people are paying anything to join and there are no ads inside the members' area or any other form of monetisation for that matter. It just doesn't make sense.
Get inside the members' area and you'll see your earnings balance is showing a $25 balance for your sign up bonus.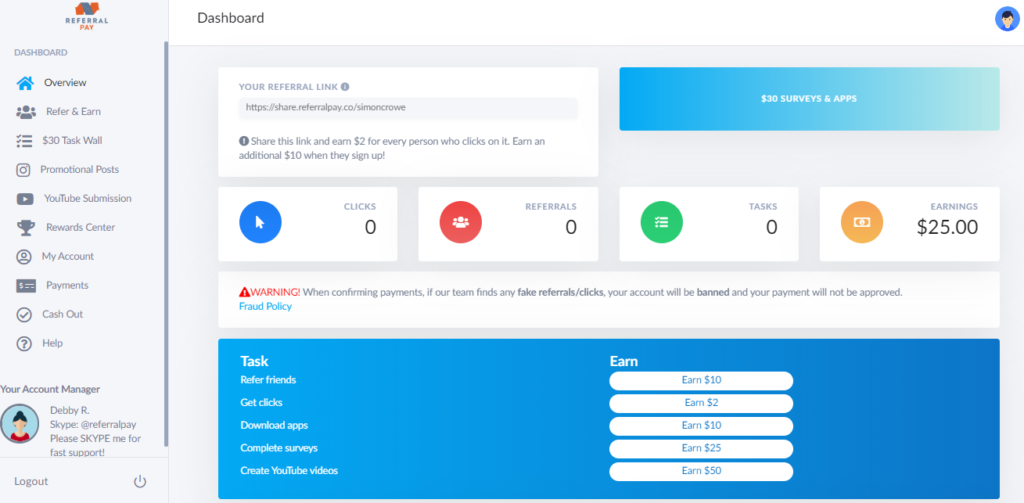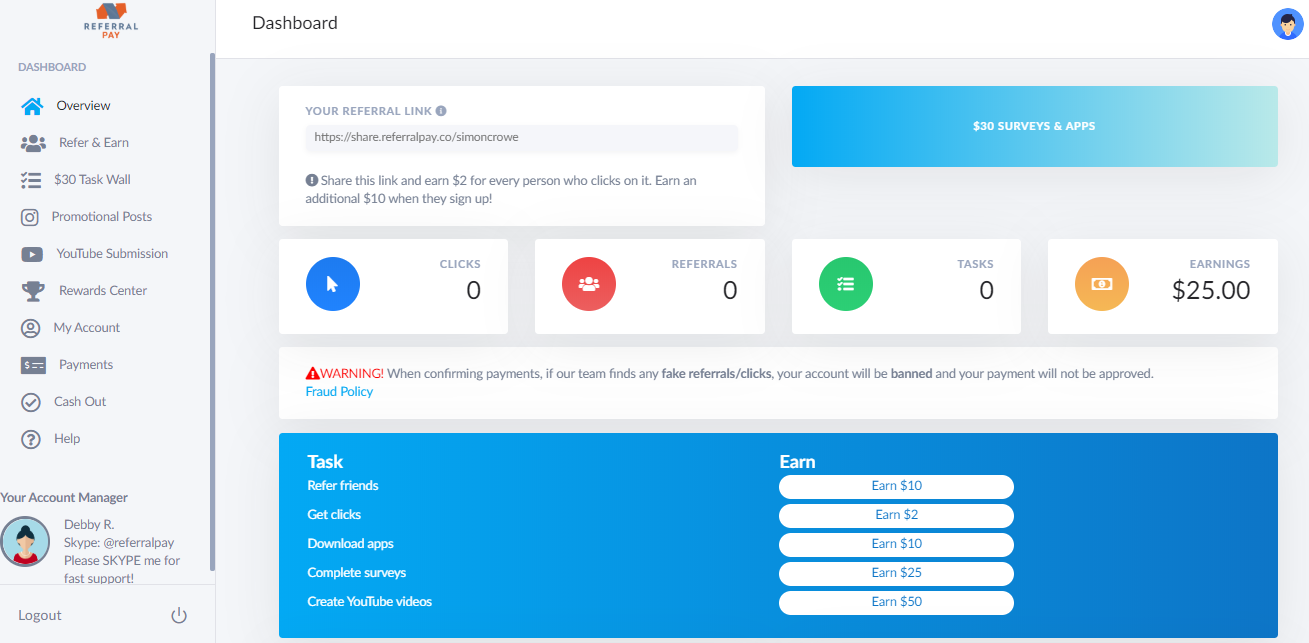 But this is the most deceptive part of this scam. You complete the tasks, share your promotional posts and even make a YouTube video shouting about how great Referral Pay is and you'll see your earnings go up and up…
Convinced it works you go all in and start spamming your friends even more…
Then you're told in order to be eligible for payments you need to sign up for a few subscriptions and free trial offers…
You choose your preferred payment method and add your PayPal email address…
You request a withdrawal and are even given a date when to expect the funds…
Except the funds don't come. They never do.
Who Is Referral Pay For?
No one.
Despite the unrealistic income claims and hyped-up promises, Referral Pay is definitely a scam.
Sign up and not only will you be working for free to put cash in this anonymous scammer's pockets, but you'll be recruiting your loved ones too so they can do the same.
If you're genuinely looking for a way to earn a full-time income online, be sure to check out this free step-by-step guide that shows you the EXACT system I follow that enabled me to sack my boss and break free from the shackles of the 9 to 5 grind.
Undeniable *PROOF* Referral Pay Is A Scam
1. This Is Part Of A Network Of Scams Littering The Web
There are at least 12 other sites out there right now all promising the same $25 sign up bonus, same $10-$15 referral payment and same $1-2 a click.
They also have very similar web layouts and are all owned by the same owner who chooses to keep his true identity hidden.

Here at The Make Money Online Blog, we've been working hard to expose as many of them as we can. Admittedly it is quite a game of cat and mouse but we're not quitting anytime soon.
Here's the list of scam sites we've found so far:
These sites do not stay up for long and new ones soon spring up in their place. Don't worry though, I will not rest until we've exposed them all. 🙂
2. Referral Pay Doesn't Pay!
It's ironic, isn't it? Despite the name and them telling us they've paid a staggering $68 million to members, I have yet to meet anyone who has ever received a payout.
Instead, all you hear are stories like these: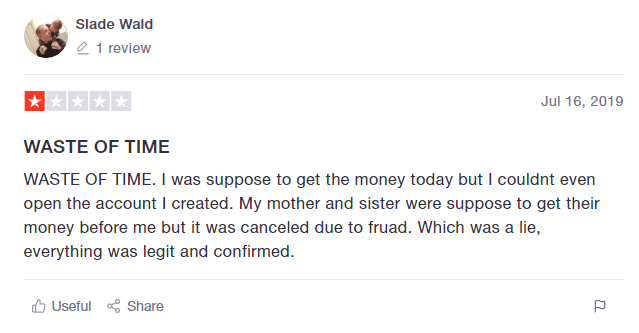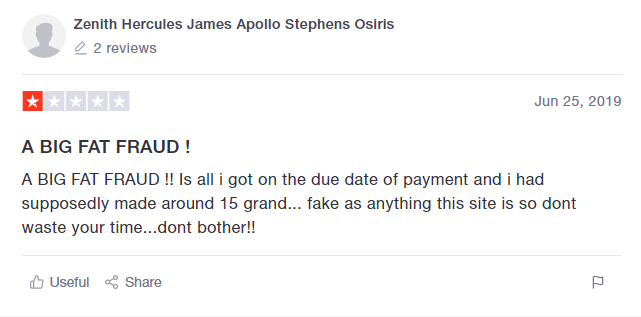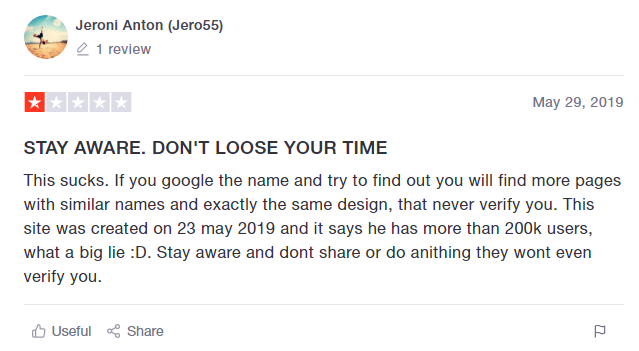 Check out the comments section of my Influencer Cash review and you'll see the same thing…
People sign up in good faith, share their links and see their balance go up, but come time to make a withdrawal and they get nothing.
3. ReferralPay.co Has NO Real Testimonials
Click on the 'Proof' tab and you'll be sent to a page with images like this one, apparently showing real members receiving real money from this program.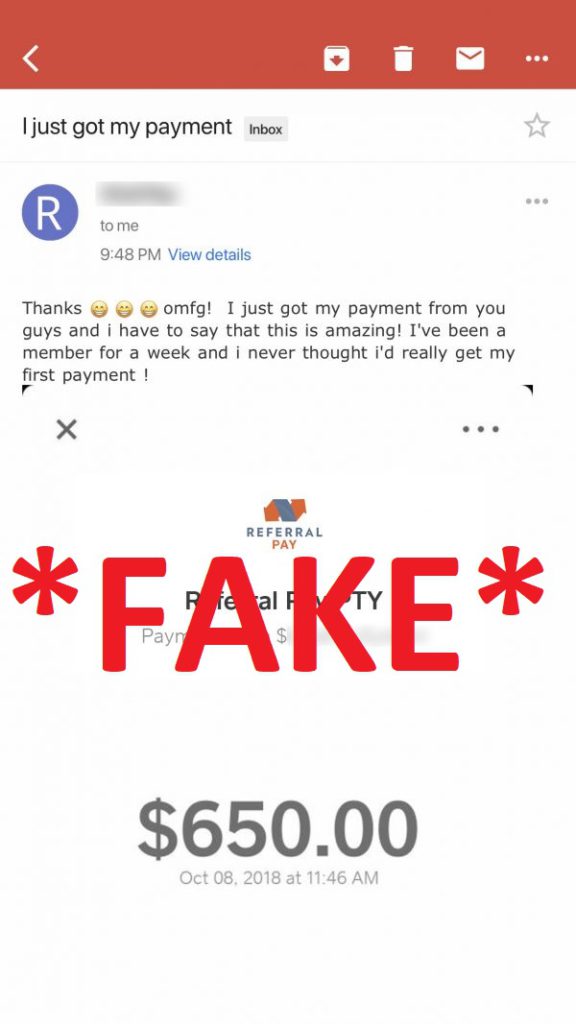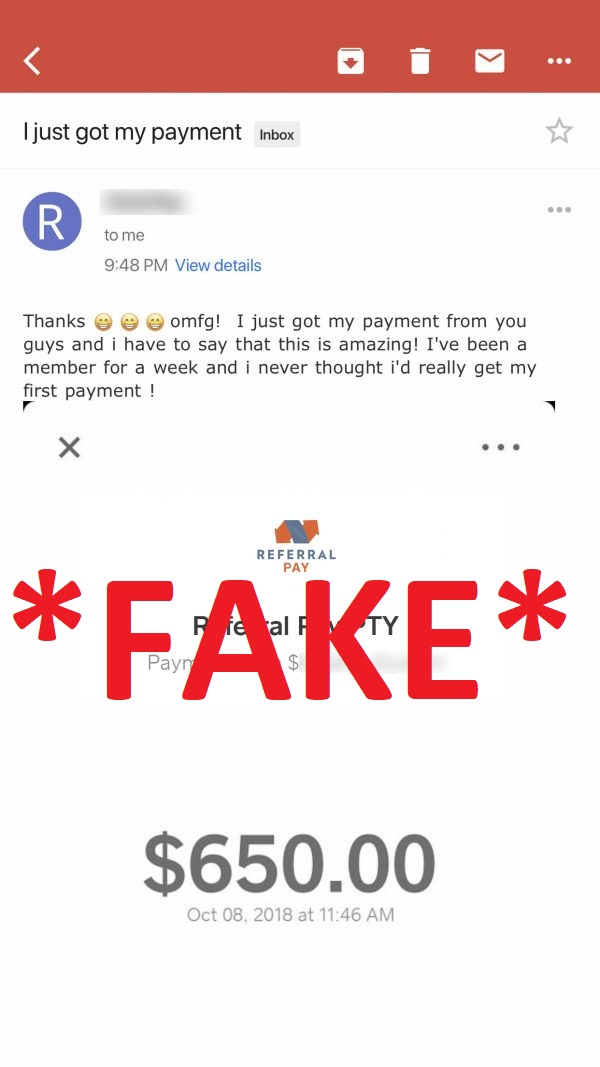 The truth here is these images prove absolutely nothing. Anyone with a basic working knowledge of Photoshop can easily create an image, throw in some dollar signs and add a few zeros.
More Helpful Referral Pay Reviews
Final Referral Pay Review Rating: 1/100
To quickly recap:
Referral Pay promises to give you a quick and easy way to make $500 a day for spamming their links on social media.

We're told you'll earn $10-$15 for everyone you refer, despite there being no revenue-generating ads anywhere on the site.

ReferralPay.co is a cloned copy of a whole scam network of at least a dozen other programs out there all hoodwinking people into handing over their personal data.

Not a single person requesting a withdrawal has ever been paid.

The only 'payment proof' given are a few random stock images.

We haven't the faintest idea who the mystery man behind this program really is.
After signing up myself, it's clear to me the only purpose of Referral pay is to make money for its creator and owner. He's raking in the cash while the scam victims providing free marketing are left hanging.
Anyone who falls for the hype and tries to follow the instructions given inside the members' area is only setting themselves up for a huge disappointment when the promises payday comes and goes and you have nothing in your bank account to show for all the hours you've invested.
Suffice to say, do NOT sign up and do NOT waste your precious time on this junk.
Read This And Never Get Scammed Again
Even though Referral Pay didn't turn out to be the golden opportunity you've been looking for, please don't lose hope just yet…
There are hundreds of real and legitimate ways to make money online, and just because this isn't it doesn't mean you should give up on your dream of becoming financially free. The internet gives everyone the limitless opportunity to earn if they have the right know-how and put in the work to make it happen.
After nearly 500 reviews, I've seen my fair share of scummy scams but I have come across a few hidden gems too. By far the best training course I have ever come across is Wealthy Affiliate and I explain why in my full Wealthy Affiliate review here.
Before you dive into the free training though, you should know that this program won't work for everyone. And that's because there are a couple of things you need to know to really succeed online:
1) It takes TIME
It took me 2 weeks to make my first sale and 12 months to replace my full-time income. For you it might be quicker or take longer, it all comes down to your income goals, schedule and drive to succeed.
2) It takes WORK
But it's so worth it! At Wealthy Affiliate, you're going to learn how to launch an online business that's open for business 24/7 and reaching a worldwide audience. The sky is the limit when it comes to how much you can make, but it's down to you to make it happen.
The good news is Wealthy Affiliate's Free Starter membership means you can create your free account, start your training and see if it's a right fit for you without ever getting your wallet out.
Comment Below If You Have Any Questions!
I hope this review has saved you from wasting the time you would have wasted if you had joined without taking the time to get the facts first. If so, do let me know in the comments! It's always encouraging to hear the work putting reviews like this together hasn't been done in vain.
Do you have any questions at all about making money online? Reach out below and I'll do my utmost to help you out any way I can personally!
Stay safe out there!
Simon Crowe is on a mission to help as many people as possible kiss their bosses goodbye.
Take the free Commission Academy course to discover how to smash your online income goals and make your dream business a reality.