Hi, I'm Simon and welcome to my full AliProfits review where together we'll see if Shawn J's AliProfits System is a legit program showing ordinary people like you and me how to rake in the cash or yet another make money online scam you need to avoid.
One thing's for sure:
Shawn doesn't shy away from making some big and bold claims in his sales video, saying you'll be making $1,000's each day like clockwork.
He even tells us that in the last 60 days alone 185 people have made at least $15,938 per month with what he calls his 'state-of-the-art income machine.'
I'll be honest with you, my first impressions aren't all that great and I'm gonna go ahead and guess you were sceptical too which is probably why you're here checking out this review… I mean, who says you can make $2,500 per day on autopilot after just a few clicks?
So let's do a bit of digging and find out what's really going on here, but before we do: know I am in no way affiliated with the AliProfits System.
I write this review as an online entrepreneur who finally found success after falling for scam after scam to help you separate the chaff from the wheat and succeed with real money making programs that actually get results.
Here's what I found out:
AliProfits System Review (Quick Overview)
$37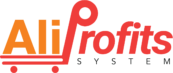 Product Name: AliProfits
Product Description: eCommerce Training
Offer price: $37
Summary:
If you don't have time to read the in-depth review below and just want to know whether you should buy or not, then here's the main takeaway:
I don't recommend AliProfits as a viable option for beginners.
With a blatantly deceptive sales page designed to fol you into thinking you can make $500 a day for doing just 30 minutes' work, the very short training videos and huge startup costs needed to be successful at this, there are a ton of better options for you out there than this. 
Check out the review in full to find out the 5 reasons why AliProfits might not be the best solution to achive your online income goals.
Training -

25%

Support -

5%

Price -

15%

Potential Earnings -

5%

Trustworthiness -

1%
Pros
60 Day Money Back Guarantee
Decent Video Training
Cons
False Time and money
Fake Video Testimonials
$1,000's In Additional Costs
High Risk, High Cost Strategy
Wanna Make Money Online But Sick Of Scams?
AliProfits Review
What Is The AliProfits System, Exactly?
The difference between what AliProfits says it is and what it actually is is about as far apart as the hyped-up video's earnings claims compared to their legal disclaimer.
That is to say, not everything you see on AliProfits.com can be believed and I'll show why here in a minute…
Essentially, AliProfits is a $37 training product with video lessons and downloadable PDF files that show you how to run an eCommerce store by sourcing products through AliBaba and AliExpress you can then sell on eBay, Amazon and Shopify.
What You'll Find In The Members' Area
When you click the 'Get Access' button you're redirected to the payments page, but before you get access to the members' area you're going to have to push your way past a few upsells…
The first one seems very random to me and it's on the payments page itself – $10 for something called 'Turbo Server Speed'. No thanks.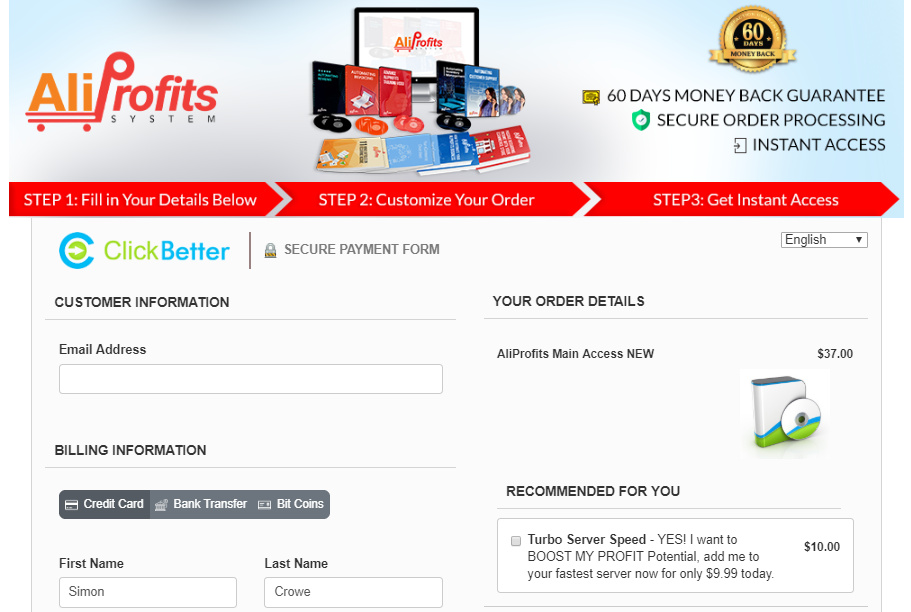 Once you've completed payment you're offered another upsell, this time for something called the 'Tri Money Machine' which costs $197 and apparently this shows you how to triple your earnings.
After skipping that I was taken to the AliProfits main training area which looks a little something like this: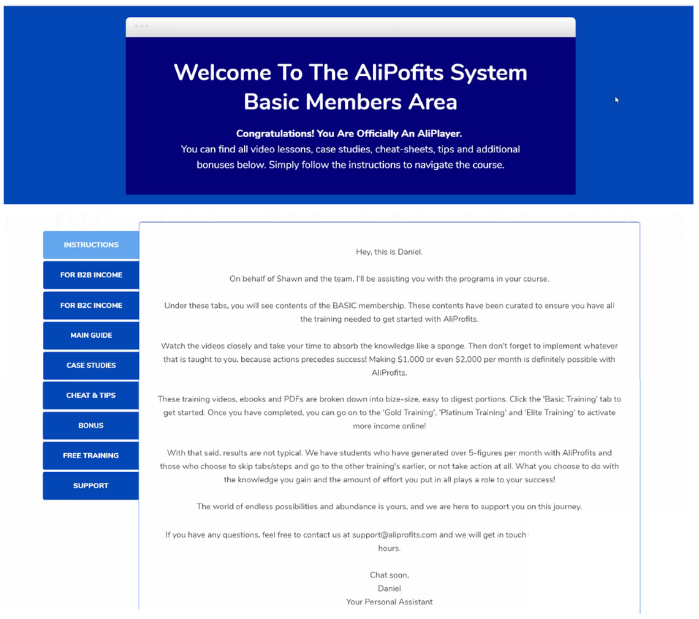 Logging into the members' area you'll see a welcome message from someone called Daniel (not the creator Shawn J) basically giving you a quick overview of what's included.
As you can see, you click on the left-side menu to access the various modules:

The main bulk of the training gives you 7 video lessons which cover topics like how to sign up with AliBaba, choose the best products to promote and find the right suppliers to work with.
I was actually pleasantly surprised with the quality of the training videos, though they're only 5-8 minutes long they're presented in an easy to understand way and cover the basics of what you need to know well.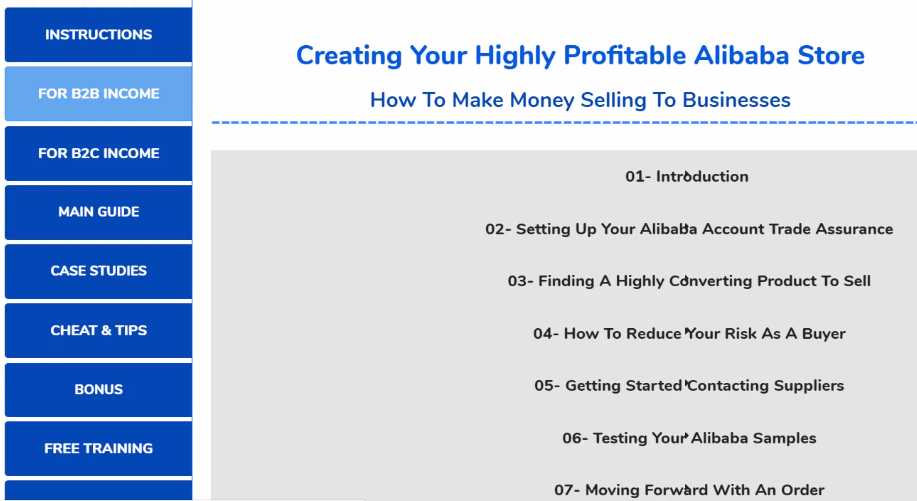 You also get access to several 'Cheats and tips' PDF files and a 33 page eBook giving a real-life case study of someone who made a little over $2K in their first month.
Can You Really Make Money With AliProfits?
I've gone through the training and looked at all the Ebooks and while there's some good information in there, I struggle to see how a complete beginner can take this information and turn it into a profitable eCommerce business.
While the videos do a good job of giving you a general overview of the steps involved and nuggets of information you might find useful, there is so much you need to know before diving into this.
Even some of the most experienced drop shippers still struggle to make a profit due to issues that come up that are out of their control like suppliers letting them down, items not getting shipped out on time and so on.
Whatever way you look at it, making money with dropshipping is nowhere near as simple and easy as Shawn makes out on the sales page. According to him, making $1,000's a month is as simple as clicking a button and filling out your details…


While you could make money with drop shipping, you need to go into this with realistic expectations of just the amount of time it's going to take to get your eCommerce store off the ground.
You're going to need to source products you know you will actually be able to sell, then you need to find a reliable supplier you can trust and then there's the order fulfilment and customer complaints and refund requests you're going to have to deal with on a daily basis.
And don't forget the high upfront costs; you're going to have to buy all these products and pay to get them shipped from China and that's going to mean putting a lot of money down without the guarantee of seeing a return.
Is AliProfits A Scam? Kind Of…Almost!
I have really mixed feelings about this program because while the sales page gives you completely unrealistic expectations about how quick and easy making money is, inside the core training itself there are some useful nuggets of information.
I think I'll leave it to you to decide if this program is a scam or not on this one.
Whether or not AliProfits System is a scam, no matter how hard I try I am unable to recommend this if you're an aspiring online entrepreneur just starting out in the online business world for these reasons:
5 Reasons AliProfits Isn't Your Best Option
1. We Have No Idea Who The AliProfits Creator Is
The guy narrating the video calls himself Shawn J but never once shows his face or reveals his true identity.
To me, this is a huge red flag because the owner of any credible money making system should be proud to put his face and name to his product, especially if it's really giving people the results he says it does.
2. AliProfits Gives You A False Sense Of Urgency
Time and again, you'll hear Shawn tell you to "Hurry, sign up now!" before the spots are filled up, but the truth is Shawn will sell as many AliProfits memberships as he possibly can to maximise sales and increase his income.
Try and leave the site and you'll see a popup warning you that if you leave the page you will never be given this 'once in a lifetime opportunity' again:

Except, close the website and go back on it again and it's still there, and it still will be tomorrow and next week. This scarcity tactic is to fool you into signing up quick before thinking too much about it but it's just a clever sales ploy designed to hoodwink you.
3. Every AliProfits Member In The Video Is A Hired Actor
Like the China Cash Clone scam and the Home Income Millionaire scam I exposed this week and so many others, AliProfits uses paid Fiverr actors to pose as successful members.
None of the video testimonials you heard are real. Every single one of the testimonials you heard on the sales page are from Fiverr actors hired to read from a script. They tell you they've made $1,000's following the program but in truth, they just made $5 for lying to us.
Remember Fred who was finally able to quit his restaurant job after registering as an AliProfits student and claims he makes $5,000 to $6,000 per week?
He actually runs a gig on Fiverr.com where he gets paid to make fake testimonial videos and read from a script: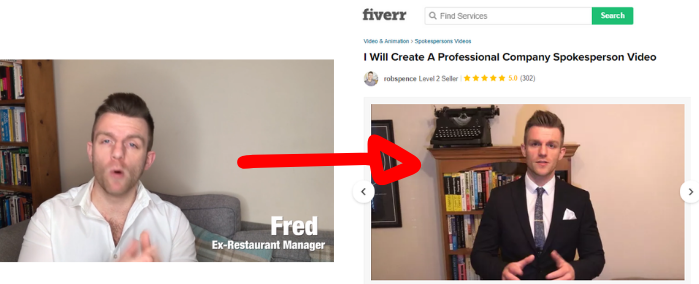 Then there's Alicia the schoolteacher who told us she made $2,587 in her first week all thanks to Shawn and the AliProfits team…
Except, yep, you guess it, she's an actress too, hired by the AliProfits creator to pretend to be one of his students: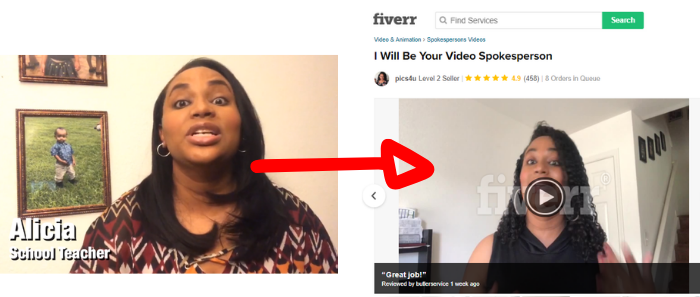 If Shawn really has 185 students all making more than $5K a week then why would he have to resort to going on Fiverr and hiring paid actors? If this doesn't raise your suspicions then nothing will!
4. There's No Real Support To Speak Of
I mean, sure there's an email address you can write to and wait up to 48 hours for a reply but in my view, this is nowhere near enough support when you're setting up your first online business, especially when you're putting so much of your money on the line.
Getting the right support and guidance is vital to your success as you start any business venture, but with AliProfits there's no live chat, no question and answer area, no member's community at all to speak of. Nothing.
5. I'll Say It Again: This Is Extremely High-Risk!
Shawn likes to talk about how you're getting a complete money making system for just $37 but he's not telling you the whole truth. Dropshipping and running an eCommerce store, while a 100% legitimate business model, takes some serious cash investment on your part and this comes with inherent risk.
Whether it's picking the right products you think are going to sell, paying for shipping or the advertising budget you're going to need to advertise your online store, this is the best option to go down especially if you're brand new to this.
AliProfits System Review Final Rating: 10/100
AliProfits is just one of 100's of dropshipping training products out there and while the video training has its upsides, it's still way too short and based on a very risky strategy. Add that to the fake-ass advertising and crazy claims of making $500 a day for 30 minutes' work then I'd say you're better off staying away.
For what it's worth, I think your time and money are better invested elsewhere.
Feel free to sign up to AliProfits and come back here and let us know how you get on. At least you'll be covered by the ClickBetter 60 day money back guarantee.
Ultimately the choice is yours, but if you're serious about making money online check out this beginners course. This is the same course I followed that taught me how to build an online business that now generates more than $7,000 a month.
The best part?
Right now they open to new members and it's free to get started.
Scroll Down And Chat With Me
Now you've read this review in full, what do you think about the AliProfits System? Is there a program or product out there you think we should review? Do you have a burning question you'd love me to answer? Get in touch and leave your comments below.
Simon Crowe is the founder of The Make Money Online Blog and is on a mission to help as many people as possible kiss their bosses goodbye.
Get his free Affiliate Marketing Guide For Newbies to learn exactly how to build a real income online and make your dream business a reality.