To kick-off your online income goals you'll need some sort of leverage. If you think (or led to believe) Commission Trooper is your golden ticket to barrels of cash you might have to hit the brakes for a while until you see what you're getting yourself into.
Is it legit or just another trashy scam you should run over?
If you're interested in affiliate marketing, well, and good because I can assure you it's legit. However, if you're considering Commission Trooper as your head start, you might want to rethink after you read this review.
Commission Trooper Review At A Glance
About: Is software by Art Flair and his friends. This supposedly turns videos with Creative Commons License to bring visitors to your products.
Price: $10.10 for the Lite Account or $12.55 for the Pro account. Plus $352 for 6 upsells.
Pros: Has a 30-day moneyback guarantee.
Cons: Expensive upsells and hyped-up claims.
Verdict: Commission Trooper is a scam because of its unethical tactics. One of the creators have a history of creating scammy products and the income claims are too hyped. 

What Is Commission Trooper?
Commission is a software created by Team Black Belt: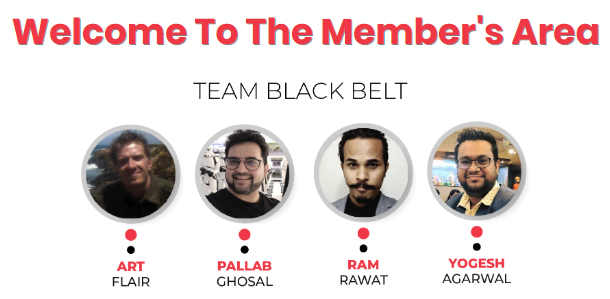 Art Flair has another product called Profit Robot. Yogesh Agarwal on the other hand once teamed up with Mosh Bari to create a software called VidZPresso which is pretty much like how Commission Trooper works.
VidZPresso turned out to be a scammy software using low-quality fake live videos that can't trick Google and Youtube for the first-page rank. Will this be the same story for Commission Trooper? We'll find out.
Commission Trooper is a fairly new software launched just last April 2020. If it ever claims to be a sustainable software for a hefty online income, they can't prove that yet.
Commission Trooper basically helps you to pick a "supposedly high-ranking video", tweak it to suit your products and then upload it on Youtube.
Won't Youtube content creators sue you for using and recreating their videos? Not if the video has a Creative Commons license.
This license allows anyone in the Youtube community to legally reuse and edit videos. You can then use these reassembled videos to promote ClickBank, JVZoo, and Warrior Plus products.
They say it's easy to edit these videos because Commission Trooper has an auto-synchronizing mode which provides you the video within minutes.
Commission Trooper's claim these reassembled videos magnetize great traffic for your products, which in turn results in boatloads of profits.
They also included 10 training videos:
Module 1: Case Study Results
Module 2: Selecting The Right Offer + Affiliate Hack
Module 3: Your Online Hub
Module 4: Free Tools
Module 5: Your Money Magnet
Module 6: Optimization
Module 7: Optimization For Traffic #1
Module 8: Optimization For Traffic #2
Module 9: Additional Traffic
Module 10: Scaling It Up
How To Sign Up For Commission Trooper
It's a really crazy process. It says you can sign up for $10.10 if you want the Commission Trooper Lite Account or $12.55 if you want the Commission Trooper Pro account.
Here's the kicker:
You're not done yet. You need to pay up for two upsells to finish checking out.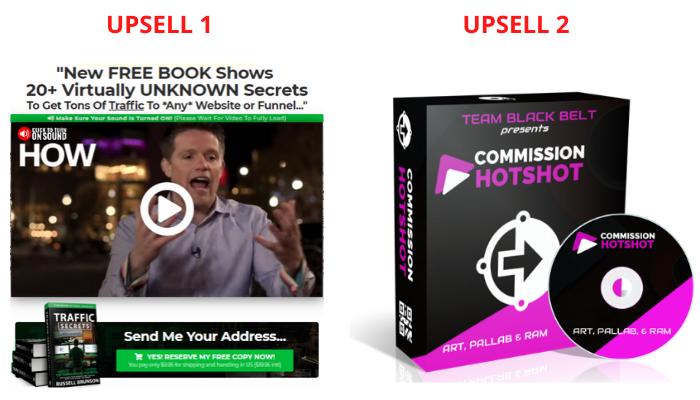 The worst part?
If you think that's it, you'll get flooded with six more upsells before you can access the member's area!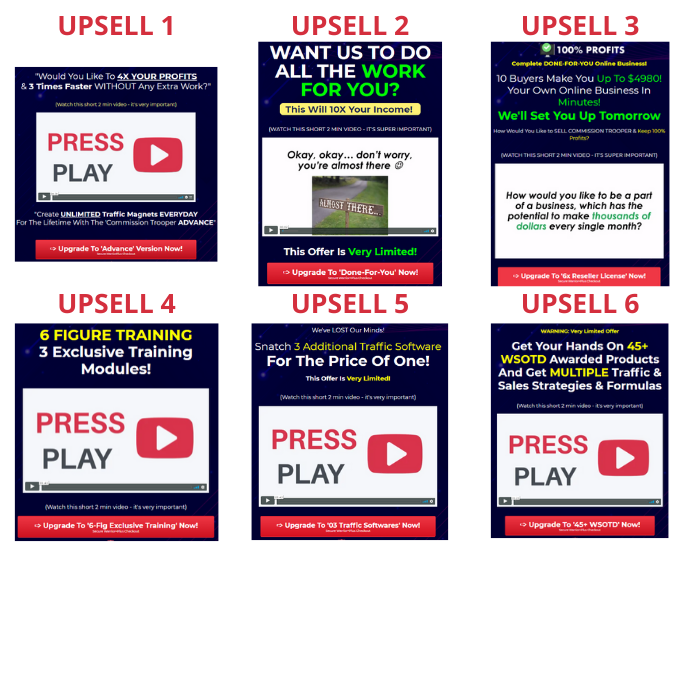 There's a little consolation though, you get two downsells and 30-day money-back guarantee.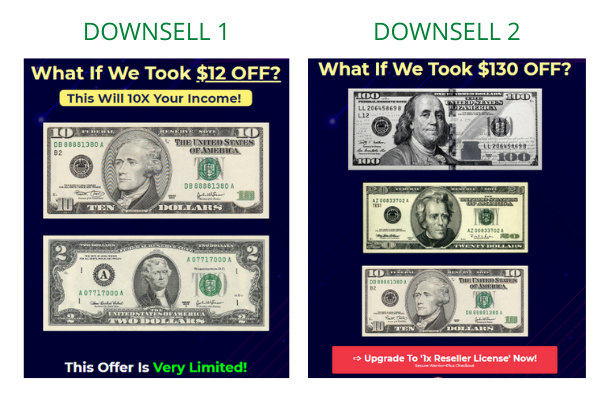 Upsell 1 – $37.00
Upsell 2 – $37.00
Upsell 3 – $197.00
Upsell 4 – $147.00
Upsell 5 – $47.00
Upsell 6 – $27.00
Why do I know this?
Because we signed up for this so we can personally tell you from experience what you'll get yourself into.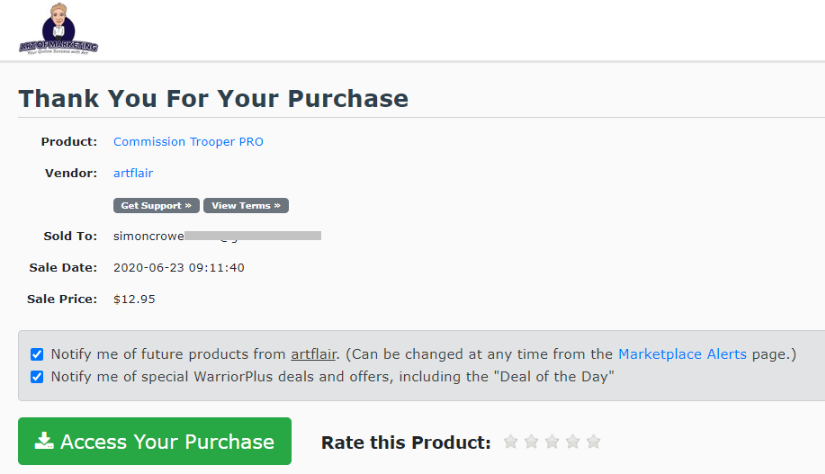 But isn't it annoying when they surprise you with extra costs? This usually happens with scammy opportunities. They make you believe signing-up doesn't put a hole in your pocket. Half-way through you'll realize that it does! I'm not saying this defines Commission Trooper as a scam, but it does bring them closer to it.
How Commission Trooper Works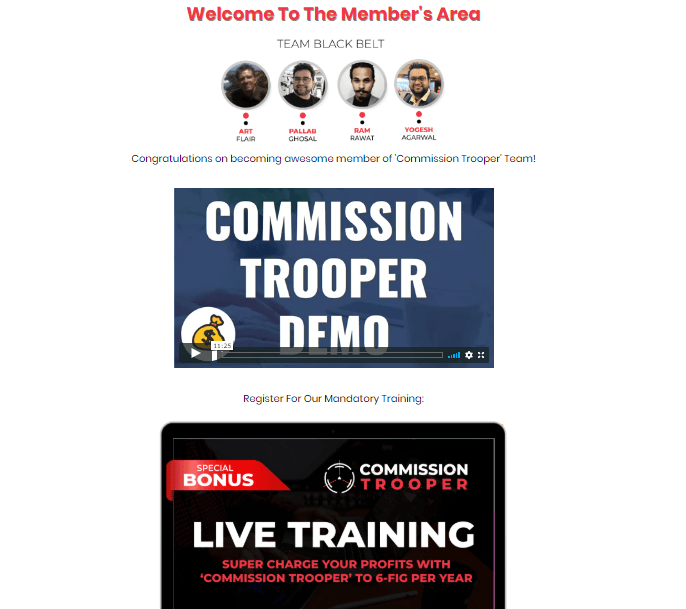 Commision Trooper has 9 features:
ClickBank Search
JVZoo Search
Warrior Plus Search
Create Video Creator
Image-Video Creator
Image Creator
Sentiment Analysis
Youtube CC Search
Youtube Video Analysis
First, it helps you find "bestselling products" from ClickBank, JVZoo, and Warrior Plus using a keyword search. After that, it will help you find related videos you can legally reassemble.
Then you tweak it using the built-in editors. You can also add DFY images, watermarks, music, and animated text to revamp it and make it look new and eye-catching.
When that's done you can then upload it in Youtube to drive traffic to your website.
But here's the catch:
The results for "bestselling products" generated in the search is not really bestselling. Even if it is, you'll have a very saturated market because this will be the same results given to other users. If Commission Trooper has a lot of users that can mean tons of competition.
What I Like About Commission Trooper
1. It's User-Friendly
Newbies won't be scratching their heads with this. Training videos are given so you'll know how everything works. Plus for someone who has little or no knowledge about creating content to drive traffic, Commission Trooper makes it easier to produce videos.
2. 30 Day Money-Back Guarantee
If after a few days you find out you're not getting the results you want, you can always request a full refund. But this offer is limited, you have to request it within the 30 days from when you signed up.
What I Don't Like About Commission Trooper
1. Littered With Upsells
Making money online isn't complicated…
This video will show you exactly how to get started. Tap to watch now »
You don't only get 2 surprise upsells during the check-out process; you'll also have 6 more before you can enter the member's area.
I mean come on, why didn't they bother laying out all the fees you'll have to pay right from the start? Can this mean they're trying to avoid killing the interest you had at first so they just break it to you when you're halfway through the process?
To me, this is an unethical practice in making a sale. It's a subtle pressure to squeeze all the money out from you.
Think about it:
If they use this cunning tactic to get you to sign up, it's not far off that they apply this principle to how the whole software works.
2. Hyped-Up Claims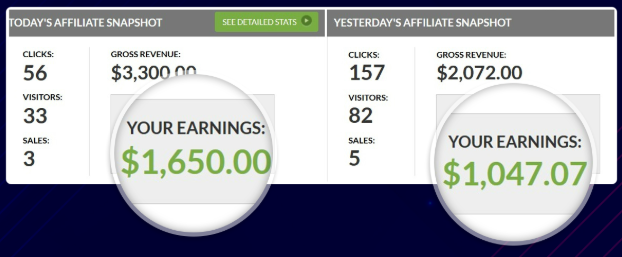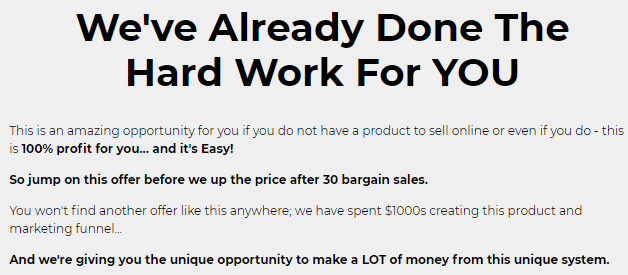 While it's true you can earn this much and even more with affiliate marketing, DFY content won't convert your traffic to sales.
This is just their way of pushing your emotional buttons so you'll take out a hefty amount from your pocket.
3. Reassembled Videos Won't Make You An Authority
Here's one fact you should know about affiliate marketing:
Traffic will only convert to sales if you gain your visitors' trust. How do you gain that trust? By creating quality content.
The great thing about affiliate marketing is that you can choose to promote products you're personally interested in. Why is that important? Because you'll have to make interesting content and you can only do that if you're genuinely interested in what you do.
Hitting the search button on the hunt for "bestselling products" you're not even interested in won't work, even if you use a video with a CC license to promote it. You'll just be reusing the same videos they let others access.
Just think about it:
Have you ever seen a famous Youtube content creator reuse existing videos? Of course not. They make their own videos according to their interest and style and that's how they gain traffic, establish a brand, and authority in a niche.
It's the fail-proof method in gaining traffic that will convert to sales.
Is Commission Trooper A Scam?
Commission Trooper is a scam because even though:
You'll get a decent software that can search products and create videos
You get a money back perk
The owners revealed who they are
They are:
They're using unethical tactics to get you to sign up
One of its creators, Yogesh Agrawal is linked to a scammy DFY that works like Commission Trooper
The hyped-up claims like finding "bestselling products" fail to deliver
Legit or not I still won't recommend this to you. Affiliate marketing will only help you with your online income goals if you create quality content.
Remember this time-tested truth:
Only quality content causes traffic to convert to sales.
Visitors will always look for a credible authority when they want to buy something, you can only prove them you're that person with the authentic and quality content you'll make.
Commission Trooper Review Bottom Line
"Free automatic traffic in 3 minutes" and "Easy 3-figure earnings per day" are just hyped-up claims to appeal to your emotions.
The truth is: there's no shortcut to success. You can keep looking for shiny shortcuts but I assure you, you won't like the ending.
The only tested way to earn from making content is when visitors get convinced a product is worth it, reused content won't do any magic.
If you're a newbie and want to jumpstart your affiliate marketing career, I suggest you read this in-depth Wealthy Affiliate review.
You get the right training from scratch
You'll learn about time-tested ways in gaining traffic that convert to sales
And when you get your website set-up complete with quality content, you'll start earning day and night for the long-term.
Financial freedom requires time and effort, but if you put in the needed work it will be worth it.
How I Make A Living Online?
After years of working in call centres I finally figured out how to create a 5-figure monthly passive income stream and become financially free.
Thanks to the right training and a lot of hard work I kissed my old boss goodbye and booked a one way ticket to Thailand.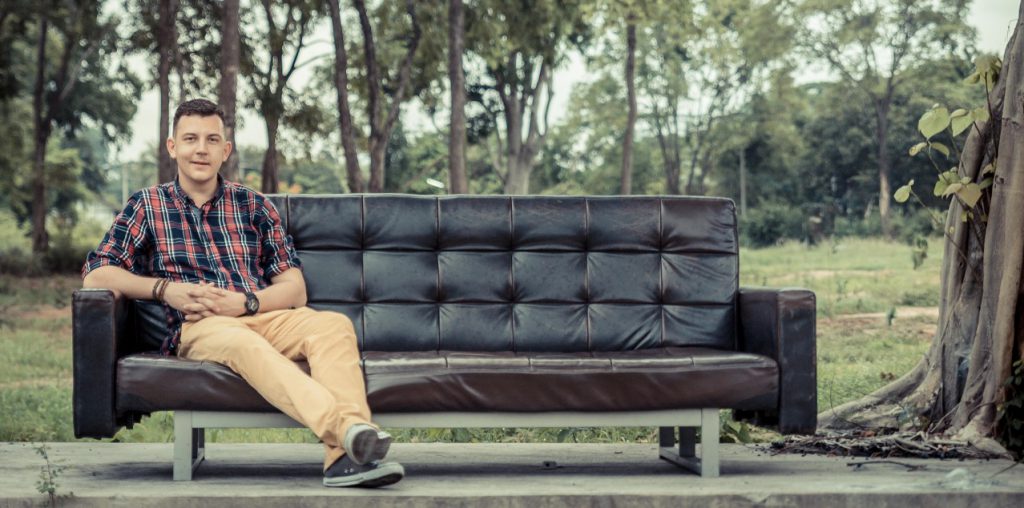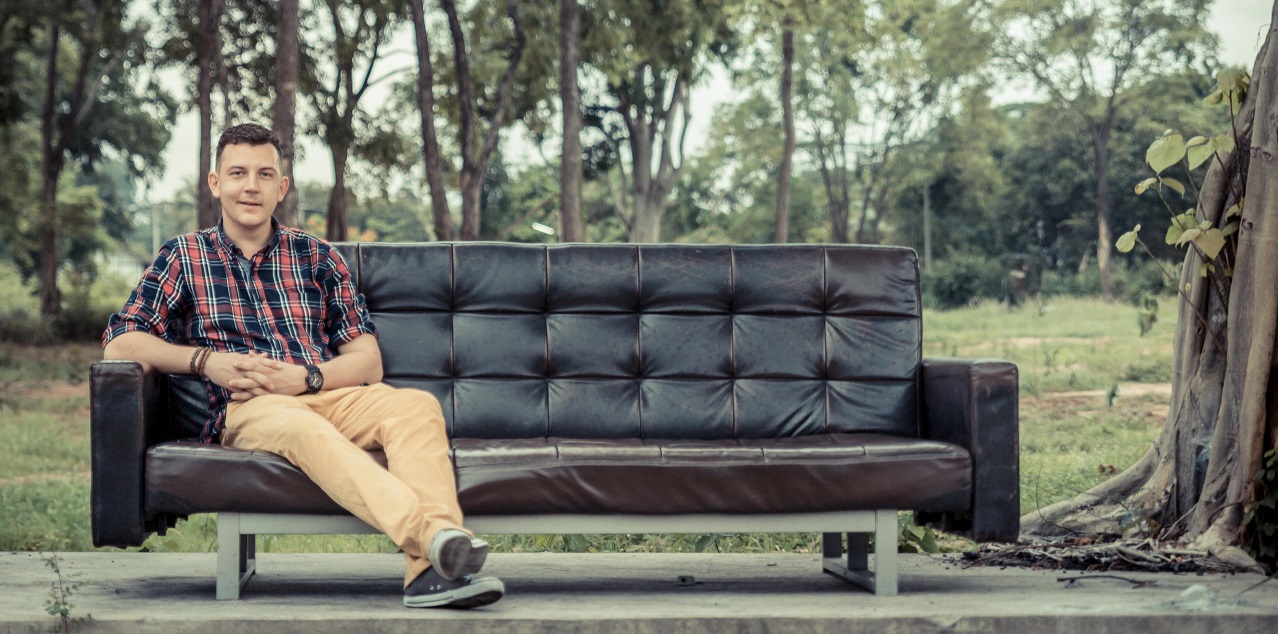 So if you're serious about building a thriving online business, click here for the exact step-by-step formula I follow.
Suggestions? Recommendations? Questions?
We'd love to hear your side, tell us your affiliate marketing story and if you have any more questions, shoot them in the comment section below.
Simon Crowe is on a mission to help as many people as possible kiss their bosses goodbye.
Take the free Commission Academy course to discover how to smash your online income goals and make your dream business a reality.