I'm here writing this Profit Vortex review because creators Bill Hugall and Wayne Crowe claim Profit Vortex is THE way to bank $3,000 a day into your PayPal account…
But we both know there's no end of so-called 'easy online money methods', so I decided to do a little research.
Here's what I found out:
Profit Vortex Review At A Glance
About: Profit Vortex is a 67-page eBook with a few YouTube links about email marketing.
Price: $8.37 plus $113 for upsells.
Pros: None we can think of.
Cons: Unreliable reviews, fake advertising,
Verdict: Profit Vortex makes you believe it can help you generate a steady online income, but it really won't. This is a scam you should avoid at all costs.  

What is Profit Vortex? A 67 Page eBook
Yep. This caught me off guard.
Did you think it was an online course? I did too.
Pay $8.37 and you'll be sent to a page with a short welcome video and a link to a PDF file.
According to Bill Hugall (creator of 2019 Blast Off), Profit Vortex is supposed to be a fresh and unique system put together by his friend, Wayne Crowe who is apparently earning a lot of money through email marketing.
The sales page and video talk a lot about income proof and how about how quick, easy and newbie-friendly the system is, but don't at any point give any clue as to how they've made this money.
It could be by selling courses like Profit Vortex to people like you and me for all we know.
The only way I was going to find out was by hitting the buy now button and getting my credit card out…
How Do You Make Money With Profit Vortex?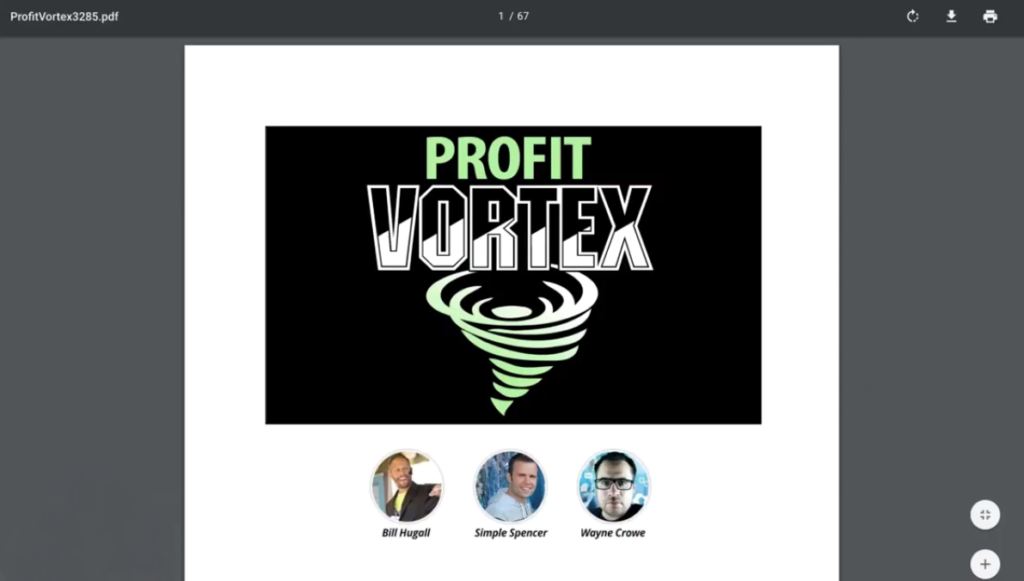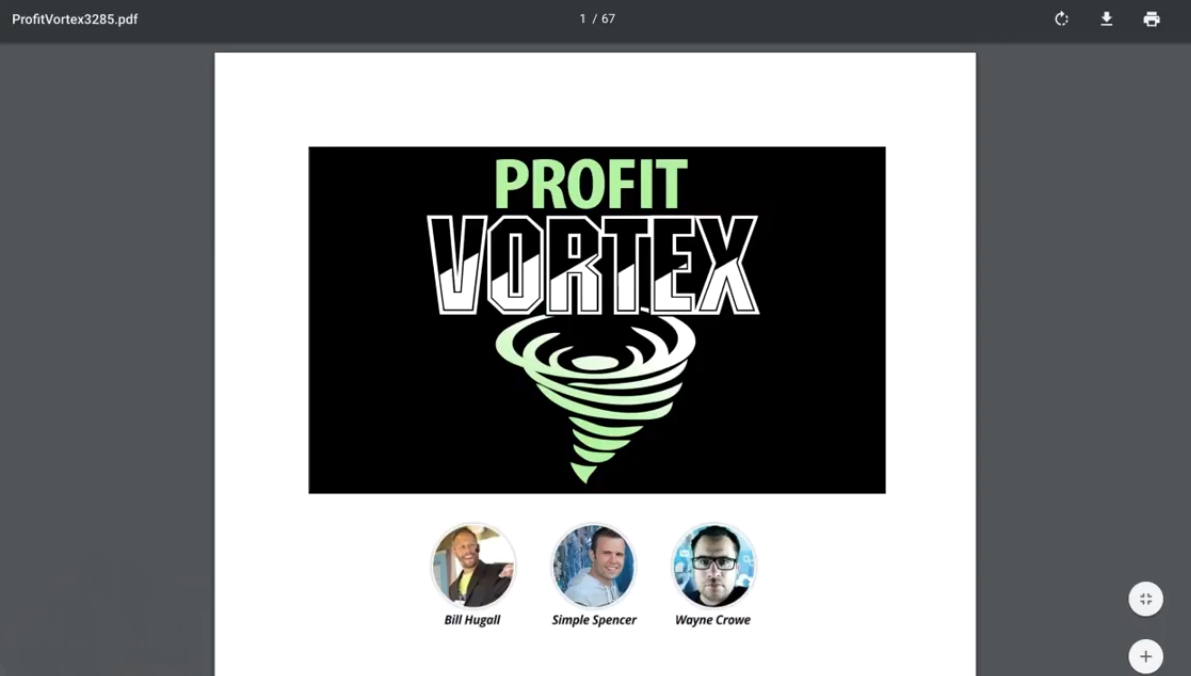 In the eBook Wayne shows you yet more earnings proof (the first 6 pages). He also claims the students he's taught these methods to are easily earning $3k a month from this.
So what's the money method he teaches?
List building.
Wayne shows you how to build your list through solo adsrecommends you build your
Make money online systems that teach you to build a list of email subscribers you can promote to by paying people with a lot of subscribers to send your emails out are certainly nothing new….
Instant Email Empire, Evergreen Wealth Formula and Inbox Inner Circle are just courses I've reviewed in the last month that teach the same thing.
The only slight difference is Wayne 'twist' to the normal solo ad swaps method he calls called 'click banking, where instead of paying a vendor to send your offers to subscribers on his list, you both recommend each other's lists to each other's subscribers in the hope of a win-win.
Other than that, there's nothing here we haven't seen hundreds of times before.
Why is the price so low?
Why would anyone sell the secrets to a guaranteed $3,000 a day income-generating system for the price of a caramel macchiato? It just doesn't make sense, unless there's something else going on here…
Here's the catch:
Your first payment triggers a sales funnel process where you'll be led down the garden path of upsell after upsell. There are 4 upsells in total:
Upsell 1: Super Simple $300/Day Method ($27)

Upsell 2: Resale Rights to the Profit Vortex PDF ($47)

Upsell 3: How To Bank Insane 5-Figure Days ($27)

Upsell 4: Simple Buyers List Building Method ($12)

That's an additonal $113 combined, but we're not quite finished yet…
Wayne Crowe is also banking on making commissions from the additional tools he recommends (and need to be able to apply his methods):
AWeber for building your list – $19/month for up to 500 subscribers
Wishloop for social media sharing – up to $77/month
NameCheap to buy a domain at $13/year and web hosting starting at $30/year.
As you can see, what started out as a mere $8 punt on a possible income opportunity has now turned into an expensive liability, and that's without getting into how much paying for the ads themselves cost or the fact the subscribers you're mailing to have likely already been spammed to death and therefore will be extremely difficult to convert.
Why Profit Vortex Is A Money-Sucking Black Hole
1. Where are all the real Profit Vortex reviews?
Scroll down the main sales page and instead of real success stories from real members getting real results, we're given some sales spiel from Wayne's fellow product launches. They're all buddies of his who help each other out by writing reviews for each other's products – they've got quite the racket going!

Art Flair makes a living from hyped up product launches and Mark Barrett and Erik Cagi are responsible for the Profit Robot and The Secret Weapon scams.
Take it from me – these are not the kind of guys you want to be taking recommendations from!
2. Fake ass advertising designed to mislead
Whenever you're considering a possible training program, especially one that's promising an easy $3k a day it's always wise to check out the small print. You'll be shocked at the stark contrast between the sales page and earnings disclaimer.
The Profit Vortex website says that with their method it's easy to bank over $1,000 per day…

Now compare that with the disclaimer and see if you can spot the difference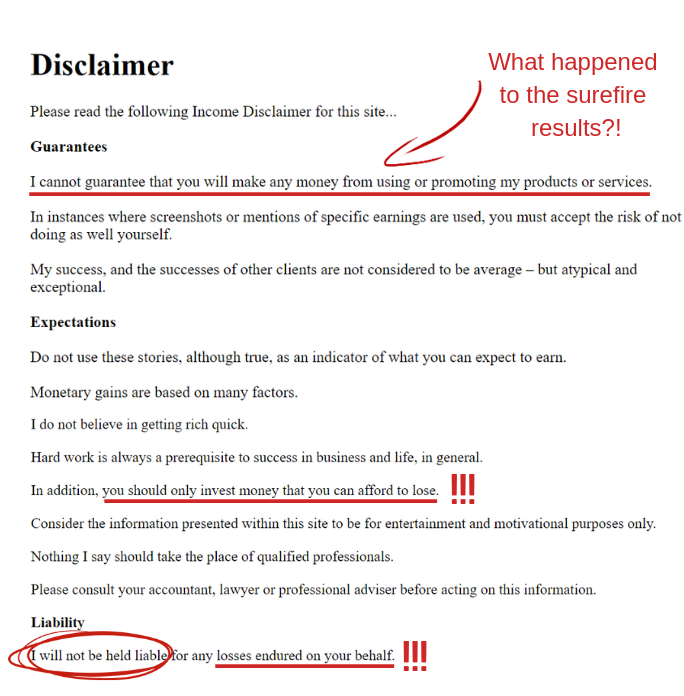 Is Profit Vortex A Scam?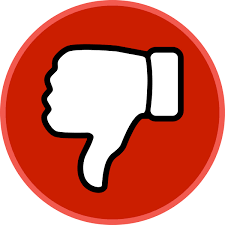 Profit Vortex is a low quality eBook where the majority of the 'training' shows you how to sign up to web hosting and email service providers through his links so he can make more money out of you.
Is Profit Vortex a scam? If you believe like I do that the sales page is misleading then yes, it is.
Is this your ticket to a $3,000 a day online income? Nah, it's just a sales funnel that milks you dry.
Email marketing can definitely be a good route to go down but you're not going to get what you need to be successful in a 67 page PDF.
What if you have a question or need support? You're supposed to leave a comment on YouTube and hope they get back to you? There's just not enough here to get you to where you need to be.
Once the hype of this product launch has died down, Profit Vortex will inevitably disappear into dark space, never to be seen again. Meanwhile Wayne Crowe and his fellow product launchers will be working on the 'next new and amazing system'. That's just how guys like this work unfortunately.
A Method That Actually Works
If you're looking for a simple yet effective step-by-step training platform that will show you how to start making money with no money down, you might want to take a peak at this free beginner's course.
Not only are the video training modules thorough and interactive, you can track your progress, share your success stories with other members of the community and get help instantly when you need it most.
But most importantly, apply what you learn and you will get results.
Simon Crowe is on a mission to help as many people as possible kiss their bosses goodbye.
Take the free Commission Academy course to discover how to smash your online income goals and make your dream business a reality.