Nothing is new with Passive Profit Funnels and I'll show you why in this review.
Honestly, when I checked out the sales page the first few lines made me say: "here we go again".
Why?
Glynn says it's a "super affiliate breakthrough" that "generates unlimited free traffic and sales in less than 60 seconds per day".
I've read this hype in almost all of his products. Passive Profit Funnel is the same old system recycled with a new color scheme and logo.
It's all claims unless I prove it and that's exactly what I'll do in this review. I'll give you convincing reasons why this is a waste of your money.
I'll tell you what Passive Profit Funnels is, how the software works, tell you why it's not a good system to use, and reveal if it's a scam or not.
Knowing everything might end up making you disheartened. Don't fret! I'll tell you of a better solution to your online income goals.
Let's get started!
Passive Profit Funnels Review At A Glance
About: Passive Profit Funnels poses to be a lead-generating funnel builder to get traffic to your leads to earn $1,000s daily.
Price: $21.98 for the front-end plus $339 additional cost for 7 upsells, and lastly $600 per year for an email marketing tool.
Pros: Uh sorry, but not even a speck of pro exists here.
Cons: The system is overhyped, the methods don't work, and one of the traffic strategies included has already flopped.
Verdict: It's bad software to rely on because the offers are low-quality, and the traffic method taught won't bring visitors to your offers.

What Is Passive Profit Funnels?
Passive Profit Funnels is Glynn Kosky's October 2020 version of his rehashed funnel builder. He dubs it the "all-inclusive system for building a subscriber email list" to make affiliate commissions from.
This cloud-based income system comes with 5 primary funnels and another 5 secondary ones.
Confidently, Glynn says Passive Profit Funnels has a "database of stunning landing pages and premium lead magnets".
Don't get your hopes up. You'll be stunned to see how awful the landing pages and how shabby the products it comes with are.
The hype game isn't over. He also says Passive Profit Funnels gets you "lightning-fast commissions" which you can control with the software which makes it "magically easy".
Fun fact:
Did you know an average American's chances of getting struck by lighting is 1 in 5,000? You're chances of making commissions here are way rarer.
I'm quite sure Glynn has mistakenly described Passive Profit Funnels with the speed of when a flash of lightning strikes when in reality you can liken it to how rare you get hit by lightning.
All the other hypes are what you commonly hear like:
Free built-in traffic
100% beginner friendly
No skills required
No need for the tech hassles of hosting and domain
9 monthly fees
I'll debunk them later when I show you around the members' area.
And lastly, Passive Profit Funnels is promoted by Brendan Mace and Jason Fulton. When I see these guys' names, I get more critical.
Both these guys are serial product creators that care more about making money than actually helping people so anything they promote is not for your good, but for theirs.
How Does Passive Profit Funnels Work?
Essentially, Passive Profit Funnels create funnels to get people's emails so you can pitch your offer to them the second time around when they don't fall for your initial attempt. Doing this supposedly gets you $1,000s daily but it's a mere pipe dream.
On the sales page says Glynn says you just have to do 3 things:
1. Buy Passive Profit Funnels
2. Log in the members' area
3. Hit the traffic button
You actually have to do more and even if you do, the results he promised won't go knocking on your door.
To start off, just take a look at his dashboard. Familiar?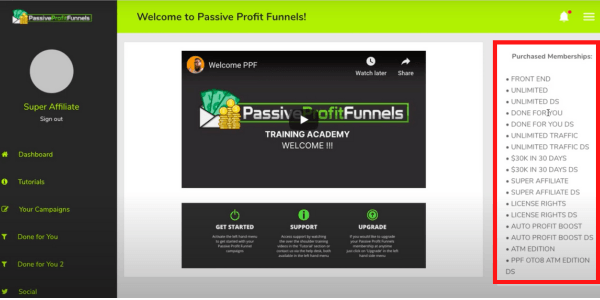 Of course!
You would've seen of before if you've read other review I made for Glynn's products like:
The only difference is (all the time) is the color scheme and logo.
Shift your eyes to the right and check out the scary list of upsells. Well, half of them are down sells but if you get fooled into thinking buying all 7 upsells will make your chances of making money better, you've got it all wrong.
You'll just be $339 poorer. Don't even think you'll get them back; they'll be gone with the wind.
Serial product creators usually make requesting a refund so complicated and long, you'd give up on trying.
Supposedly, funnel builders should be a good thing, they make getting leads easier for you. But you can expect it to happen with Passive Profit Funnels. It's got all the drawbacks you never dreamed of knowing.
Drawback #1: Strange Ad Banner
Strangely, on the bottom of the dashboard, you'll see an ad banner for Keyword Valve. If you click on it, you land in a completely different site.

I've got nothing against ads but finding this in a supposed make money system clearly shows Glynn is not making as much money from rehashing his systems as before so he's looking for other ways to make money, this ad being one of them.
Drawback #2: Poor Training
With Passive Profit Funnels, you'll get the usual videos on what buttons to click to make your campaigns and to connect to an autoresponder.
There's no training on what affiliate marketing is or how traffic (visitors to your site) works. It's not beginner-friendly like what it claims to be.
It's then followed by 4 traffic training videos.
The first is for solo ads and the second is for another paid ads platform. (although the sales page says you won't need to pay for them is you use this system)
The other 2 is for Instagram and YouTube ads, again, both paid traffic sources.
You see, paid traffic requires skills and experience, debunking yet another claim on the sales page. You can't just make paid ads and expect people flooding to your offers.
You have to concoct the right campaign for the right audience and you'll only know how once you have experience with it. Unless you already have it, you'll be flushing money down the drain with ineffective ads.
Drawback #3: The General Income Strategy Doesn't Work
You can't expect some random done-for-you funnel from different niches to automatically make you an expert in those fields so people will trust your pitches and actually buy something from you.
First, you're not giving value to your audience, the first thing you should give before pitching anything. A basic internet marketing principle that Passive Profit Funnels failed to apply.
All you ever give people are some hype-y promise, a form to type their emails in plus some phony bonus. Those things are not enough to get people to trust and rely on what you say. You haven't given them a solid reason to view you as an authority.
Bypassing content creation won't do you good.
Plus, the main traffic method, they'll make you use is sharing your funnel links on social media.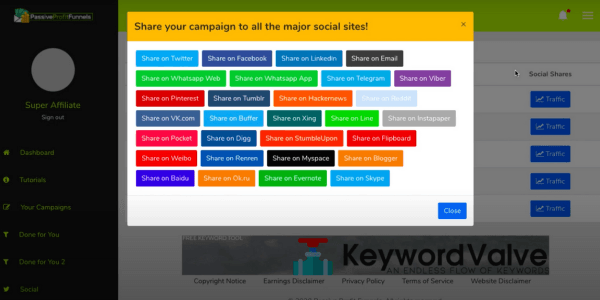 Think about it:
Will you click on a link sent by your long-lost cousin you know nothing about?
Of course not!
Unless he recognizes you're an authority to your offers, you can't get him to even take you seriously.
Drawback #4: The Funnels Don't Even Look Compelling
If you ask me to describe how the funnels look to me, I'd say they're a desperate attempt to get you to act in their favor.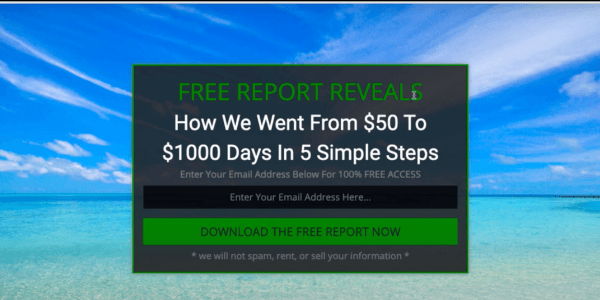 Funnels looking like these are like forcing people to think they're in for something great, like a dream lifestyle or a dream vacation. You're creating a bubble in their minds that quickly pops once they realize how this system really works.
Suppose you promote a product. You'll get an awful looking squeeze page, a bonus page, a lead magnet page, and lastly a download page.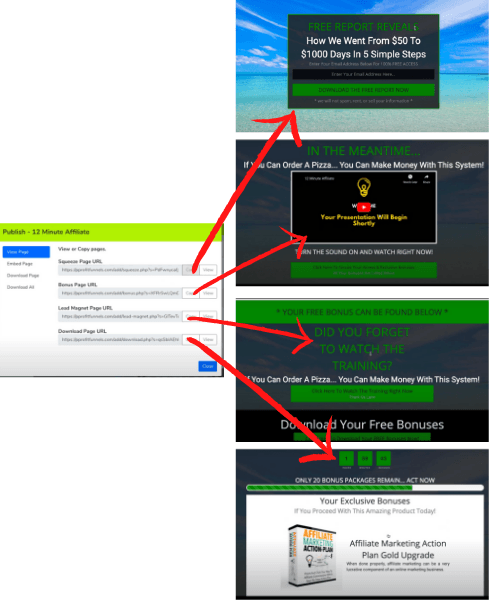 The bonus page just offers you some random PLR stuff. No value at all, outdated even.
Drawback #5: Useless Free Traffic Source
Like all his other previous products, Passive Profit Funnels has a free traffic provider called Affiliate Traffic Lab. Just another one of Glynn's older products.
Annoyingly, he still uses peddles it when it's not even working anymore. The other freebie traffic source, Viral News Jacker is no better, it spams people.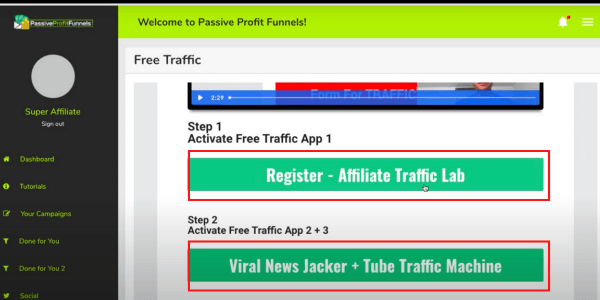 Drawback #6: Offers Are Low Quality
With Passive Profit Funnels, you'll be promoting products you wouldn't want to promote if you knew what they really are. Just low-quality software like this very system.
No one will be interested enough to buy these.
Let's take the first offer, for example, 12 Minute Affiliate, which works just like Passive Profit Funnels. It's a funnel builder that encourages you to spend a fortune on solo ads for people to notice your offers.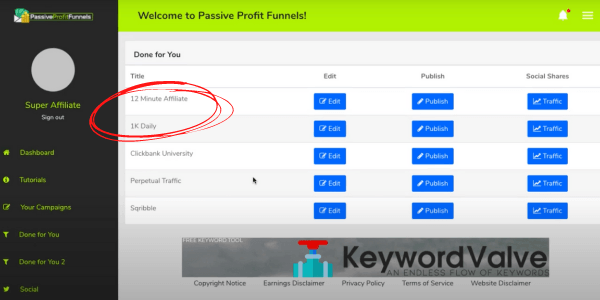 Definitely not worth it, you'll end up spending more than you'll ever gain.
Here's a subtle fact:
Glynn is letting you spend on ads for a product that only he makes money from.
The next product, 1K Daily System, a product which I recently made a review on. Check it out yourself to see how shabby it is.
The second set of funnels include for 10x Profits Sites, it took me one whole review to explain how bad it is.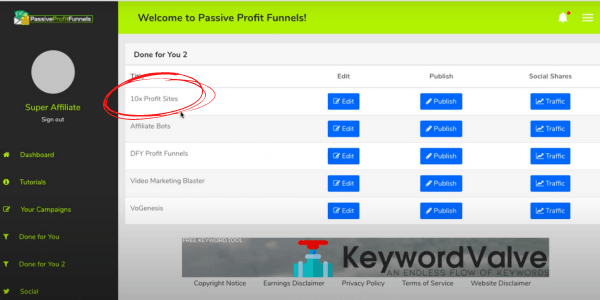 All of them have awful done-for-you pages, basically what you're paying for. Do you feel it's worth your hard-earned money? I didn't think so too.
If these are the kinds of products Glynn like you to promote, what does it say about all his other products and about himself in general?
How can a vendor like that possibly make you feel you'll get a sustainable business from his system?
Drawback #7: Funnels Are Hosted By Passive Profit Pages
Once the money stops flowing in, he'll abandon this system and it won't be long until he completely shuts it down like Affiliate Traffic Lab.
Is Passive Profit Pages A Scam?
Yes, Passive Profit Funnels is definitely a scam. Although you get a working system, for now, it doesn't help you make money like what is promised on the sales page, and not delivering what it claims makes it a scam.
Where Do You Go From Here?
I'd completely understand if you feel utterly demoralized at this point. But it's not the end for your online income goals.
You can reach your goals, not by relying on quick fixes but by learning the ropes yourself.
Wealthy Affiliate provides the step-by-step training you need especially if you're a beginner. You'll learn how affiliate marketing really works and what traffic sources to use to get sustainable traffic results, things Passive Profit Funnels fail to tell you about.
You don't only get training from scratch; you'll also learn from other marketers as well.
Don't take my word for it, take the 10 free lessons for yourself to see what I mean.
Start off by reading this tell-all Wealthy Affiliate review to know what exciting things you're up for.
What's Your Take?
Still disappointed Passive Profit Funnels is just a shabby rehashed system? Want to rant? The comments sections is free to share your feelings on.
Simon Crowe is on a mission to help as many people as possible kiss their bosses goodbye.
Take the free Commission Academy course to discover how to smash your online income goals and make your dream business a reality.