Welcome to my review of 1K Daily System!
I just dropped the first bombed in the title and there's more to come.
Glynn welcome you in 1K Daily System's sales page saying:
"This high-ticket commission system generates us $1,000 &unlimited traffic in under 60 seconds!"
If you've read a couple of my reviews on Glynn's products, you'll probably say it sounds too familiar. Keep the word "familiar" in mind because there's more about it later on.
Right before I tell you about those, I'm going to tell you what 1K Daily System is and who it is for.
Then I'm going to tell you why it's not a "premium solution" and "revolutionary method" in generating outrageous commissions daily. I'll finish off by giving you my opinion about the 1K Daily System and an alternative that's not bound to disappoint.
1K Daily System Review At A Glance
About: 1K Daily System poses to be a "done-for-you high-commission system" that floods your account with $1000s daily.
Price: The discounted price is $18.98, if you don't opt in early you'll have to buy it for $21.98 plus $339 for the upsells, and $600/year for an autoresponder.
Pros: I want to tell you there is, but I just can't find any.
Cons: It's just a rehash of old systems, the landing pages look awful, and the traffic method won't drive anyone to your offers.
Verdict: 1K Daily System is nothing but an overused system, renamed too many times it's hard to remember. It won't generate daily commissions for you. 

What Is 1K Daily System?
1K Daily System is Glynn Kosky's fairly new rehashed system launched in the WarriorPlus network just last October 2, 2020. He says it's the exact same system that's generating $1000s daily for him.
Well of course it does so for him because it's the same system he peddles from who knows how many months or years ago, just given another name and a fresh lick of paint every week or so.
To prove it to you, here are my reviews of his other systems having the same members' area, only with a different color and logo on them:
Take a look at them and you'll see how awfully similar the interface is. If you don't have the time, here's one for MagickFunnels and Profit Sniper X: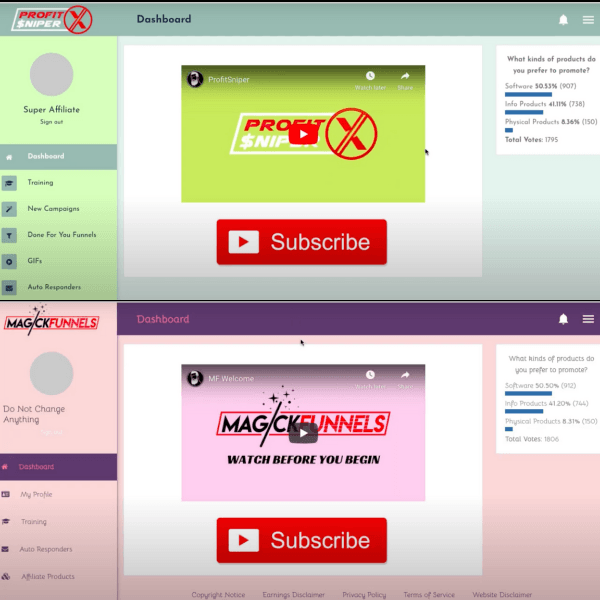 And here's what 1K Daily System's Dashboard looks like: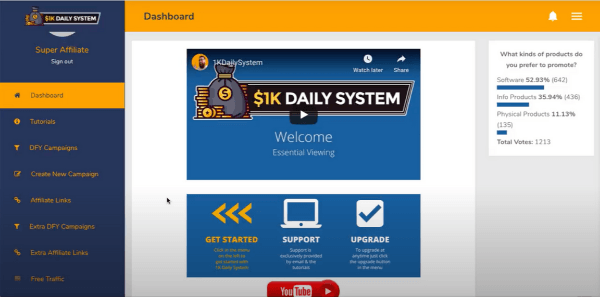 The sales page guarantee of having:
100% free traffic
100% beginner-friendly
Zero tech skills needed
No maintenance required
Are all the same ones you'll read on the sales pages of the products I mentioned earlier. They're all hype, 1K Daily System doesn't deliver any of those claims as I'll explain to you later.
This set and forget system attaches itself to lots of successful internet marketers like Kevin David and Russel Brunson, people who never used the 1K Daily system to make money.
I even doubt they've heard of 1K Daily System before.
This exhaustedly rehashed system should tell you by now it doesn't really work as promised.
Why?
Because Glynn wouldn't need to peddle it in another name and in another color scheme multiple times a month if it was good enough to bring lots of buyers in.
He has to change it every now and then to dupe more unsuspecting people thinking it's the "brand new" system it claims to be.
Good for you that you're reading this review because you won't fall for the trap anymore.
Who Is 1K Daily System For?
Glynn says 1K Daily System is for aspiring online marketers who want a fast and easy solution to their income needs.
I'd like to set your expectations straight. The only fast thing about 1K Daily System is the speed of it's getting worn out and the only easy thing about it is how Glynn unchallengingly gives it an overhaul.
If you want everything done for you in making money online, you won't get nowhere.
How Does 1K Daily System Work?
According to Glynn Kosky, 1K Daily System uses the "straight-line marketing" or the fancy way of saying the hype-y promise: "you'll build an email list while making commissions".
This is nothing new, most, if not all of his systems work this way.
On the sales page (like he always does), he simplifies the steps into 3 where he says it only takes you 15 minutes to see game-changing results.
1. Grab your copy of 1K Daily System.
2. Login and enter your affiliate link.
3. Use the built-in traffic and wait for sales to come in.
Glynn says you won't need things like: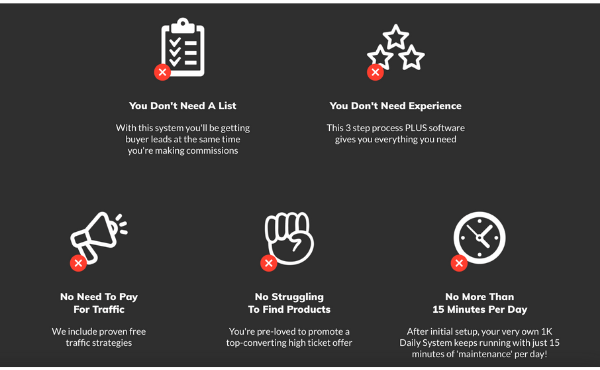 Which is funny because you'll actually be building a list to pitch your offers via email. Another ironic thing about the 1K Daily System is the claim of not needing paid ads yet in the traffic training you'll be taught to pay for solo ads.
More on the solo ads thing later.
Like many of his other products, because this is just a rehash of those, one of the campaigns here is for Simple Wifi Profits.
Check on my review on this and you'll realize how low quality it is too, which pretty much says a lot about all the other built-in campaigns and offers you'll get in 1K Daily System.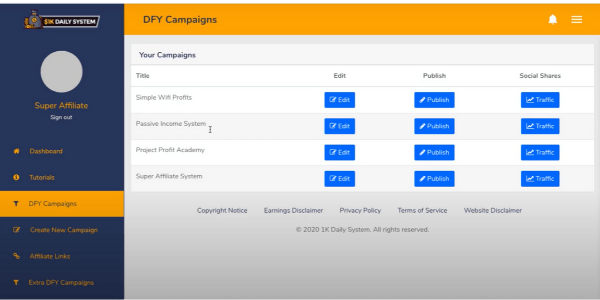 Now each campaign has an opt-in page where you're supposed to connect to an autoresponder debunking the claim that you won't need an email list.
After the opt-in page, since it's supposed to be "high-ticket", you drop by a webinar page before you're directed to the download page of the product.
I guess the webinar feature is the reason why the products you sell here cost more than the exact same products you peddle with his other systems.
Do you get golden nuggets of online marketing knowledge in the webinar?
No. It's all hype to make you believe this system really works.
If you think about it:
All 4 offers you find here can directly be accessed on ClickBank, so instead of buying the system to get to promote these products, why not just go directly to ClickBank?
This way you avoid the unnecessary cost of buying this rubbish system. (Given you're actually interested in trying to sell these low-quality products)
The system also allows you to "make your own campaigns". The only thing you can actually do is choose a pre-built landing page and change its background image, font size, style, and color.
These are your choices and I really think it's no better that the done-for-you campaigns because it looks just as spammy.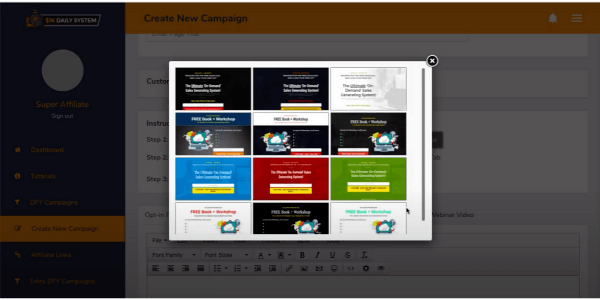 And as you can see, you don't really provide anything of value to people on these landing pages so you won't be able to make them trust you and your offers to work.
Frankly, relying on these done-for-you whatnots only means you don't get to learn anything. Once this shuts down, which will certainly happen, you won't know how to set up an affiliate business from scratch.
Yes, this system supposedly includes a training section but what it only teaches is what things you click to activate your campaigns, nothing more.
1K Daily System Traffic Training
Even the traffic training is useless because you're only told to either use Affiliate Traffic Lab, the review I did the other day, a totally rubbish way to generate traffic or pay for solo ads which I touched on a bit earlier.
You see, solo ads are not good for beginners especially if you have a limited budget because it involves a lot of trial and error, lots of money flushed down the drain along the way.
The main traffic method promoted, which is not in the training is using social sites, many of which might be unfamiliar to you. There won't be a large audience there so the potential is next to none.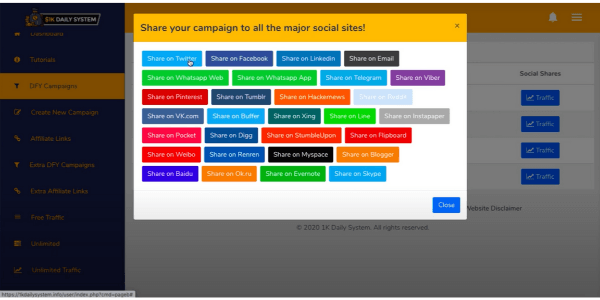 Even on popular social sites like Facebook and Twitter, unless you have a large following, no one will notice your pitch.
This is why I'd suggest you get proper step-by-step training on affiliate marketing if you want to build a solid business with a sustainable buyer traffic source.
Simon will tell you a bit about it here:
If you want the whole training package, you should give Wealthy Affiliate a try.
1K Daily System Is Rubbish
You don't need it. You can pay for a better page builder, make a more compelling landing page, and choose highly converting offers.
But wait, you don't know how to find these offers! Another reason why you need to get training like what Wealthy Affiliate provides.
Lastly, the 1K Daily System is rubbish because Glynn, as you know by now, has a reputation for rehashing this same system after a week or so.
He couldn't support all these rehashes himself because they're too many to handle and he can't get help to get them maintained because it will be too costly for him.
The reality is, if you buy 1K Daily System, you'll end up with a business that potentially disappears overnight with your online income goals left as a pie in the sky.
The truth is, you can't just grab any product and shove it to people on social media. You're not providing value to the people you're sending it to.
They won't take you seriously, let alone read your pitch nor click on you link.
Here's a fact:
Nobody just buys a $1000-worth product if you unexpectedly pitch to them on social media. They don't see you as credible enough to trust handing their money to you.
The bottom line, you won't get the traffic you need and worst, the commission you expect.
5 Reasons Why I Won't Buy 1K Daily System
1. It's a mere rehash of flopped attempts to make people believe it generates income.
2. The landing pages it create are spammy.
3. The traffic methods won't drive people to your offers.
4. The training is rubbish when 1K Daily System shuts down.
5. The products are too low-quality to be sold at a high price.
Is 1K Daily System A Scam?
1K Daily System is definitely a scam. Although it creates landing pages for you, being rehashed too many times says this doesn't really work as promised and that to me defines a scam.
You can't trust the creator, the software, and even their refund policy. They can't get the period straight, if it's 30 days or 180 days.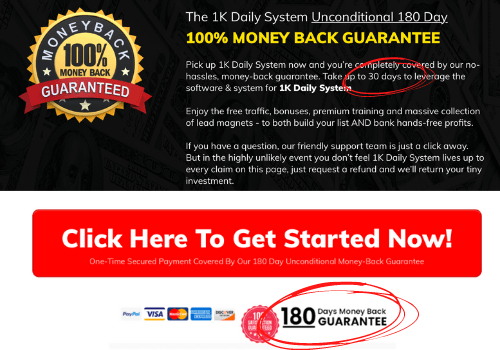 Final Thoughts On 1K Daily System
1K Daily System encourages you to just sit back and wait for the money to roll in. You'll wait for ages unless you do something.
This is why taking action makes a big difference. If you invest time and effort in learning how affiliate marketing really works, your income dreams won't be a pie in the sky anymore.
One great affiliate marketing training you should consider is Wealthy Affiliate. Its step-by-step training trains beginners from scratch, including the best ways to generate buyer traffic for your offers.
You also get to talk to other successful marketers to learn more on affiliate marketing and traffic.
Best of all, you can give it a whirl for free with the 1st 10 lessons.
If you want to know more about the benefits of Wealthy Affiliate, you can head on to in-depth this Wealthy Affiliate review.
What's Your Take?
Were you shocked to find out how much of a rehash 1K Daily System is? We're you disappointed about how the system works? Rant for free in the comments section below!
Simon Crowe is on a mission to help as many people as possible kiss their bosses goodbye.
Take the free Commission Academy course to discover how to smash your online income goals and make your dream business a reality.