Glynn says Affiliate Traffic Lab is "something that changes everything" if you're struggling to generate traffic and make money with videos. In today's review, I'll give you're 4 jaw-dropping reasons why you should change your mind if you're interested in this.
Like the usual, it poses to be using "recently developed cutting edge technology" creating "100% done for you review videos" so you can rank within a few mouse clicks.
Yes, it's everything you want to hear.
But hold your horses. This 1-click plug-and-play traffic system is a whole lot upsetting.
I'll tell you what it is, how it works, the reasons I wouldn't use it, way better alternatives you should definitely try instead.
Affiliate Traffic Lab Review At A Glance
About: Affiliate Traffic Lab is a YouTube-based traffic solution supposedly helping you to generate $100s daily.
Price: $27.95 for the Lite version and $47.95 for the Pro version. You'll also be "encouraged" to spend $405 for 5 upsells.
Pros: Nothing. I'm not being cynical, there's just really nothing good here.
Cons: The software is old, the method is unengaging, and currently it can't create videos anymore.
Verdict: Affiliate Traffic Lab is a very low-quality traffic solution primarily because it won't help drive people to your offers.

What Is Affiliate Traffic Lab?
Affiliate Traffic Lab is a cloud-based video maker made by Glynn Kosky launched back in February 2018.
It's quite old but is still around, spammed through many people's emails, the reason why you might just have bumped into it recently. Although the website still works and all, I'll tell you a bit later about my foolproof reason for not wanting to use it.
This "newbie-friendly" software supposedly creates Google rank-worthy videos to be uploaded on YouTube to siphon fast and easy traffic for your offers to convert, getting you $100s in daily income. Apparently, Glynn also claims you can do all of these within just a few clicks.
He basically capitalizes on the fact that videos create a great opportunity to "make big money online".
He'll sell the idea to you by highlighting how much time people spend watching videos online. He even emphasizes how easy it is to rank videos which in turn allows for more traffic to your offers.
True, video engagement is one of the best ways to drive traffic.
The problem is:
Affiliate Traffic Lab doesn't produce rank-worthy videos like Glynn claims to.
Here's an interesting fact:
Affiliate Traffic Lab is offered as a freebie in Vidcommissions. It's supposed to complement Vidcommissions by being its traffic solution.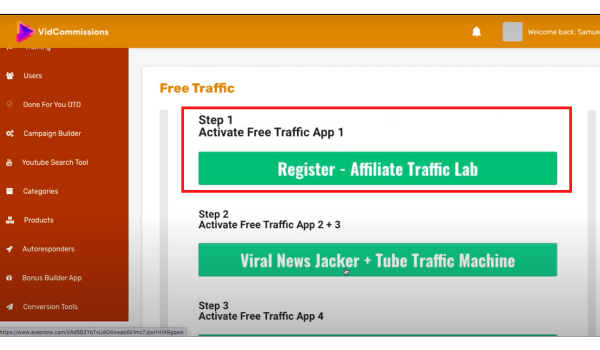 At first glance, this can be a good thing, but frankly, seeing it's offered for free in another system shows how little its value is.
And yet, he stills sells it for either $27.95 or $47.95 on the sales page!
What should this tell you?
It still poses to be something of great value when in reality it's not.
Who Is Affiliate Traffic Lab For?
Affiliate Traffic Lab is for those who want a traffic quick fix. The reality though, this is for those who want unguaranteed traffic.
Every hype you read on the sales page is unfounded, so Affiliate Traffic Lab is ultimately for those who are willing to take the risk of investing in a traffic solution that's not sure to bring the traffic you expect.
How Does Affiliate Traffic Lab Work?
Essentially, Affiliate Traffic Lab creates simple videos you will upload on YouTube which will supposedly help in making money for you when it gets traffic for your offers.
Inside the members' area, you'll get access to 100s of affiliate products from JVZoo, WarriorPlus, and ClickBank. The idea is to pick a product from the list and make a video about it.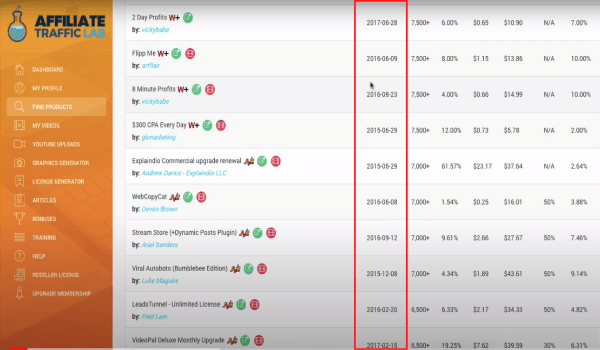 At first glance, this can look like 100s of chances for you to make money. But when you check their launch dates, it's from years back. They could've been popular before, but the fact it's old and from serial product creators will tell you many of them are abandoned by now.
If it's no longer live, of course, you won't be able to get anyone interested in buying them which simply means no earnings for you.
One fact about products from serial product creators is:
It's simply churn and burn, it comes and goes. Since creators launch multiple products a month, the products quickly become old.
Unless the creator says it needs maintenance cost, you can certainly expect the product to be abandoned any time soon especially if it's 20-30 products ago from his current launch.
If you read claims like no ongoing monthly cost, don't think it's in your favor. They actually need the monthly cost to keep it maintained. For all you know, without maintenance, they're just waiting for the hosting or the domain to expire.
Suppose you do find a product that's fairly new, you can go ahead and make a video for it. But what it actually just does is just take the content from the product's sales page and make it your video content.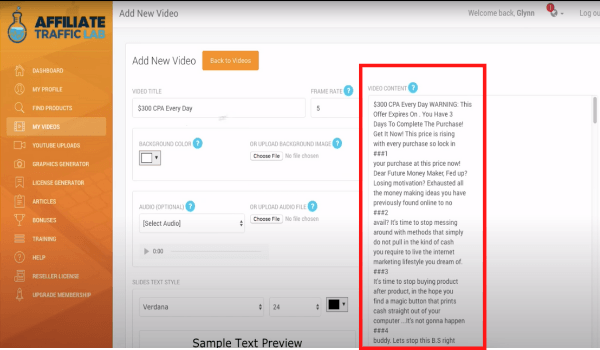 You just then have to name the video, pick a background color or image, and font for it and you'll get something like this.
But get this:
You'll only get a video generated when you use this back when it's still freshly launched. But if you just bought it now and try to create your video, you upsettingly see this: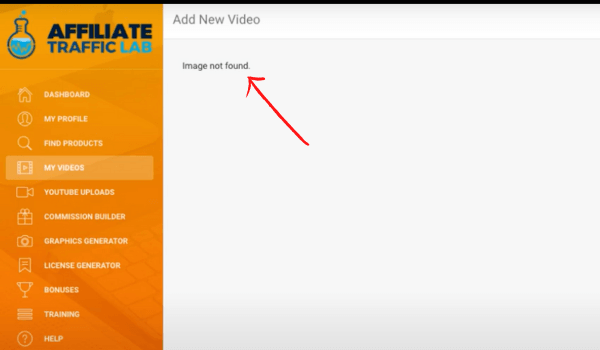 You can even get a hint about what you'll only get on the sales page. In the short tutorial video embedded there, the video ends when the upload button gets clicked.
Glynn says the video is now live on YouTube but he doesn't actually show it really is.
As you can see on the video slides generated, your video is very unengaging. It just runs the sales page in a video form. The whole thing is nonsense.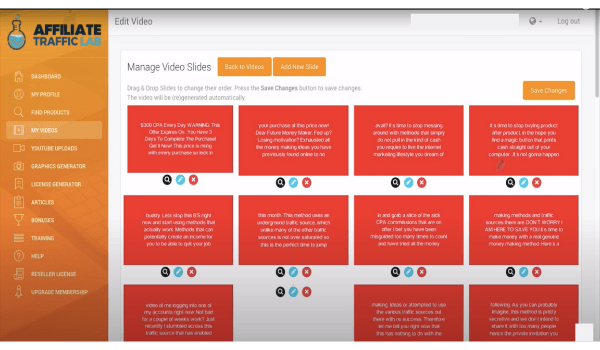 If you just get everything written on a product's sales page, put it in a video, and throw it on YouTube, you won't get anyone perked up to buy your offer, let alone finish your video!
It's just a really bad way to use videos to drive traffic to your offers. It sounds too hype-y and scammy. There aren't even images to make it look more compelling.
You can do better if you do it yourself from scratch.
If you want to know the best traffic solution fo affiliate marketing, check out Simon telling you about it:
Also, I strongly suggest you don't put your personal information anywhere on the members' area. You should even use a different email and password from the one you usually use to access your bank and other sensitive accounts.
Why?
Because the website is not secure. You risk getting your identity and even your money stolen when they use the information you provide to access your online bank accounts.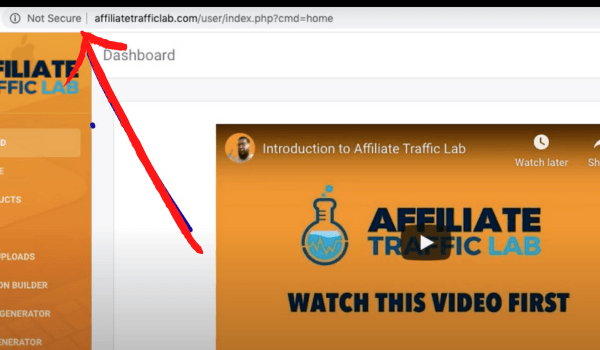 4 Reasons I Wouldn't Use Affiliate Traffic Lab
1. Poor Video Quality
If you were fortunate enough to use it when it was still working well, you'll still end up disappointed with the videos you actually get. They won't engage viewers so it won't drive traffic and conversions to your offers.
2. It Doesn't Work Anymore
Yes, you can access the members' area but you can't use it for its supposed work, rendering it completely useless.
3. The Training Is Not Enough
You're only get taught how to go around the software and no training on what affiliate marketing is, why you need traffic, and all the traffic strategies available.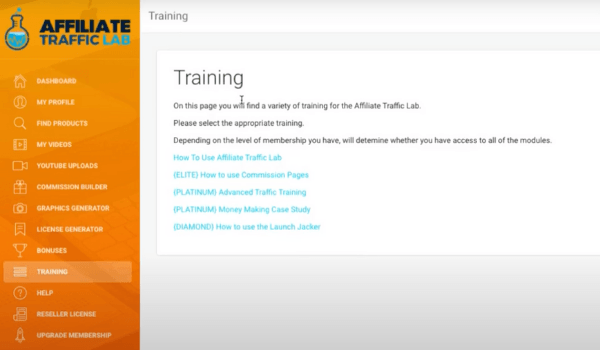 Once Affiliate Traffic Lab shuts down, the thing you learn on the training would be rubbish.
4. Unsecured Website
You risk getting important information stolen.
Is Affiliate Traffic Lab A Scam?
Affiliate Traffic Lab is a scam because Glynn still peddles it when it's no longer working. Fundamentally, a scam is something that doesn't do what it says it'll do, exactly what Affiliate Traffic Lab is doing.
Even if you generate videos, itstill won't get you the results he promised on the sales page and the disclaimer can completely attest to it.
It says:
This website and the items it distributes contain business strategies, marketing methods, and other business advice that, regardless of my own results and experience, may not produce the same results (or any results) for you. AffiliateTrafficLab.com makes absolutely no guarantee, expressed or implied, that by following the advice or content available from this website you will make any money or improve current profits, as there are several factors and variables that come into play regarding any given business.
Where Do You Go From Here?
Overall, Affiliate Traffic Lab is merely a shiny traffic shortcut that's heading nowhere. Ditch this rubbish and learn how you can really generate sustainable traffic for your affiliate offers.
It's not an overnight kind of work. You have to invest time and patience. When these two elements are present, it's a good sign it's built to last.
When they're not and you're promised fast results with just a few clicks, start asking questions.
Instead of relying on Affiliate Traffic Lab, it's way better to learn the most effective traffic methods in Wealthy Affiliate.
With Wealthy Affiliate, you'll get to learn from successful marketers and their successful traffic experiences. It's not just offered in a step by step training but also by getting access to other people who were successful in the field, true affiliate marketers who use the legit traffic sources.
If you don't want to shed money upfront, you can always test the water with the 1st 10 free lessons.
Interested to know more about how Wealthy Affiliate can help you reach your online income goals? Head on to this tell-all Wealthy Affiliate review to get started.
What's Your Take?
We're you surprised Affiliate Traffic Lab is still live but isn't working as it's supposed to anymore? Do you think the videos it provides are boring? Tell us what you think, the comments section is ready for you.
Simon Crowe is on a mission to help as many people as possible kiss their bosses goodbye.
Take the free Commission Academy course to discover how to smash your online income goals and make your dream business a reality.