Believe what the sales page tells you and you'd think Commission Blaster was a sure-fire money-maker you'd be crazy to pass on.
But is Commission Blaster legit or just another money-grabbing scam you need to steer clear of?
In this Commission Blaster review, you're going to find out what it is and how it's supposed to work and whether it's worth buying or not.
Let's get right into it!
Commission Blaster Review At A Glance
About: Commission Blaster promises tons of pre-designed sales pages and traffic sources to help you make money as an affiliate marketer.
Price: $27 discounted to $12, plus 6 optional upsells totaling $598.
Pros: Comes with a full 30-day money-back guarantee.
Cons: Exaggerated earnings claims and ineffective traffic-generating methods.
Verdict: Great for people looking to spam Facebook with get-rich-quick scams, disappointing for everybody else. This is not how you start an online business.

What Is Commission Blaster?
Commission Blaster is a set of 60 optimised and done-for-you sales pages designed to sell ClickBank products created by Chris X, Rich W, and Vivek G.
We're told Commission Blaster will help you make money with ClickBank thanks to its 30 traffic sources reaching 2.5 billion potential buyers.
Commission Blaster is sold under Rich Williams. I found out Commission Blaster is not his first and definitely not his last affiliate product because he also has:
Affiliate Cloner
CB Traffic Bots
Christmas Affiliate Bots
Either he's an affiliate genius who keeps discovering ways to make more money online or he's just a cunning marketer making money from the hype of new product launches.
I also find it odd they're selling a product on how to sell ClickBank on WarriorPlus rather than ClickBank itself!
The sales page is full of hype, saying this system will eliminate the need for spending on Google and Facebook ads, waiting for months for organic traffic to do its magic or spamming social networks.
Except, see inside the training area and spamming Facebook is exactly what they tell you to do!
Who Is Commission Blaster For?
We're told Commission Blaster is "the world's 1st 30-in-1 traffic blaster" that will automate your online marketing and help you become a super affiliate.
This suggests you should already know what affiliate marketing is and how it works.
In other words, this is NOT a product for beginners.
I could see this being of value for experienced affiliate marketers who are looking to get into paid advertising and would prefer to buy pre-made sales pages rather than designing them yourself.
As there's over 60 different designs, you could split test them and find out which converts and gives you the best return.
How Much Does Commission Blaster Cost?
Commission Blaster is advertised at $27 but click on the pop-up window appearing seconds after you land the sales page and it's discounted to $12.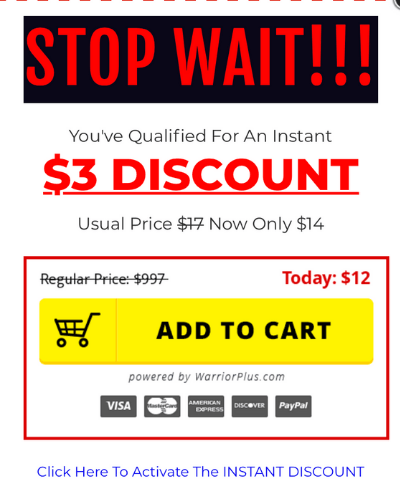 At $12, this looks like an absolute steal. You're told Commission Blaster was originally priced at $997 there is over $10,000 worth of bonuses included.
It's only when you look at the upsells you realize Commission Blaster is not the complete income system they make it out to be…
There are 6 upsells with this product that come to a combined total of $598:
Upsell 1: Unlimited Edition ($29)
This upsell is supposed to boost your profits 10x by getting you unlimited free traffic and unlimited done-for-you campaigns.
Apparently, the $12 version only gives you limited traffic and income potential.
Upsell 2: 300x Edition ($39)
300x Edition gives you access to:
The Meme Generator which supposedly gets you viral traffic
The eCom Creator which helps create designs for your own products
Reseller rights to this upsell
The meme generator sounds interesting because who doesn't appreciate a bit of humor, right?
But if the memes it generates are the same as everyone else get then you won't stand out and generate the traffic you're supposed to. The same goes for the eCom creator.
Upsell 3: Autopilot Edition ($39)
This upsell gives you an additional 1,500 campaigns to start promoting high-converting JVZoo and WarriorPlus products.
High-converting is good, but that doesn't necessarily mean these are good products. Check out their top-selling products and they're mostly scams like Easy Retired Millionaire, Cash Formula and Click Wealth System.
Promote these junk programs as the ultimate answer to people's money-making worries and you're only going to harm your reputation as an affiliate marketer.
Upsell 4: Done-For-You Edition ($197)
This is the ultimate income shortcut they've come up with. It promises no sweat on your part by doing everything for you, like:
Creating websites and campaigns
Selecting a niche and products and monetizing them
Doing all the other necessary work for you
Sounds like you won't need to lift a finger, BUT it also means you have less and less control over "your" business.
Upsell 5: Reseller Edition ($197)
This gives you the license to sell the system itself and keep 100% commissions. It also comes with email swipes.
Upsell 6: MegaBundle Edition ($97)
This upsell supposedly gets you access to 39 of their best-selling products to help you build an email list, create video content, and drive traffic.
Commission Blaster: An Inside Look
Inside the members' area, you'll see this 5-step process to creating your product campaigns: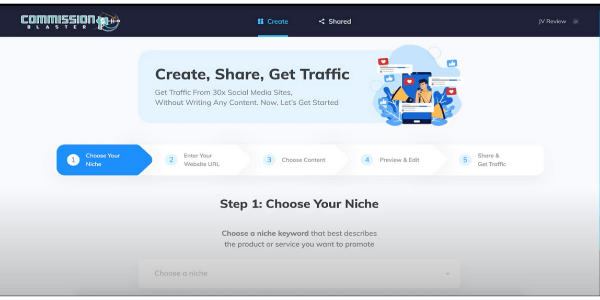 Step 1: Choose a preferred niche and products from the list
Some of the products they promote are:
We've done reviews on these products and I tell you, they're so low-quality you wouldn't want to be recommending these to anyone.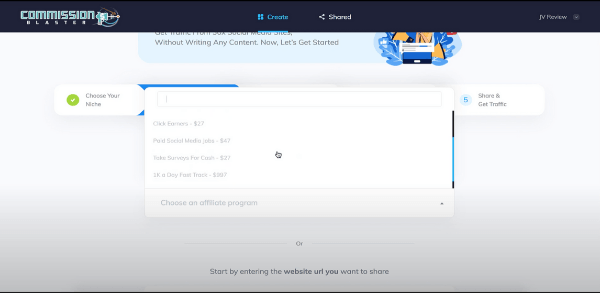 Step 2: Enter your ClickBank affiliate to direct the commissions to your account
Step 3: Mix and match the pre-made content
There is preloaded content consisting of a question, a call to action, and an image. You just have to choose one of each to make your own: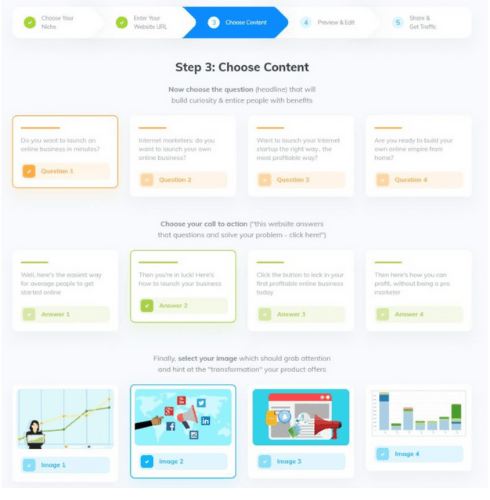 Can you imagine? Every single Commission Blaster member is getting the same exact content?
You don't need me to tell you a site filled with duplicate content will never see the light of day as far as Google is concerned!
4. Preview your mixed and matched content.
5. Share and get traffic.
Can you guess what these "secret traffic sources" are?
It's the likes of Facebook, Twitter, Pinterest, LinkedIn and Whatsapp!
What's so secret about that?!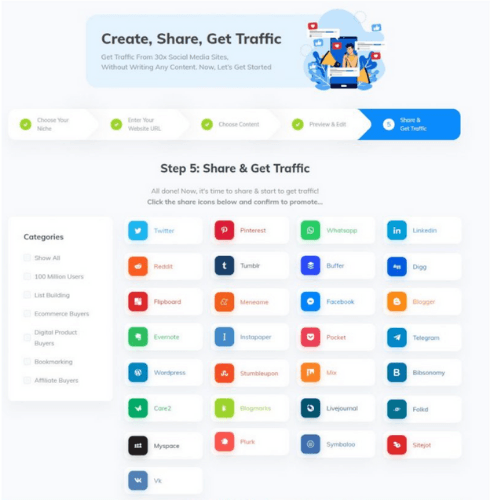 The bottom line is, claiming 2.5 billion in potential buyer traffic is quite misleading because unless there's a connection between you and them, you won't get them to convert, let alone get noticed.
Remember that promise of step-by-step training?
I can't find it. It's not there. What a bummer.
You can check out this video for a live Commission Blaster demonstration:
3 Things I Don't Like About Commission Blaster
1. It's Not As Advertised
The sales page proclaims Commission Blaster gives you access to 2.5 billion buyers on auto.
Firstly, there's nothing automatic about spending your days copying and pasting spammy links on Facebook.
Secondly, there's a huge difference between traffic and buyer traffic and your success hinges on getting the right products in front of the right people. This isn't doing that.
2. You Can't Believe Those Fake Scarcity Tactics
Scroll down to the bottom of the sales page and you'll see a countdown timer urging you to buy now before the price goes up.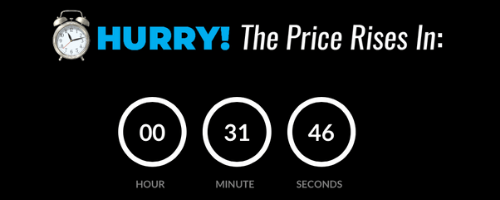 Except, refresh the page and the timer resets itself.
No, there's no automatic price increase and the price doesn't jump up every hour.
3. The Earnings Disclaimer Reveals All
Rich Williams and co. think they can tell you whatever you want to hear because legally, they've covered themselves with this earnings disclaimer:

Is Commission Blaster A Scam?
Yes, Commission Blaster is a scam because driving free buyer traffic is not done for you and this will not 10x your profits as promised. The guys behind this program have a reputation for coming out with scammy, low-quality products.
Spamming social media is an outdated method that doesn't work. People are more sophisticated online than they used to be and we don't generally click on random links that show up in your Facebook timeline.
In the end, you'll just annoy your followers and probably get your account blocked banned for spamming.
Another thing is you've got to constantly share these links. You have to constantly chase sales (instead of creating a website where people come to you).
You might get fortunate enough to make a few dollars but this is not a strategy you can build a long-term successful business on.
Where Do You Go From Here?
Putting your trust in shiny everything-done-for-you shortcuts is like the foolish man who built his house on the sand; they never work and they are not sustainable in the long-term.
Wealthy Affiliate will show you how to create an online business you can build your financial future on.
Their 70+ video training modules will give a step-by-step roadmap to follow and the community will help you get there.
Check out our SUPER in-depth Wealthy Affiliate for all the details.
Give Us Your Commission Blaster Review
What do you think now you've read this review in full? Is Commission Blaster worth the money?
Have you already purchased Commission Blaster? What's been your experience? Good or bad, we'd love to hear from you!
Simon Crowe is on a mission to help as many people as possible kiss their bosses goodbye.
Take the free Commission Academy course to discover how to smash your online income goals and make your dream business a reality.