Commission Blaster appears to be a sure-fire income system you should definitely try. It offers "traffic tsunami" from their "secret buyer pool" within 3 minutes. But is it legit or just another money-grabbing scam you need to stay away from?
With just the two words the name has, this system is promising huge deal. But can it deliver?
Today you're going to find out what it is, how it's supposed to work, it's pros and cons, if it's a scam, and if it's better to flip through better alternatives so you can make a wiser decision than when you first heard about Commission Blaster.
Commission Blaster Review At A Glance
What Is Commission Blaster?
Commission Blaster is a cloud-based affiliate income system made by Chris X, Rich W, and Vivek G launched just last September 30. It claims to provide 60 done-for-you campaigns for ClickBank products complete with 30 traffic sources with a total of 2.5 billion potential buyers.
Commission Blaster is sold under Rich Williams. I found out Commission Blaster is not his first and definitely not his last affiliate product because he also has:
Affiliate Cloner
CB Traffic Bots
Christmas Affiliate Bots
Affiliate Funnel Bots
Either he's an affiliate genius finding more and more ways to help others make more money out of affiliate marketing or he's just a cunning serial product launcher trying to use a legit business model for is advantage.
I also find it funny why they sell the system in one marketplace but the products they promote are from another. Does this mean there are more legit and high-paying products in ClickBank? What does this imply about Commission Blaster sold in WarriorPlus?
Think about it.
We're also told Commission Blaster is the "world's 1st 30-in-1 traffic blaster" making it the ultimate solution for every marketer's automation needs thus making you become a super affiliate.
This somehow suggests you should already know what affiliate marketing is and how it works which is another way for saying this is not an opportunity for beginners.
As always, the sales page is full of hype saying this system will eliminate the need for spending on Google and Facebook ads, waiting for months for organic traffic to do its magic, and using the competition-overwhelmed social networks. (Ironically, the traffic sources they promote are mostly social networks)
The sales page also says about providing step-by-step training (on how to use it not on how affiliate marketing really works). They also included what they claim to be $10,000 worth of bonuses to perk you up thinking this is more than a good deal.
Now let's see in the next section if this is really worth your buck.
Commission Blaster's Price
Commission Blaster's front-end costs $12 if you click on the pop-up window appearing seconds after you land the sales page, and $27 if you but using other buttons within the sales page. You also have to spend on a heart-thumping $598 for the upsells.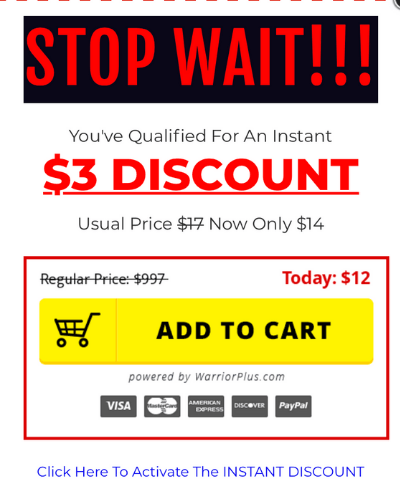 In hindsight, the frontend will seem like a complete package of all the claims you read on the sale page. Only when you know more about the upsells will you realize it's not as complete as what it's made to look. I'll tell you a little bit about these upsells, so you'll know what you're supposed to get with each one of them.
Upsell 1: Unlimited Edition ($29)
This upsell is supposed to boost you profits 10x by getting you unlimited free traffic, unlimited done-for-you campaigns, and commissions. Apparently, the front-end only gives you skimpy traffic limiting your income potential.
Upsell 2: 300x Edition ($39)
300x Edition makes you a content maker and product creator supposedly increasing your earning potential.
It provides you with a:
Meme Generator which supposedly gets you viral traffic
eCom Creator which helps create your OWN designs to make a product creator
Reseller rights to this upsell
The meme generator looks a bit promising, because who doesn't want a dose of laughter right? But if the memes it generates are the same ones other takers get, you won't stand out and ultimately won't generate the traffic it's supposed to help you get. The same goes for the eCom creator.
Upsell 3: Autopilot Edition ($39)
This upsell supposedly gets you access to an additional 1,500 campaigns for products in JVZoo and WarriorPlus aside from the ClickBank products you already had access to.
Unless the campaigns you already have can gain the traffic it's promised to get, this won't be any different.
Another problem I have with this is there's no guaranteed you'll be getting access to high-converting products in the added marketplaces.
Upsell 4: Done-For-You Edition ($197)
This is the ultimate income shortcut they've prepared for you. It promises no sweat by doing everything for you, like:
Creating websites and campaigns
Selecting a niche and products and monetizing those
Doing all the other necessary work for you
Sounds like you won't need to lift a finger, BUT it also means you get less and less control over "your" business.
Upsell 5: Reseller Edition ($197)
This gives you the license to sell the system itself and keep 100% of the commission. They also provided email swipes you can use for email marketing.
But until you prove you made money from this yourself, I don't think anybody will even be interested in buying it. I don't think it's a wise choice opting for this when you still haven't proven anything yet.
Upsell 6: MegaBundle Edition ($97)
This supposedly gets you access to 39 of their best-selling products with 10 software to help you build an email list, create video content, and drive traffic.
At the very least, they could've provided solid proof the products are really "best-selling" so you'll see if the investment will be worth it.
Commission Blaster: An Inside Look
Commission Blaster is said to have the exact programs and traffic utilized by top-earning affiliates preloaded in the system so it's easy to use. They also said about providing step-by-step training. We'll see if there's any truth to it.
Inside the members' area, you'll immediately see a 5-step process to creating your product campaigns.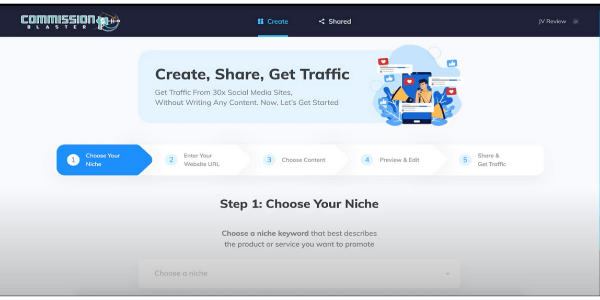 1. Choose a preferred niche and product from the pre-listed choices they gave. Some of the products they promote are: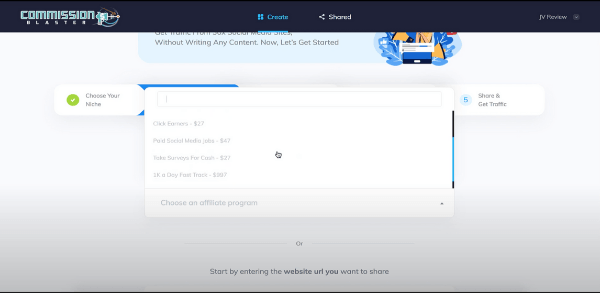 We've done reviews on these products and I tell you, they're so low-quality I don't think it will make people convert.
Even billions of traffic mean nothing unless you have proven high-converting products within reach. The products I mentioned just now doesn't even barely fit the category.
2. Enter your ClickBank affiliate link to direct the commissions to your account.
3. Mix and match the content.
There is preloaded content consisting of a question, a call to action, and an image. You just have to choose one from each to make your own.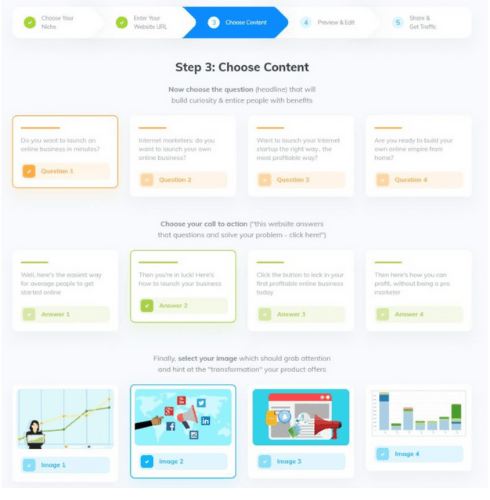 Because of the limited choices, you'll risk having the same one as other users making it hard for you to stand out and get noticed.
Also, the content they provide is so easy to make, I don't think you have to pay for a system to make one for you. If you just Google it, you can easily come up with the same questions, call to actions, and stock images.
Honestly, I don't think the half-baked content will do you any good. It sounds too clickbaity, only the inexperienced will ever be interested in this.
4. Preview your mixed and matched content.
5. Share and get traffic.
Here's the kicker:
The "secret" traffic sources turned out to be social network sites! So much for saying these sources are too overwhelmed with competition.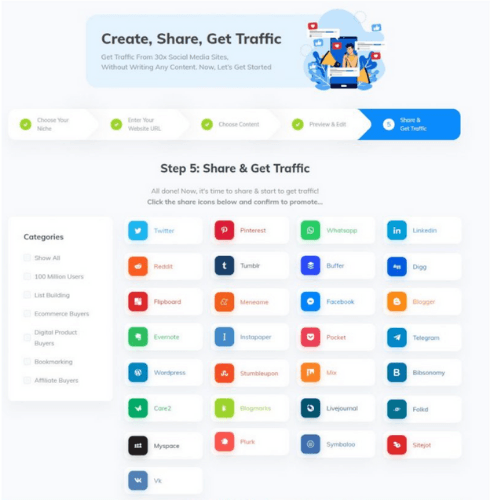 We'll yes, social networks can provide you with a lot of traffic but it's different from saying you'll get targeted traffic.
Plus, your traffic will only be limited to the few 100s in your follow list so even if there are a lot of people on social sites, you wouldn't be able to connect with them unless you've established a following.
If you check out the social sites, they listed it includes sites like MySpace. Are there still people who go there?
And you have to make an account for each of these sites to share content.
The bottom line is, claiming 2.5 billion in potential buyer traffic is quite misleading because unless there's a connection between you and them, you won't get them to convert, let alone be noticed.
Last thing, remember the promise of step-by-step training? I didn't find it. What a bummer.
If you want more of the inside look, you can check this video out too:
4 Things I Don't Like About Commission Blaster
1. Misleading
The traffic turned out to be social sites where you'll only be able to connect with the "potential traffic" if you have an established following.
2. Uses Scarcity Tactic
The sales page has the all-too-common countdown timer which you can simply refresh to get the timer up and running again.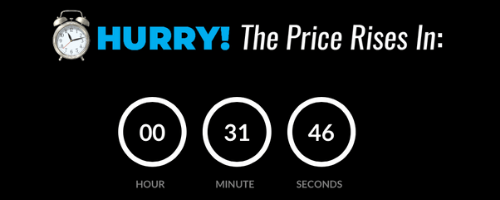 3. Statistics Have No Proof
They included a table of their supposed number of users but doesn't provide anything to verify the numbers. Unless proven, this will only be a mere ploy to make your trust the system.
4. Disclaimer
Cleans hands by saying they are not liable for any "delay in performance" or "loss" which is another way of saying:
You can't after us for believing every hype we made.

Is Commission Blaster A Scam?
No, Commission Blaster is not a scam because you are given a system creating campaigns with affiliate products incorporated into it. BUT I wouldn't recommend it because their recommended traffic source is simply social networks limiting your income potential to those in your network.
People are more sophisticated online than they used to be and we don't generally click on random links nowadays. You'll end up annoying your family and friends with spammy links and probably get your account blocked banned for spamming.
Another thing is you've got to constantly share these links. You have to constantly chase sales (instead of building a site where people come to you).
You might get fortunate enough to make a few dollars but this is not a strategy you can build a long-term successful business on. (Wise man builds his house on the rock but foolish man builds his house on the sand idea)
Where Do You Go From Here?
Shiny everything-done-for-you shortcuts don't work. There are no quick fixes to making a sustainable income online.
Commission Blaster doesn't even train you enough to make you understand how affiliate marketing really works something Wealthy Affiliate can help you with.
So instead of falling for these golden tickets to success, learn how you can do affiliate marketing yourself, giving you full control of your business.
If you're wary of making the wrong investment especially now you know about Commission Blaster, Wealthy Affiliate is one step ahead. It allows you to test the waters for free with its 1st 10 lessons.
If you're interested in knowing more about this training, head on to this in-depth Wealthy Affiliate review.
What Do You Think?
Did you feel the sales vide was promising to much for them to handle? Were you surprised their "secret" traffic source turned out to be social sites?
Tell us what you think, drop it in the comments section below. We'd love to hear from you.
Hi I'm IG, nope not a kin of the social media; I've been IG since '93. I'm 1 part writer, 2 parts reader and 3 parts puzzle nerd.