Taking the daily commute out of your daily routine and working whenever you want can be a dream come true right? Especially if you're earning enough to do and buy whatever you want.
If you think ClickEarners is your ride to making money online I definitely suggest you check out this review first. 
Some people want to start a business online and be their own boss like with affiliate marketing, others opt to still work under someone. Both have some pros and cons and it really boils down to what floats your boat.
If you choose the latter and consider ClickEarners to find the right boss, you're in for some major blow. The good thing is, you can avoid the catastrophe after reading this review.
ClickEarners Review At A Glance
About: ClickEarners is a middleman to online jobs platforms like Upwork and Freelancer.com.
Price: $27 for a year-long access or $57 for a life-long access. Upsells total to $98.97.
Pros: Nothing.
Cons: Fake sense of urgency, useless members' area, has unreasonable income claims and is only posing to be an independent online jobs platform.
Verdict: ClickEarners is a platform you can do without. You can apply for jobs directly on Upwork and Freelancer.com and watch work tutorials on Youtube. 

What Is ClickEarners?
ClickEarners has an anonymous owner. Even if you turn the website upside down you won't find any name. No About Us section, nothing.
In most cases, if not all, this is not a good thing. Why on earth will you hand your money to someone you can't trust, let alone know the name of?
The website has been up since 2017.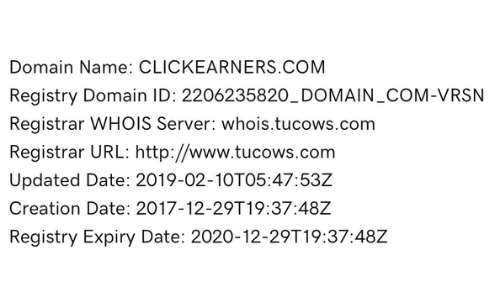 If you think it's a great thing just know many scams can last as long as people begin to trust them and starts opening up their wallets. By the time you've emptied your wallets, you'll also be left empty-handed with no product.
So, while the domain registration can be a good sign, it's never a guarantee.
It can seem to be an online job platform like any other but remember this is a Clickbank digital product. What can this mean for you? It means you have to pay up before you get inside the system.
The thing is, most online job portals earn from a percentage from the jobs you get. If they do ever charge you, they deduct it from your job pay. It's rare to find a platform that'll ask you to pay upfront before you start accessing any job.
Come to think of it, I've talked about two red flags already and I'm still not halfway through this review.
If I were you, I'll put my wallet back in my pocket for now.
How To Join ClickEarners
First, you give your name and email address and answer questions like "how many hours per week can you work?" or "will you be happy working online?" It's kind of a stupid question to ask because I wouldn't even be there if I wasn't.
After they "approve" your application you'll then be asked to choose a membership option.
You have two choices:
1 Year Access – $27
Lifetime Access – $57
And because it's a Clickbank product, it comes with a 60-day money-back guarantee. But don't put your hopes up in this, there's a trick up their sleeve.
Here's the problem I see with the membership fee: First like I told you earlier, legit online job platforms do not do this. Two, they didn't even bother to explain what the fee is for.
I mean is it for website maintenance? Or for accessing unlimited job opportunities? A little explanation would have been nice to assure me I'm paying for something of value.
I wasn't really satisfied so I headed to the terms and condition page. Here's what I saw.

They say their job for you is done by the time you access the product! This tells me I won't get any support after I pay up. So, they don't really care if I'll make money, all they care about is the money they get from everyone!
Why do I say that? Because they want to fork more out from you with upsells like:
Mystery Shopper & Secret Diner Starter Pack – $37
Envelope Filing Starter Pack – $47
VIP Package Success Coash – $14.97 per month
Making money online isn't complicated…
This video will show you exactly how to get started. Tap to watch now »
So far, I haven't seen anything amazing about ClickEarners yet.
How ClickEarners Work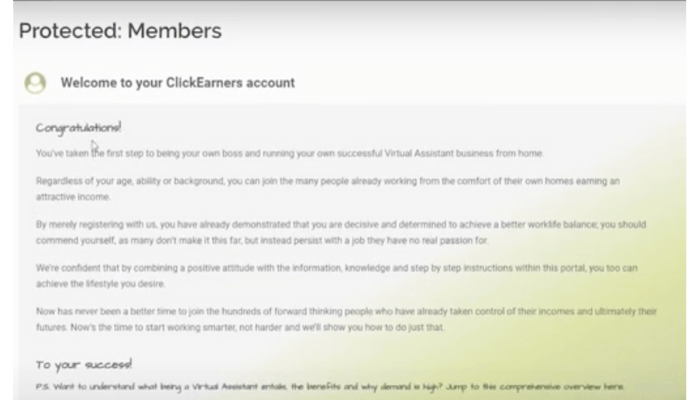 There are people who said they couldn't access the members' areas after paying up. But it's not the same case for all.
Here's what you'll get in the members' area:
PDFs on Data Entry, Social Media, and Virtual Assistance which you can actually find for free if you just Google it.
Descriptions about the different types of online jobs
Resume and cover letter templates which you can also find in Google and Canva. (Better looking ones actually)
Link to FB virtual assistant groups which you can just easily type and search in Facebook
Upsells
Links to legit online job platforms like Upwork.com and Freelancer.com
The thing is, most of the things you'll find in the members' area can easily be found for free on Google.
Here's the worst part:
You don't need a link to Upwork.com and Freelancer.com, you can just go there directly. And why is this the worst part? Because you really can't find any job posts in ClickEarners. The jobs linked there are from Upwork.com, Freelancer.com and other legit online job platforms.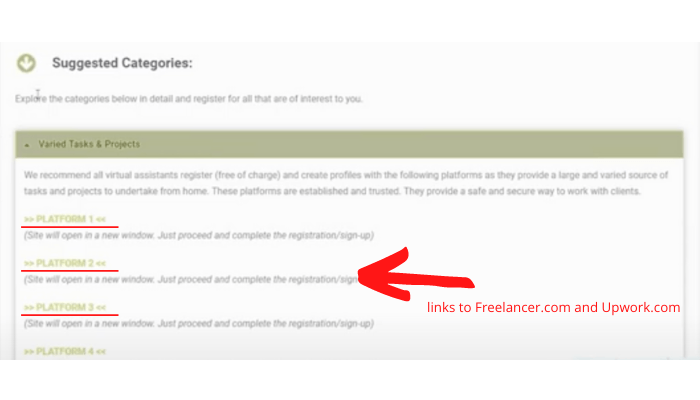 So really, you don't need ClickEarners for anything! Your $27 of $57 is like thrown away in the air!
So, you think of getting a refund?
Here's the catch?
They'll reply to your request long after the 60 days are up, so there's really no refund fallback for you!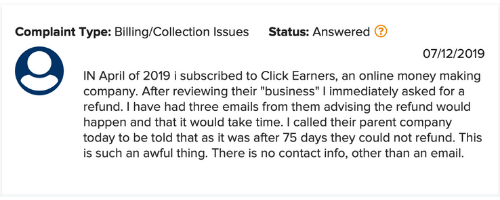 The Cons Of Joining ClickEarners
1. Tricks To Get You Interested
ClickEarners uses geo-targeted messages to make you feel they need you. This is tactic scammers use to make you believe you're in a specific demand when in reality, this message will appear to anyone who visits the website.
2. Fake Sense Of Urgency
They'll tell you there are only a few slots left making you want to grab it as fast as you can. But then again this fake sense of urgency is used by scammers to grab your money fast.
3. You Need A Fee To Make Money
Ironic right? Like I explained earlier, some legit job sites will earn from you AFTER you get paid for a job, not BEFORE. Others even let you make a profile or upload a resume without shedding a penny.
4. Useless Members' Area
The content you get inside can easily be found in Google for free. So really, there's no need to pay up to access this information.
Here's a sample of the PDFs they'll give you: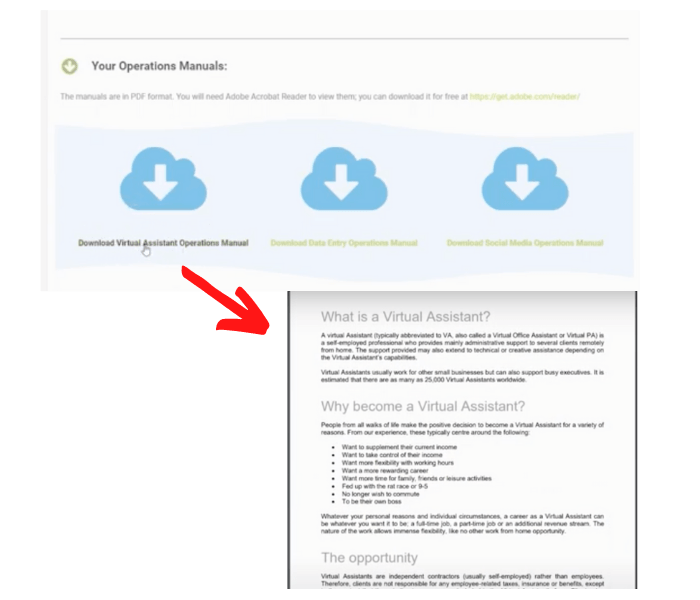 5. Upsells
Most people who give ClickEarners a chance are those who have no online experience yet. So, they're easier to dupe with any offer that's made to look like there's a great value to it.
This actually bugs me because people are genuinely looking for jobs to make money and scammers use this advantage to bombard them with schemes which will squeeze the money out of them and leave them dejected.
Instead of helping these people look to online money-making positively, they'll end up hopeless and cynical.
6. Disclaimer To Clean Their Hands
After making you believe they'll help you land a job they'll steer clear from any responsibility by telling you they're only giving you resources and not really help you find a job.
I find a lot of scams doing this. They'll make you believe in one thing making you hopeful, while at the same time avoid any blame written in a disclaimer you'll only see when it's too late.
7. Unreasonable Income Claims
They'll show off ridiculous rates of $25-$50 per hour of doing tasks like filling our surveys and stuffing envelopes.
The thing is, if you head on to legit sites, they won't pay you more than $5 per hour for tasks like these.
8. No Support
Remember their job is done after you get a few PDFs and links. Unlike any claims of helping you make money, in reality, you'll be left alone to do and understand the hard parts. There's no real training here, just generic information you can easily find without a cost.
9. Not A Real Online Jobs Platform
This is where they'll completely slaughter you. After letting you expect to find jobs on the platform, you'll only be given links to real online job platforms.
Here's the real score: There's no real job waiting for you here so save yourself and stay away. ClickEarners is not what they claim to be.
Is ClickEarners A Scam?
I'll lose no sleep in telling you it is! For ClickEarners, it's just a stack full of red flags shaking you up to wake up to the truth that they're no more than a mere scam duping unsuspecting people.
You won't earn from joining ClickEarners, instead they'll earn from you. Instead of paying up to access some job links, just go directly to the online jobs site where the link leads and sign up for free.
You can even use Google to look for legit online job platforms if you really have no idea about it.
ClickEarners Review Closing Thoughts
You can switch from your physical 9-5 day job to working online at home. There are a number of legit websites with job boards to find jobs to apply to.
The thing is, even with legit online job platforms, there are still bogus employers who will fail to pay after you've done your job. But legit websites put a system in place to ban these fake bosses.
So, if bogus bosses can penetrate even legit websites, how much more with bogus job platforms.
I'm not saying this to discourage you from legit online job platforms. The truth is, that's where I found my trustworthy employer.
The point is, you have to use the best options you have rather than signing up for just any website that comes your way. This will lessen your chances of heartbreaks.
Now if you find yourself tiptoeing with this, you can always try other options like affiliate marketing.
With affiliate marketing, you'll be your own boss. You still have to put in the work like learning the ropes, choosing the right products to promote, and setting up your website.
The great thing about this is after you've established the business, you'll have more control of your time and you can earn even when you're not in front of your computer.
It does include some costs for training and getting your website up and running. But you don't have to take your wallet out right there and then because you can access a few lessons on it for free.
If you feel it's going to work for you, only then will you need to take some money out.
For more information on how this works, you can learn more in this Wealthy Affiliate review.
Whatever floats your boat whether it's working for someone or being our own boss, only a legitimate platform will get you to achieve your online income goals.
How I Make A Living Online?
After years of working in call centres I finally figured out how to create a 5-figure monthly passive income stream and become financially free.
Thanks to the right training and a lot of hard work I kissed my old boss goodbye and booked a one way ticket to Thailand.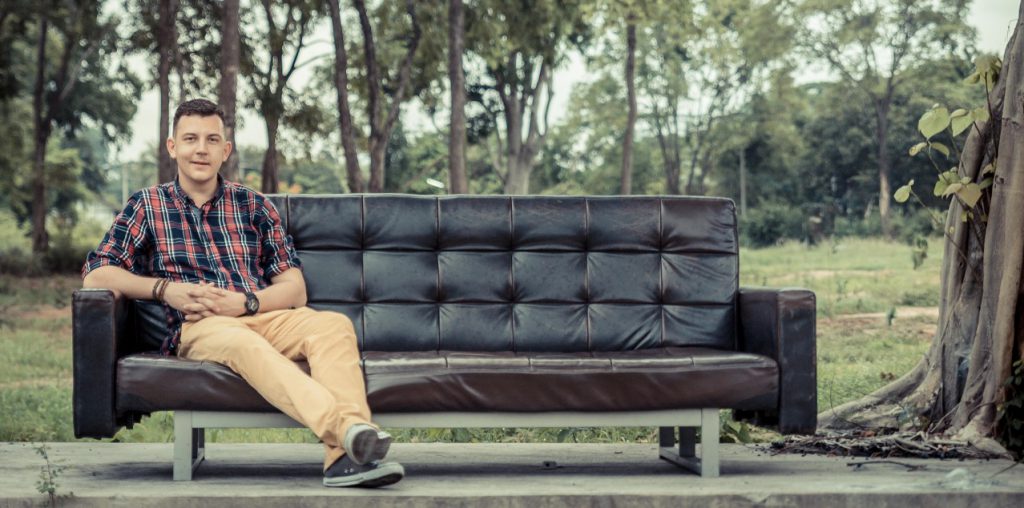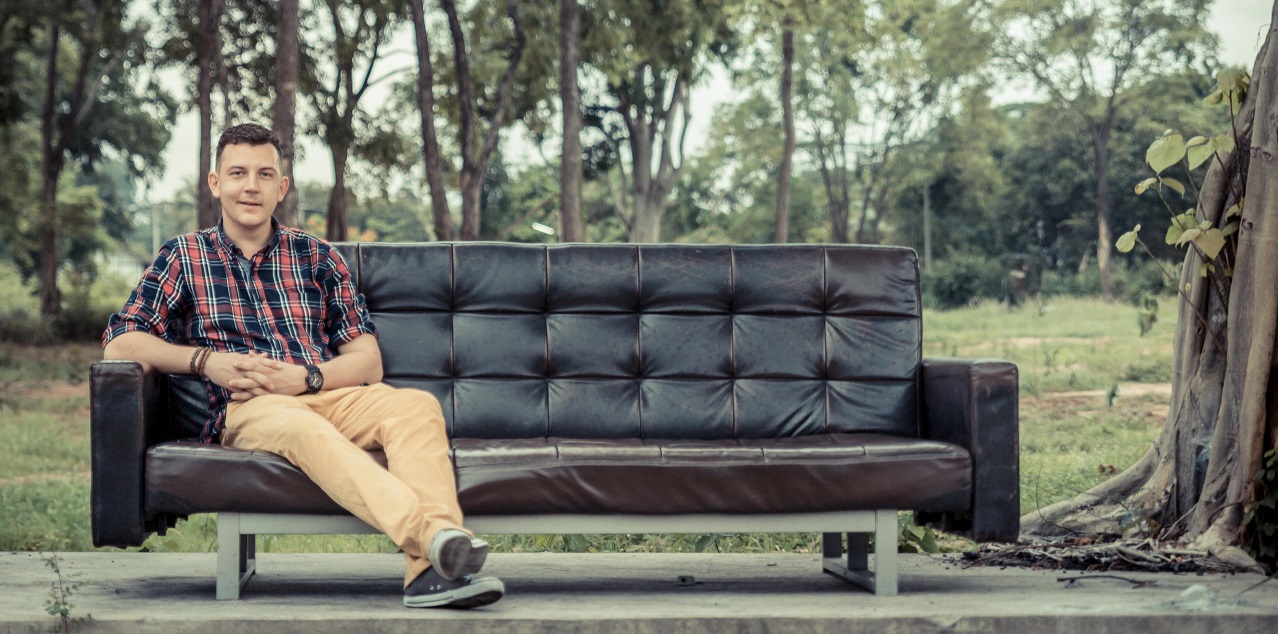 So if you're serious about building a thriving online business, click here for the exact step-by-step formula I follow.
Questions? Recommendations?
Feel free to ask more about affiliate marketing, just drop those questions in the comments section below.
Simon Crowe is on a mission to help as many people as possible kiss their bosses goodbye.
Take the free Commission Academy course to discover how to smash your online income goals and make your dream business a reality.