Welcome to my Traffic Unleashed review and today I'm going to give you an inside look at this system. In hindsight, it looks just like any other over-hyped income system claiming to be a "brand new 1 click software to drive viral traffic to your affiliate links in 41 seconds."
It poses to be the "world's 1st ultra-engaged real-human visitor" traffic software. If you've been reading the past couple of reviews I've done like Profit Sniper X, Commission Hotshot, 24h Commission Hustler, and more, you'll realize quick fixes of these kinds offer a sort of funnel, product, and traffic package promising $1000s in daily income. Sadly, all turn out to underdeliver every claim made.
Traffic Unleashed brings it to another level. Today I'm going to reveal:
What Traffic Unleashed is
How much it costs
How it really works
If it's a scam
And reasons why you should avoid Traffic Unleashed altogether.
By the end of this review, you'll find out why I've said at the outset that this is a huge letdown.
Traffic Unleashed Review At A Glance
About: Traffic Unleashed is a cloud-based income system using quotes and memes to supposedly bring "viral traffic" from social media sites.
Price: $22 for the front-end system plus $519 for 5 upsells.
Pros: None at all.
Cons: The sales page claims are over the edge misleading and the upsells are expensive.
Verdict: Traffic Unleashed is posing to be something it's not. Its "viral" traffic method is out of this world absurd. This won't help you make money.

What Is Traffic Unleashed?
Traffic Unleashed is a content-based income system launched by Rich Williams and Yves Kouyo last July 2020. It says that by using quotes and memes, you can generate viral traffic for your affiliate offers to earn $1000s daily.
Rich also created:
Affiliate Funnel Bots
Resell Bots
I've got to tell you, all of them fall short of impressive.
Speaking of falling short, the guy he's working with, Yves has this photo and I can't help but be disturbed by how edited his background looks.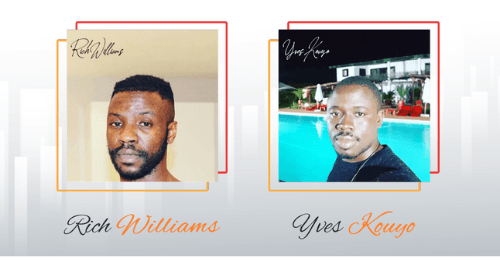 It's good, but not good enough for a scrutinizing eye. If they can have the editing skills to do this, how do you think I can trust any income proofs given are not edited as well?
Anyway, back to Traffic Unleashed, Chris says he made thousands of dollars using this method. Highly unlikely. At best, the income proof he shows is of how much he made peddling various products several times a month and not as an effect of using the method he's promoting here.
Chris is right when he said visitor engagement is the key. But stating this doesn't automatically make him an online money-making authority. It takes a whole lot more to gain credibility.
I know you sort of feel by now I don't trust this guy. Here why, Chris makes claims like:
Tap into a real secret, brand new, high quality, and ultra-engaged traffic
1.6 billion visitors daily
Convert clicks into cold hard cash
Virtually untapped traffic pool
He's going into hype-overdrive! He's clearly overdoing the hype game.
It doesn't even end there, he also says this software is "more than just a shortcut". (As if saying it's a shortcut is not enough)
The worst hype with this system? Naming it Traffic Unleashed when there's not even a trickle to expect.
On the sales page he says you won't need to:
Build email lists
Pay for ads
Have tech skills or previous experience
Have a huge budget
Undergo complicated training
Well, the list building, paid ads, and huge budget you can do without. But the skills and training, you'll need if for sure. I'll explain it to you later on.
If you've seen the sales page, think twice about believing what he promises.
How Much Does Traffic Unleashed Cost?
Currently, the regular price is at $22, while the discounted one is at $12. You can get the discount if you click on the pop-up button once you land on the sales page. Aside from the front-end software, you'll also have to spend $519 for upsells.
The sales page says the software itself has a $1,488 plus the bonuses are worth $5,485.
Now think about it, who would, at his sane mind, sell software for a few dollars when its real value is supposed to reach $1000s?
This simply brings out there's little to no worth in this system.
Now for the upsells.
Upsell 1: Unlimited Edition ($39)
This upsell supposedly removes all the software limitations and unlocks unlimited campaigns. However, if the initially given ones do not work, this won't be any different.
Upsell 2: Automated Edition ($39)
This is said to unlock automated features (which they don't explain further by the way) so you can set several campaigns.
If they can't explain what this really does, they basically can't explain too how it will make money.
Upsell 3: Reseller Edition ($197)
This upsell allows you to sell the software and keep all the commission. But if you haven't proven it really generates income, I think you won't stand a chance convincing others about buying this from you.
Upsell 4: Design Team Edition ($47)
This supposedly lets others create unique content for you BUT does not guarantee you any traffic. So, what's the use?!
Upsell 5: $100 A Day Edition ($197)
This upsell supposedly gets you a funnel so you can build an email list. I thought you won't need these methods anymore?
Overall, these upsells are pretty useless, you'll just be flushing money down the drain. Come to think of it, since this is priced higher this is probably where Chris really earns, and the front-end was just a ruse to get you to this point.
An Inside Look On Traffic Unleashed
Basically, all Traffic Unleashed does is allow you to create quotes or memes from pre-loaded meme backgrounds and stock photos and share them on Facebook, Instagram, and Twitter.
The sales page says you only have to do 3 things:
1. Login to the software.
2. Add your affiliate link.
3. Relax and let the software get your traffic.
The sales page says the method taught is a "loophole" to siphon free viral traffic. But as you can see, creating memes and quotes won't get you "viral traffic".
First of all, you're only taught to add your affiliate link which implies you should've learned about affiliate marketing early on. So, this is not beginner-friendly at all.
Second, there's no training available. One of the upsell promotes you creating a list (even when the sales page claims you won't need to). The problem is, you won't be taught about email marketing so there's no way for you to utilize the list you will build.
Inside the members' area, you'll immediately see the dashboard with a stat monitor.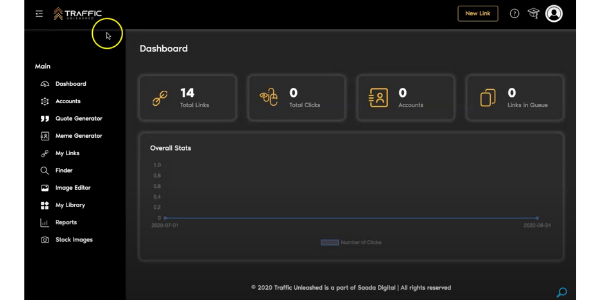 You can input your social links on the accounts tab.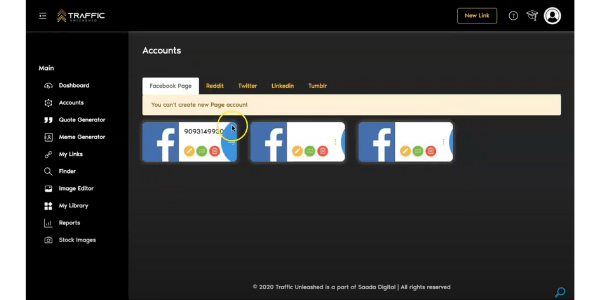 Then you can start creating quotes with the quote generator and memes with the meme generator. After that, you can add your affiliate link and share what you've made on your socials.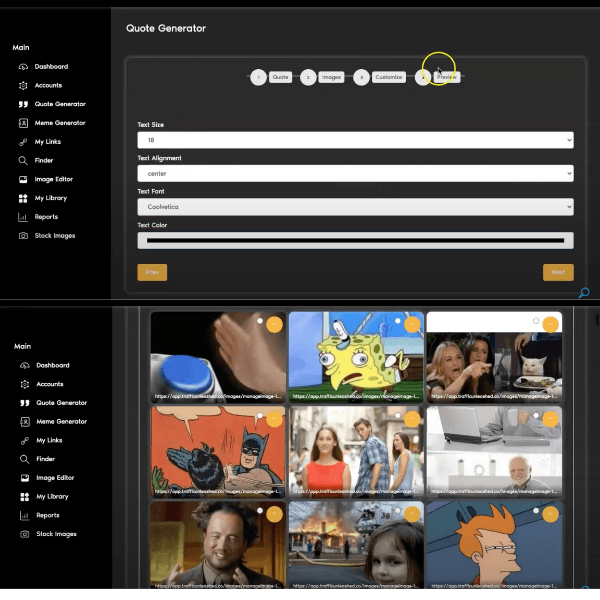 You'll then have to wait for an eternity for something to come up.
You see, creating memes and quotes can simply be done with free apps or even in the free version of Canva. You can even make better ones there!
Even if you've created great memes or quotes, how will they know you're pitching a product? I don't think memes will compel people to buy anything from you especially when your content is completely unrelated to what you're pitching.
I really don't see how memes and quotes will help you land a sale.
As I've told you earlier, this is an entirely huge letdown, at least with other income systems, you can get funnels and campaigns. Traffic Unleashed merely gets you memes and quotes.
Plus, unless you have large social followings, only a handful of people will notice this. They can even just simply pass by it.
It's not even a 1-click technology!
Traffic Unleashed? More like Traffic Restrained!
By far, this is the most annoying income system I came across. It's utterly useless!
The truth is far off from Traffic Unleashed claiming you won't need skills and training. If this is the kind of system you get, you definitely need training, so you'll stop falling for these kinds of rip-offs.
If you really want to make money with affiliate marketing, Wealthy Affiliate will teach you everything from start to finish.
What I Definitely Don't Like About TraffIc Unleashed
The claims and even the product name fail to deliver.
Income proof provided doesn't really prove anything.
Method taught is by far the poorest traffic solution I came across with.
Everything about it is misleading.
The disclaimer debunks every inch of what you read on the sales page.

Is Traffic Unleashed A Scam?
Yes, Traffic Unleashed is a scam. It can't even live up to its name by teaching quotes and memes to generate viral traffic. You won't generate traffic from using this, so you'll never make money from using this software.
If you want to make memes and quotes, Canva is way better. If you want to make money with affiliate marketing, Wealthy Affiliate is where you should go.
Where Do You Go From Here?
Nothing is as disappointing as Traffic Unleashed. If I had a list, this would surely be on the top.
What you read on the sales page is utterly different from what you actually get. This is why I don't trust sales pages and I read reviews with caution because a lot of positive ones are merely doing it for a commission.
You don't have to give up your online income goals though, Wealthy Affiliate will teach you everything you need to set up and run your affiliate business. You even have access to other marketers who can help you out.
If you're wary about getting ripped off like what Traffic Unleashed can do to you, you can test the waters with the 1st 10 free lessons.
If you want to know more about Wealthy Affiliate, you can read everything you'll need in this in-depth Wealthy Affiliate review.
Were You Furious?
Did you despise the claims made after you realized what Traffic Unleashed really is? Were you dumbfounded to know what it can only do for you? Share what you think in the comments section below.
Simon Crowe is on a mission to help as many people as possible kiss their bosses goodbye.
Take the free Commission Academy course to discover how to smash your online income goals and make your dream business a reality.