Affiliate Funnel Bots is another one of the 1000s of income systems posing to be "brand new and fully automated". Just yesterday, I made a review of Resell Bots, a software which works much like Affiliate Funnel Bots and also claiming to be brand new and fully automated.
Should you give this easy fix software a chance to help you make $1000s every day or should you avoid it altogether?
Today I'm going to give you a run down on:
What Affiliate Funnel Bots is
How much it costs
How it works
If you can really generate income by using it
The pros and cons
If it's a scam
I'll then finish off by giving you my take on this system and sharing what it really takes to make money online.
Affiliate Funnel Bots Review At A Glance
About: Affiliate Funnel Bot's is a done-for-you funnel-based income system claiming to get you to generate $1000s per day.
Price: The front-end system costs $25 plus $228 on upsells and at least $600 per year for autoresponder costs.
Pros: Comes with a 30-day refund option.
Cons: The results of the pre-made funnels are over the edge and the traffic sources provided are not guaranteed to get you buying visitors.
Verdict: Affiliate Funnel Bots is a tweaked version of Chris's other systems that are no more than a failure in delivering what is promised on the sales page.

What Is Affiliate Funnel Bots?
Affiliate Funnel Bots is a cloud-based income system created by Chris X, and Rich W and launched last March 9, 2020. This software supposedly does everything for you to make money with affiliate marketing. It creates funnels with the pre-loaded list of products complete with a free source of buyer traffic in under a minute.
The sales page says it's completely newbie-friendly because you're handed 7 "top-selling" digital products from ClickBank, JVZoo, and WarriorPlus and given a website that also captures emails to build a list.
Chris even claims this is a "proven, straight out of the box software" and complete game-changer" all the while not giving a single fair-minded proof it really works and generates $1000s daily.
He says by simply copy-pasting the pre-made campaigns, you'll be able to generate up to six figures in sales!
Take it with a grain of salt.
For one thing, Chris and Rich are serial product creators launching products multiple times a month. Any income proof you see on the sales page is generated not from using any of the systems they launched, but by selling "new" products almost every week.
Logically, sales pages are made to compel you to action, of course, you won't find anything negative in the system. It's all under the rug.
How about the positive reviews? Are they not enough proof it's a good, working system?
The kicker is:
If you go back to each one of those reviews, you'll realize they're all good words with Affiliate Funnel Bots for a reason: they want you to buy the product from them, so they'll earn a commission.
If you really want to know the real score of Affiliate Funnel Bots, you'll find the answer in this unbiased review.
Affiliate Funnel Bots Cost
Both the Lite version and the Pro version recently cost $13.50. You also have to shell out $228 for upsells and $600 a year for an autoresponder.

The funny thing is:
The sales page says the Lite version costs $26 and the Pro version $25. I guess they didn't bother to update the sales page because they have fresher products to promote by know, 100s of them.
They also say getting any of the 2 front-end software gives you a system complete with training worth $2,997 which is illogical since the actual front-end price seems to be spare change.
Now think about what this system is really worth.
I'll also give you a bit of detail on each upsell for you to know if it's worth your buck.
Upsell 1: Affiliate Funnel Bot Elite ($37)
This upsell gives you 30 additional campaigns. It also allows you to resell 5 of the products and while using the remaining 25 for yourself. Unless you prove the campaigns you get with the front-end really generates income, buying this is pointless.
Upsell 2: Affiliate Funnel Bot Done-For-You ($67)
This supposedly gives you the
Resell Bots WordPress theme which every taker is already using.
Traffic DB Software which promises to drive unlimited traffic but is not proven to provide targeted buyers.
Resell DB which supposedly gives you the hottest products. (They're just all the other products they peddle)
Rapid Video Creator which provides your funnels with sales videos you can personally create. (I highly doubt it because at best you can only mix and match from the ore-made video elements in the software)
Upsell 3: Affiliate Funnel Bot Pro ($27)
This upsell gives you resell rights, video creator, traffic, and all the other things they've already promised with the other upsells.
Upsell 4: Affiliate Funnel Bot Extreme ($97)
This is supposedly is an advanced training course, but unless the members' area training is useful, this won't be any different.
How Does Affiliate Funnel Bots Work?
Essentially, Affiliate Funnel Bots puts together a sales funnel and a product to pitch to people and make money from. It supposedly includes a traffic source, in this case Traffic DB so you'll get a flow of visitors to check your offer out.
The sales page sums it up in 3 steps:
1. Choose One Of Their Proven Funnels
The funnel, which is the website they claim to be YOURS, is pre-loaded with "six-figure affiliate campaigns" the exact same one they've earned from.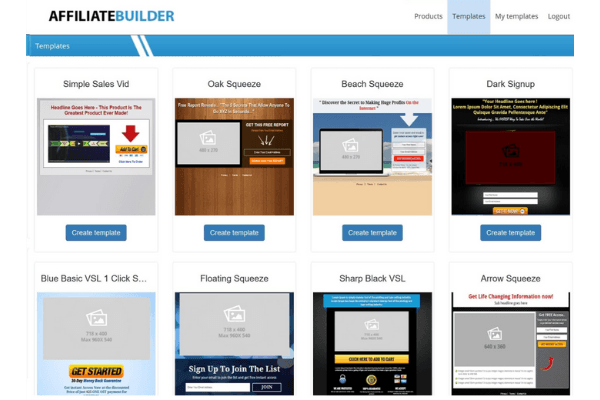 The problem here is:
Since you'll be using what they've previously used, you'll basically get a duplicate which means your supposed website won't stand out and worse, get penalized by search engines for being a duplicate.
In this happens, your website will be buried deep in the search engines, in a faraway place where visitors never go to which ends up with you not having a cent.
2. Choose A Proven Design
You can supposedly tweak your funnel a bit and add one of the high-ticket designs from their list. Again, they've used this before, and all the other takers of this system will also have access to the same designs which means you still end up with duplicates.
3. Get Free Traffic
You supposedly get access to the same exact keywords they have used to get traffic from social sites, does this mean your traffic source is social media? You'll be needing a large following for this to work.
Plus, you'll need to have social media marketing skills to get people interested. Video content? You won't master it overnight and the video software they give will only generate generic videos, scammy sounding one.
How about Traffic DB? Again, it's not guaranteed to get you people who will be interested in buying something from you. Plus, this will be the same traffic source every member will use so it will end up being over-saturated resulting in annoyed people vowing to bury you deep in spam folders.
Will you learn something from the training? Yes, but you'll only learn how to go about the members' area, how to connect to an autoresponder, and how to use Traffic DB.
You won't be taught what affiliate marketing really is, how to do email marketing, and every principle you need to learn on how to really make money online.
Aside from the training, you can also access 3 software inside the members' area:
Squeeze Page Builder
Sales Letter Creator
Traffic Campaigns
The page builder will only let you mix and match from pre-loaded page elements, again you can end up with a duplicate.
The sales letter creator will be the same spammy letter everybody gets so this won't work either. Frankly, email marketing will only work if you've built a connection with your list, unless you provide them with something of value, they won't bother taking the time to read your email.
These letters are mere pitches and people on an email list would've been dead tired from receiving spammy every day.
The traffic campaigns won't be any different, again it's the same ones everybody gets.
Let's just say you were able to mix and match a compelling funnel. The next problem will be the products unless people will see this as useful, you won't move them to buy.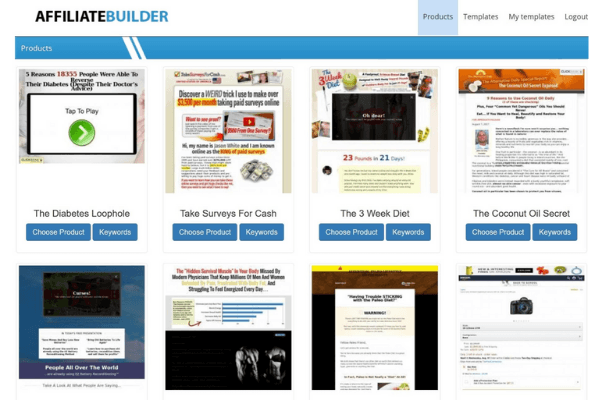 But the bigger problem really is:
How you can get people to your website.
Social sites will only work with a large following and Traffic DB won't work. Since you're not taught how to rank in search engines organically, you'll be doomed. No matter how great your funnel and product are, if you can't drive people to your website, no one will buy from you.
So, think again before giving shiny shortcuts a chance.
6 Cons Of Affiliate Funnel Bots
The sales page is full of hype
The upsells are expensive
The traffic source provided won't work as promised
The training is useless
You'll have no business once it decides to shut down
The disclaimer disproves any supposed results you get using this system

Is Affiliate Funnel Bot A Scam?
No, Affiliate Funnel Bot is not a scam, but it almost is. You are provided with the software and the funnels as promised but the results claimed from using it is far from reality.
You won't make money with affiliate marketing by simply mixing and matching a funnel and offer, it involves a whole lot more. Affiliate Funnel Bots won't teach you about it but Wealthy Affiliate will.
Where Do You Go From Here?
Fast magic bullets like Affiliate Funnel Bot won't get you anywhere. Frankly, making money online is something you should learn for yourself. This way you have the best control over how your online business turns out.
Affiliate Funnel Bots only provides you a cloned funnel, other products they created, and videos of which buttons to click.
The training it gives is never enough to show you how you can really earn online.
If you fall for quick fixes like Affiliate Funnel Bots, you'll be left disappointed after you get a funnel set up and realize it will never really make money.
On the other hand, if you take the time and effort to learn about affiliate marketing from Wealth Affiliate, you're headed for something grander.
You don't have to take my word for it. You can test the 1st 10 lessons without cost and experience the help other marketers can give you to grow your business.
If you want to learn how this exactly works, head on to this in-depth Wealthy Affiliate review and see for yourself.
What's Your Take?
Did you feel the overflowing sales page hype? We're you shocked to find out how low-quality Affiliate Funnel Bots is?
Share your thoughts in the comments section below.
Simon Crowe is on a mission to help as many people as possible kiss their bosses goodbye.
Take the free Commission Academy course to discover how to smash your online income goals and make your dream business a reality.