There's been a lot of positive feedback about Simple Wifi Profits and I was wondering why it's been received really good by many. So, I did my research to see if everything was all talk or if it really does work. 
In this review, I'm going to tell you what I learned about Simple Wifi Profits and I'll share with my personal opinion on it which can shape the way you look as this affiliate marketing course.
Simple Wifi Profits Review At A Glance
About: Simple Wifi Profits is a afifliate marketing course on using Facebook ads to promote Clickbank products.
Price: $1,495.
Pros: None.
Cons: Poor support, expensive "bonuses", unusual refund policy, unrealistic claims.
Verdict: Simple Wifi Profits is not a scam. But it's not a good course either. Its main marketing method, relying on ads is not sustainable.

Is Simple WIFI Profits The Easy Route In Making Money?
It's how they want you to feel. The name even suggests making money is trouble-free as long as you have a WIFI connection.
The course was made by two college dropouts Chris Eom and Andrew Wright. I checked the domain, the website was set up August 2019 and is bound to expire a year later, that's about a month from now.
So I'm guessing they don't expect to make money from this after a year?

Basically, the training is about how you can use Facebook ads to promote Clickbank products, more like Commission Hero.
The thing is, there are pros and cons to paid traffic. It can be a quick way to earn but it comes with a greater risk than free traffic or SEO.
With SEO, there's less risk but it can take some time to drive a large amount of traffic. The good thing is, you can get the most targeted traffic with it which means there's more potential for traffic to convert into a sale.
Paid traffic on the other hand is a faster way to drive traffic but it comes with a lot of moving parts to get a paid campaign right. This includes shed a large amount to test and experiment which campaigns work, and which doesn't.
This paid traffic is only worth it if you're making more than you're spending. So, this can be a problem for newbies with a limited budget.
How Much Does Simple WIFI Profits Cost?
They'll lumber $1,495 from you for 7 modules of training. If you don't have that amount, you can pay in installments for three months. Each month will cost you $577 (a total of $1,731), it's $236 more than if you pay the one-time amount.
Although they give you perks of free bonus training as incentives for the whopping cost.
Making money online isn't complicated…
This video will show you exactly how to get started. Tap to watch now »
How Does Simple WIFI Profits Work?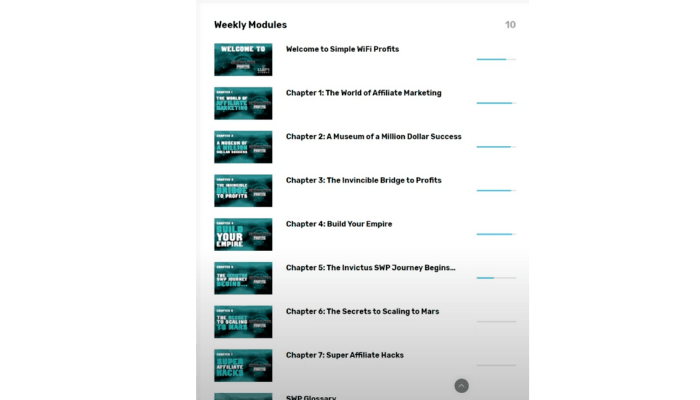 Upon entering the members' area, you can start accessing the training videos. I'll give you an overview of what each chapter includes.
Chapter 1: The World Of Affiliate Marketing – It will tell you what market affiliate is all about and the differences it has from other money-making opportunities.
Chapter 2: A Museum Of A Million Dollar Success – It's going to discuss how funnels can help you make money. It also includes a hands-on experience on using funnels on webpages you'll be setting up. You'll also learn about video sales letters, landing pages, and good Facebook ads.
Chapter 3: The Invincible Bridge To Profits – You'll learn more about landing pages and you'll be given content to plug into your DFY landing pages.
Chapter 4: Build Your Empire – Here's the part where they teach you more about Facebook ads.
Chapter 5: The Invictus SWP Journey Begins: This is where they discuss the elements of a "perfect" Facebook ad.
Chapter 6: The Secrets To Scaling To Mars – This is where they'll teach you about the best methods to scale ads quickly.
Chapter 7: Super Affiliate Hacks – They say this is more of a bonus section where they'll share with you the "tricks of the trade".
I don't know about you but I think these titles are a hard sell to build up some thrill in you. I just hope it doesn't end up in a disappointing fizz.
Ultimately, they sum up the modules into 4 steps.
Step 1 – Find A Big Problem
Step 2 – Find A Product
Step 3 – Share The Product
Step 4 – Make Sales
Other than the modules you'll also get access to:
Monthly live coaching from Chris and Andrew
Weekly check-in calls
Private mentorship group access
Bonuses

Ready-Made Facebook Ad Campaign

VIP Commission Club Instant Access

$1,000 Commission Upgrade
While all of these can seem to give justice to the whopping price you'll have to fork out, there's nothing extraordinary about the training you'll get. The methods they present are the same ones shown by other products like Commission Hero.
The difference is, they included in-depth support for users through live coaching and private mentorship. I must say, this puts them up a notch from other training platforms of the same niche.
However, there are things about their claims that disturb me, I'll tell you more about it on the next section.
What I Don't Like About Simple WIFI Profits
1. Repetitive Income Claims
There's nothing wrong in giving income proof, but if it's been done too much, it's an overkill to me and quite an annoying one.
Overly emphasizing income claims is a tactic done by many scammers to wind up potential victims. I'm not saying Simple WIFI Profits is a scam, I'm just saying they're using a tactic commonly used by shady money-making opportunities.
2. Claims To Spend $3M On Research
Another claim they make is spending $3M on research. I'd be easily be convinced if they laid out the analytical data on the research done.
It is even more credible than flashing chains of humongous income proofs.
The problem is they only talk about the amount they spend on research and nothing about what they spent it for and the actual outcome of the research.
If they really spent that much, it won't be a tiny bit of challenge to prove it.
3. Unusual Money-Back Guarantee
A money-back guarantee is a good thing, right? But there's a big question mark floating on my head about how Simple WIFI Profits claim to give it.
You see, they promise to give back your $1,495 if you make $10,000 using any method they teach.
Just think about it:
If all the students make $10,000 or more, this means they have to give the money back making their business a whole lot like charity.
Here's my opinion on the money-back promise, they're indirectly telling their members they'll never make $10,000 no matter how long they apply the methods.
Another thing:
The refund policy also claims to give back your money if you don't have good results by the end of 45 days. But you must make the refund request within the same time frame.
The funny thing is, the webinar also says Chris and Andrew will coach you until you make money if you didn't reach it within the first 45 days.
You see, they've already coached you for more than a month with no result, by believing they'll do more for you, your chances of a money-back will be long gone.
4. Bonuses Are Priced Steeply
This is another common tactic used by scammers to make people believe buying their product is more than a good deal. If Simple WIFI Profits can really deliver the income promises they make, they didn't have to resort to this kind of gimmick to convince people to sign up for their training.
5. Unclear Support
I was pretty impressed with the support they claim to give initially. However, during their webinar, they failed to explain how the monthly coaching or private membership can help you establish your affiliate business.
Different types of support carry unique ways of assistance. Even a little explanation of how specific support can help is already a great boost in helping people to be assured there's a clear process put in place on how they will be guided in reaching their online income goals.
I'll be asking questions like: What benefits can I get from monthly live coaching? What edge is there is private mentorship? Who will do the weekly calls?
It's easy to make promises, but it will be hard to believe they will follow through if they can't even provide a concrete explanation about these things.
Is Simple WIFI Profits A Scam?
I can't say it's a scam. They do provide you with training videos where you can learn about using paid traffic to direct an audience to products. Plus, they also have DFY campaigns you can utilize if you still don't have an idea of how you should structure one.
I just can't say you can get your money's worth with this course. There are other training options you can find that costs much less yet teach you the same things.
Although I'm bugged about the income hype and vague promises, it's not solid enough to say it's a scam. The strongest point putting them in the scam borderline is the money-back guarantee if you can earn $10,000.
The income hype, the vague promises, and the unusual money-back guarantee are alarm bells I'd ring close to your ear so you'll stay far away from this.
If you anchor your decision on positive reviews you find, just remember, all of them are members who want to give Simple WIFI Profits a boost. So, they'll be inclined to brag about how good it is rather than stating the warning signs you should consider.
Simple WIFI Profits Review Closing Thoughts
Affiliate training can work, as well as paid ads. Though I don't suggest paid ads to newbies because it can require you to blow off hefty funds in testing what campaigns can work for you.
It's not worth taking out your savings or your bills budget for.
If I were you, I'd start with free traffic or SEO then use the money you'll earn to invest in paid ads later on.
Using SEO in affiliate marketing is a good training ground to learn how to write with intent, promote the right kind of products, target the right people, learn how traffic can convert, and so on. These are basically the same things you have to learn if you delve into paid ads.
As a matter of fact, I don't see beginners with no advertising background grow well with paid traffic and landing page affiliate marketing. Success isn't common for them because the risk is so high in knowing what works and what doesn't.
You'll have to fork out a large amount of cash for it without really knowing for sure if you can earn it back with the campaign you tried. Most people don't have that kind of money to risk or even the patience to see it burn with failed ads.
If you decide to try another route in learning about affiliate marketing, I suggest you try reading this in-depth Wealthy Affiliate review. This is a proven and tested way to build your affiliate marketing business.
You can even test the waters out for free and you don't have to worry about any money-back policy when you start. If you think the shoe fits, then you can go ahead and pay to learn more.
How I Make A Living Online?
After years of working in call centres I finally figured out how to create a 5-figure monthly passive income stream and become financially free.
Thanks to the right training and a lot of hard work I kissed my old boss goodbye and booked a one way ticket to Thailand.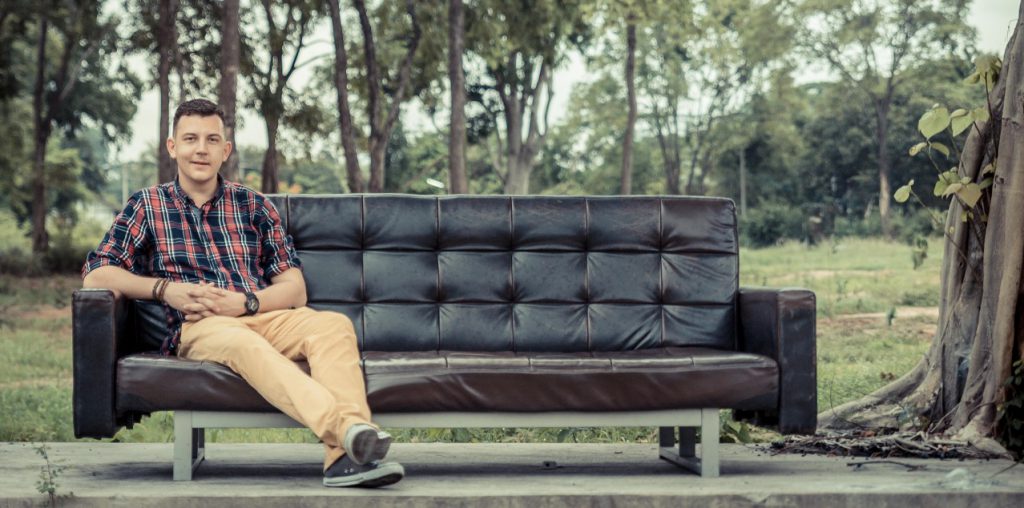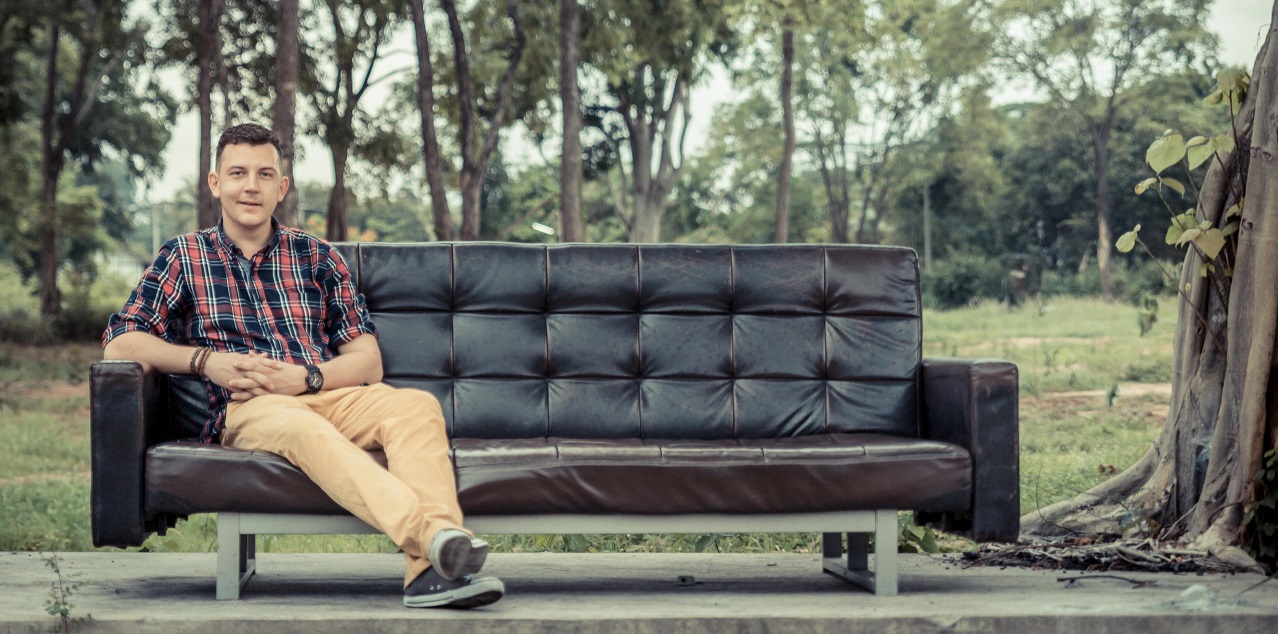 So if you're serious about building a thriving online business, click here for the exact step-by-step formula I follow.
Suggestions? Recommendations? Questions?
Both paid and unpaid traffic has its pros and cons. Why do you prefer one over the other?
Share your thoughts in the comment section below. 
Simon Crowe is on a mission to help as many people as possible kiss their bosses goodbye.
Take the free Commission Academy course to discover how to smash your online income goals and make your dream business a reality.