Frustrated your affiliate marketing business isn't where it should be?
Struggling to figure out why you're not yet generating the level of income you want?
You became an affiliate marketer because you wanted to build an online income stream for you and your family and yet, despite hours spent in seclusion hammering away at the keyboard, your traffic and sales stats continue to flatline…
Why?
Because affiliate marketing, though simple, is NOT easy!
If you've been an affiliate marketer for any amount of time then I'm sure you can relate to this diagram: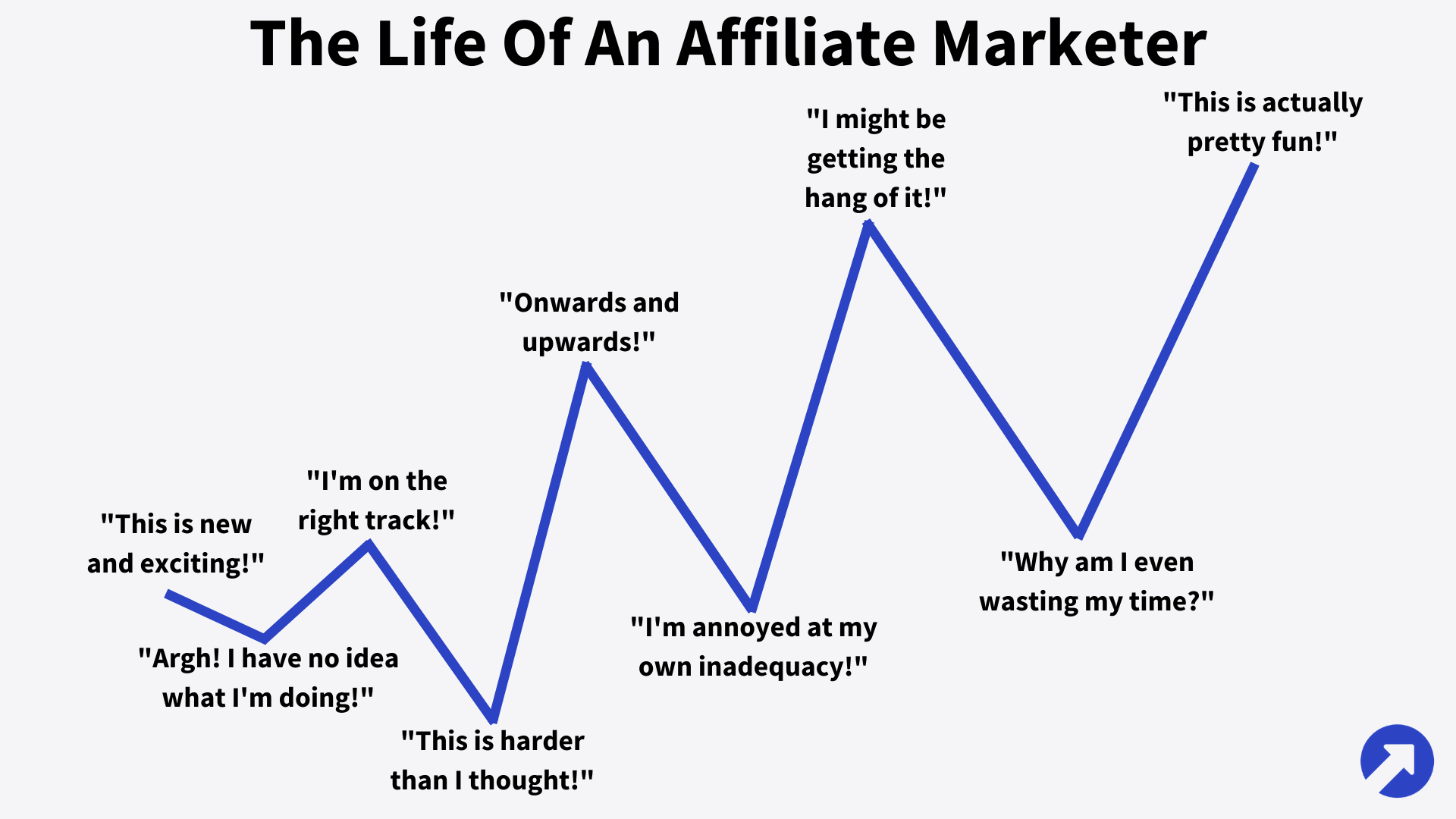 I started my first niche website six years ago and in that time I've experienced a lot of ups and downs…
I danced around like a fool when I made my first ever commission.
Then I was over the moon when I celebrated my first $1,200 day.
And I can't even begin to describe what it felt like to achieve my first $30,000 month.
But then there are other days when I feel so overwhelmed…
Days I get nothing done…
Days I think I might be going insane…
Days I struggle with self-doubt…
And days I get so frustrated all I wanna do is chuck the laptop out the window!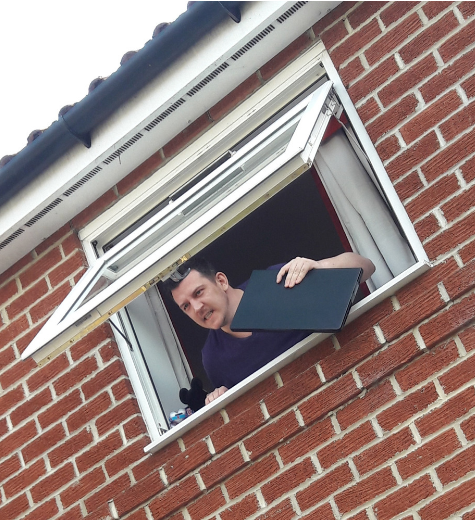 Don't get me wrong, I will never take the freedom that comes with working for myself for granted and I love the sense of building something with my online business.
But there are plenty of ups and downs, that's for sure.
Running a successful affiliate marketing website means managing a lot of moving parts that all have to be in sync with one another. It's tricky. I'm not pretending this stuff is easy.
You're certainly not the only one who's struggled and thought about calling it a day, (I have many times, especially in the beginning) but the fact you're here reading this right now means you still believe deep down that this whole affiliate marketing thing is worth it.
So let's lift the hood on your affiliate marketing business and figure out what's going wrong.
1. Are You Following The Right Strategy?
There are so many different strategies ways to do affiliate marketing….
Unfortunately most affiliate marketing courses teach the lousy ones.
1. Set The Right Kind Of Goals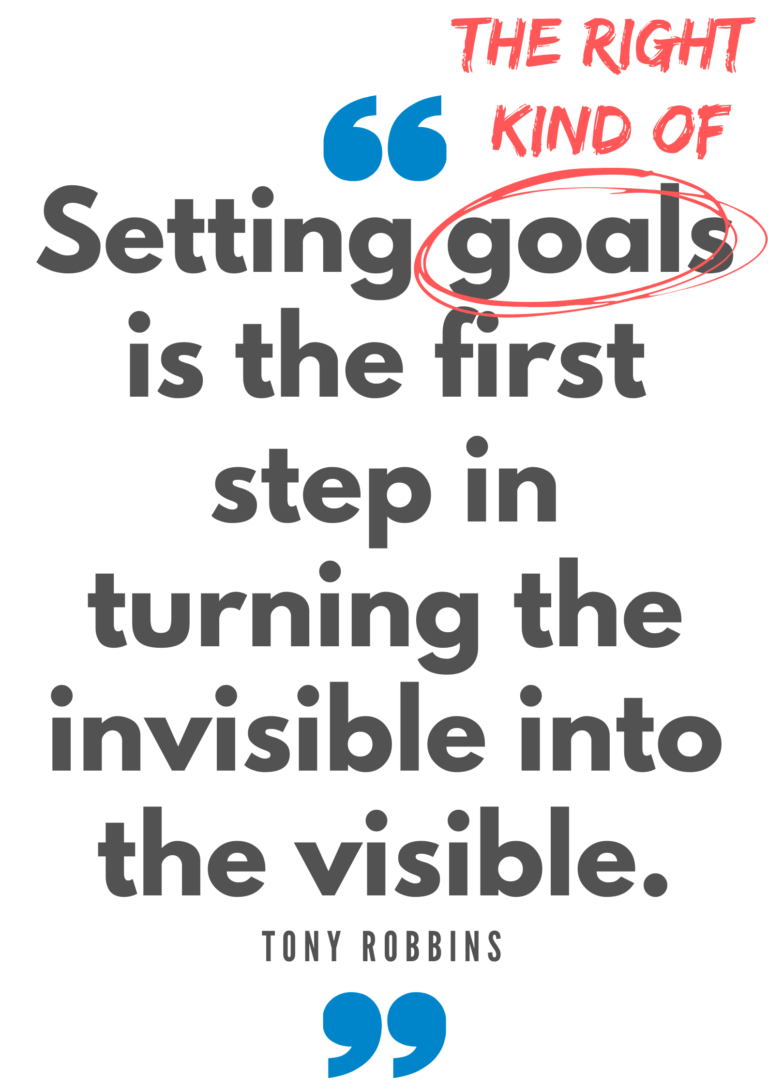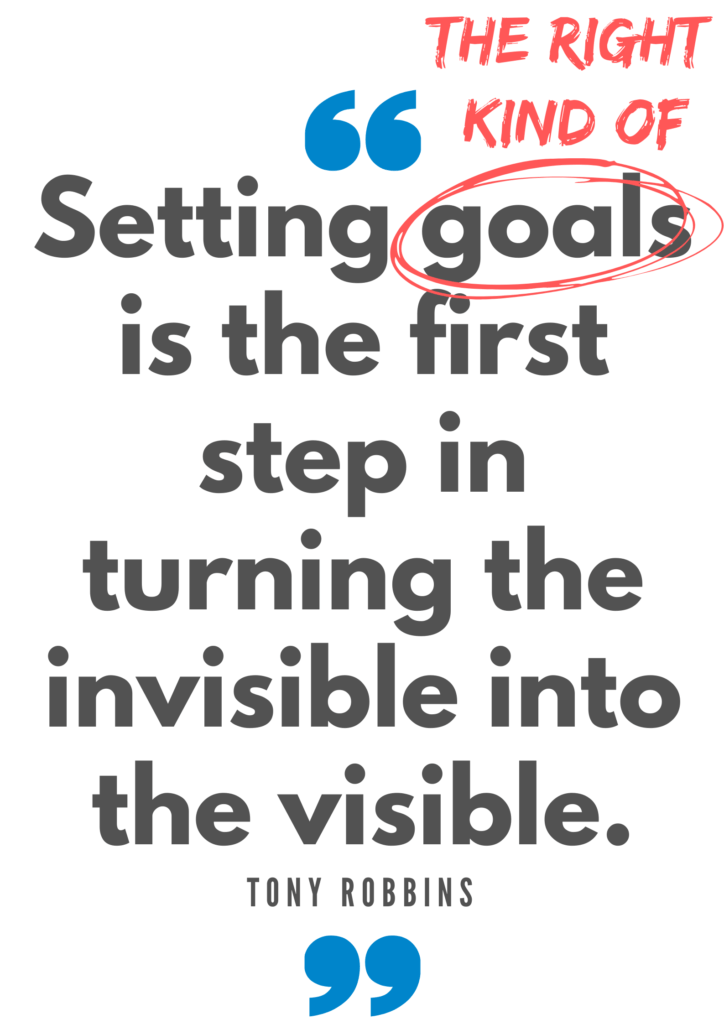 I see a lot of people just starting out set goals that are more like objectives, like:
"I need to make $1,000 a month."
"I want to have 30,000 page visits per month."
"I'm going to replace my full-time income by the end of the year."
While I'm all for aiming high, this type of goal setting only sets you up for failure because you might work your butt off for months and feel like you're getting nowhere…
Instead, set goals that are actionable.
These are the super-practical steps you can take to achieve your bigger objective.
For example, living in Thailand I'm always looking to improve my language skills, but if I said my goal was to master the Thai language and speak fluently, I would get annoyed and frustrated every time I made a mistake.
Instead, I set daily, actionable goals like:
Learn ten new words per day
Read a Thai book for thirty minutes per day
Have a conversation with at least one stranger per day
They're practical and achievable and by smashing these goals I'll naturally achieve my bigger objective of speaking Thai fluently.
So for your affiliate marketing business, set yourself ten or twenty actionable goals and tell yourself you must not get discouraged until you complete all of them.
For example:
Publish thirty 1,500-word articles on my website
Upload ten videos to YouTube
Find a higher paying affiliate program
This type of goal setting puts you in the driver's seat and gives you a road map to follow.
I hope you can see the power of this – practical goals make it so much easier to keep going because if you're tempted to feel discouraged at ten posts, you know you're not finished yet, so you keep going until you have thirty high-quality, keyword-targeted posts on your site.
The Bottom Line:
By all means, dream big goals for your online business, but then make sure to plan out clear, practical and yes, *actionable* goals that will drive you to success.
2. Choose A Niche You Actually Enjoy Talking About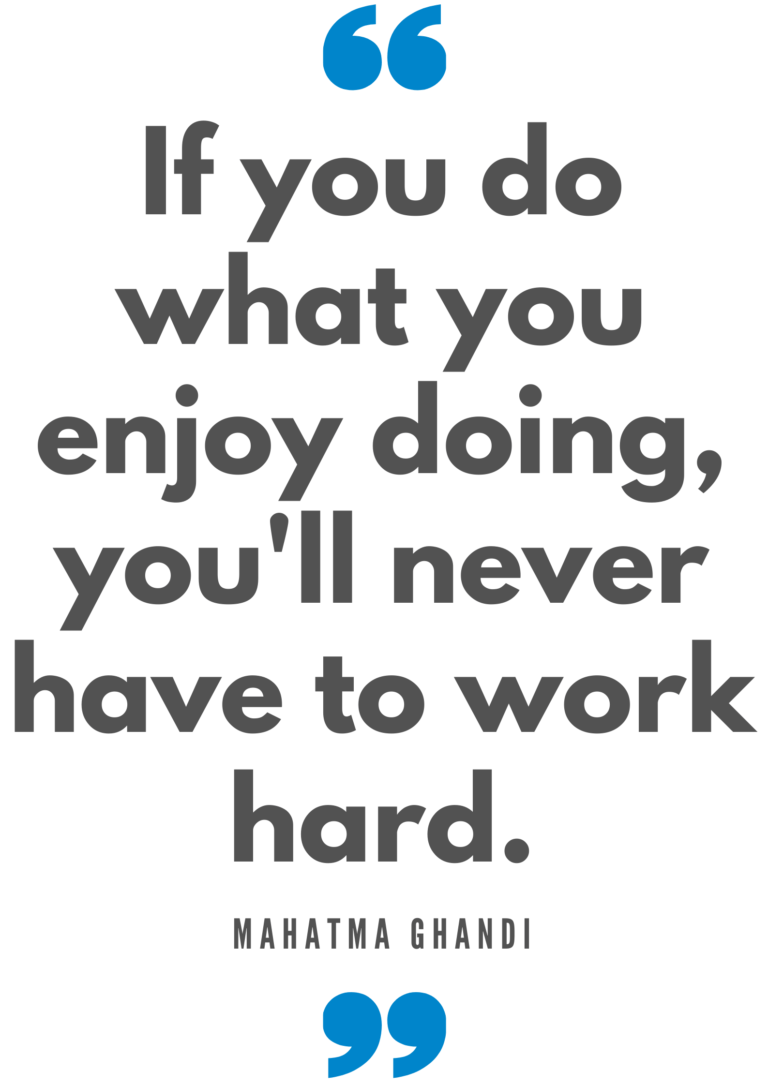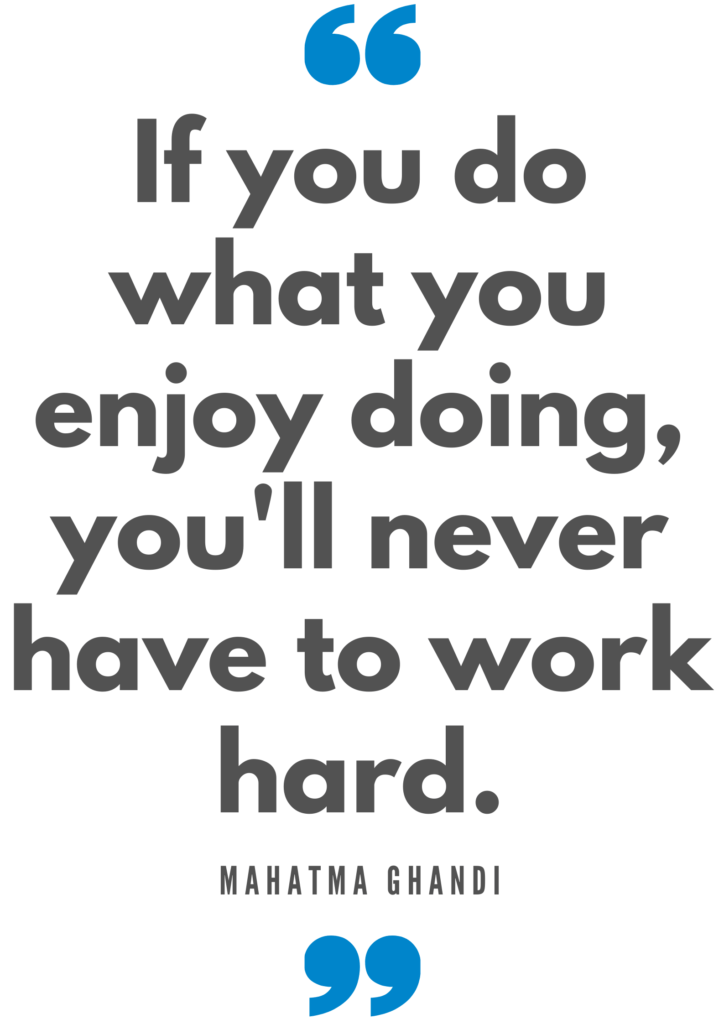 All too often I see newbie affiliate marketers chasing money and finding themselves in a niche they have absolutely no interest in.
Maybe they see a tractor affiliate program paying out $1,000 per sale and despite not having the foggiest idea about farming or agriculture, they decide it's a good idea to churn out articles about tractors.
That's just not going to turn out well!
Rather than chasing the money, people always say you should choose a niche based on a passion or hobby you have, and I think that's really sound advice.
Don't get me wrong:
I'm not saying you have to be super passionate about your chosen website topic, but you should at least be interested in it.
The reasons for this are obvious – torturing yourself to come up with a thousand-word post on combine harvesters if you've never even seen one is not an ideal long-term strategy.
Chances are you'll get so bored you'll end up abandoning the site altogether.
The Bottom Line:
While you want to go into a niche that's profitable, you'll find it a lot easier to create content around topics you enjoy talking about and it'll give you a huge advantage over competitors merely in it for the money.
3. Find A Single Track To Run On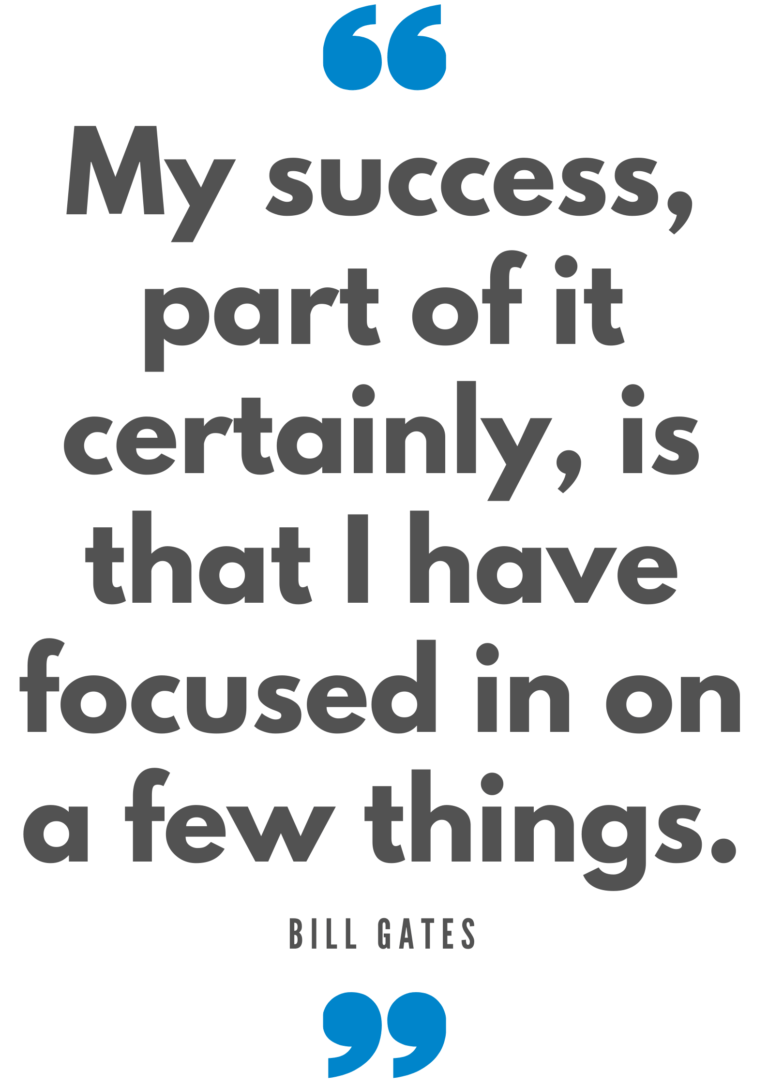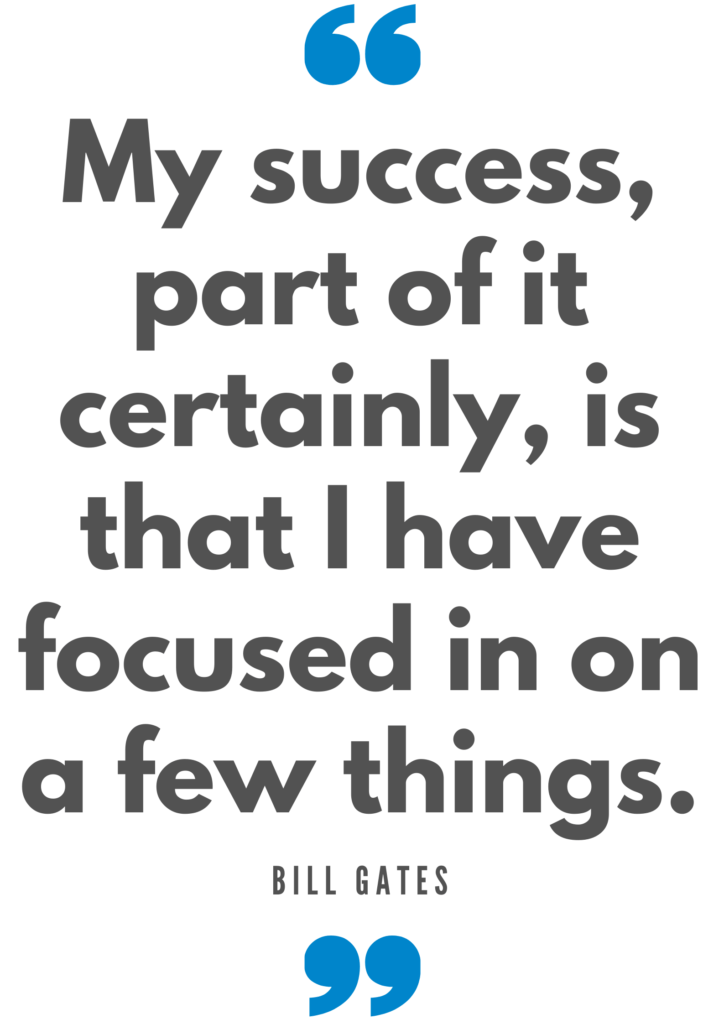 When it comes to training and overall strategy, are you running on a single track or being pulled in all directions?
You watch a video about keyword research…
You read about a cool SEO strategy you want to try…
Then you buy an outdated affiliate marketing training course…
Before you know it, you end up with a giant Frankenstein monster made up of a mish-mash-mosh of different methods, techniques and strategies that could never work.
I see this happening a lot, especially with brand new affiliate marketers who have yet to get their first site off the ground.
Look, I totally get it. There is so much information on how to make money online and without a clear course of action, it's very easy to get lost in the wilderness.
The Israelites zigzagged desert for 40 years but if they had Google Maps they would've reached their destination in just 6 days!
Having a clear roadmap to follow will save you years of wandering in the desert!
I finally got my breakthrough once I stopped jumping from one half-baked course to another and joined Wealthy Affiliate back in 2014.
This was way before they were as popular as they are now and I knew very little about them, but hungry to learn, I decided to give it my all and worked my way through the core training modules.
The step-by-step video courses and amazing community support gave me a track to run on. Here's the 4-step process they go through:


I refused to skip a lesson until I was sure I understood all there was to learn and I'd completed every task.
Click here to see how Wealthy Affiliate's online training and community can help you.
There are a ton of phenomenal affiliate marketing courses out there, whether you choose Wealthy Affiliate or another platform, the key is to stick it through to the end and not go off track.
The Bottom Line:
Get to where you should be quicker by avoiding information overload and shiny object syndrome; pick a single path that works and stick to it.
It's harder trying to figure it out on your own, you'll increase your chances of success when you get the right training and support that will keep you on track.
4. Set A Schedule You Can Stick To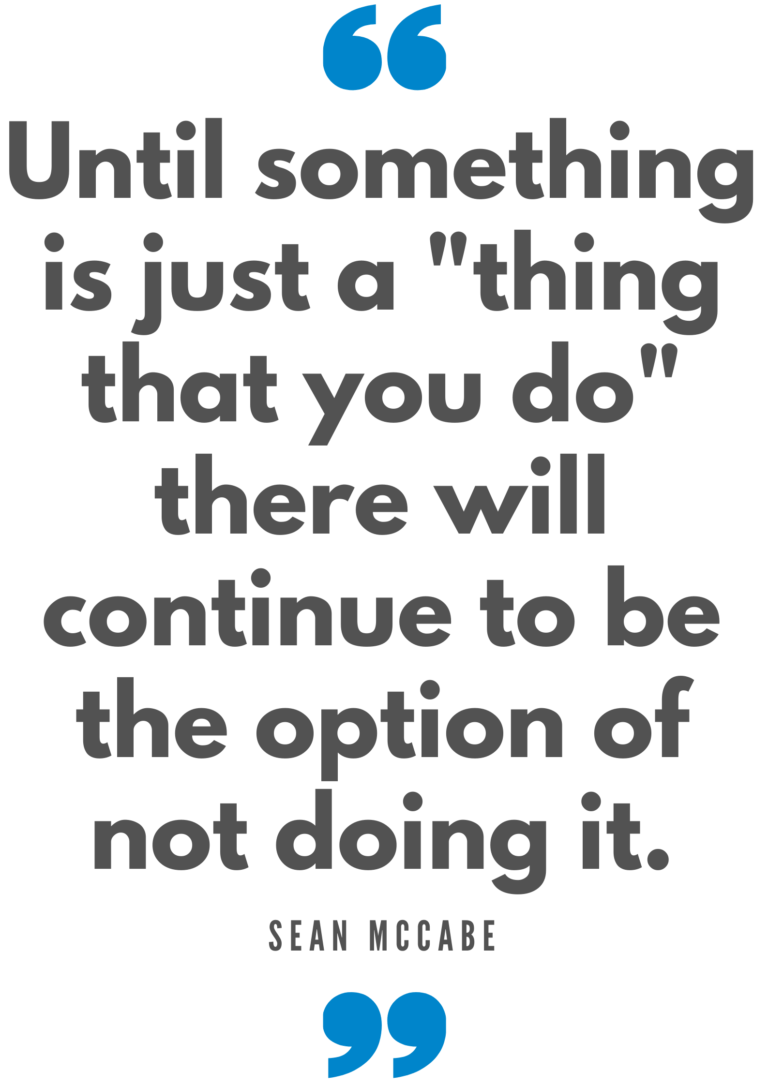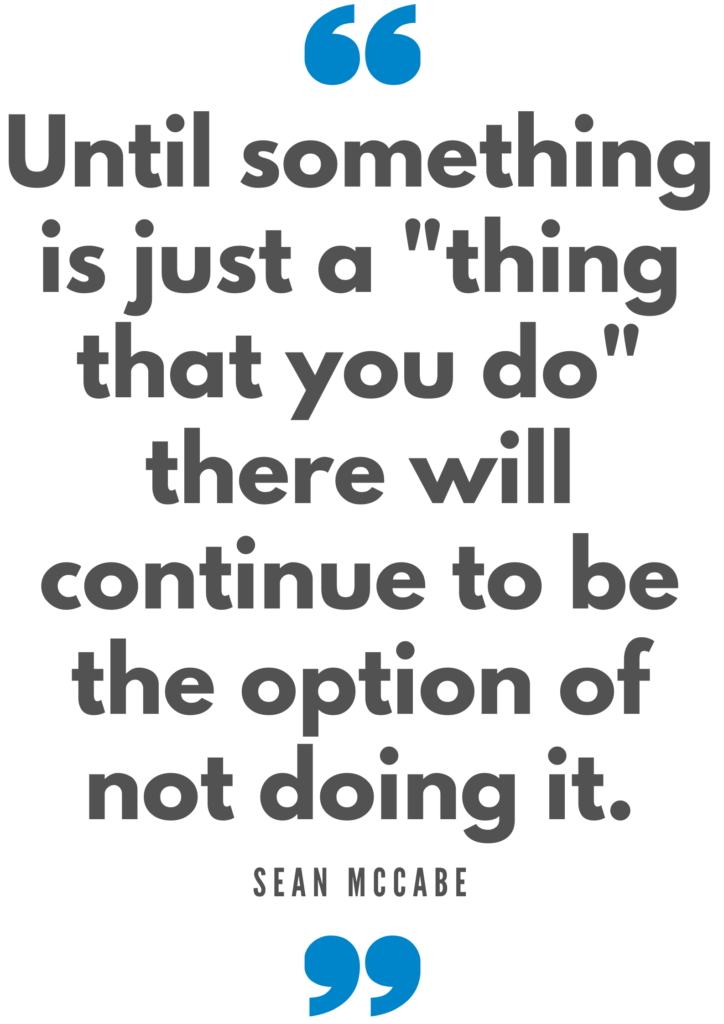 If you want to know what separates the men from the boys, this is it.
Having a set work schedule really can make or break your online career.
Seriously.
So many aspiring entrepreneurs tell me what their online income goals are and when I ask them how much time they'll invest to achieve them they say:
"Whenever I have spare time."
I'm sorry, but that's just not gonna cut it.
If you're stuck in a rut or struggling to take your business to the next level, it may well be because you're treating affiliate marketing like a hobby instead of a profession.
A hobbyist will tinker around here and there, but a professional carves out time and shows up on time, whether they feel like it or not.
Obviously set a schedule that's realistic and achievable, but I'd recommend you take at least one action step each day to move your business forward.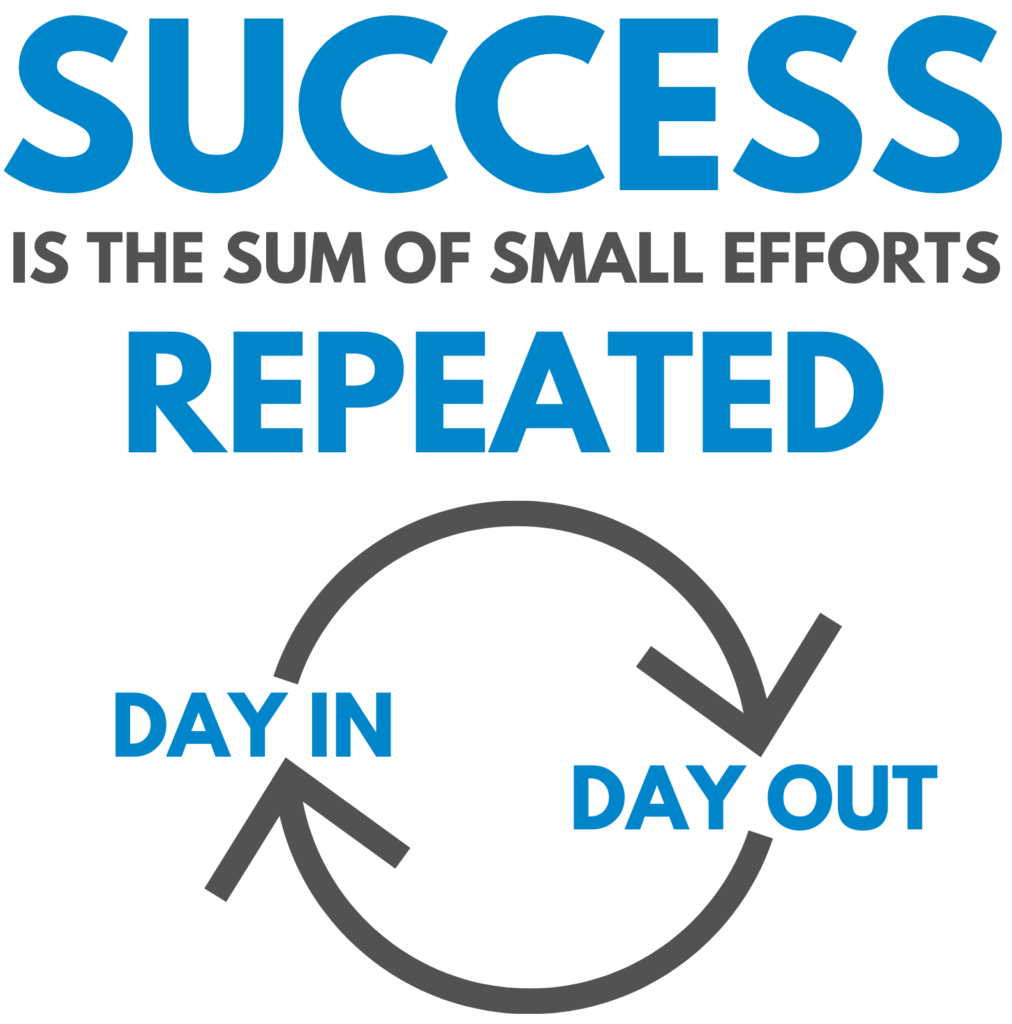 When I started my first website in the church leadership niche I was still working forty hours a week at my full-time job, so I had to set time aside in the evenings and weekends, often working late into the night.
Yes, I was exhausted and would've much preferred to binge watch my favourite Netflix series, but because I made a promise to myself I would spend at least an hour a day building an online income stream, I did.
So, whether it's a post a day or a post a fortnight, be intentional about setting aside time where the only thing you're doing is taking your affiliate site forward.
Here Are 3 Things That Help Me Work More Efficiently:
a) A Designated Workspace
I can't emphasise enough just how important this is. When it comes time to work you go to your distraction-free workspace and you get stuff done. Make sure your phone's off and shut out any distractions.
The key here is having a designated place, it doesn't have to be anything fancy. When I first moved to Thailand my desk was a rusty ironing board and my office chair was the end of my bed…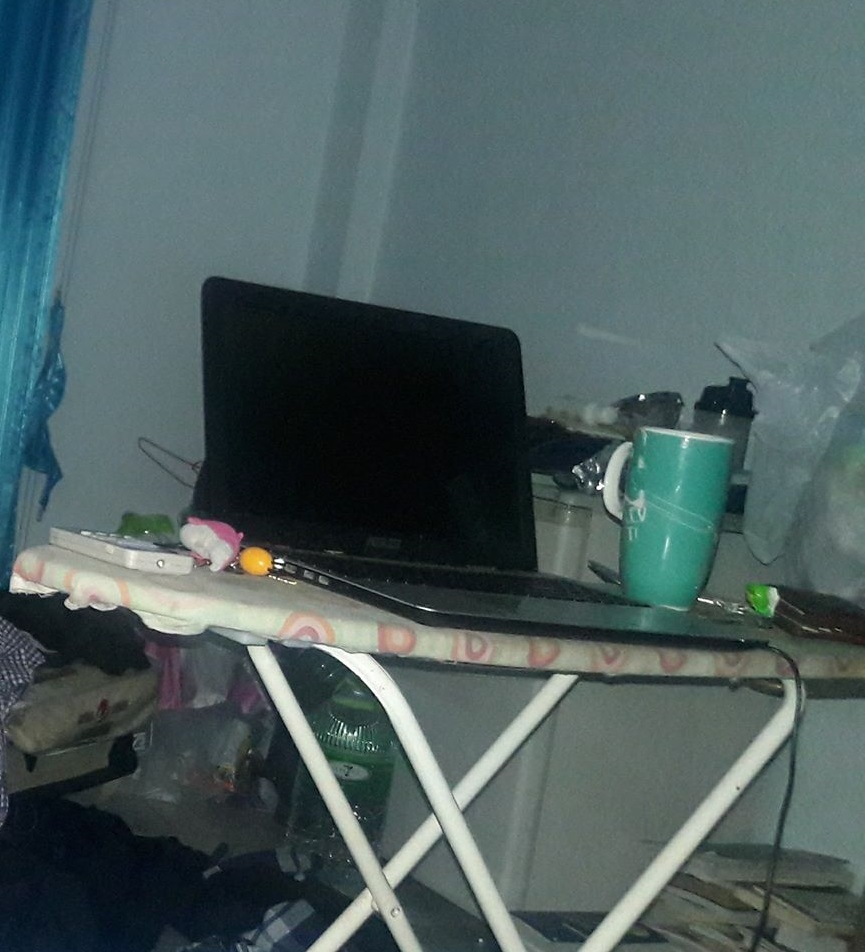 Of course, now I have an ergonomic office-style chair (much better for my back) and a proper desk setup, but sometimes you've just got to work with what you've got!
b) Trello Is A God-Send
My sister introduced me to Trello.com just recently and it's already changed my life. It's basically a task management app/website with boards and lists to help you organise your work.
Pre-Trello, my desk was littered with Post It notes and random scraps of paper but now it's easy to add a task to my to-do list or target keywords to my next post ideas board.
Maybe I'm a total geek but I can't get enough of Trello right now! They do have a paid version but the free version is the only one I use. 🙂
c) YouTube Playlists And Countdown Timers
Some get more done in silence but I need a good playlist to get me in the 'zone.'
Search YouTube or Spotify for concentration music or writing music and you'll see the playlists come up.
I also find adding time pressure works well. Online-Stopwatch.com looks like it hasn't been updated since 1998 but cuts my writing time in half.
The Bottom Line:
If you're serious about making money with affiliate marketing, forget about doing this "whenever you have spare time" nonsense. You are running a real business and you need to be intentional about your schedule to succeed.
5. Remember Your Big 'Why'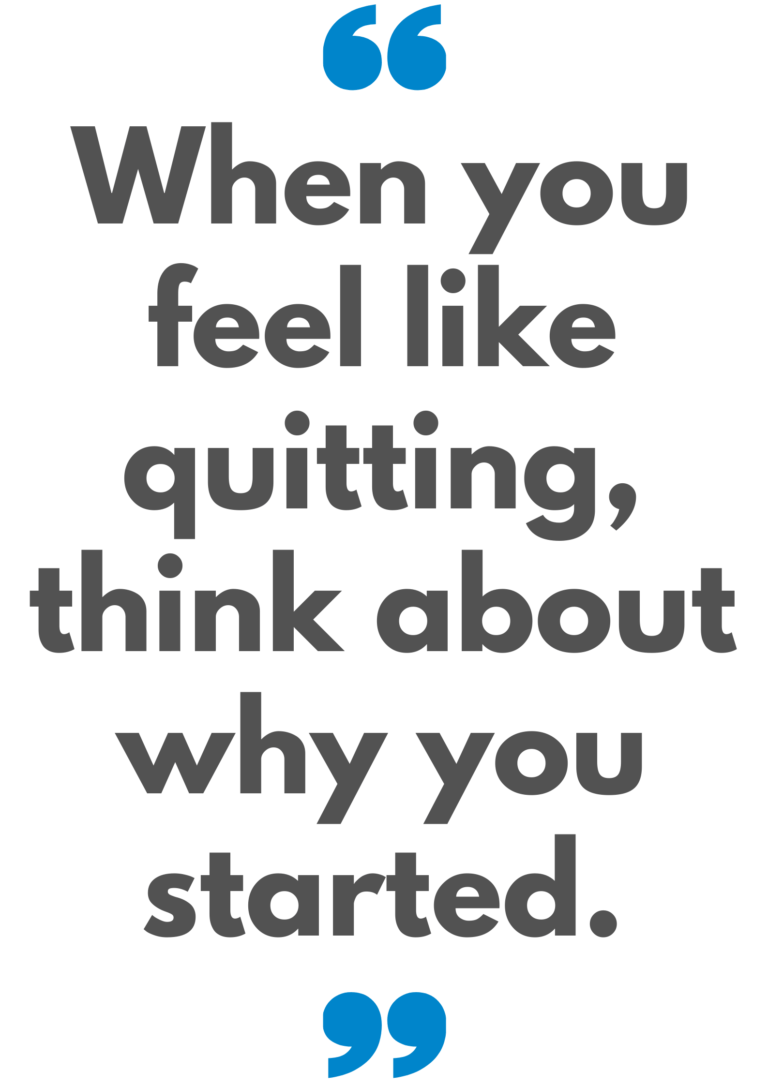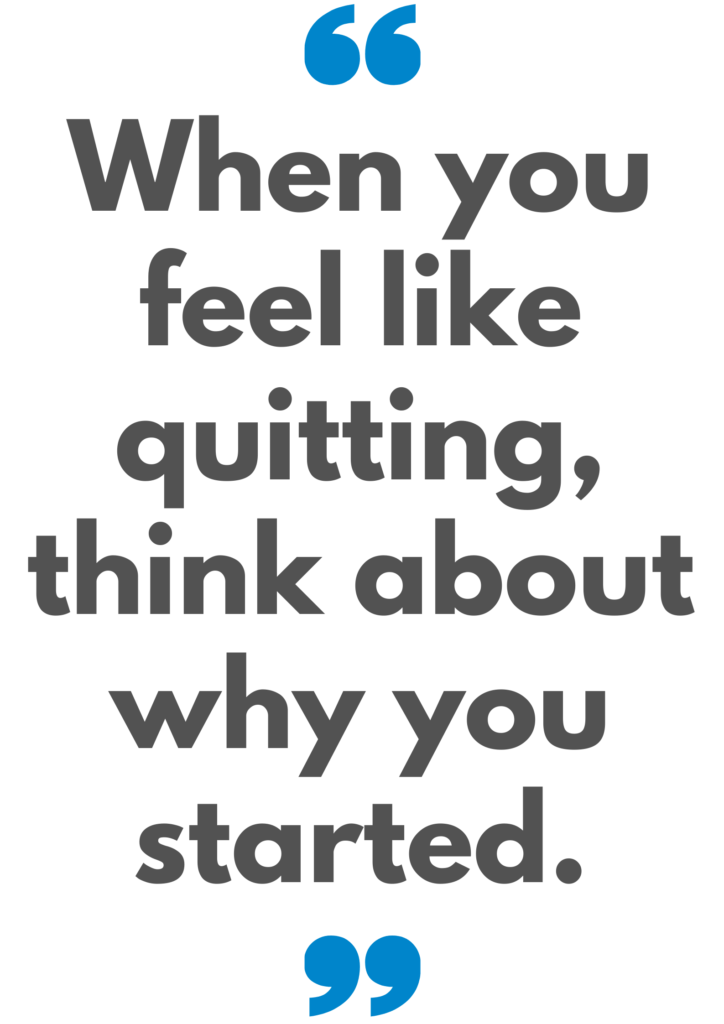 When you feel like quitting, you need compelling reasons to keep going…
I had my reasons for starting my niche sites:
I wanted out of the 9 to 5 grind.
I wanted the freedom to work anywhere in the world, no longer bound by geographical location.
I wanted to be my own boss and have ultimate control over my life.
Maybe you started because you hate your job, want to provide financial stability for your family or save for retirement – whatever your reasons, remind yourself of them whenever your motivation is low.
Read inspiring success stories.
Write out your reasons and stick them on the wall in front of you if you have to.
(As I'm typing this, I have a photo of a Honda CBR 600 motorbike that I'm saving up for pinned to my notice board.)
Whatever your big why is, keep it upfront and centre in your mind, it'll keep you moving forward.
The Bottom Line:
Your big why is the reason you started and the driving force that keeps you going. 
6. Give Yourself Time And See It Through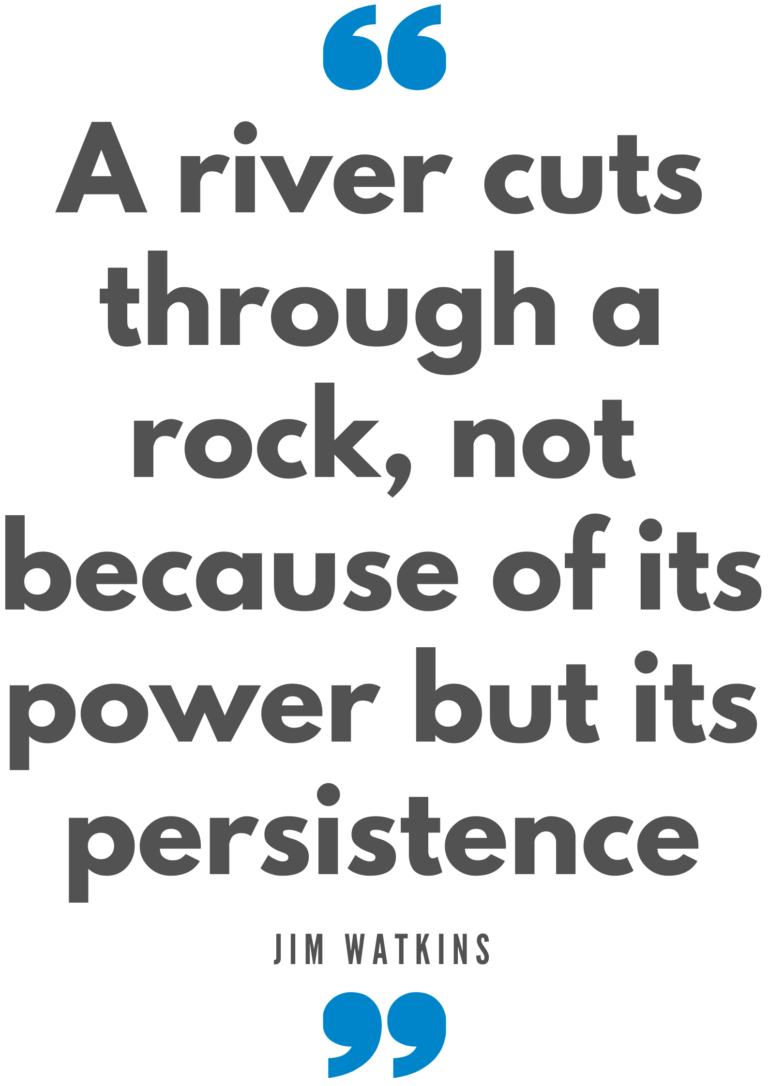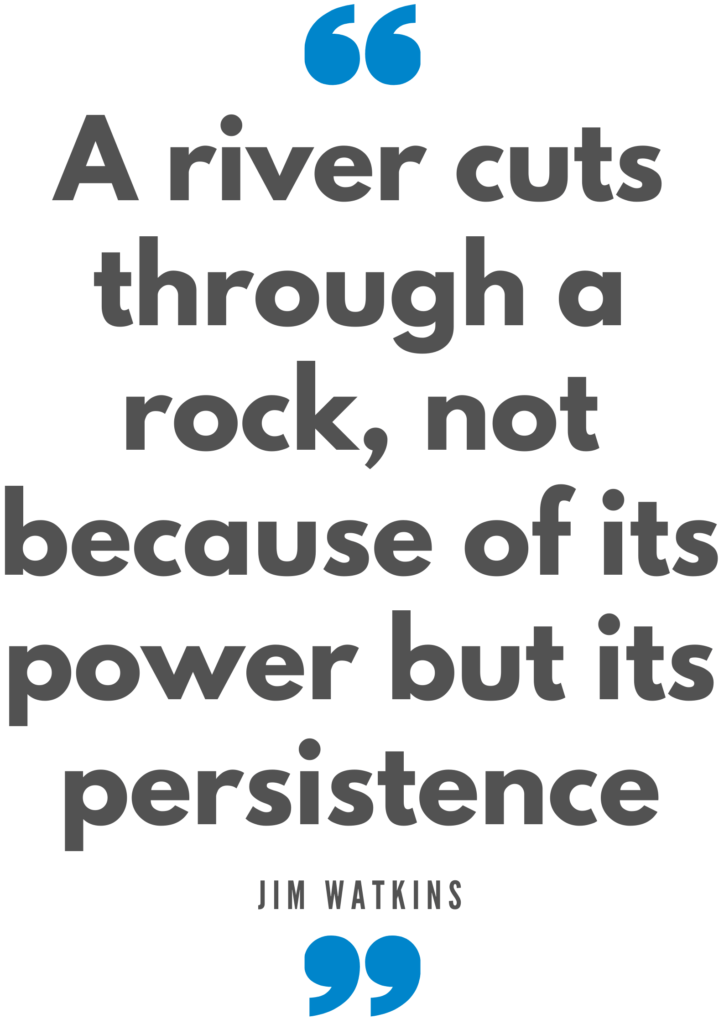 By far the biggest reason affiliate marketers fail is because they give up too early.
And I can understand why:
According to Ahrefs, it can take 6 months before Google starts ranking your website.
That's 180 days of feeling like you're working for free, of wondering if anyone will read what your writing, of struggling with self-doubt.
When you're building your first site, that's a hard slog!
You've been working on your site for 4 months and you see no traffic, or your goal is to get to 30 posts and you're struggling to get from post 9 to 10, you've just got to grit your teeth and see it through.
I launched TheMakeMoneyOnlineBlog.com in 2017 knowing full well I was heading into an ultra-competitive niche. But since I already had a couple of successful niche sites under my belt I knew it was just a matter of time before I started seeing traffic and sales.
And once you've done it once, you can do it again and again.
In 2018 I started an affiliate website in the languages niche, take a look at my Google Analytics stats for the last six months:


You see September, October, November?
I was working my butt off writing 2,000+ word articles every single day and I zero results for my efforts, no upturn in traffic.
Every.
Single.
Day.
If you're a beginner creating your first site from scratch then I totally get that it can be hard to believe your website will ever see the light of day. The self-doubts can start to creep in and you wonder if you're wasting your time…
What if I had given up in November? Would I have seen the steep spike in traffic? What if your sharp upturn in traffic is just a few posts away?
If you just see it through and post consistently, you will experience a breakthrough. You have to have the mindset where failure is just not an option.
Then, once you've had that success with one site, it's a lot easier to believe it will happen again because you've experienced it first-hand.
Pace yourself too, there's only so long you can go without adequate sleep and sunlight!
Rather than throw your laptop out of the window, sometimes it's best to just shut it down and give yourself a break (and refuse to feel guilty about it.)
The Bottom Line:
Take a break if you need to, but quitting is never an option.

You will get there if you:

1) Set the right kind of goals
2) Enjoy what you do
3) Get the best affiliate marketing training
4) Set a schedule and stick to it
5) Remember your big 'why'
6) Give yourself enough time
What Are You Struggling With?
What are your biggest frustrations with affiliate marketing? Is it knowing where to start? Is it getting traffic or sales? Let me know in the comments and I'll be more than happy to help in any way I can.
If you've struggled to make any money with your affiliate website in the past, help our readers by telling us what actionable steps you took that helped you break through.
Simon Crowe is the founder and editor of The Make Money Online Blog on a mission to help as many people as possible kiss their bosses goodbye.
Watch this video here to discover how to smash your online income goals and make your dream business a reality.