Is Instant Income Method a scam to avoid or an online biz opp you'd be mad not to try?
In this Instant Income Method review, you'll discover if you can really make money with it or if it's a scam and it's time to check for better options. 
Instant Income Method Review At A Glance
About: Instant Income Method is a sales funnel for MyEcon; a financial MLM.
Price: The Instant Income Method Done-For-You funnels are $97 plus $19.95 set up cost for MyEcon and a $47 monthly membership.
Pros: The MLM is legit and owner Mack Mills is a seasoned internet marketer.
Cons: It doesn't give you the complete picture of how to make money online.
Verdict: Instant Income Method is not a scam but the sales page is misleading. This is not something I'd recommend.

I've come across so many of these so-called "income systems" like Copy Paste Money, Easy Retired Millionaire, CB Cash Code and Cash Formula that always promise the same thing:
Effortless, autopilot cash after a few mouse clicks. It's an illusion!
If you really are serious about earning a full-time income online then the best advice I can give you is this:
Stop chasing the fake shiny shortcuts that inevitably let you down and be ready to put in the TIME and EFFORT it takes to succeed.
Legit training like Commission Academy (recommended!) will show you how it's done.
What Is Instant Income Method?
Instant Income Method (formerly named Income Method Instantaneous) is a sales funnel created by Mack Mills and is used as a recruitment tool for MyEcon, the credit repair multi-level marketing company (MLM).
Join through his funnel as one of Mack's recruits and he'll give you use a clone of his funnel to recruit others. 
Mack uses the sales video to share his personal story of how he used to have a bad credit score and buy everything in cash until MyEcon helped him improve his credit score.
Unfortunately, there's a lot of hope in the video too, with a picture Mack Mills standing behind a heap of cash before going out in his BMW to buy a Ferrari.
One big plus of the video though is Mack himself appears in it, unlike the Paid Online Writing Jobs, Millionaire Society and 24/7 Wealth Club scams that hire actors to play the role of successful members.
Mack is the real deal and he does actually make a living creating funnels for other products, including:
Digital Income Method
Daily Income Method
Secret Income Formula
Although slightly hyped, these funnels promote legit products.
I'd say Instant Income Method is a bit hyped up because he claims you'll earn $5,000 a week from the get-go, but he's also very upfront about how the funnels work which is great. 
What Is MyEcon?
MyEcon is a Georgia-based MLM founded back in 2005 that teaches people sound financial strategies.
Other than helping fix your credit score, they also offer travel memberships, health and nutritional supplements, coffees and hand sanitisers. This seems a bit random if you ask me.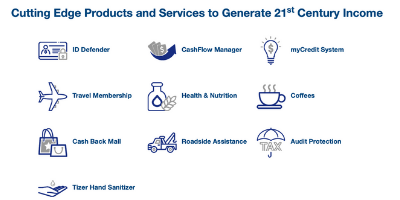 But since they've been around for around 15 years, I'd say they have some level of credibility in the MLM industry.
How Much Is Instant Income Method?
The complete done-for-you Instant Income Method funnel costs $97. To earn commissions from the MLM it promotes, you'll have to pay $19.95 in startup fees and a $47 monthly membership.
You'll also need to spend on solo ads which start from $100, but you can definitely pay more. I'll explain why you'll need to spend on this in a bit.
How Instant Income Method Works
You can make money with the Instant Income Method by generating commissions from the people you recruit into MyEcon.
This is an MLM that has embraced the online world:
Instead of being limited to recruiting friends and family, Instant Income Method leverages the power of email and social media to turn any of the 4 billion internet users into your "prospective recruit source".
The sales page looks like this: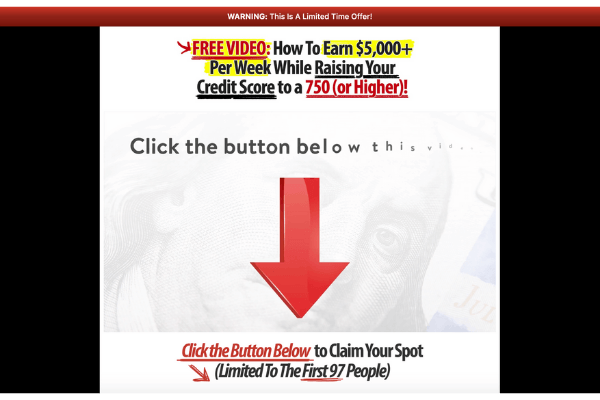 Mack will earn commissions when you buy the funnel or sign up for MyEcon.
You can earn commissions when you convince anyone to join MyEcon.
Having a completely done-for-you sales funnel can be helpful for beginners who don't yet have the skills and experience to create their own.
The funnel itself includes testimonials of people who found success through MyEcon, but I find the funnel a little unengaging. It's pretty basic and lacks a lot of important information other than what you hear in the video.
You'll have to convince people to stay for the whole video so they'll know how things work and how they can make money as a MyEcon affiliate.
Here's a video that explains how MyEcon works:
With your funnel in place, Mack recommends his students pay for email solo ads to drive traffic.
This is definitely not something I'd recommend for beginners and here's why:
3 Reasons Solo Ads Aren't Best For Beginners
1. Solo Ads Involve A Lot Of Upfront Costs.
This is especially true for newbies who often struggle to find credible and reliable solo ad vendors. It's going to take a bit of trial and error before you run your first profitable campaign.
2. Finding High-Quality Traffic Can Be A Stab In The Dark
To make money you don't just need traffic, but the RIGHT KIND of traffic i.e., people who are actually interested in what you're offering.
When a solo ad vendor is emailing your offer to 1,000s of people, you have no way of knowing if it's being sent out to the kind of people who will convert.
3. The People On These Email Lists Are Hit With Spam Daily
Even if you get a targeted email list of people interested in learning about ways to make money online, there's a high chance they're being bombarded with offer after offer.
The likely end result?
Your pitch will never be read or even worse, land in their spam folder.
The bottom line is the amount of money you make will be directly influenced by the volume and quality of traffic you can generate.
What I've found is the best traffic source for affiliate marketing is free and organic search engine traffic.
Someone types a query into Google and there you are ranked #1 offering the best solution to those who are looking to buy. You really don't get more targeted than that!
This takes learning how to do SEO and create compelling content, none of which are even mentioned inside Instant Income Method meaning you may have to look elsewhere.
Cons Of Instant Income Method
You're not told at the outset you'll have to sign up for an MLM.
They don't provide you with the proper training.
You'll have to pay for expensive solo ads to get traffic.
You have no control over your funnel if Mack decides to shut down.
MyEcon has limited services on offer.
Is Instant Income Method A Scam?
No, Instant Income Method is not a scam. However, despite being technically legit, you can still end up spending more than you'll make especially if you're a beginner and fail to find recruits.
Where Do You Go From Here?
You have to take every income opportunity claiming you'll make $1000s with a grain of salt.
Online marketing involves more than what Mack tells you. There are a lot of elements involved in making a sustainable income online. Unless you learn the ropes yourself, you won't have total control of what will happen to your investment.
Ditch the quick fixes and learn how you can make a sustainable income from a proven and tested business model with a very wide range of opportunities to earn from.
Affiliate marketing allows you to promote and earn from an endless line of products online.
It's as simple as:
1) Starting a topic-based website (on a topic you're interested in)
2) Creating compelling content that gets rankings and social shares
3) Making money by offering products and services that are relevant and useful to your audience.
Not familiar with affiliate marketing?
No problem!
Commission Academy will teach you everything you need to know about running your OWN online business from beginning to end.
Simon Crowe is on a mission to help as many people as possible kiss their bosses goodbye.
Take the free Commission Academy course to discover how to smash your online income goals and make your dream business a reality.