Is Millionaire Society is a scam or a surefire way to make $720 a day? I've bought it, gone through it and in this Millionaire Society review I'll show you everything you need to know.
Firstly, kudos for doing your research. This is the best way to avoid shady internet scams and find the best online training that gets results.
Here's what I found out:
Millionaire Society Review At A Glance
About: Mack Michael's Millionaire Society promises to show you how to create an autopilot internet business in just 15 minutes.
Price: $4.95 for a 7-day test drive then $97/month (discount info)
Pros: Comes with a 60-day refund guarantee.
Cons: Wild earnings claims, outdated low-quality training and zero support.
Verdict: These outdated eBooks won't help you make any money online. Don't fall for the deceptive marketing and avoid Millionaire Society at all costs.

You're promised 135 turnkey businesses that generate money at the click of a mouse.
What you get are half a dozen short videos with only very vague information you'd struggle to make a penny with, even in 2012 when these videos were created.
Then there are the outdated PDF files you're expected to use to make $262,800 a year on autopilot…
It looks like Mack Michaels trawled the internet for free eBooks, threw them together and now has the gall to charge $97 a month for the privilege of accessing them.
Sign up here if you must, but I think you deserve better.
What Is Millionaire Society?
Millionaire Society is a simple and legitimate system that takes only 15 minutes to set up and creates an online income stream that will generate you $30 an hour, $720 a day or a whopping $262,800 a year on complete autopilot.
If you believe the sales page that is!
Go to MillionaireSociety.com and you're presented with a video promising to show you how to make money on the internet at the click of a button.
You're told you only need to follow his step-by-step video to have your automated internet business up and running.
It doesn't matter how old you are, where you live or if you have any experience.
He calls his Millionaire Society system the "answer to all your money-making worries" that's going to enable you to:
Pay all your bills…
Pay off your mortgage…
Send your children to college…
Finally be debt-free…
Enjoy the luxuries of life…
Take more vacations…
Make more money than a doctor…
And ultimately, live the life of financial freedom.
At the end of the video you're invited to enter your email address and be taken to a secure checkout page to fill out your billing details: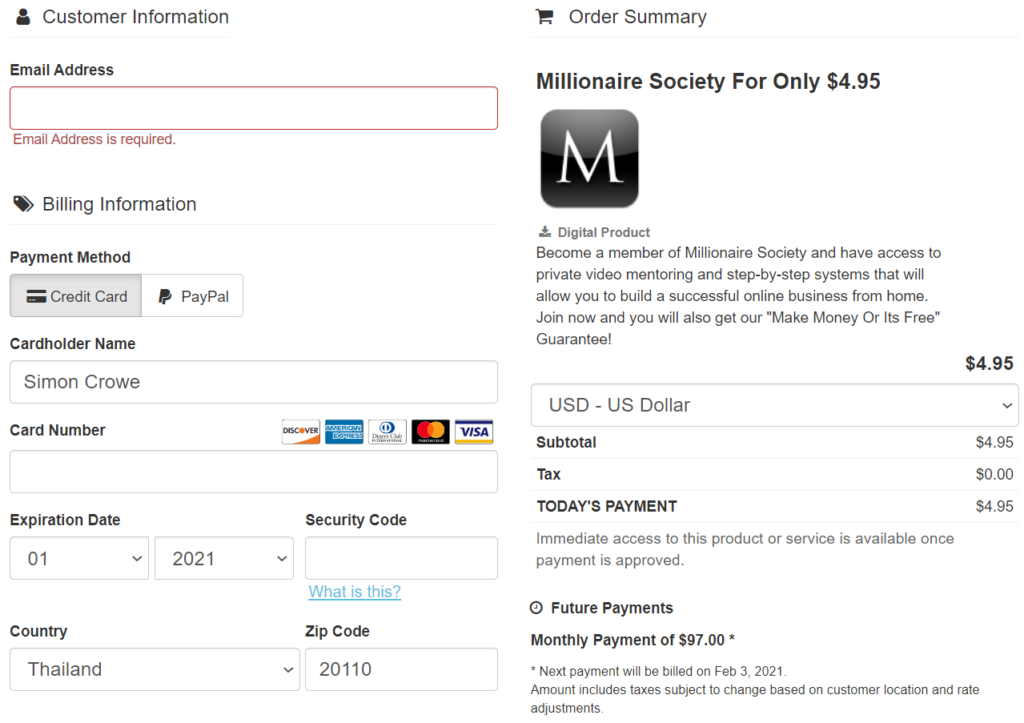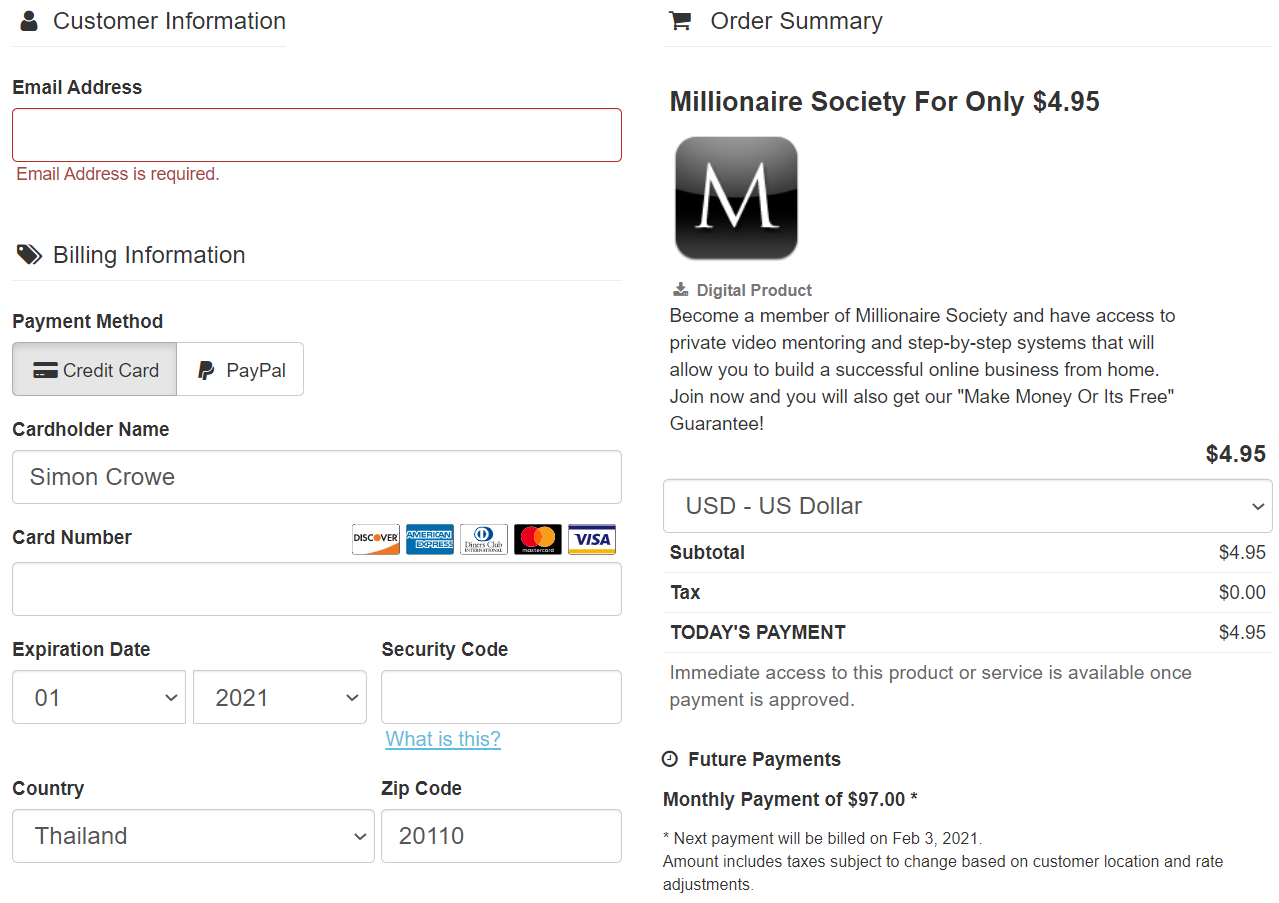 How Much Is Millionaire Society?
Joining Millionaire Society will cost you $4.95 for a 7-day trial and $97 a month until you cancel.
They offer an optional upsell they call the VIP Upgrade for an extra $47 a month, though exactly what you get with that I'm not sure.
The Millionaire Society Members' Area
Now I'm going to show you exactly what you get inside Millionaire Society but brace yourself for a HUGE letdown…
As far as first impressions go, the layout is seriously dated:
There are 3 introductory videos, each no longer than 2 minutes long which give you a quick tour of the members' area but really nothing substantial to go on.
Then take a look at the so-called 'systems' and all you get are 4 extremely low-quality PDFs you're expected to download and turn into a money-making business.
eBook #1: How To Get 100K Visitors In Just 1 Hour
This first is eBook is all about creating scammy-looking landing pages and paying email spammers to bombard people's inboxes, people who are constantly hit with spam.
The end result?
You pay out more and more for solo ads for a few clicks and no sales and end up in a worse position financially than when you started.
eBook #2: Pinterest Profits
Again, nothing to see here but vague and overgeneralised fluff about using Pinterest to drive traffic to your website that might've been semi-relevant in 2010.
You can find more practical and up-to-date information on using Pinterest for blogging on sites like:
Simply search YouTube and you'll find a lot of helpful and actionable advice. There's absolutely no reason to charge $97 a month for this garbage.
eBook #3: Domain Flipping
Domain flipping was a huge craze back in the late '90s but try making money with it now and it's a different story.
The idea here is you buy domains for a dollar using discount codes and sell them on for $15 a pop but you'll need to buy 1,000s of domains and wait a long time to hopefully make a return.
Short Video Course: How To Make Money On Clickbank
This is the only video course I found so I had high expectations, but that didn't last long once I started to watch…
There are a lot of people making money with Clickbank and I myself have had a few $1,000+ days through Clickbank alone.
But while the course gives a good general overview of how Clickbank works and earning money as a Clickbank affiliate, it doesn't go as far as explaining step-by-step what you need to do to make that happen.
There's nothing about how to create a website, get ranked on Google or choosing the right kinds of products to promote to the right kind of people.
You're simply told to sign up, pick a product and annoy your Facebook friends with spammy links:
This is not at all what we were promised in the sales video!
Where are the 135 turnkey businesses Mack Michaels talked about?
Where are the life-changing income-generating strategies we were promised?
This whole thing reminds me of scams like Google Sniper, Bulletproof Profits, Biaheza, 12 Minute Affiliate and Money Looper where you're promised the earth before being badly let down.
If you want to make money with Clickbank then you'll get way more information in our free guides than you'll find in these short 2-minute videos that haven't been updated in almost a decade:
Millionaire Society Pros
1. You Have 60 Days To Get Your Money Back
As Millionaire Society is a Clickbank product you are entitled to a full 60-day money-back guarantee, no questions asked.
Bought Millionaire Society and already regretting it?
Check out my 7-step guide on getting a ClickBank refund.
Millionaire Society Cons
1. There's No Automated $720/Day System Here
There are too many false promises on the sales page and the Millionaire Society isn't going to generate the income they promise. Nowhere near it.
Time after time I find get-rich-quick products with almost the EXACT same video with the same old rags to riches story about how they found "a top-secret loophole" to create limitless wealth online that never deliver.
The truth is, even with the best will in the world, there's no way you're going to make $262,800 a year using the few short videos and PDF files this program has to offer.
2. Sign Up And You're On Your Own
The Millionaire Society Facebook group has 55,000 likes but hasn't been updated since April 2012.
This was obviously a very popular product back in the day but now looks like it has been all but abandoned.
This means is you're not going to be able to rely on the Millionaire Society for help and support should you have any questions along the way.
There's no members area, no email address, no way to contact anyone if you get stuck.
This is hardly ideal when you're trying to build your first online business!
Whether you succeed or fail ultimately comes down to getting the right support when you need it and this is something Millionaire Society simply can not give you.
3. We Know Very Little About Course Creator Mack Michaels
The Millionaire Society sales video tells us very little about Mack Michaels except that he's a 30-year old husband and father of 2 who doesn't consider himself a technical genius or business guru and stumbled across the secret to online riches by mistake.
I can find nothing else out about this guy.
We know nothing about his credentials or his track record. Heck, we don't even know what he looks like.
Any legit make money online program would let you know about the people behind it.
Is Millionaire Society A Scam Or Legit?
Millionaire Society is most definitely a get-rich-quick scam and I do NOT recommend this to anyone looking for a legitimate way to make money online.
Millionaire Society creator Mack Michaels uses highly deceptive marketing to suck people into believing they're getting an automated internet business that funnels cash into your bank account.
They claim making money online is easy and instant, and all you have to do is pay him to learn his secrets, except it is NOT as advertised and for that reason alone Millionaire Society should be thrown onto the scam pile for good.
Maybe I could forgive the hyped-up sales video if there was any training of any real substance, but there isn't. Don't fall for the BS.
At $97 a month, it's not cheap either and I fail to see how anyone can justify these ongoing monthly costs – it's just not worth it.
Millionaire Society Vs. Wealthy Affiliate
You don't have to settle for second-rate get-rich-quick trash like Millionaire Society.
Better options like Wealthy Affiliate will actually help you get you results you're after.
They're the world's #1 affiliate marketing platform that will walk you through the proven steps to creating a thriving internet business that gives you training, state-of-the-art website builders and around the clock community support.
The interactive video training is broken down into bitesize chunks and each lesson comes with assigned tasks meaning you earn as you learn.
If you really are serious about replacing your full-time income online and achieving financial freedom then Wealthy Affiliate is a no-brainer.
As a Starter member, you can test drive the entire platform without paying a dime.
Join Wealthy Affiliate and start smashing your online income goals »
More Millionaire Society Reviews
Share Your Millionaire Society Reviews
Are you surprised there's no such thing as overnight riches at the click of a mouse?
Running an online business takes more time and effort than the Millionaire Society would lead you to believe.
Do you think Millionaire Society is a scam or a legit program worth paying for?
Let us know in the comments below, we'd love to hear your take!
Simon Crowe is on a mission to help as many people as possible kiss their bosses goodbye.
Take the free Commission Academy course to discover how to smash your online income goals and make your dream business a reality.