CB Cash Code creator George Patterson swears he makes $8,112.24 in daily ClickBank commissions.
Pay $37 for his course and he says you'll follow in his footsteps and start making a quick and easy $20,000 a week in just 14 clicks of your mouse.
Is this all too good to be true?
Certainly sounds like it, but in this review, we're going to dig down, take an inside sneak peek at the members' area and discover exactly what CB Cash Code is all about.
I'm Not In Partnership With George Patterson's CB Cash Code In Any Way, Shape Or Form.
Rest assured, my wallet is never a deciding in factor in whether I rate a training product highly or not.
I am not a sell-out and I promise to only ever give you, my dear readers, my honest no-holds-barred opinion in the hope of helping you avoid the worthless scams so you can better invest your time and energy into real make money online training programs that actually get results.
Here's what I found out:
CB Cash Code Review (A Quick Overview)


Product Name: CB Cash Code
Product Description: Affiliate Marketing Course
Offer price: $37
Summary:
If you're still on the fence about whether or not you should buy this course and don't have time to read the full review below, allow me to get straight to the point:
Save yourself the headache and disappointment and avoid the CB Cash Code scam at all costs.
Also, be sure to unsubscribe from whoever recommended this to you because they are only thinking about their filling their own pockets and are not the least bit interested in helping show you how to find financial freedom online. 
CB Cash Code fails to deliver on every possible level with outdated information, zero over-the-shoulder training and a complete lack of support.
Yes, absolutely you can make money with ClickBank but I simply fail to see how any beginner trying to follow these extremely vague and generic eBooks is going to get anywhere at all. Read my entire review and you'll see why.
Training -

10%

Value For Money -

5%

Potential Earnings -

9%

Trustworthiness -

5%
Cons
Unrealistic Income Claims
Training That's Years Out Of Date
No Help Or Support Available
Upsells Galore
Nobody Makes Money With This
Ready To Make Serious Money Online?
CB Cash Code Review
What Is CB Cash Code, Exactly?
If we're to believe everything on the sales page then CB Cash Code is George Patterson's ultra top-secret method to making $80,000 per month working just 10 minutes a day.
Ironically, CB Cash Code is a ClickBank product claiming to show you how to make money selling ClickBank products.
Whether George Patterson makes $8,000+ per day from ClickBank is highly questionable and, if he does and that's his real name then I'd love to know what percentage of his money comes from the sales of his own products.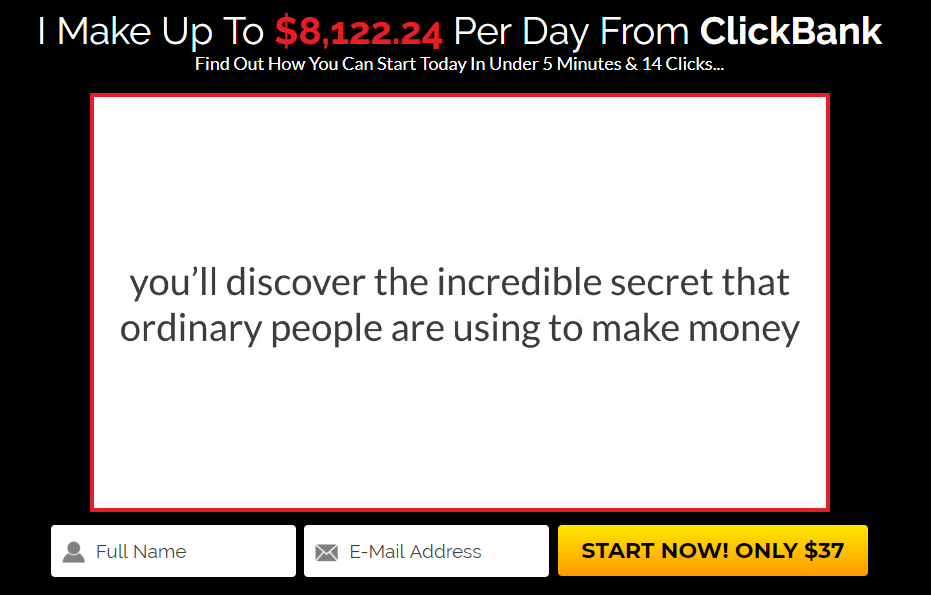 You might think I'm being overly sceptical here, but let me tell you:
In the last few months, TheMakeMoneyOnlineBlog has exposed dozens of scams currently being promoted through ClickBank.com.
The truth is you'll find 100's of complaints online on sites like ConsumerAffairs.com from people who lost money through a ClickBank scam.
This is because ClickBank does a really lousy job at filtering out the scummy and scammy from the real and legit. As a result, the platform has become a safe haven for TONS of get-rich-quick schemes like China Cash Clone, Secret Millionaire Bot and Easy Retired Millionaire that have conned unsuspecting victims out of $10,000's.
Each of these scams works in the same way:
A flashy promo video sucks you into parting with your cash by promising you endless boatloads of instant, effortless cash only to forever fail to deliver and leave you worse off than when you started.
CB Cash Code is no different.
Based on what you're told in the hyped-up sales video compared to what you actually get inside the members' area, George Patterson (if that's even his real name) has A LOT of explaining to do.
If you're even a little bit tempted by the hollow promises of fast and easy cash on autopilot, please do me a favour:
Be sure to read this review until the very end, then go ahead and tell me in the comments whether you think CB Cash Code is a deceptive, misleading scam or the real deal.
Hyped Up Claims Vs. The Income Disclaimer
There's a world of difference between the sales video at the top of the page and legal spiel you'll find at the bottom of the page.
On the one hand, you're told this is a legitimate and permanently life-changing system designed to get you on the road to financial freedom and on the other you're told nobody makes any money with this!
I'm not making this up! Take a look for yourself:

We've both heard the saying "Always read the fine print." Well, with CB Cash Code and other deceptive schemes like it, you'll save yourself a lot of wasted time, frustration and money by taking a second to see past the gimmicky promises that only tell you what you want to hear.
The CB Cash Code 'Training' Is A Total Joke
There's nothing worse than getting excited about a potential new money-making opportunity, only to pay up, get inside the members' area and be left bitterly disappointed.
I know that's exactly how I felt when I realised that, instead of being mentored by an expert online entrepreneur with practical, step-by-step and over-the-shoulder video training like I was told, the so-called 'training' consists of only 4 outdated PDF files.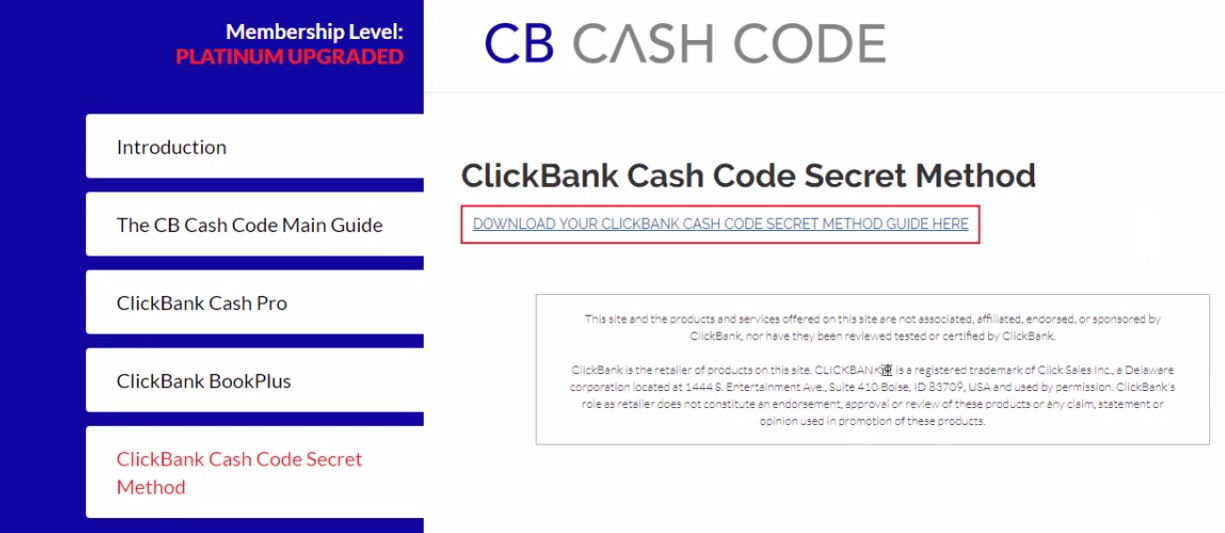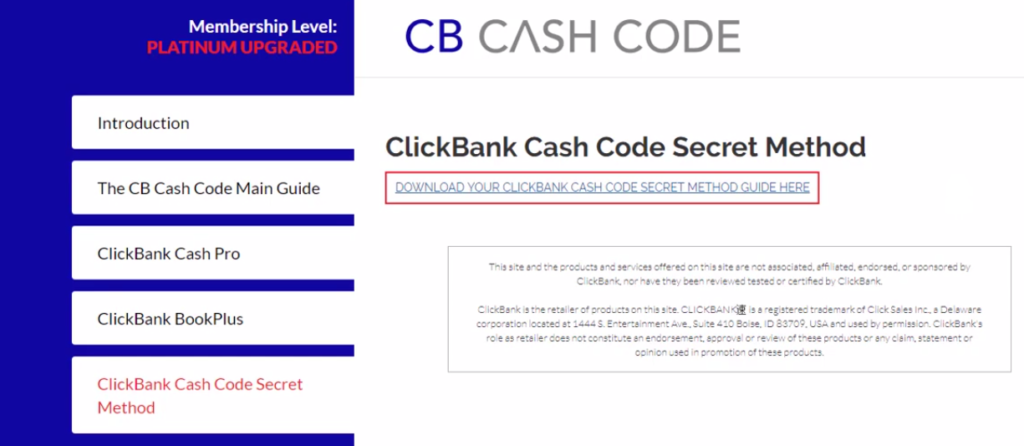 The CB Cash Code Main Guide
ClickBank Cash Pro
ClickBank BookPlus
ClickBank Cash Code Secret Method
Seriously, there's all you're getting for your money.
To say I felt ripped off is an understatement!
Ok so they're glorified, overpriced eBooks, but is the actual content any good?
Unfortunately not.
The PDF files only very briefly cover topics like how to create a ClickBank account, what stats to look out for when choosing the right ClickBank products to promote and some of the potential traffic sources you could try to tap into to try and make a few sales, though they barely scratch the surface in terms of covering what you need to be successful in affiliate marketing.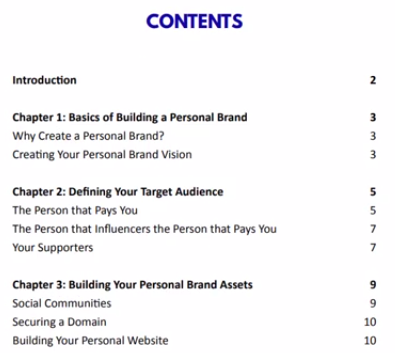 There's zero:
Step-by-step video training
Actional steps you can follow
Support or help if you have any questions
Seriously, I fail to see how anyone just starting out with ClickBank can take these short and vague eBooks and turn it into money in the bank.
In fact, as soon as I saw it I knew I'd fallen for a scam and that I'd be taking full advantage of ClickBank's 60-day refund policy. I'm sure that if you go ahead and buy this that you'll end up doing the same.
Compare CB Cash Code's 4 outdated PDF files with some of the best affiliate marketing courses out there like Wealthy Affiliate, Income School and Commission Hero where you get a comprehensive video training program with full help and community support and it's easy to see there's no reason for anyone to pay for this rubbish.
Prepare Yourself For Upsells GALORE
If you've ever bought a typical make money online course then you won't be surprised to hear that when you try and buy CB Cash Code you're hit with upsell after upsell.
One for $197 and another for $147.
The anonymous CB Cash Code owner tries to justify his extortion by promising you even more money in an even shorter amount of time – don't fall for this garbage!
These 'one-click' upsells don't stop once you're in the members' area either…
The whole website is littered with upgrade buttons that you could easily click on by accident only to find your credit card has been charged.
It gets worse:
Any upsells you buy into (whether intentionally or unintentionally) are not covered by the 60-day money-back guarantee meaning you have a cat in hell's chance of ever seeing your cash again.
Is CB Cash Code A Scam?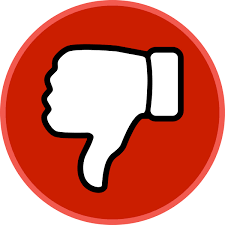 CB Cash Code has one sole purpose which is to make money for the person selling it and that's it.
With only outdated eBooks containing very basic information you could easily find online yourself for free, CB CAsh Code offers you absolutely nothing new or revolutionary at all!
Whichever way you look at it, CB Cash Code is not the best way to learn how to make money with ClickBank.
Sign up and you end up promoting low-quality ClickBank scams like Club Heist and Daily Profits which isn't exactly what you'd a good long-term strategy for success.
Here's the problem:
There's a whole group of fake gurus out there ready and waiting to exploit people like you and me into believing there's a fast and easy shortcut to success when the reality is, if you seriously want to escape the rat race and become your own boss then you're going to need to follow the right training and be ready to take action.
Watch this video to see how these get-rich-quick scammers work so you never get hoodwinked again:
Try This Proven Alternative Instead
While CB Cash Code is a scam, don't lose hope just yet!
There are so many great affiliate marketing training courses out there that can show you exactly how to build a legitimate affiliate marketing business and replace your full-time income.
After reviewing nearly 500 training courses, I can tell you the highest-rated review I've ever written is my full and honest Wealthy Affiliate review.
That's because Wealthy Affiliate has been showing aspiring entrepreneurs how to create highly lucrative online income streams for over 12 years.
With full step-by-step core training courses designed specifically for newbies and a whole community of experts on hand to give you 24/7 help and support (myself included!), you'll have everything you need right at your fingertips to make it happen.
Be ready to follow the training and put in the work and I guarantee you the results will follow.
Wanna know another cool thing?
Wealthy Affiliate won't ask you for $37 before you can check out the training area. You can try out the whole training platform for free as a Starter member.
By all means – go ahead and sign up to CB Cash Code and come back and let me know when you're making $20,000 a week following those crappy eBooks… but we both know that's not going to happen!
The choice is yours, my friend.
Tell Us What You Think!
Now you've taken a sneak peek inside the members' area, seen exactly what the CB Cash Code is and what you get, do you still think this is the miracle solution to all your money-making worries?
If I've done enough to convince you to stay away from this scam (and I hope I have!) then feel free to let me know in the comments. I'd love to hear from you! 🙂
Simon Crowe is the founder of The Make Money Online Blog and is on a mission to help as many people as possible kiss their bosses goodbye.
Get his free Affiliate Marketing Guide For Newbies to learn exactly how to build a real income online and make your dream business a reality.