Have you received a 'special invite' to make $13,127 per week as a 'privileged member' of the 24/7 Wealth Club and want to find out what's really going on?
Welcome, you're at the right place! This is the only 24/7 Wealth Club review you'll ever need to read because right here and now we're going to answer:
Is 24/7 Wealth Club a scam not worth your time or a truly life-changing system you should grab with both hands?
For the past few days, my spam folder has been bombarded with emails from money-hungry affiliates telling me how great and wonderful this new 24/7 Wealth Club is so I decided to take a closer look.
24/7 Wealth Club Review At A Glance
Like so many get-rich-quick schemes, it seems the anonymous 24/7 Wealth Club creator spent more time making the sales video than putting the training together. They promise a step-by-step money-making system then dump a useless, outdated eBook on your lap.
They'll say you can make $1,000s at the click of a button but they're just telling you what you want to hear so you'll give them your credit card details.
If you're looking for a legit way to start earning online, you deserve better than this and for that reason, I urge you to stay away from this garbage that will in no way help you gain financial freedom.
What Is 24/7 Wealth Club?
Go to 247WealthClub.com and you'll see an embedded YouTube video with a form to the right of it telling you to enter your email and hit the Get Started Now button to make your $37 payment: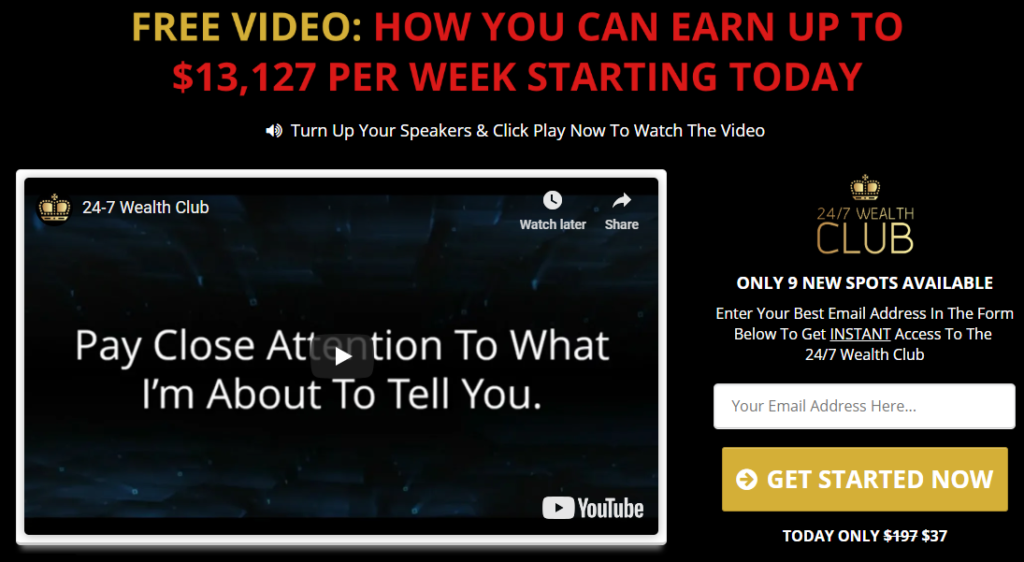 24/7 Wealth Club is one of the latest ClickBank products claiming to show you how to earn $13,127 per week starting from the first day you sign up.

One of the first red flags you should be aware of is the fact we have no idea who created this training because they are choosing to hide their true identity. We know nothing more than this guy calls himself 'Richard' and that's never a good sign…
The anonymous narrator claims this is a powerful system available only for the chosen few that teaches people how to earn $13,127 per week…
That's $682,604 per year!
Apparently, these kinds of results can be achieved by anyone; students, working professionals and retirees regardless of experience or knowledge.
So how does it work and what will you have to do to get these results? The video's pretty vague. All we know at this point is that it has nothing to do with taking online surveys or cryptocurrency and all you need is a laptop and internet connection.
To find out more I decided to sign up, pay up and try it out myself…
Inside 24/7 Wealth Club's Members Area
Once inside you'll see a left-side menu with various PDFs you can download. The whole course is based around how to make money with ClickBank through affiliate marketing.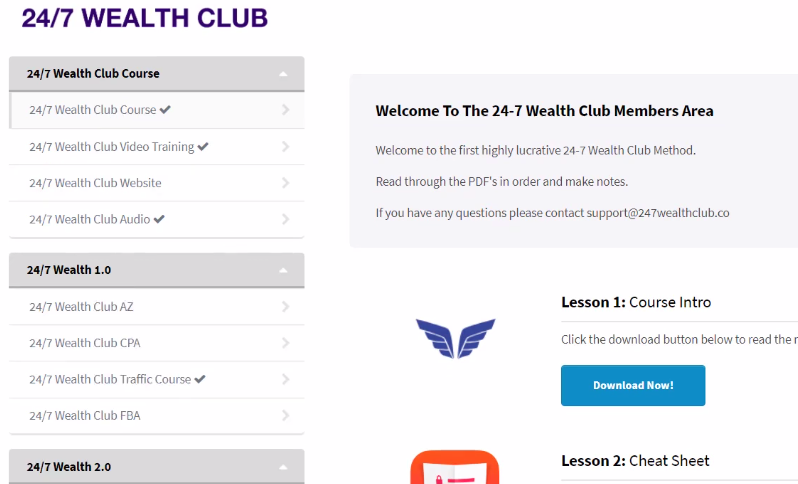 There's PDF files and videos on how to find offers you can promote, how to generate traffic to your websites using social media and paid traffic methods, though I found the whole training really basic.
It gives you the general over-arching ideas but fails to give you anything practical you can work with.
It's not just that though…
It's almost like someone's found a few free PDFs scattered across the web and stuck them all together and called it a course. It all seems a bit random, jumbled and not very well thought through.
Can You Really Make Money With 24/7 Wealth Club?
$13,127 per week is $1,875 per day…
Despite 24/7 Wealth Club promising to be THE ultimate system to teach you how to become an affiliate marketer, I'm really struggling to see how how anyone reading these eBooks could ever learn what they needed to reach this level of income.
Is affiliate marketing a legit way to make money online?
Absolutely!
I make $7,000+ per month and I recently celebrated my first $1,200 day so I know it can be done, but it takes a lot of hard work and time to get there.
You make money by promoting products on the likes Amazon.com or Walmart.com, send your website visitors or YouTube viewers to the site and let them take care of the rest.
Clickbank.com have a wide range of products you can promote and earn a commission for each sale you generate, and all the super successful affiliates know the best way to make money with affiliate marketing is to create a niche website.
With the right training, affiliate marketing offers an enormous opportunity to build an online business that can replace your full-time income, but with 24/7 Wealth Club, all you're getting is a mish-mash of PDF files thrown together full of outdated information that will get you nowhere.
The best affiliate marketing course I've come across is Wealthy Affiliate because they give you realistic expectations about the time and effort that's involved and give the right training, tools and support to making it happen.
4 HUGE 24/7 Wealth Club Lies Exposed!
1. $37 Is Not The REAL Price of 24/7 Wealth Club
Learning how to make $13,127 a week for a small $37 investment sounds like a great deal right? Not quite…
The low price is just a dangling carrot designed to get you inside the member's area so they can start to push more expensive upsells onto you and make as much money out of you as possible.
The sales video forgot to tell you you're going to be pressured into paying out for 3 upsells to 'get the most out of your investment' and 'make more money in an even shorter amount of time':
Upsell 1: 24/7 Wealth 2.0 – $197
Upsell 2: 24/7 Wealth Pro – $177
Upsell 3: 24/7 Wealth Social – $97
That's $471 in upsells! Over $500 when you add the $37 starter fee.
This type of operation is what's known as an advance-fee scam and it's exactly what the 24/7 Wealth Club owners are doing.

2. 24/7 Wealth Club Is Anything But Exclusive
The video tells you that, in under no circumstances, must you share the video with anyone: not your spouse, not your parents, not your best friend. They say because you've just stumbled across a top-secret life-changing video that's not yet been made public.
(I suspect it's so they can't talk you out of falling for their nonsense…)
The narrator goes on to say:
"Welcome! You made it. If you are seeing this video right now you have been selected by one of my very close multi-millionaire business partners. Why? Because we believe you are a prime candidate to make up to $13,127 per week."
See how they make it look like you're been especially chosen?
This is further implied by the notice on the website that says there are only a limited number of spots available: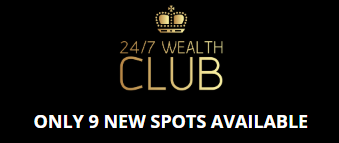 Can you see what they're doing here?
They want you to think you're really lucky to be offered this amazing opportunity.
The truth is:
Anyone can view the sales video on YouTube, anyone can sign up through ClickBank and you can be sure the creator and affiliates promoting this system will be pushing for as many sales as possible.
3. 24/7 Wealth Club Is An Old Rehashed Scam
The video narrator kicks the video off by making this pretty big statement:
"I'm about to show you how to access a brand new and incredibly powerful revolutionary done-for-you money-making system."
Okay, except I've seen these low-quality PDFs before…
24/7 Wealth Club launched in April 2019 but it's just an old program being sold under a new name. CB Wealth was launched in February 2019 and when you compare the 2 programs you'll see that the layout, content, lessons, everything is exactly the same.
Here's a screenshot of the 24/7 Wealth Club members area: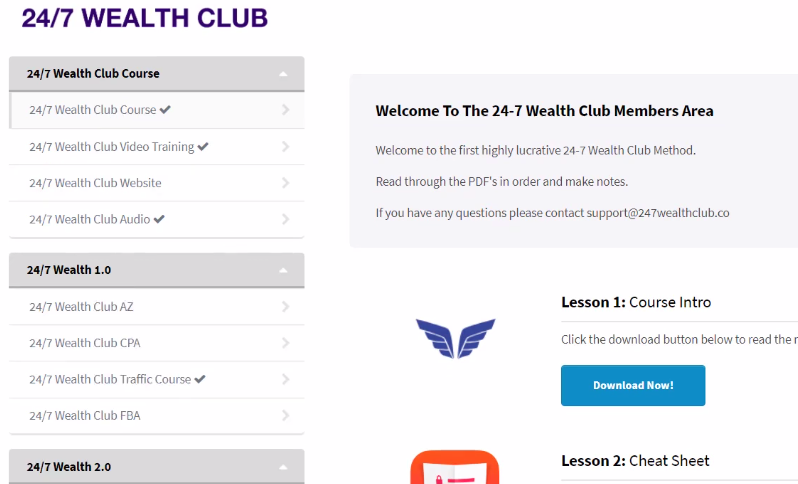 Now here's the old CB Wealth members area: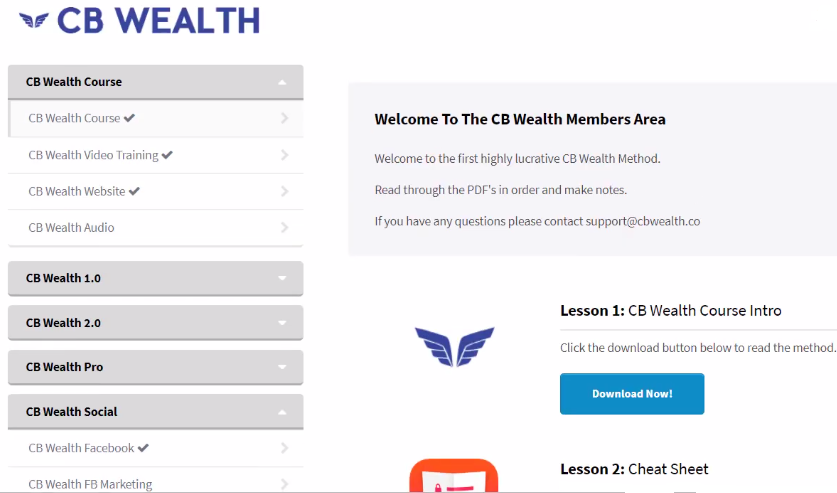 Spot the difference?
The lazy con artist can't even be bothered to make new training videos or even remove the CB Wealth logo from the 24/7 Wealth Club training area: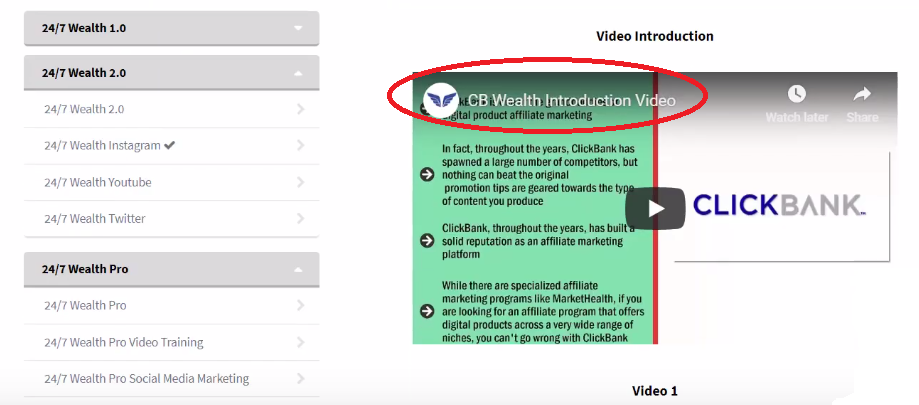 A brand new, revolutionary new system?
More like a rehashed, recycled scam of a system that had a lot of complaints against given a new name and using deceitful marketing practices to promote it.
I see this all too often – scammers find an old, outdated program, slap a new front cover on it, give it a new catchy title and resell it again and again to the masses. Don't fall for it.
4. You'll Get Zero Support
So you hand over your hard-earned cash, get inside the member's area and you're faced with a whole mish-mash of eBooks and you're supposed to be able to piece it all together, figure it all out and make $13,000+ in a week?
When you're serious about starting an online business not only do you need the right training, you need expert help and support for when you're inevitably going to have questions along the way.
If this program creator really cared about your success then he'd make sure you could ask questions and get answers, he'd make sure you had access to a member's forum or a live chat area, but with 24/7 Wealth Club you get nothing.
If you're beginner just starting out, you're really going to struggle trying to figure it out on your own and with this program you're not going to get help and support when you need it most.
Is 24/7 Wealth Club A Scam?
Yes, 24/7 Wealth Club is a scam because they make 100% false claims about how much money you can earn.
They market themselves as an automated profit-making system when in reality all you get is a few old eBooks.
They promise overnight riches but fail to tell you about the time and effort that it takes to be successful online.
The training is sub-standard and doesn't equip you with the knowledge you need to make it happen and you can't rely on them for any kind of support.
However, this is nothing new and you will not make $25k in 30 days.
Feel free to buy 24/7 Wealth Club and let us know how you get on, at least you'll be covered by the 60 days no money-back guarantee so you can always get a refund.
But if you're serious about making money online then take this beginners course. It's the same training that taught me how to build an online business that now generates more than $7,000 a month.
The best part? Right now they're open to new members and it's free to get started.
Questions Or Thoughts?
Are you sick of being lied to by hyped-up programs like 24/7 Wealth Club that promise you the world but give you nothing?
Do you have any questions about getting started online? Scroll down and leave your comment and I'll be more than happy to help in any way I can.
Simon Crowe is the founder of The Make Money Online Blog and is on a mission to help as many people as possible kiss their bosses goodbye.
Get his free Affiliate Marketing Guide For Newbies to learn exactly how to build a real income online and make your dream business a reality.