"$10,000 per month in less than 10 minutes of work daily"
This is the main hype you'll hear in Formula 10K. In this review, we're going to debunk all the over-the-edge claims you'll find in in this system and more.
Philip Johansen claims Formula 10K is a beginner-friendly income method that helped him get $500 on his account every day.
Together with Brendan Mace, he says it's a brand-new method in making big daily profits in just a few minutes of work.
The truth is:
1. It's not brand new.
2. You won't make $100s if you follow his method.
To start off, I'm going to tell the basic information you need to know with Formula 10K.
I'll then show you what he teaches in this training, tell you why the results are not as promised, and finish off with a better way of doing affiliate marketing so you can make money online.
Let's get started!
Formula 10K Review At A Glance
About: Formula 10K is an online income training teaching launch-jacking to supposedly siphon $100s daily.
Price: $12.93. You're also encouraged to spend a whopping $595 for 5 upsells.
Pros: Nothing. Zilch.
Cons: Formula 10K teaches an unethical sales conversion method. You review digital products even before they're launched.
Verdict: Not recommended. The less than 10-minute work to make an income is an absolute lie. It takes longer than a few minutes for this to work.

And I'm not saying IT WON'T WORK.
The exact steps he gives will get you nowhere, but take the basic principles, do it the right way, and have some patience and effort you can make an income making video reviews.
What Is Formula 10K?
Formula 10K is another one of Brendan Mace's online income training which he partnered with Philip Johansen. Essentially, the training teaches about launch jacking to generate visitors to your video reviews and make commissions.
You'll see Brendan most in the marketing side while Philip does most of the training parts.
Like all other hyped-up systems Brendan promoted, he says you won't need experience, expensive software, and everything he says is no BS.
Hold it right there.
There's nonsense here unlike what he claims. He says there's no need for expensive software.
But why does the upsells amount to a staggering $595?!
This fact alone helps you too see his sales page promises in the right perspective.
Claims like:
It's a failproof method of making money
Works like a charm
Everything is automated in the method taught, you get paid over and over again
Scales up fast
8 minutes to set up
Never seen before
They're all baloney and I'll explain why throughout this review.
Why Is It Called Formula 10K?
Brendan and Philip have 2 reasons for calling this training Formula 10K:
1. You'll supposedly go from 0 to $10,000 using this method.
2. It's a formula because it's duplicatable.
I'd debunk those two horse feather reasons right now:
1. You won't go from 0 to $10,000 with Formula 10K. You'll be promoting the same rubbish products every questionable affiliate marketer is boosting.
This means people won't buy your product and even if they do, there's lots of competition, getting them to choose your affiliate link will be next to impossible.
2. Being duplicatable does more harm than good. It means you'll be doing what everybody is doing, you won't be able to stand out for anyone to notice.
Everything on the sales page is just sheer emotional manipulation, you'll even see the overused scarcity tactic there.
Don't think I'm being too critical of Brendan for no reason. He's just too infamous for giving unrealistic promises, when it's time to see results, he fails a lot.
To make you understand why I have a certain distrust for him, you check out his other systems I made a review on like:
What's In 10K Formula's Training?
The gist of 10K Formula's training is riding the coattails of a digital product's launch bustle. The method widely taught here is launch jacking or promoting products even before they are set in motion.
10K Formula's launch jacking technique is making YouTube reviews.
Here are the lessons you can expect for each module in 10k Formula's training:
Module 1: Welcome
Module 2: Mindset
Module 3: Important
Module 4: Overview
Module 5: Overview Of Product Launches
Module 6: Getting Organized
Module 7: How to get approved for 50–100% commissions offers
Module 8: Setup Channel
Module 9: Bonuses & Bonus Page
Module 10: Capture The Buyer Emails
Module 11: Making The Video
Module 12: Editing, Uploading, Description & Thumbnail
Module 13: How To Rank Faster
Module 14: Method Nr. 2
Module 15: 3x Your Earnings
To summarize what you can see in the videos, Philip will be teaching you how you can access a pre-launch calendar for digital products you'll be promoting. All of them will be in the make money online niche and on WarriorPlus, JVZoo, and ClickBank.
Keep in mind these marketplaces only have a handful of decent products. You can count just how many with just your 2 hands.
He'll then teach you how you can apply for an affiliate program to get your own affiliate link. You're then told to connect the affiliate link to the product so the commission gets directed to you once someone gets interested in buying it when they see your review for it.
Philip will then go to teach you how to set up your own YouTube channel and how you can make video reviews to market the digital products you promote.
So far, the training is quite decent. After this module though, things will go downhill. From here on he'll be teaching you to create product reviews for products that are not even launched yet.

Essentially, do so only means you're promoting something you haven't tried for yourself. This part of the training also includes teaching you to plan ahead or schedule reviews you're going to make. Mostly on the same day or a day before it's launched.
What you're actually doing is blindly picking products to review, products you know nothing about. Basically, you'll be applying the "let's promote everything" kind of attitude.
Here's one of the worst parts:
To create your reviews, they'll teach you to look to other blind reviewers and copy what they talk about instead of researching the product yourself.
If you did what they teach, you're not really providing the information people want to know about a product before buying it.
Plus, the majority of the video reviews you'll "get ideas from" just mimics the hyped information on the sales page.
I've seen tons of reviews like those and I'll tell you, they get stuck on the sales page, it's the only thing they talk about. They can't even go inside the members' area to really show you what you get from the product.
There's no value to what you'll be doing.
Think about this:
Do you really want to promote everything you see on the pre-launch calendar when a majority of them are low-quality make money systems?
Will you be able to build credibility? I don't think so.
Will this help you build a strong following on YouTube? Of course NOT!
Will it take you less than 10 minutes to set things up? I'll leave you to answer this question. But I'm quite confident we're on the same page.
Key fact:
No one builds credibility by being infamous for blindly promoting rubbish products.
Just to get things straight, making product reviews have huge potential for drawing in traffic. But never the way Formula 10K does it.
Just to prove my point:
Philip has his Youtube channel made in December 2019. He currently has a little bit more than 11,000 subscribers there.

However, most of his videos have 200 down to 43 views.

Well, now he gets a little more because it looks like he hired a video expert to help him out.
Still, if he was such an expert product reviewer on YouTube, you can certainly expect a higher figure for his viewership.
So, where do you get the initial traffic or visitors for your review videos?
Another sneaky lesson he teaches you is buying views and shares to get traffic! It's very unethical and misleading.

You're basically duping YouTube into believing your channel is growing when it really isn't. When they catch up on this scheme, you'll surely get banned!
Even if you don't, it's still not a sustainable traffic source to use. Paying people to make money is a futile method to adopt.
Does he teach another traffic source?
Well, yes.
He'll teach you to share your video links on Facebook groups. But unless you've built a relationship with people on those groups, no one will watch your videos.
You'll mainly be spamming those groups and later on, you'll get banned from joining them.
Philip's methods get you banned from everywhere!
5 Reasons Why 10K Formula Won't Work
1. The income claims are unrealistic.
2. The disclaimer disproves all those claims.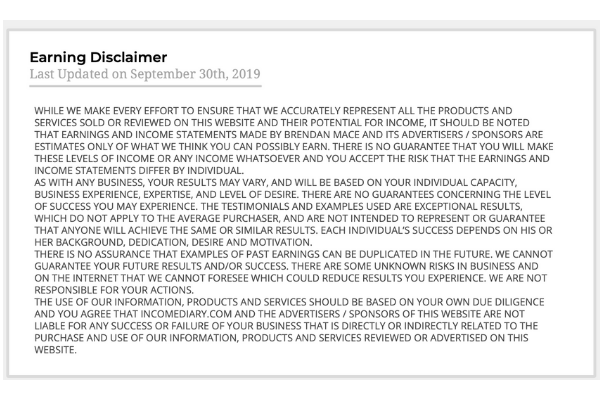 3. His launch jacking is unethical and can get you banned on YouTube.
4. The supplementary traffic source taught won't get people viewing your videos.
5. Ultimately because there's no video viewers, you won't get conversions.
Is Formula 10K A Scam?
10K Formula is a scam because it fools you into thinking you make money when you really won't. Plus, the method involves unethical whatnots and a whole lot of spamming to get you banned everywhere.
You won't generate traffic here, so you'll never get conversions for your offers.
What Do You Do Now?
If knowing the truth about Formula 10K dampened your spirits, here's something lift it up. You can make money with affiliate marketing by creating a niche-based website instead!
Wealthy Affiliate will teach you everything you need to learn, from choosing a niche up to creating a sustainable traffic source so you earn commissions for the long term the legit way.
If you want to test the waters out, the 1st 10 lessons are free for you to try.
And if you want to hear what others who enrolled in Wealthy Affiliate experienced in the training, you'll get to ask them yourself too because there's a network for you to get in touch with them along with the step-by-step training.
If you're interested in giving this training a shot, you can start your journey with this in-depth Wealthy Affiliate review.
What's Your Take?
Did you sense how absurd the claims were? Did you feel Formula 10K's methods are unethical? Tell us what you think down in the comments section.
Simon Crowe is on a mission to help as many people as possible kiss their bosses goodbye.
Take the free Commission Academy course to discover how to smash your online income goals and make your dream business a reality.