Good day! Welcome to today's review of the Shotoku System where you're going to find out if there's any truth to the claims Brendan made or if it's just all pie in the sky.
Shotoku System poses to be the "all-in-one solution without spare baggage". This claim alone doesn't serve them well because upsells are spare baggage to me and they have 5 of those!
Brendan says "there's no reason to overcomplicate online income because at the end of the day all you really need are assets, traffic, and offers. Today you'll know more of those supposed money-making assets together with:
What Shotoku System really is
How much it costs
How it works and if it can really generate income
It's red flags
If it's a scam
I'll then wrap up this review by sharing a better alternative you should try.
Shotoku System Review At A Glance
About: Shotoku System is a cloud-based software posing to provide you with lead magnets to earn daily from.
Price: The front-end system costs $21. You also have to spend $695 for 5 upsells and at least $600 per year for an autoresponder.
Pros: There are none.
Cons: It claims to provide income-generating digital assets but it's very low-quality no one will ever be interested in buying them.
Verdict: Shotoku System overpromises but ultimately under-delivers the sales page hype. Making money with PLRs is highly unlikely.

What Is The Shotoku System?
Shotoku System is a cloud-based income system launched by Brendan Mace back in July 2020. It claims to be the done-for-you solution for digital assets, free traffic, and monetization, the 3 basic things you'll need to make money online.
A little trivia:
Shotoku is a Japanese word that basically means income or earning. Just in case you're wondering.
On the sales page, Brendan claims the digital assets he gives you are worth $100 each. In reality, though, each one of them is barely worth a dollar.
Essentially these are just PLRs, each at least 40 pages long. These PLRs come from different niches, like cosmetic surgery, parenting, internet safety, and more.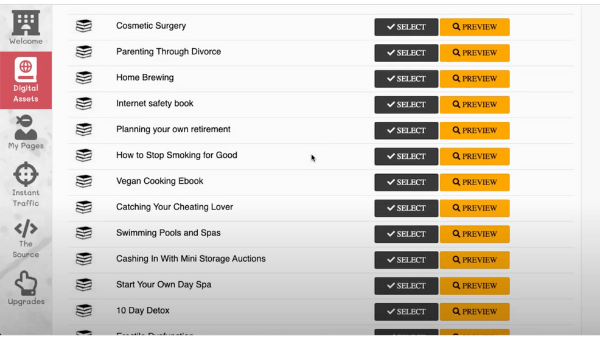 He also claims it to be beginner-friendly, but you only get a 30-second introduction video in the members' area and no other training video available.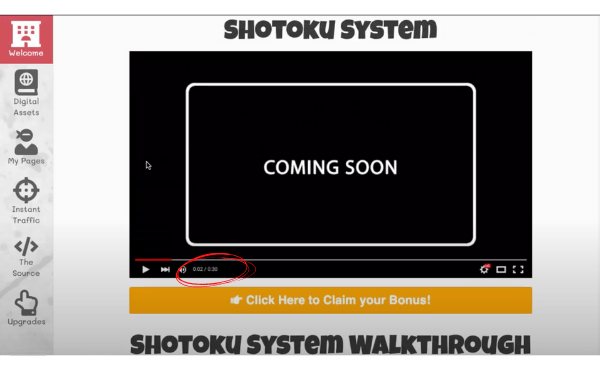 Another kicker is:
Shotoku System is merely a rehash of a product he launched last year called Atomic DFY. By now it already went under.
He just slapped a new name on it and voila! Brendan has a "brand-new" system to rip unsuspecting people off.
Even the sales page of Shotoku System and Atomic DFY says the same things.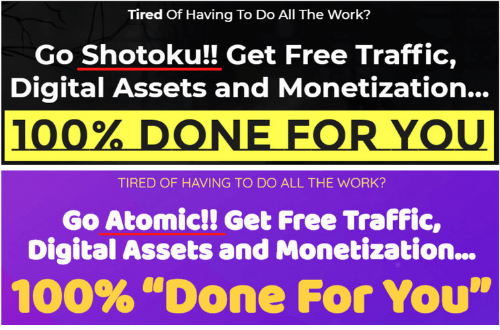 If you buy this system, you can expect the same thing to happen a year later.
If you're not familiar with Brendan Mace yet, he's a serial digital product creator launching products almost every week.
His other products are:
He barely cares about his previous products knowing he has a long list of launches ahead. If you take a look at tidbits of the sales page, you'll see grammar and spelling errors like these.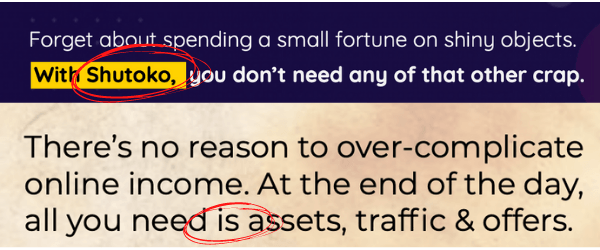 He doesn't bother correcting them because these systems are disposable to him.
Don't even get fooled with the income proof. The money he makes is from constantly selling new digital products and now from actually using them.
How Much Does Shotoku System Cost?
Shotoku System's front-end system costs $21. You'll also be forked out $695 for 5 upsells and $600 per year for autoresponder costs.
On the sales page you'll see 2 front-end options. A Lite version which only includes:
5 digital assets
5 traffic sources
1 monetization choice
The full version on the other hand includes:
50 digital assets
20 traffic sources
2 monetization choices
1,100 campaign variations
60-minute training and more
Here's the annoying part:
Clicking on the Lite version buy button won't get you anywhere. It simply doesn't work. The Full version on the other hand has a buy button marked $17.04 but when you click on it, you'll see it actually costs $21.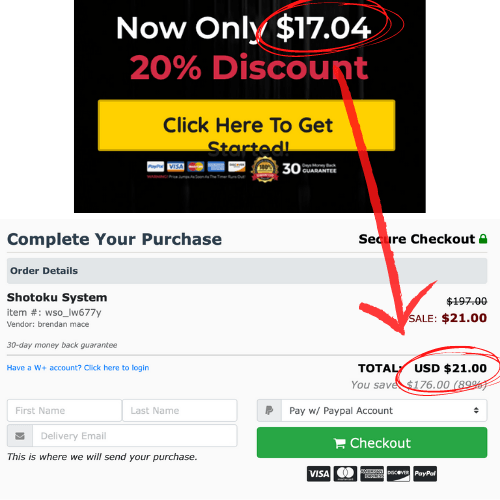 Whether Brendan failed to update his buttons, or he made it misleading on purpose, it doesn't do him any good. He'll only get people mad.
Now for the upsells.
Upsell 1: Platinum Edition ($37)
It's supposed to remove all software restrictions. It doesn't really matter because whether it has restrictions or not, you still won't make money from this.
Upsell 2: Done-For-You Upgrade ($197)
This basically gives you more campaign options which again to me is pointless knowing the front-end Full version offers 1,100 campaign variations. None of it guaranteed to make you money.
Upsell 3: Source Package Upgrade ($97)
This adds 50 more digital assets to the 50 you already have. Again, I don't suggest you buying this because these are mere PLRs. I'll tell you more about it in a bit.
Upsell 4: Unlimited Traffic ($197)
Apparently, they have a traffic group you can access once you opt in to this upsell.
Here's a short simple fact:
There's no such thing as unlimited traffic source. If there was, all affiliate marketers and eCom store owners won't bother making traffic-generating content.
Upsell 5: License Rights ($167)
I've said this a million times before (because almost all income systems offer this kind of upsell). Even if they offer to give the license to sell the software and keep all the commission, you won't get anything out of this until you prove the methods they promote really make money.
How Shotoku System Works
Essentially, Shotoku System provides you with lead pages and download pages linked to the built-in digital assets supposedly generating income. By entering your affiliate link to these pages, all the commission generated will be directed to your account.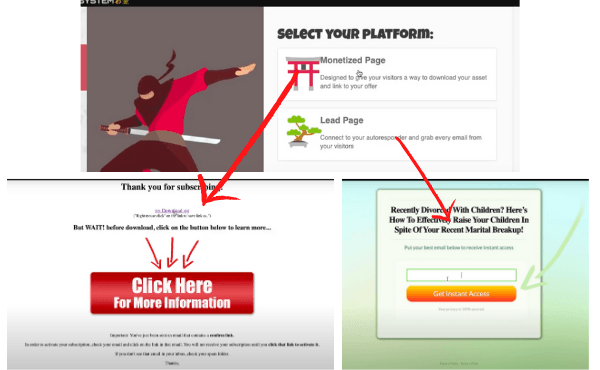 Here's where the pain in your neck comes in.
As I've told you earlier, the lead magnets or digital assets are just 40-page PLRs. These PLRs won't make you money, they're so outdated, no one will see any value in it.
Just take this for example: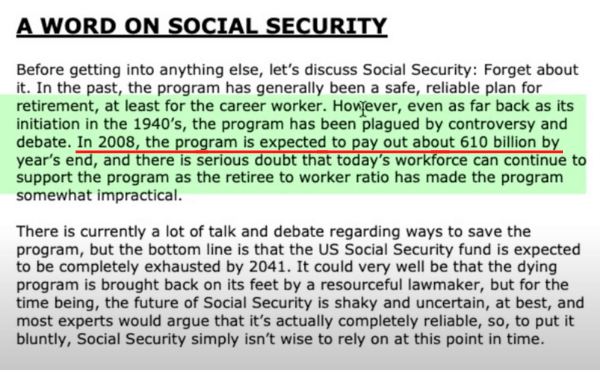 This PLR's content is a decade old! A lot of things happened between 2008 until now so any information you can find here is practically obsolete.
Here's another snag:
The sales page says you won't need a funnel and an autoresponder among others for this system. As you can see, when you launch your page, you'll be asked to link your autoresponder! And essentially, the lead page you create is part of a funnel.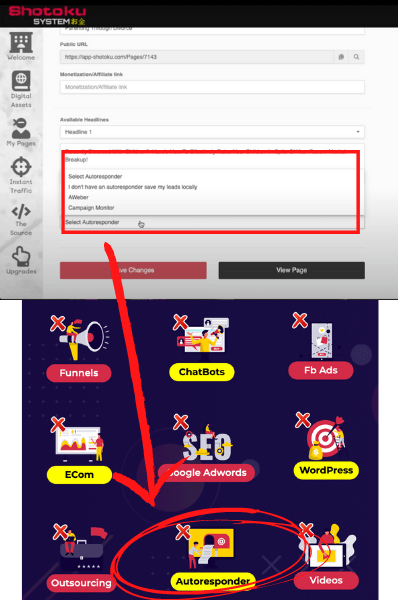 Brendan is basically saying you don't need these things to entice you to click on the buy button but later on, realize you actually do.
Plus, look at these pre-built page templates: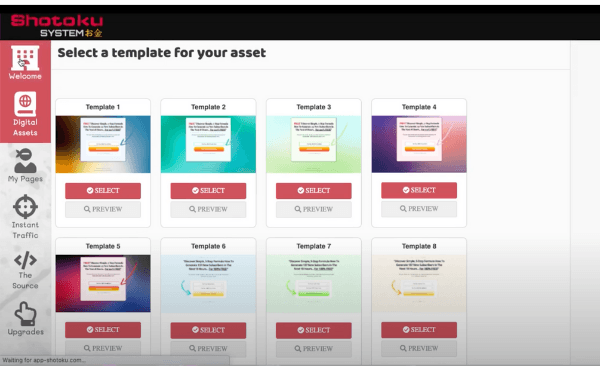 It's looks too boring and cheap, no one will be burning with curiosity.
Another major problem with these sales pages is it's hosted by Shotoku System. You'll risk losing everything when this goes under like what happened to Atomic DFY.
I'm not even done. If you think the traffic sources will make up for the boring lead pages and the obsolete digital assets, think again.
Similar to You Gen Bots I reviewed yesterday, the only traffic source you get with Shotoku System are social sites.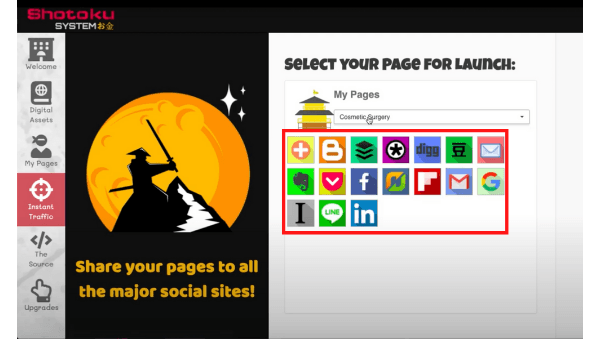 Again, if you don't have a massive following, no one will notice your lead pages, which basically translates to you not making any money. EVER.
The bottom line is, this system doesn't give you real assets to earn from. It's entirely a rehashed rubbish packaged to look like a must-have system.
It's not a must-have. It's a must-avoid.
10 Red Flags Of Shotoku System
The sales page uses a fake countdown timer
It's all hype
The system is a rehash of another one that's shut down
Your pages risk getting shut down too
The PLRs are obsolete
The page templates are uninteresting
The traffic sources won't work
The upsells are expensive
You'll be told you won't need something but actually need it like the autoresponder
The disclaimer debunks all income claims

Is Shotoku System A Scam?
No, Shotoku System is not a scam because you do get access to software providing lead pages and download pages linked to PLRs. However, it can pass as a borderline scam because the income promised from using this system is way over the top.
Again, making money online from this is next to impossible. If you really want to know what it takes to have a sustainable online income, you should check out Wealthy Affiliate instead.
Where Do You Go From Here?
Finding shiny shortcuts like Shotoku System is all too common. But like every done-for-you income system, this won't make you reach your online income goals.
It's just like pyrite. It gives a metallic luster like gold but it's not really it, hence being known as the fool's gold.
Don't rely on pyrites like Shotoku System. Learn how to really find online income gold mines with time and effort.
Wealthy Affiliate will teach you how. It teaches you everything from scratch, building your online business from the ground up. It teaches you the real deal of making money online.
With Shotoku System, your income source will be gone with the wind in the next few months or years. With Wealthy Affiliate, you'll how to build a business that lasts.
You'll learn what products really sells so you won't need to rely in obsolete PLRs.
Plus, you don't only get step-by-step training, you'll also get access to other successful affiliate marketers who will guide you to be successful like them.
You can even test the waters for free. You can learn from the 1st 10 lessons without taking your wallet out!
If you want to learn more about how Wealthy Affiliate can help you, this tell-all Wealthy Affiliate review will tell you everything you need.
What's Your Take?
Do you think relying on outdated PLRs can make you money? Do you also feel Shotoku System will simply be rehashed again? Tell us what you think, the comments section is waiting for you.
Simon Crowe is on a mission to help as many people as possible kiss their bosses goodbye.
Take the free Commission Academy course to discover how to smash your online income goals and make your dream business a reality.