Brendan Mace doesn't run out of make money machines to peddle! If you've taken interest in 1 Page Profits and is thinking of giving it a shot, this review will show you why you should change your mind.
We'll talk about 1 Page Profits with beginners in mind but overall, this will benefit everybody who's interested in 1 Page Profits.
Obviously, the title gives you an idea of what I think about 1 Page Profits. However, I won't leave you without any basis. So today, we're going to discuss what it is and who it is for.
We're also going to do a deep dive into the members' area to see how it's supposed to work. I'll then tell you why you don't need it. I'll also reveal if it's a scam or not and a better alternative.  
1 Page Profits Review At A Glance
About: 1 Page Profits is a done-for-you presell page builder complete with offers to supposedly make $1,000s from.
Price: $13.11 plus $665 for 5 upsells.
Pros: The built-in offers are legit.
Cons: There are too many competitors and you won't be able to build authority offering products from different niches.
Verdict: 1 Page Profits is an over-hyped income system with results falling short of income claims made.

Don't get me wrong, 1 Page Profits can work, but it's highly unlikely. The offers are legit but there are too many factors which makes landing a sale next to impossible.
What Is 1 Page Profits?
1 Page Profits is a set and forget income system peddled by Brendan Mace in WarriorPlus. He launched it last April 2020 saying it's the "fastest and easiest breakthrough for automated $300 commissions from free traffic".
On the sales page, he says 1 Page Profits "automates big-ticket commissions like clockwork with zero maintenance needed".
He even says it's a "recession-proof business that's growing at a double-digit rate". This is true if he's talking about affiliate marketing, but if he's describing 1 Page Profits, it's quite a joke.
Brendan also says he's offering you multiple income streams by giving you 5 "top-converting" offers that are copy and paste easy to set up.
He pulls your emotional strings up a notch by saying you won't need any of this stuff: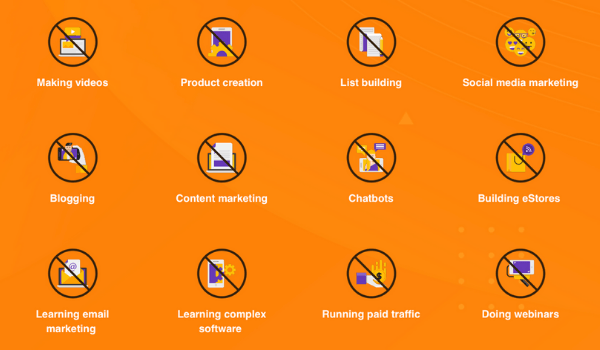 Even claiming paid ads and email marketing is old school.
You can actually skip paid ads and email marketing and still make money with affiliate marketing. Still, these 2 can still be useful if you are experienced enough.
Personally, I prefer creating a niche-based website like what Wealthy Affiliate teaches. This gets you a better chance at driving free targeted traffic and in turn, more conversions.
Overall, I see 1 Page Profits as a misleading shiny object. It makes you believe in one thing and delivering another, a completely lousy one at it.
I've done 100s of income system reviews and a number of those are from Brendan so I can assure you what I think about 1 Page Profits is not unfounded.
Here are some of his other products I've made a review on:
Then after telling you a bit about the cost, I'll show you the reasons why you really don't need 1 Page Profits.
Who Is 1 Page Profits For?
1 Page Profits is for those who want quick fixes and shortcuts in making money online. This is for those unwilling to invest time in learning the ropes of affiliate marketing.
If you think you're one of those, just take note that quick fixes like 1 Page Profits are never guaranteed to generate anything for you. If you buy it, you'll realize how phony its luster is.
How Much Is 1 Page Profits?
1 Page Profits is currently priced at $13.11. Months back it was sold a few cents cheaper, at $12.95. You are also whipped up to opt in to the $665 worth of upsells.
Since there's a countdown timer gimmick on the sales page, I thought the $13.11 price was for someone who stayed after 30 minutes on the page without taking action. But I clicked on the buy button just a few minutes after landing the sales page, I guess this is really a price adjustment.
As for the upsells, they're the same ones Brendan offers with his other products. It basically offers to remove all restrictions and add a few more features like more DFY whatnots.
But they're practically useless before you prove anything in the front-end generates income. I actually think of these upsells as daylight robbery because you get nothing of value with it.
How Does 1 Page Profits Work?
1 Page Profits gives you access to 5 "top-converting" products on ClickBank you can promote to earn affiliate commissions. You simply have to generate your own campaign using any of the 5 offers and start sharing the link for it to get traffic.
If you take a look at the members' area, you can see from the URL that it's from top-review.com.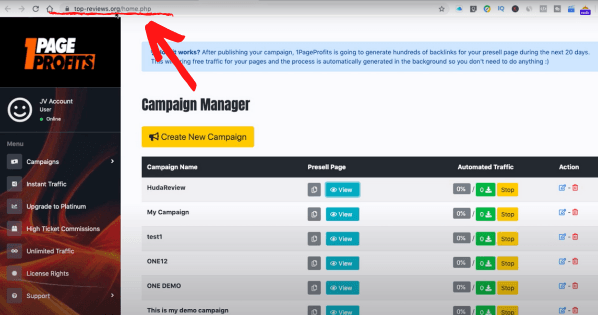 The problem with this is:
You don't actually own an income-generating website. If top-reviews.org decides to shut down, you'll lose your income source altogether and you won't have any control to stop it from happening.
Especially so because the 1 Page Profits is sold for a mere $13. If you think cheap software is great for you, it actually isn't. Brendan won't have any reason to keep on maintaining something he barely earns from.
It can last for a few weeks or months but after the money stops rolling in, logically he won't bother spending on the domain and hosting for it.
Even the campaign you generate is hosted by this top-reviews.org. This means the campaigns you get are mere redirects from the main site, the same for everybody else.
1 Page Profits "Top-Converting Offers"
Here are the 5 ClickBank products you will promote: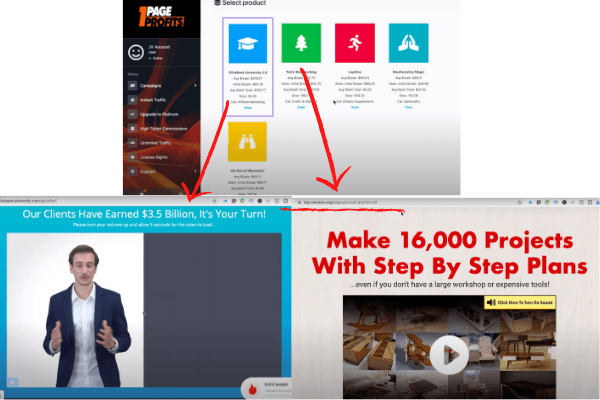 As you can see, they're all from different niches. There's for affiliate marketing, crafts and hobbies, dietary supplements, spirituality, and self-help.
This is also not a good thing. Promoting offers in different niches won't build authority on your end. When you don't have authority, there's no reason for people to rely on your pitches. It's like people are saying you're not qualified to pitch the offer.
Another thing, if you notice, each offer has a gravity score indicated. What this does is show you how many affiliates were able to make a commission from the particular offer.
On the flip side, this also indicates how many competitors you have. Over time it will become an oversaturated niche, you won't be able to stand out. Especially because you'll all have the same exact presell page.
Google doesn't rank duplicates which simply means your "website" won't rank on search engines and be seen by people. If nobody sees it, you won't land a sale.
Here's the facepalming truth:
If you just go over to ClickBank's marketplace and find the offer you see on 1 Page Profits, you can directly generate an offer link there.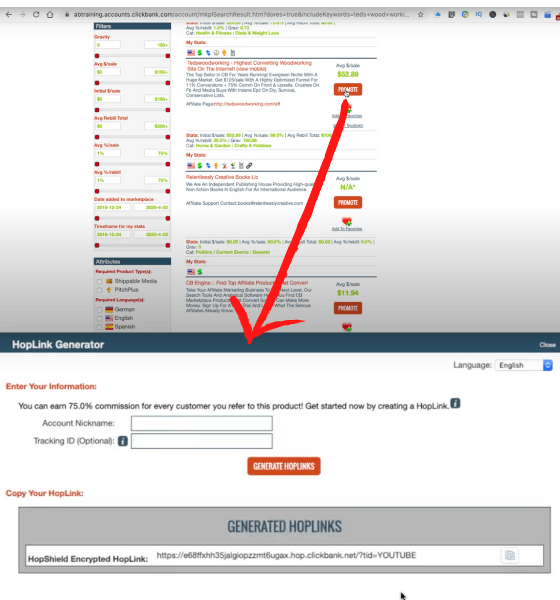 YOU REALLY DON'T NEED 1 PAGE PROFITS!
There's even an advantage of the hop link generated in ClickBank is because you'll get better control. Your tracking ID can help you monitor how many clicks your offer has made and where the traffic is coming from. There's more visibility for you.
Plus, it's safer because ClickBank is a more established platform than 1 Page Profits. You'll have more confidence it won't suddenly shut down.
1 Page Profits Traffic Source
1 Page Profits offers 2 traffic sources: Social Sites and backlinks to your presell page.
Social Sites
Time and again I've explained the only time this traffic source CAN work is if you have a large following. I said "can" because it's still not guaranteed.
With social sites, you'll only drive traffic if you have someone in your network who's interested in your offer. It will be highly unlikely.
It's like randomly walking up to someone you hardly see in a year or worse, someone who you've never met before, and said, "buy my product now" without initially establishing a connection and a reason for him to trust you.
Backlinks
1 Page Profits says it will generate 100s of backlinks to your presell page within the next 20 days from when you launched your campaign. This will supposedly bring free traffic and tons of conversions.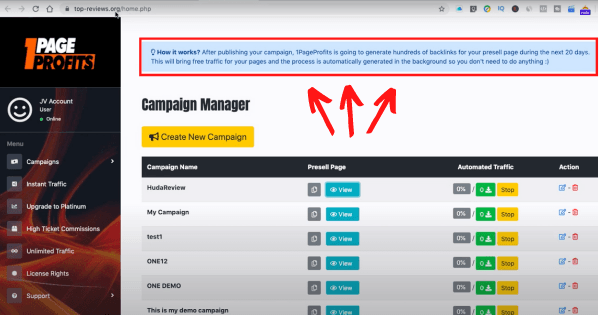 The problem is, you won't have any control over the backlinks' source. You don't know how they generate it for you so you can't completely rely on it.
Plus, they say they'd only do it for you in 20 days, after that you can expect any more help from them. So, it's not a sustainable source for you.
Another problem with backlinks you're not guaranteed their quality. Good backlinks will help Google find you credible.
But, if 1 Page Profits gets you bad quality backlinks, spamming sites here and there (which is the most likely thing to happen), you can get flagged by Google and over time, lose your ranking. (if you even get ranked)
7 Reasons You Don't Need 1 Page Profits
1. The Sales Page Is Misleading
2. Has No Training Included, Not Beginner-Friendly
3. Traffic Method Used Is Poor
4. Offers Are From Different Niches, Won't Build Authority
5. No Control If The Members' Area And Presell Pages Shuts Down
6. Same ClickBank Offer With All Takers So There's High Competition
7. You Can Directly Get An Offer Link In ClickBank
Is 1 Page Profits A Scam?
No, 1 Page Profits is not a scam. You get a system that works and offers proven to sell. However, there's lots of competition and the traffic method you will use won't get you visitors. The worst part is, you can directly get an offer link from ClickBank so there's no point paying for 1 Page Profits.
Where Do You Go From Here?
You don't have to rely on 1 Page Profits to find high-converting affiliate offers. You can learn how to find them yourself.
Remember the saying, give a man a fish, he will live for a day, teach him to fish and you feed him for a lifetime? The same principle applies here.
At best, 1 Page Profits can only get you a trickle of commission and nothing more. It might not even be enough to cover the initial cost you spent on it.
Also, there are tons of competition and only 5 offers. Top that off with useless traffic sources.
To build and sustain an affiliate business, you have to know how it works end to end. This way you have more control and do what you can to scale your commissions.
Instead of relying on 1 Page Profits, it's way better to learn how affiliate marketing work with Wealthy Affiliate.
You'll be able to build your business from scratch and have as much control over it as possible. Plus, you'll get to learn what kind of offers convert well.
Aside from the step-by-step training, you can get with Wealthy Affiliate, you also have access to other successful marketers who has the valuable experience you can learn from as well.
Test the waters yourself! The 1st 10 lessons are free of charge.
If you want to know more benefits you can get from learning the ropes of affiliate marketing with Wealthy Affiliate, you can check out this in-depth Wealthy Affiliate review.
What's Your Take?
We're you surprised knowing you don't really need 1 Page Profits?
Were you dumbfounded with how useless the traffic sources are?
Share your opinion, we'd like to know what you think in the comments section below.
Simon Crowe is on a mission to help as many people as possible kiss their bosses goodbye.
Take the free Commission Academy course to discover how to smash your online income goals and make your dream business a reality.