In this Project Profit Academy review we'll talk about Brendan's affiliate marketing training which allegedly helps you make a 5-figure income every month like he does. 
Hi I'm IG, a full-time make-money opportunity researcher and blogger and welcome to my Project Profit Academy review.
Coming across internet marketing gurus nowadays is not news anymore. You'll see almost all of them making their own training program to supposedly help you make $1,000s in a record time by just watching their training videos.
Absurd, right? Because it is.
Don't get me wrong, Brendan Mace has been known to be a "successful affiliate marketer", making 5 digits every month for launching digital products in JVZoo and WarriorPlus multiple times a month.
He gets you to think you'll make as much as him if you buy his training with a very hot sizzling price tag.
If you ask me though, there's a very huge gap between how much he makes and the actual quality of his products.
I'm sure you'll ask why so I'm going to answer that question together with what Project Profit Academy really is, what you get from it, if it's legit training and my personal thoughts about this course.
Is it a scam? Is it an overhyped and unethical training with sky-high promises but invisible results?
You're about to find out!
Project Profit Academy Review At A Glance
About: Project Profit Academy is an affiliate marketing training that is supposed to be the blueprint of how Brendan makes 5-figures himself.
Price: $1997 if paid in full, $550 each month if broken down into 2. You'll also have to spend on PPC and solo ads so get ready to shed around $200.
Pros: It's an actual guide of how he makes money online.
Cons: The methods involve some sneaky strategies aside from forking out of $100s for paid ads.
Verdict: Low quality training on how affiliate marketers make money. What you make largely depends on how much you spend.

What You Think Project Profit Academy Is And What It Really Is
Project Profit Academy is an affiliate marketing training put together by Brendan Mace with some participation of his affiliate partner, Jono Armstrong. It teaches the steps Brendan and Jono takes in making money using marketing funnels.
Brendan says you can make as much as $10,000 if you follow Project Profit Academy meticulously.
Personally, I could describe Project Profit Academy as Brendan's step-by-step sales funnel guide on how you can sell this and all his past pieces of training. (mostly low-quality ones)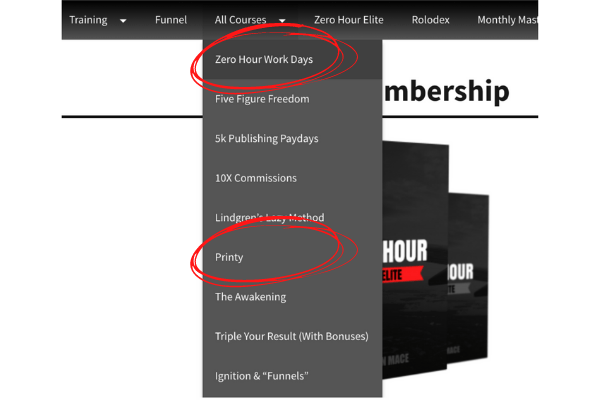 We actually reviewed Zero Hour Work Days and Printly. (He made a typo in his drop-down)
You become HIS affiliate so he can make money while you promote his products.
I can't actually say it's a full affiliate marketing training because his section teaching you about it is barely 10 minutes long!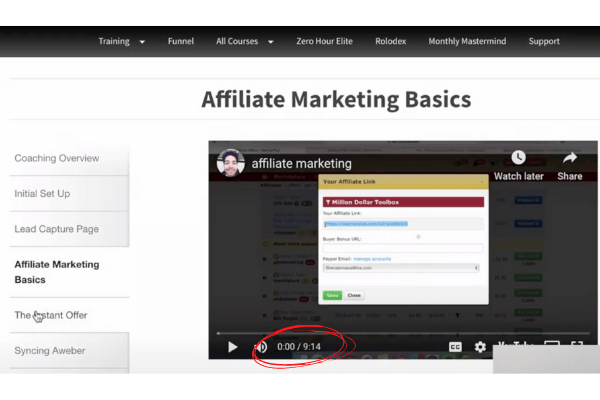 Think about it:
Can you squeeze everything you need to know about affiliate marketing in just 9 minutes?
Do you become an affiliate marketing expert by just watching a video about it that's a minute shy of 10?
Logically, the answer would be no.
Even the basics of affiliate marketing cover a number of topics, from the basic principles of it, to how you pick a niche, how to choose affiliate offers, and a whole lot more.
A few minutes won't be enough to cover all of those. If you check out Wealthy Affiliate's training outline of affiliate marketing, you'll get a clearer picture of what I'm saying.
A Whopping $1,997 For 20 Videos?
Yes, Project Profit Academy is said to be worth almost 2 grand, a very overpriced course for affiliate marketing.
Well, he says he includes $44,376 worth of bonuses. Yes, in his eyes it's worth that much.
It's easy to overprice things to make them seem super valuable, but how it really is a completely different story. Good if he provided proof of its's value, but unfortunately, he didn't.
Side note: if Project Profit Academy was really worth a fortune, you'd expect a level of perfection on its sales page. Sadly, Brendan didn't even bother correcting typos.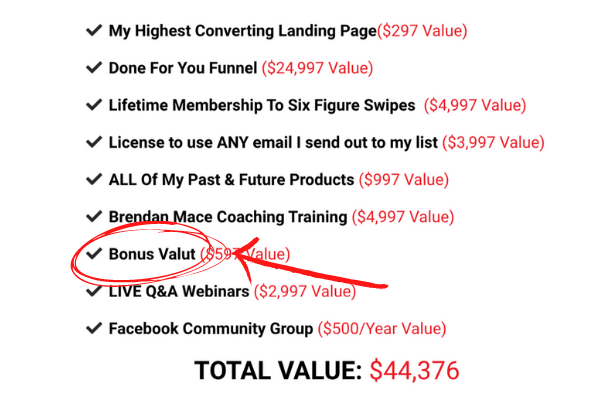 The cost doesn't stop at $1,997. You also have to spend on ads: PPC, and solo ads. You at least have to fork out $200 for it every month.
Talk about how costly It is to follow Brendan's affiliate strategy!
Making money online isn't complicated…
This video will show you exactly how to get started. Tap to watch now »
What You Get From Project Profit Academy
Essentially, Brendan gives you videos on the steps to make money with affiliate offers. However, he includes done-for-you sales funnels for Project Profit Academy so you can sell it for a commission.
It starting to look more like an MLM than an affiliate business.
A good affiliate marketing training teaches you how to start your business whatever niche you choose. In Project Profit Academy's case, it's just teaching how you can sell the same course along with other of Brendan's previous courses to people.
What if you're interested in the fitness niche? What if you want to sell health affiliate products? Brendan's course couldn't help you much.
Inside the members' area, you'll see the videos grouped into 3:
1. Affiliate Academy
This section takes a big lump of the whole course. It has 20 videos ranging from 6 minutes up to 57 minutes. The focus of this section is on building an email list and creating campaigns.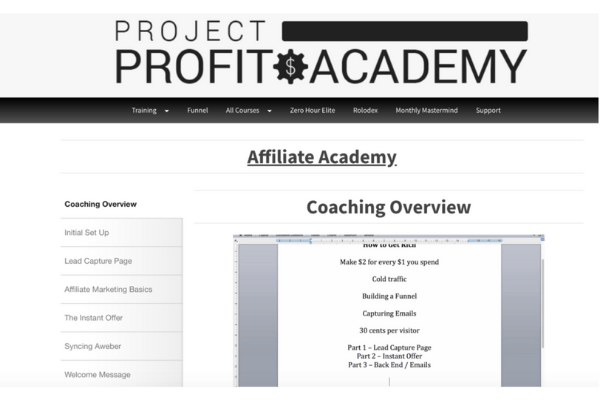 Brendan includes email generic email swipes you can tweak to make it sound more personal.
The problem is most of these swipes are conversion-based or simply, pitching the offer.
Unless you provide some valuable beforehand, people receiving the email won't see you as someone credible they can trust. You won't get them to convert and ultimately you won't make money.
Most videos you find in this section are under 10 minutes long, while the others are more or less 20 minutes long. One exception in the 57-minute video with Jono Armstrong, a partner affiliate of Brendan talking about the need to offer bonuses.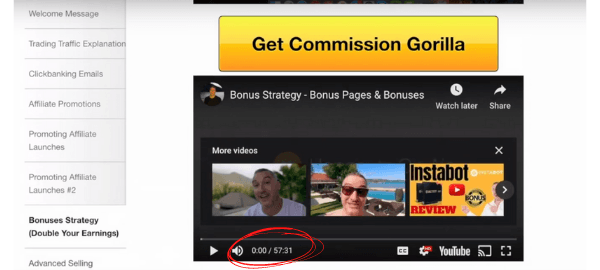 There's a module on Lead Capture Page where Brendan teaches you to use Profit Builder or Instabuilder to make lead capture pages, or the pages you can get people's emails from.
Funny, why does Brendan tell you to use those page builders when he has a lot of his own. He has 1 Page Profits and Super Funnels to name a few.
Even if his page builder products are launched later than this course, why didn't he update the videos to promote using his own page builders instead?
Here's another kicker:
He also has a module on Trading Traffic. If you look closely at the comments section on his ClickBank group as seen on the video, you'll see a guy names Johan Puttermans saying, "Spamming again guys!"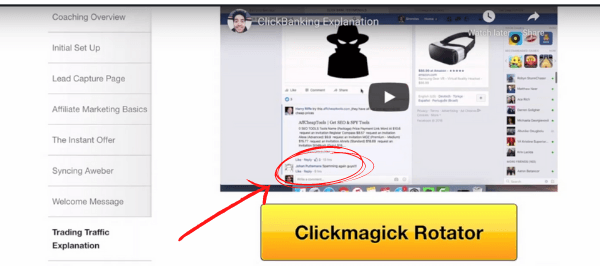 Looks like people on his group know he's using spammy tactics. The word "again" also shows this is not the first time he did this!
I don't know about you, but I think is off-putting. Realistically spamming does you more harm than good.
What's a "successful affiliate marketer" doing promoting a tactic like this?
Here's more:
In one of his Affiliate Promotions module, he'll teach you to pay for solo ads.
Solo ads are definitely not for beginners. A few minutes of Brendan telling you about solo ads won't help you bypass the need for experience.
You'll need experience when you do solo ads because it comes with a lot of trial and error getting the right campaign to the right audience.
And speaking of audience, solo ads vendor has used their email list for a lot of clients promoting whatnots.
People on those lists have been flooded with tons of sales pitches, they probably directed email from the solo ad vendor to the spam folder.
No one reads anything on the spam folder. Your pitch will end up cold and lonely, never to be read for eternity.
2. Launch Academy
The Launch Academy section has 8 videos lesser than Affiliate Academy.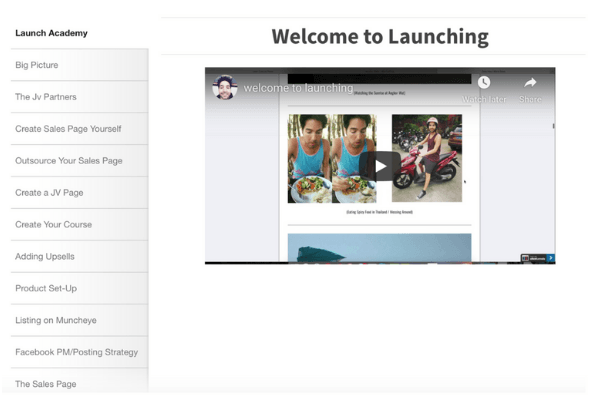 Here Brendan tells you create your own sales page, a JVZoo page, and to create your own course.
If you're a beginner, what are going to put in your course?!
He'll then continue on how you can gain traffic by spamming Facebook.
3. Experts Academy
This section has the least number of videos, just 4 of them ranging from 3 minutes to 23 minutes. 3 of them are with Jono where he "reveals his secret sauce" and another on how making review videos will help you gain more traction.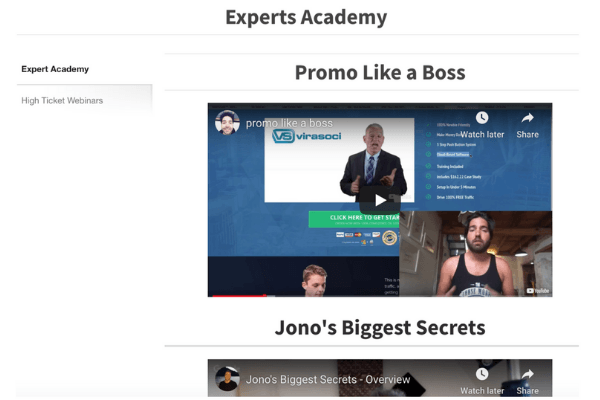 Overall, there is some value to a number of videos, but I can't say for most of them because there are parts where he teaches about spamming.
Is Learning From Project Profit Academy Worth It?
Here are 4 points to think about.
1. The expense it worth an arm and a leg.
You shed 2 grand just for the training and more for PPC and solo ads.
There are way more affordable options which teaches you more in-depth lessons on affiliate marketing like Wealthy Affiliate.
2. No Refund Policy
The cost is just too much to not have a safety net in place. Getting to try it for a number of days to see if it's a good fit for you or not and have the opportunity to get your money back is a must-have.
3. No User Testimonials
Another must-have especially for a course that's worth a king's ransom. Unless Project Profit Academy gives you a level of confidence about their training, it's just risky through and through.
Think about it:
Even people who gamble take calculated risks.
4. Low Quality Affiliate Offers
I get that Brendan earns what many only dream about. But if you check out some of his products like:
You'll realize most of them aren't something you can be proud of promoting. This will be the quality of your affiliate offers if you listen to Brendan.
It's not sustainable. You'll just be banking on the fad of it, when people realize how low quality it is, you'll get high refund rates and a ruined reputation. (Brendan actually has a reputation for being a serial promoter of shabby products)
Is Project Profit Academy A Scam?
Project Profit Academy is not a scam because you do get to learn Brendan's affiliate strategies. However, I won't recommend it to you because you'll mostly be taught how to sell the training itself.
Plus, the quality of your offers will most likely be the same as that of Brendan's – low quality.
I'll like to put it this way:
Since some of his products are outright scams, he teaches you how to sell scams using mediocre training.
Final Thoughts On Project Profit Academy
For the price, I think Project Profit Academy is not worth it especially because there's no money-back guarantee and Brendan will be teaching you how he does affiliate marketing – peddling low-quality products.
If you think the price is too much, which I confidently think you will, considering more affordable options like the $49 per month offer of Wealthy Affiliate is a way better choice.
You don't even have to shed your hard-earned money while testing the waters because the first 10 lessons are free for you to try. This is how you define risk-free.
With Wealthy Affiliate you'll get the over-the-shoulder training every beginner deserves plus access to a community of affiliate marketers who experienced the training themselves and who can attest to the benefits it comes with.
You don't have to take my word for it, you can head on to this thorough review of Wealthy Affiliate to see if the benefits are worth the price you'll pay.
What's Your Take?
Were you satisfied with training Project Profit Academy offers? Do you think the price it worth it? Tell us what you think in the comments section.
Simon Crowe is on a mission to help as many people as possible kiss their bosses goodbye.
Take the free Commission Academy course to discover how to smash your online income goals and make your dream business a reality.