The AZ Code calls itself "the guaranteed way" to make $3,000 a day in Amazon commissions, starting today! But can it be trusted or is it a scam? That's what this AZ Code review is all about.
Head on over to TheAZCode.com and you'll see screenshots of supposed members' $1,612 daily earnings. We're supposed to believe they achieved this in just a couple of hours.
You and I both know not to be duped into believing something that sounds too good to be true, so let me congratulate you for reading this review first and not just handing your money over (like so many do!)
You're at the right place!
The AZ Code Review At A Glance
About: The AZ Code (short for The Amazon Code) is an 88-page eBook promising to show you how to make $3k daily as an Amazon affiliate.
Price: $37.
Pros: There are none.
Cons: Fake success stories from paid actors, outdated and inadequate training.
Verdict: AZ Code is a hyped-up scam. Affiliate marketing is legit but there's no way you're going to make the kind of money they say with what they give you.

What We'll Cover In This Post:
Is The AZ Code A Scam Or Legit?
The AZ Code matches all the criteria of your typical scam. The AZ Code creators are the ones responsible for a number of get-rich-quick online scams.
Just last week I reviewed an eBook called Kindle Sniper which has the exact same $37 price tag, same website layout and same bogus claims about how much money you can make.
Here, take a look at the two websites side by side: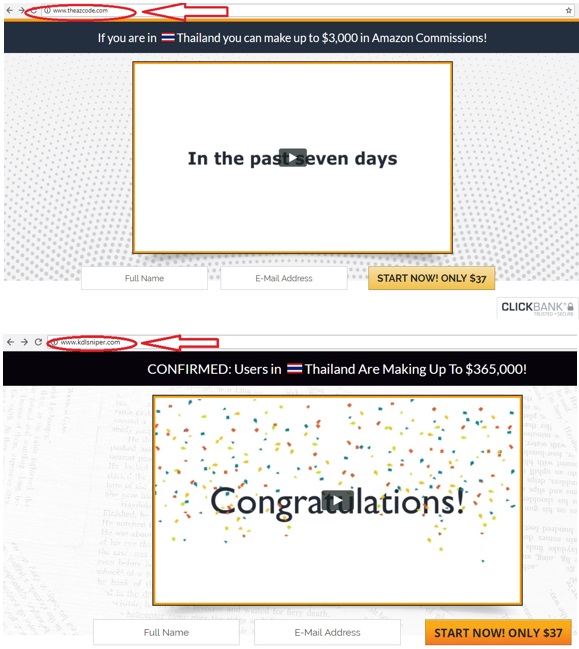 Both The AZ Code and Kindle Sniper have big red arrows pointing to the fact AZ Code is a scam. Now let me show you why this is a complete scam and why you shouldn't waste a minute or a dime on this:
3 Undeniable Reasons The AZ Code Is A Total Scam
1. Promises Of Easy Money With Little Effort
In typical scam-like fashion, you're promised the road to riches for doing next to nothing.
The fake video testimonials show you Amazon affiliates who are supposedly raking in $100,000s per year.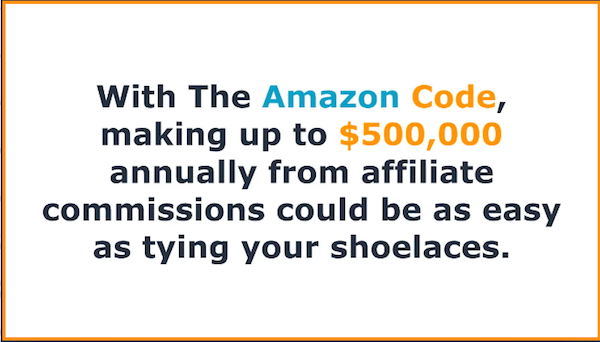 Don't get me wrong, there are Amazon affiliates out there making this kind of money but you're not going to learn everything you need to know about running an internet business of that scale in a single eBook.
Even if you were to go on and make that kind of money, it requires a lot of dedication, time and effort before you get to that level.
You can buy done-for-you Amazon affiliate websites if you have the cash to invest, but most people start on a shoestring budget and have to learn how to build their first affiliate marketing site from the ground up.
With affiliate marketing the earning potential is limitless, but you have to put in the hard work to realise that potential.
Whichever way you go about it, it's not done at a single click of a mouse and a few minutes a day. There's no "automated" way to make money online and there never will be. Anyone who tells you otherwise is trying to pull one over on you.
2. Fake Success Stories From Paid Actors
The second biggest sign the AZ Code is a scam is the fact they have to use paid actors to give fake testimonials.
Don't believe they're fake?
Let's just take the first video testimonial as an example. Here's the lady claiming to make so much money from the Amazon Code that she just got back from a trip to Italy: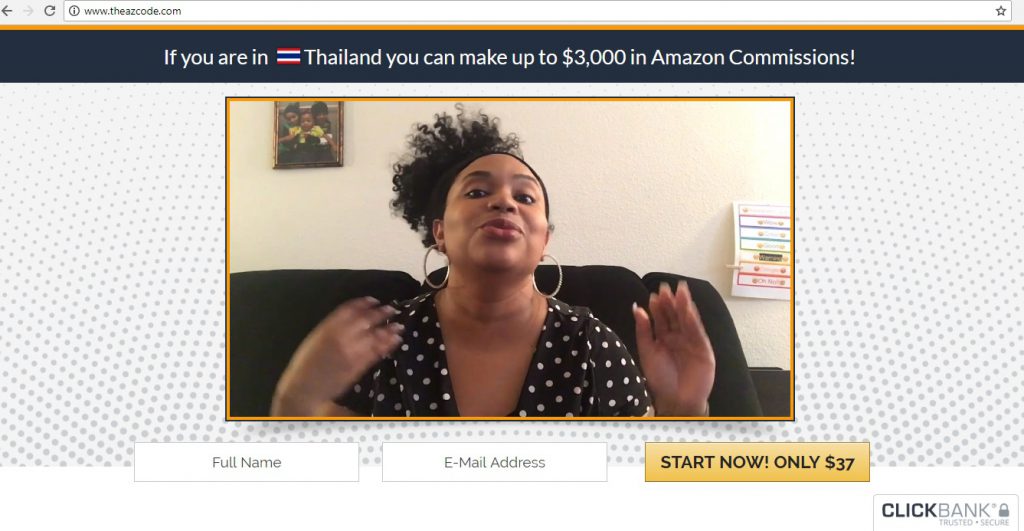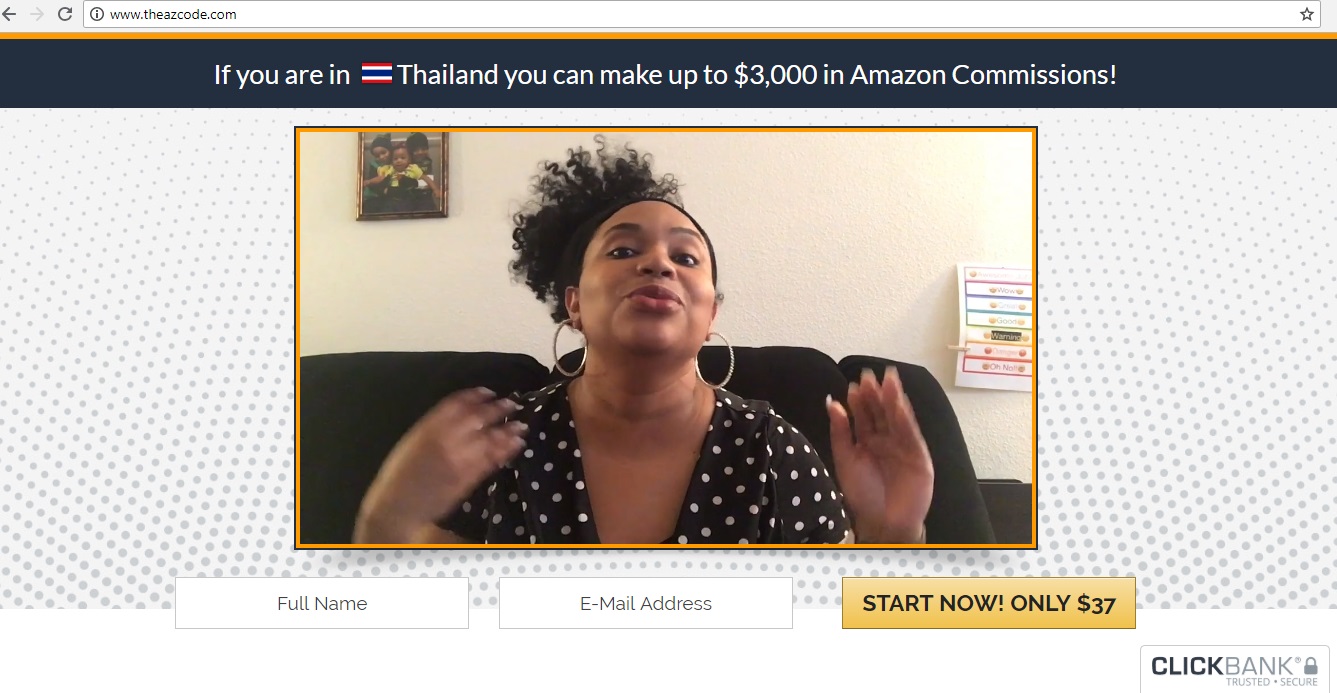 Now here's a Fiverr gig from this very same lady offering herself for hire to do video testimonials: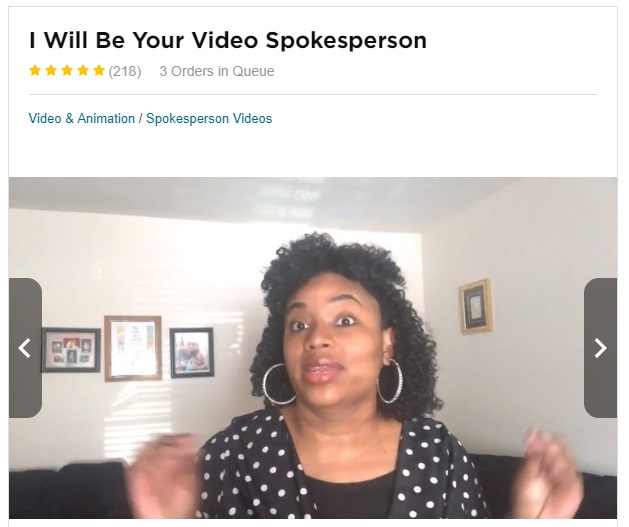 Can you see what's happening here?
If AZ Code was legit they'd be no need to hire actors to provide you with fake success stories. You'd only need to do that when you're trying to convince people that a scam is the real deal.
3. The Promo Page And The Actual Training Don't Match Up
You watch the promo video about how they're going to show you exactly how to get rich through Amazon affiliate commissions.
Then, eager to get started, you readily hand over your $37 and hit refresh on your inbox until you finally get it – an email with a download link to your 88-page AZ Code eBook.
You quickly start reading only to realise this low-value digital eBook is not teaching anything about how to make money through the Amazon affiliate program at all.
My biggest issue with this training is that the promo video and sales page both talk about AZ Code being a guide on how to become a successful Amazon affiliate, but what you get is a low-value digital eBook on how to become an Amazon merchant through the Fulfillment By Amazon (FBA) program.
That's a big difference!
As an affiliate, you get to promote any services and products you want for free with no money down. No stock to buy, no rooms to hire for storage.
Through the FBA program, you're going to have to find a factory in China to make your products and ship them to one of Amazon's distribution centres. This takes A LOT of investment of time and money.
And trust me, after reading this low value, low-quality eBook full of generic information you can find for free through a quick Google search, even with the best will in the world there's no way you will ever see your money book using this 'training' alone.
How You Really Make Money With Amazon
You can make (a lot of)money online but you're not going to do it through this lousy AZ Code system. If you really want my advice, for this lousy scam and become an affiliate marketer.
For the last 4 years now affiliate marketing is by far my favourite way to make money online and for good reason.
With affiliate marketing:
There's very low outlay. You just need a free website and good step-by-step training to show you exactly how to make your first commission.
There's no need to create your own products as you're promoting other people's instead for a commission.
There's no stock to store and no postage and shipping to worry about.
You can work anywhere and at anytime as long as you have Internet access.
Your potential earnings are limitless. With over 3.2 billion internet users and growing, you can reach a worldwide customer base.
If you're interested, here's a really useful video walkthrough that goes through exactly how affiliate marketing works:
In a nutshell, you make money with affiliate marketing through these 4 simple steps:

If you're interested in finding out more about how to become a successful affiliate marketer then check out my Wealthy Affiliate review to find out your next steps and get started in the right direction.
Wealthy Affiliate is the best place to learn affiliate marketing because:
1. It's the biggest community of online entrepreneurs out there
2. The step-by-step training is next to none and shows you exactly what to do
3. Their beginner-friendly website builder means having your first website go live takes just minutes
It's also where I got my start and I've never looked back. Today I earn a full-time income online as a direct result of applying the lessons I learned at Wealthy Affiliate.
After reviewing 700+ programs, Wealthy Affiliate still comes out on top to this day.
Got Questions?
Let me know in the comments below and I'll answer as soon as I can.
Unfortunate enough to fall prey to the AZ Code scammer?
Please help others avoid the same fate by sharing your experiences with us.
Simon Crowe is on a mission to help as many people as possible kiss their bosses goodbye.
Take the free Commission Academy course to discover how to smash your online income goals and make your dream business a reality.