Landing on the Super Funnels sales page, you'll be greeted with the words, "breakthrough software that automates free traffic, leads and commissions in less than 60 seconds".
Is there and inch of truth to this claim? I highly doubt it.
In this review, I'll tell you what Super Funnels really is and how it works. I'll also reveal whether this software really gets you traffic and sales, and ultimately, if this is a scam or not.
If this turns out to be a phony attempt to squeeze your money out from your wallet without the potential of making bigger money in return, I'll show you a better way to make money online you should know about.
Stick around for some shocking truth!
Super Funnels Review At A Glance
About: Super Funnels is an affiliate product funnel builder claiming to help you make $1000s in under a minute.
Price: $27 for the front-end system, $755 for 5 upsells, $30 for ManyChat and post notification script, $50 for an autoresponder, and $200 for paid ads.
Pros: There are no benefits to buying this system. 
Cons: Expensive, not for beginners, and the funnels are shabby.
Verdict: Super Funnels is an expensive way to rely on a quick fix system to help you make an online income. You'll end up spending more money than you make.

What Is Super Funnels?
Super Funnels is a funnel-building software made and peddled by Brendan Mace and Jono Armstrong, launched in November 2019. It claims to be a triple traffic strategy to help you make $1000s on a daily basis.
Brendan and Jono say it "diversifies multiple income sources" by helping you get leads or potential customers for your offers using email marketing, push notification, and Messenger subscribers using ManyChat.
Want to get a real score of how much you'll earn with affiliate marketing? Here's Simon to explain in to you.
Fact vs. Fiction: What's Really Going On?
It can seem like it has a large potential to help you make money, but the reality is, it won't.
Just take these sales page claims for example:
1. "Take advantage of next-gen funnels with zero monthly fees or commitments"
False!
You have to pay for push notifications, a Messenger bot, and an autoresponder on top of the front-end cost, upsells, and paid ads cost.
In the first month alone, you'll end up spending roughly around $1,062, and $280 for the succeeding months given you only spend $200 for paid ads.
However, with the many paid ad sources they promote on the training, spending $500 monthly for ads along is more believable. The cost can potentially go higher!
2. "No website, domains, hosting- it's all done for you"
It can be sort of relieving not spending on these after knowing all the other costs involved. However, it also means you have zero control when Brendan decides to shut this system down.
This means you'll be left business-less with $1000s flushed down the drain. You can't even take away lessons from the training because it revolves around how you set up your Super Funnels campaigns.
There's no training on affiliate marketing, nor on email marketing, the main methods supposedly used to help you make money in Super Funnels. Basically, showing this is not for beginners.
If you want step-by-step training on affiliate marketing, the training provided by Wealthy Affiliate will be a whole lot better for you.
Other than these claims, Brendan and Jono also drag successful marketers like Tai Lopez, Frank Kern, and Ryan Deiss saying these guys use automated funnels to get traffic and commissions.
Yes, Tai, Frank, and Ryan use funnels, but never Super Funnels. I hardly think they ever heard of it before.
I actually find it misleading having their names dragged along the sales page. People will think they've used this software when they never even know it exists.
Now you know, one less person is getting fooled with the tactic.
Meet The Serial Product Launchers: Brendan And Jono
Brendan Mace and Jono Armstrong are serial product launchers. Not a month goes by without them promoting another "brand-new" and "breakthrough" digital products.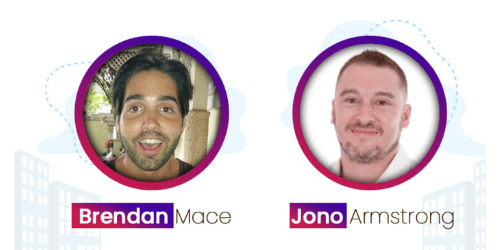 I earlier said about Brendan possibly shutting this down in the future because of all the products he creates, it's hard to keep track of them and even pay for maintenance for each one especially if no one is buying it anymore.
Not one of their products promises modest income, all of them are hyped-up to get your emotions involved in getting you to click the buy button.
Some of their products we've made reviews on are:
In most of them, they say the systems helped them earn 4 to 5 digits every month. But take note that the money doesn't come because of using the system, but because of peddling it to other people.
They make money by creating digital hullaballoos, not by actually using them.
So, you really can't say for certainty if any of the products ever work as promised.
How Does Super Funnels Work?
Super Funnels creates squeeze pages to collect email addresses and thank you pages to offer "free gifts", so visitors supposedly get enticed to buy the products from you.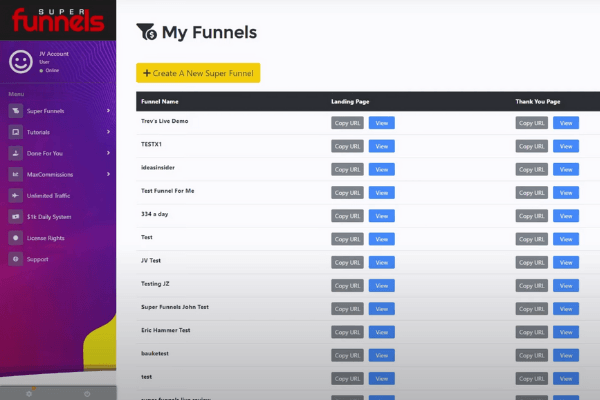 The "free gift" is actually just connecting them on your Messenger list so you can pitch to them again. If you want to offer them other bonuses are all up to you, but basically, the bonus is just being included in the list.
I actually don't think it's a "free gift" for them, but for you.
As for the squeeze pages, you just have to pick from any of the one they pre-loaded in the database. Like these: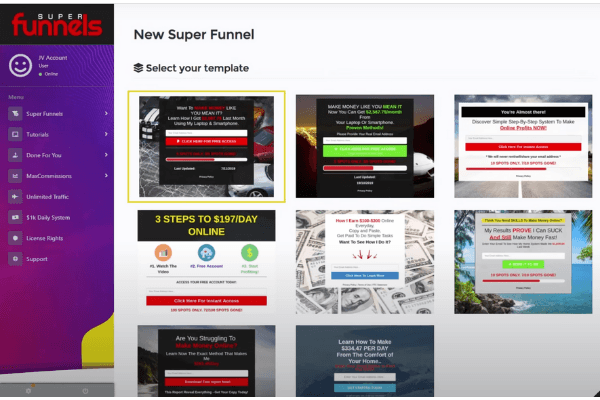 If you ask me, they look too spammy. I describe this kind of stuff as "a desperate attempt" to get people to hand in their emails.
Let me ask you, will you honestly share your email to a spammy looking page like this?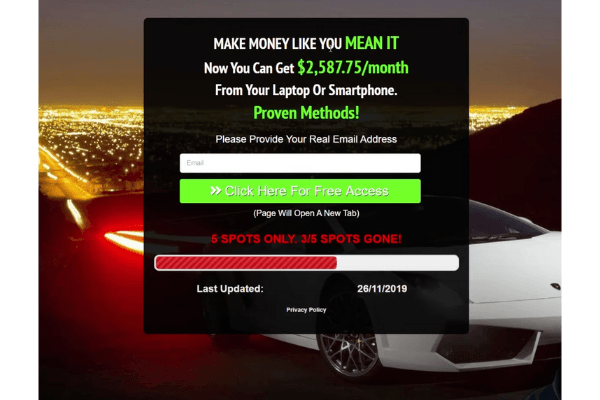 What makes it more annoying is when people try to exit the page, an exit window pops up to push them again to buy the software.
They say it helps you increase your subscriber list, but actually, you'll only get yourself on someone's nerves.
Now here are some kickers after clicking a squeeze page template:
1. You can either choose to put your own name and photo on the thank you page. Or you can use another name and use a stock photo.
They're indirectly promoting to hide your true identity! Why else would they add this option?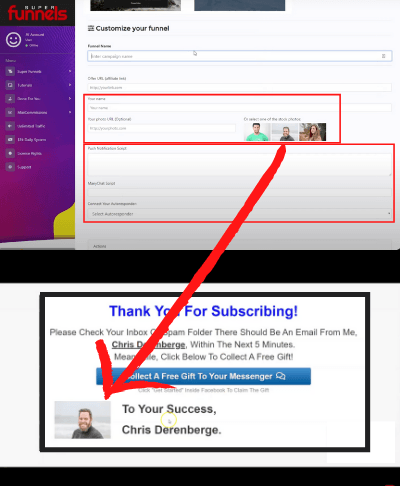 This just implies they themselves know their product is not something to be proud of.
But if this really a legit software helping people make money, while you be ashamed of promoting it, right?
2. There's the box to put your push notification script, ManyChat script, and autoresponder.
The subtle attempt to get you to spend subscription on them so you can fill out those boxes.
Maybe they get a commission for getting anyone to subscribe to those 3? Highly likely.
3. You only get to put your affiliate ID, you can't choose what products to promote.
Since everything is done-for-you, they also do the work of choosing which products to promote. It might sound good, but it also actually tells you another area where you have no control.
You don't have the freedom to choose high converting offers, because they don't give you the option for it.
What are the chances you'll be promoting low-quality offers? A lot! Especially because they give you no guarantee the products that come with their funnels are good quality.
Super Funnel's Lacklustre Training Has Big Gaps
There are 4 parts of Super Funnels' training.
1. The 1st part is where they'll teach you in less than 10 minutes videos on how to make your own funnels and connect to an autoresponder. Basically, the things you need to do to set up your funnels.
The 2nd-4th parts are all about traffic sources.
2. They'll teach you about free traffic methods using Facebook. Unless you have a large and established following, nobody will click on the link you share here.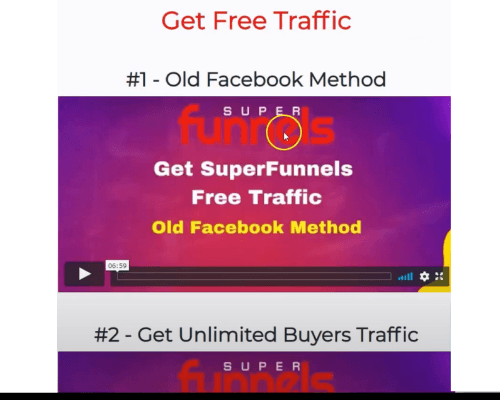 3. You'll be taught about how you can do paid ads on Bing, Google, and Yahoo. Depending on CPC rate, you can spend $1 up to $50 per click. When I told you earlier the cost can go up to more than $200, I wasn't kidding!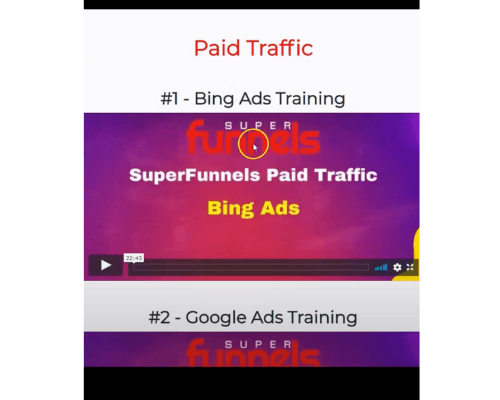 4. The last traffic source, also paid, is about using solo ads. For this they promoted SoloTraffic.net.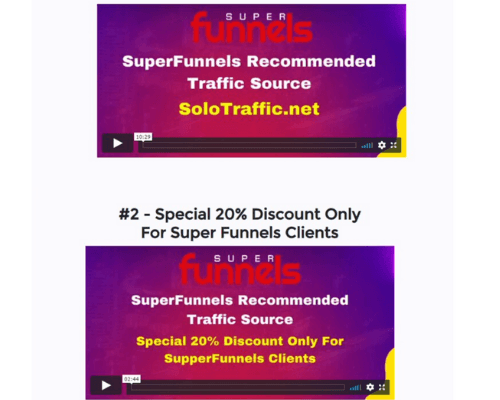 Personally, I don't recommend paying for solo ads especially if you're a beginner. It requires a lot of testing and investment; you'll end up with empty wallets with no hope of earning it back.
Why?
Because a lot of people use solo ad vendors, meaning the people on the email list they have are more than exhausted from all the emails flooding their inbox every day.
Most of those people have already automated emails received from the vendor to be thrown into the spam folder, never to see the light of day ever again.
You're not even sure if they're targeted traffic in the first place!
The bottom line, spending for paid ads will mean more loss than earnings for you.
I certainly don't want that to happen to you, so I made this review.
5 Reasons I Wouldn't Use Super Funnels
1. Start-up is too expensive.
2. The training doesn't cover affiliate marketing and email marketing.
3. The method teaches you to be sneaky by encourages you to conceal your identity.
4. The funnels are spammy.
5. The disclaimer disproves the income claims made on the sales page.
Is Super Funnels A Scam?
Super Funnels is a scam because although it provides you with funnel-building software, generating leads using the pre-built campaigns will be next to impossible because of how mediocre it looks.
You won't make money like what they promise on the sales page. Promising what they can't deliver makes them a scam.
Where Do You Go From Here?
Starting out an online business without really knowing how it works will always be disastrous.
One, you'll struggle to find what out things you should learn about and you can get overwhelmed in the process without a step-by-step structure to rely on.
Two, if this happens, you'll most likely turn to quick fixes like Super Funnels to solve the problem.
Putting your trust in this seemingly expert shiny shortcut software will only end up with you disappointed.
Again, because you don't know how things work, you'll believe the software will cover all of it without realizing there are important things the software doesn't do, for one, getting you the right traffic source for your offers.
If you learn things for yourself, take the time and effort to know the ropes, you'll have better control of your online business' growth.
This is where Wealthy Affiliate comes in, it provides the over-the-shoulder every beginner needs.
You don't only get structured training; you also get insights from successful marketers who also took the training as beginners.
If you want to learn more about the benefits of Wealthy Affiliate, head on to his in-depth Wealthy Affiliate review to get you started.
What's Your Take?
Were you surprised that the expense costs an arm and a leg? Did you think the method won't get you the right people to your offers? Tell us what you think in the comments section below.
Simon Crowe is on a mission to help as many people as possible kiss their bosses goodbye.
Take the free Commission Academy course to discover how to smash your online income goals and make your dream business a reality.